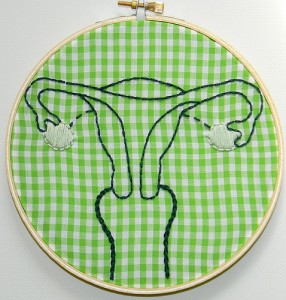 by Catherine Newman
Because a blow-up doll will surely take up too much room in the bed, what I really want is a syngina. You'll want one too, trust me. Go ahead and Google it. You're going to be like, "Wait! I'm not a tampon manufacturer needing to test absorbency!" That's okay. I'm not either. My interest in a synthetic vagina is purely personal. I plan to deploy it as an occasional stand-in for my real vagina, the same way a college may hire an adjunct to replace a professor on sabbatical—with the sabbatical being taken, in this case, by my own weary crotch.
Heterosexuality is a bizarre and perverted phenomenon. Whose idea was it to combine reproduction with sex? Because it was a bad one. At forty-four, after more extreme reproductive experiences than you could count on my nipple hairs, sex feels about as festive to me as a Ferris wheel erected in a cemetery. It's thrilling, sure, and the views are great, but it's also just plain weird, and sometimes kind of sad and scary.
In the twenty-five years that Michael and I have been together, I have peed on one gazillion pregnancy tests, give or take. I have thrilled to positive and negative results both, to plus signs and minus signs, double lines and single lines and subtle ombre shiftings of color, as well as the subtle absence of this shifting of color, from white to blue, or white to pink, or white to some other shade of white, and "Honey, are these two colors the same color or not?" ("Um. You mean the white and, uh, the white?") I have also wept over positive and negative results both. I have thrilled to a positive test, my heart briefly soaring, mere moments before sighing and picking up the phone to call Planned Parenthood. I have wept over a negative pregnancy test, cried for the baby I didn't want but now wouldn't get to have, mere moments after clasping my hands in prayer that it would be negative.
Wanted pregnancies have devolved into bloody phlegm, me on my hands and knees on the bathroom tiles, keening, or me propped up in bed, munching on a donut with sticky equanimity. Unexpected pregnancies have progressed into toast-induced vomiting and colossally pendulous hemorrhoids, and then into babies who braced themselves stubbornly against my pelvis and had to be forcibly excavated with scalpels and sections, my belly traversed by a transcontinental railroad of staples and stitches. An unwanted pregnancy was terminated with suction and ad hoc Slavic-inflected counseling ("You khev heared of diaphragm?"), with a stupor of grief and relief and Valium, watching The Bird Cage with Michael and snorting laughter out of my nose at all the funny parts. "You would normally have hated this movie," he said, and I said, "I know," and shrugged pleasantly from beneath the drugs. Grief morphed briefly into regret, morphed back, later, to relief. (That anybody would use the fact of grief or regret as an argument against reproductive rights always strikes me as short-sighted. Should every potentially regrettable choice be illegal? Marriage, paint colors, teetery t-strap sandals? Having sex or a baby? Ordering a second basket of fries or a third mojito?)
I have squinted at an ultrasound with my mystified gynecologist until she clapped and said "There!" and pointed to the IUD listing over at the edge of my withered whoopee cushion of a uterus. "Probably not a great fit for you," she said, adding, superfluously, "birth-control-wise."
I have had allergic reactions in the vagina, to latex, lambskin, and spermicide. I have had literally dozens of yeast infections and figuratively millions of UTIs. When I explained to my ten-year-old daughter that women get more bladder infections than men, she said, wisely, "Well sure. With women, it's like you're walking right into the house. Men have a kind of a mudroom."
My body is a wonderland. If, by "wonderland," you mean mismatched breasts like a hedgehog family's deflating air mattresses. If you mean brown, rubbery nipples that appear to have been pilfered from a 1970s-era baby bottle before getting glued on. It's not just regular aging—like the fact that my neck looks like somebody's ill-cared-for scrotum. It's not the constellations of moles and acne and wrinkles, like a crazed galaxy spanning multiple eons. It's that my body is like a beautiful and terrible reproductive neighborhood. Sexuality is in the mix, sure, but it's a flowering window box on a condemned building, with the wrecking ball swinging noisily in the background.
I weep and rage. I'm sad sometimes, or overcome with joy. I fill up, spill over with nostalgia: These silver c-section scars! These golden children! The blinding lights of my life, who bring me to my knees with love, a thousand times a second. I shudder and burst into tears and cry until I laugh.
And Michael? Michael just comes and comes. He has experienced this same twenty-five years as a more or less happy collection of orgasms, as if he's the simple hydraulic version of a senselessly complicated machine. He has also seduced and delighted, to be sure. Baffled and alarmed, he has held me while I wept. He has fathered two beautiful children in a beautiful way. But for him, sex is still about, of all things, pleasure. It is not a holy act of grief-stricken joy. It is not exhibit A in a report about PTSD, or a tearful, garter-belted clown in a postmodern circus. He does not cling to my neck, weeping, "This is how we made our babies." His cheerful seed sprays hither and yon. And I hate to begrudge him.
Thus the syngina. I'll put my novel down, even, and turn towards him willingly, my fake vagina at the ready. I won't worry, for the thirtieth year in a row, about getting pregnant. I won't experience full-body flashbacks. I'll just smile and encourage and my vagina will wink at me, like a retiring police horse, before its blameless and well-earned rest.
•••
CATHERINE NEWMAN is the author of the book Waiting for Birdy and the blog benandbirdy.blogspot.com, where she writes about parenting her kids and feeding her family.