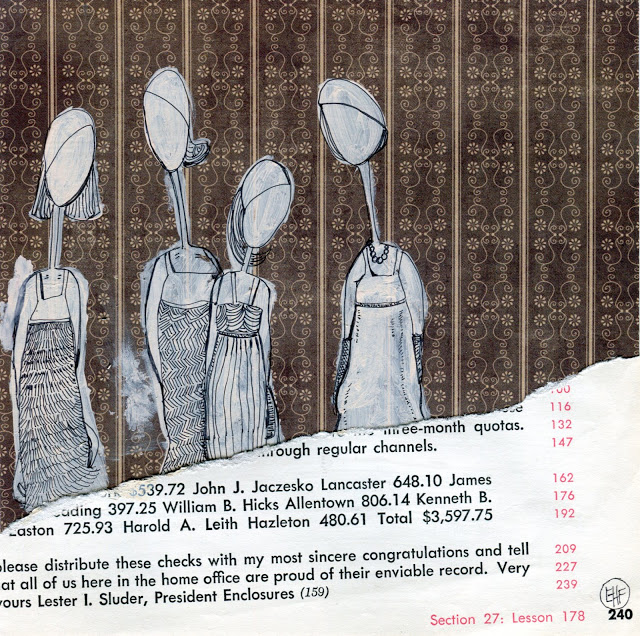 By Jennifer Niesslein
This is my sister Erin: As a child, she befriended the kids who were the outcasts so that they'd have at least one friend. In high school, we heard of a house fire; I donated some cast-off clothing, but Erin gathered up things that were still in rotation in her wardrobe. As an adult, she kept her door unlocked in case any of her friends dropped by and needed her. In the past couple of years, she has played host to a friend whose marriage needed some space, another friend going through detox, and another who was turned away from the psych ward although she was clearly in need some of mental health services. She stayed at Erin's home, manic and wild, until her parents came to pick her up the next day.
Erin and I were born twenty-three months apart, summer babies, the children of school teachers. I'm older—I'm the oldest of the four of us sisters—but we each affected who the other became. As an adult, I'm expansive and generous and open to vulnerability; Erin taught me that. When I'm around her, though, I revert back to the same counter-balance that I've been all our lives: protective, suspicious of people who might take advantage of her giving nature, willing to fight her battles. I had a reputation, once, of someone not to fuck with, someone slightly crazy, aloof and unpredictable. I used to like that: it kept my sisters safe.
•••
Krissy, the third of us, called me. "Jeff died," she said.
She'd called Erin earlier. Erin was gulping against her tears, more upset than Krissy had ever heard her. Erin's husband, Jeff, had stopped breathing. Jill, our youngest sister, was on her way to Erin's house where paramedics were working on him. In the next hour, there was confusion on Krissy's and my part whether Jeff was actually dead. Maybe Erin meant that he died … but then someone had revived him!
She called Mom at work. "I think Jeff died," she said.
"Krissy," Mom said. "Did he die or not?"
"I don't know."
We were hopeful and inadvertently passed along that small hope to Mom, too, but no. They tried to save him. They didn't.
(This is the part where I'm not going to write about Jeff, my handsome brother-in-law whom I've known since I was fourteen, the guy with whom I've laughed and bickered and grieved. This is the part where I'm going to keep up my denial that we've lost him. This is the part where my denial allows me to stay strong.)
The next day, Krissy drove up from Charlotte and picked me up in Charlottesville before continuing on. We stopped at a gas station for her to fuel up the car and for me to buy beer because I would need something to numb me. We'd been slap-happy on the drive up, too many hours in the car, and I stepped away to smoke a cigarette. The November sky in late afternoon was brilliant, cirrus clouds lit up pinky-orange by the setting sun. I don't know why the sky is always important after a death, but it is. I can remember every sky after a death. When I came back to the car, Krissy was sobbing.
•••
We know how to get shit done.
Krissy and I got there too late to help make arrangements at the funeral home with Erin and their son Brit, but Mom and Andrew, Erin's and Jeff's friend, went; our Aunt Kathy met them up there. I was charged with writing Jeff's obituary with heavy input from Erin and Brit. Jill took on making a playlist of songs to be played at the service. Krissy created a slide show that showed Jeff through the years, a slide show to which my eyes would wander the entire time at the funeral home.
Secretly, I had another mission: to determine who was a person there to surround Erin and Brit with support and love and who was a just a grief glommer.
The muscles of suspicion came back easily. After all, Erin was at the most vulnerable I'd ever seen her, lounging on the couch where Jeff slept, her big hazel eyes wet, veering wildly between intense grief and moments of okay. It was a testament to how open and welcoming Erin and Jeff were that so many people felt so close to them. Now, I eyed each one carefully.
In the aftermath of this tragedy—and this was a tragedy, Jeff only forty-two—our girl gang found the gamut. People are kind; people are misguided; people are completely inappropriate.
The first group was obvious. We found support in Erin and Jeff's friends and our extended family, as well as in our own friends: food was brought, pictures were enlarged and framed, funeral deposits were made, alcohol was delivered.
I looked at the second group with some distance: the grief groupies. "I'm there for you," although neither Erin for Jeff knew them, only knew of them. "If you need anything, call me—I'm not far away." Yes, I thought at the time: Erin is going to call on near strangers to talk or maybe ask for help with the mortgage payment. Later, I could be more generous. I could see that these people were looking for a way to be important, looking for a way to make a difference. They were clumsy and maybe motivated by a hope that this was their chance to make a big impact on somebody's world, but their impulses were benevolent. (Later still, some of these people would seem vaguely creepy to me, giving not only Erin but the rest of us too much personal attention.)
The last group, though, I still have nothing but disdain for. The grief looky-loos. They friend us on Facebook in the day or two Jeff's death after not contacting us for twenty-some years without so much as an "I'm sorry for your loss," and I have no idea why. You want to see what a family looks like when someone dies young? You want to see the face of raw mourning? You want to lick the salt of our tears? You want to see what Thanksgiving's like this year? You want to hold my shuddering body as the baby-faced Army men fold a flag and present it to my sister? It's not on Facebook. It's here. Look close. You can call it schadenfreude, but it can happen to you.
•••
There was another category, though, and I'll call her Liz. Liz was the friend who Erin and Jeff took in when she was turned away from the psychiatric ward. She claims to be bi-polar, but I suspect she's schizophrenic; she abuses her medication so her condition isn't controlled. I have loads of empathy for her in normal circumstances. She absolutely cannot help that she's been dealt this illness, as debilitating as invasive cancer. But these were not normal circumstances.
Erin gets a text from Liz. She's on her way up, she writes. She's going to stay with Erin—permanently, if Erin would like! Erin, obviously, can't take care of anyone at this point. Krissy offers to text back from Erin's phone, to take one more thing off Erin's plate, and we confer on the wording. Erin has a full house, Krissy texts, but we're looking forward to seeing her at the funeral. At the last minute, Krissy asks me if she can change "Hi Liz, this is Krissy" to "Hi Liz, this is Jenny," and I agree because this is what this is what the oldest is, the spokesperson and executive branch of The Family, charged with approving and enforcing the laws.
This is the place where I come home as a grieving sister-in-law and leave as the most hated alumna of my high school.
We're plagued with other people posing the question: what happened? They come in droves, over the phone, on Facebook, in person. That evening, Jill and I drive the five minutes back to the home she shares with Mom and her daughter, and Jill tells me that everyone—all the sisters—are getting worn down. "What the fuck are they thinking?" she asks. "It's not like we owe them anything."
That night, I post on Facebook, "I know this is a hard time for everyone, but it's especially hard for Jeff's family. Please, please stop asking us what happened. What we know is that Jeff took a nap and died in his sleep. It's maddening for us not to have more answers, too." I tag my sisters, and, like that, the questions stop.
I tell my friend Tracy about this later, and she tells me that she thinks that there's some part of people that looks for reassurance that death can't happen to them. I agree, I agree, I agree, but can't these people talk amongst themselves?
•••
The next day, I'm doing the day shift at Erin's house. Our mom, Uncle Jimmy, and Grandma came by, but Erin fell asleep. Eventually, everyone leaves but Erin, Brit, and me, and, in the quiet, dim room, I watch her sleep while I read (not really, but it gives my eyes something to do) in the armchair.
The front door flies open. It seems unnaturally loud in the hush of the house. "Hello!"
A woman in sunglasses and a long, embroidered coat sweeps in the foyer. I get up from the armchair, and when she takes off her sunglasses, I see that it's Liz.
"Liz!" I whisper. "So good to see you! Erin's sleeping."
"Oh, okay," she says.
Brit comes in the room from upstairs, and she moves purposefully toward him, throws her arms around him, and cries, clinging to him, as if seeking comfort. Brit and I make eye contact.
No.
She releases Brit, asks me a few questions. She plays with the dogs for a little while. Serendipitously, another friend of Erin's comes by. In the same whisper, I explain that Erin is sleeping, something that doesn't come easily to my sister now. Liz asks me if she can hang out for a while. Brit interjects that Erin just fell asleep. "I'll tell her that you came by," I say. "I'm sure she'll appreciate it. We'll see you on Saturday."
The two leave together.
But Liz comes back later that day, not on the day of Jeff's funeral. She surprises us, showing up during the changing of the guard, when I'm going back to Mom's, and Krissy and Jill are on their way over to spend the night with Erin.
In that time, Liz goes to the basement where Erin sits when she needs time to herself. I hear later that Erin talks to Liz, telling her how everyone has been so supportive: her family, Frank, Andrew… Liz starts arguing that she's never heard of Andrew.
Really, she's arguing for her own primacy in Erin's life, which she cannot see simply doesn't exist, although it's no one's fault.
Then Liz starts in on Erin's decision to have an open casket. Erin tells her that she's not going to argue about it, but Liz continues her rant. It finally falls on Brit—a man, but a young man, one who just lost his father—to stop her. "My aunts aren't even here," he says. "You need to leave."
•••
We drive to the funeral home mostly in silence. I'm in the backseat with Jill and my niece. At every turn, I slide on the leather seat against their hips. The last time I spent any time squished in the backseat with family, we were going from our grandfather's viewing to get something to eat. Then, Jeff drove us in his big truck. Now, my niece's dad is driving.
I stare out the window at this part of Virginia to which I haven't been since I was a teenager. There's the strip mall where my best friend served frozen yogurt. There's where The Black-Eyed Pea used to be, back when it was a restaurant and not a band. "Here," Jill says. "Mike, turn here."
"Jill," he says quietly. "This used to be my playground."
A grand old house with a broad porch has been converted to the funeral home. We help carry in what will be displayed: Jeff's bass guitar, photos of him, trophies. The home is quiet and the wide wooden boards of the floor creak as we enter.
The funeral director's name is Chad. Chad! Like a guy you know who maybe was a lifeguard in his youth and likes to party. But this Chad is soft-spoken and radiates kindness. He leads Erin and Brit into the chapel, where they spend some time together, alone, the three of them, the two of them.
When the private family time is over, people start arriving. In droves. Chad tells us later that since Jeff's death, the phone at the funeral home had been ringing near-constantly with people trying to make sure they had the right time and place and day.
•••
The Niesslein sisters switch into full-on support mode.
Our parents' divorce was a messy one, and although it's been twenty-five years, some learned instinct—a prayer to no one: please keep it pleasant—kicks in for me when the two sides of the families come together—until now, just for graduations, marriages, and the births of grandchildren.
They've almost always kept it civil and sometimes downright pleasant, and they rise to the occasion again. I stand with my Dixie cup of water, wishing it were something stronger (a joke I'll make a million times over the course of the day) and listen to chitchat between the two sides. Our cousin and his wife are wrangling their six-month-old son, a blue-eyed beauty whose heart belongs to anyone with a necklace to fiddle with. Our grandmother from the other side of the family notices him. "Bring me the baby," she says from a wingback chair. She's a little Godfather­-like in her delivery, but this newest Niesslein brings both sides together in admiration of the little guy.
Family: check.
For the most part, Erin and Brit stay in the chapel, now crowded with people filling the pews, waiting in line to see Jeff's body, wishing Erin and Brit their best. I look at Erin across the room, and I can't even imagine how she's still standing. I suppose that it's a combination of denial and medication and the default mode of who she is: warm and loving.
As for the rest of us, we're running around the place like the A.V. Club, asking Chad and his colleagues to turn off the music, turn up the mic, resume the music as people—Brit, Jeff's friends, his musical buddies—give their tributes. People are spilling out of the rooms onto the porch, the driveway, the waiting room of the home's office. Jeff and I graduated together, so his funeral is, in addition to being one of the most wrenching things we've ever gone through, an impromptu class reunion.
It's crowded enough that we can quietly shun people who we know make Erin or Brit uncomfortable or who Jeff didn't like. There is Liz, touching inside the coffin. There are a few other people who, when they look as if they might approach us, we busy ourselves, mostly by checking on one another. Occasionally, I sit down. I'm doing this when Jeff's old bass teacher plays a lovely song as a tribute, and as I lean into the furniture, forgetting, I think, You know who'd like this? Jeff.
Like my other sisters, I usher Erin through the crowd to have a cigarette, take a break, abandon her smiling façade for a moment. I notice a crowd of our high school alumni gathered out front, talking and laughing. I can't hold it against them—I'd done the same throughout the day. But looking at them, I realize that this is their final goodbye; they'd file Jeff away in their memories soon, a guy that they'd known and liked who died too soon. We were different. We—the people who loved and supported Erin and Brit—would be the Sherpas across their long chasm of grief, descending into it with them and climbing up, step by steep step.
•••
After the funeral, we head back to Mom's and Jill's house. Our extended family is already there, quietly providing a spread of food and drink. Erin and Brit had invited close friends and family to join us in the celebration of Jeff's life, and soon the house is crowded.
I let down my guard and crack open a beer. I take off my boots and put on slippers. I hug—long, lingering hugs, inhaling nosefuls of scent—my husband and our son for whom I was so homesick the night before. I survey the group. This is the love and support that Erin and Brit deserve right now.
I use the bathroom off of Mom's room, and when I come out, Grandma and our cousin Jordy are searching for Gram's purse that she ferreted away somewhere deep in Mom's closet. Jordy's using his cell phone as a flashlight, and I'm clicking through the hangars when Jill bursts in.
"Liz is here," she says.
I pause. Am I the person who's going to bounce a deeply sick woman from the house? Yes, it turns out. Yes, I am.
In the living room, Liz is standing in bare feet, looking at the baby. "Liz," I say. "Can I talk to you outside for a minute?"
Although the day had been warm, it's freezing outside now, and I lead her to a place down the sidewalk, away from the people lingering with their cigarettes.
"I heard you weren't very supportive of Erin last night," I say. "I think you need to leave."
"I respect that," she says. She stares into my eyes for a long time without blinking. I've been drinking, but even I can see that she's trying to intimidate me; we're down to our most animal selves here. I stare back.
"I can't believe after such a good friend I've been to Erin and Brit and Jeff that you're asking me to leave—"
"I appreciate that, Liz." No, I don't—they've been good, amazing friends to her, but it hasn't been, couldn't be, completely reciprocal. "But that's not my job here. My role is to make sure that they're surrounded with love and support."
She stares at me for another long time, and I don't break her gaze. "Let's go," I say.
I head toward the front door as Grandma's leaving. I make way for her and her walker. Liz, not seeing, tries to push past. I put my hand on her shoulder. "You need to wait. Our grandma's leaving." My tone is sharper than I intend, but maybe that comes with the territory of being a bouncer.
Eventually she locates the guy she came with, and they leave. I crack open another beer. The five of us—four sisters and our mom—find ourselves in the foyer sometime later, hugging each other in a circle, like a coven. Our cousin Mike snaps a picture, and that's how I like to remember that night, each of us supported by the collective strength.
•••
It's three weeks after Jeff's death. I've been calling Erin every other day, Brit once in a while. Today, I'd gotten Erin's voice mail, and she calls me back. She's crying. "I just miss him so much," she says. "It's only been three weeks, and I have a lifetime of this."
"Just an hour at a time, baby," I say.
For the first time in my life, it hits me: I really can't protect her. I can write this stupid, fucking, whiny essay in which I paint myself as some kind of hero, but it's a distraction from what's really going on. Jeff's gone, and as much as I want to snatch the pain away from Erin and Brit, I can't. I can steer away people who aren't helpful, but I can't alleviate this ache, this loss, one tiny bit. I don't know what to do with this impotence.
When we were little, I'd ride my bike with my sisters, Erin in the banana seat in front of me, Krissy on the handlebars with her feet in the basket. There was a family down the street who kept a pack of dogs, half-crazy mutts, and when I saw the pack coming, I'd tell my sisters to get off the bike and get behind me. I'd walk the bike to our house, its shiny pink aluminum the shield between us and the Big, Terrible Thing.
I was wrong to say that we're Sherpas. All of us will have to descend into that chasm of grief, alone, together, and climb out, alone, together. When the Big, Terrible Thing happens, it doesn't matter that you're the big sister. The shield is flimsy, and you are, despite your best hopes, simply a familiar body to cling to. You have to start believing that that is enough.
•••
JENNIFER NIESSLEIN is the founder and editor of Full Grown People. Her website is jenniferniesslein.com.