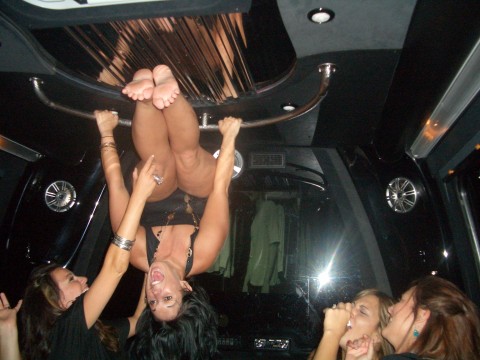 By Sara Bir
The party, by definition, is not co-ed. That's because it's a bachelorette party, my first. I am skeptical. I'm a girl, but I don't understand girl things. Like Anybodys, my favorite character from West Side Story, I prefer to hang out with guys. Of course, Anybodys didn't fit in with the guys, either. Not because she was a girl, but because she was annoying. Even I know that.
The girls I ran with in high school dipped Cherry Skoal and climbed trees and swung from ropes into polluted rivers. This is not the agenda of the bachelorette party I will attend. The invitation says it's an '80s prom dress theme. We are to show up in obnoxious ruffled tulle gowns and tease our hair out as far as possible. The hostess assures me that there will be no male strippers.
The boys, for the bachelor party, will spend the following weekend camping. I envy them.
In middle school I peered, perplexed, over the shoulders of cheerleader classmates who thumbed through dog-eared issues of Your Prom and Seventeen. They scrutinized Jessica McClintock ads with billowing, candy-colored gowns on young models wearing white lace gloves. Sometimes if Mom took me back-to-school shopping, I'd wander from the Junior casual wear to the formals and eye the sequins and crinolines with suspicious longing. When the time came, I did go to prom, but my "date" was my friend Carrie, whose college boyfriend preferred to stay home. Carrie and I had a blast. I wore a feather boa and even shaved my armpits. Knowing I was in no danger of losing my virginity later that evening in a shared room at the Best Western helped.
The dress I wore that night still fits, but it's not of the right era. Finding a suitable dress for the bachelorette party is problematic. After combing every thrift store in town, I realize the puff and sizzle of '80s prom dresses faded from favor so long ago that only mid-'90s fashion populates the Goodwill and Salvation Army. I half-heartedly buy an unexceptional purple velvet halter dress, a pair of royal blue snakeskin spikes, and a large can of off-brand aerosol hair spray.
The other dozen bachelorettes arrive at the hostess's San Francisco loft on party night. Many of them I know well already; the girlfriends of my boyfriend's friends, they are kind and funny women who accepted me instantly when Joe and I began dating. But I'm used to our gang's weekend meet-ups at music clubs or bars, and at this all-girl affair I can't seem to settle in. Anxious, I have a few glasses of red wine with our spaghetti and meatballs dinner, and thus decide to stick with wine for the rest of the night. I have learned multiple times if an evening begins with red wine and moves to other, harder drinks, it never finishes well. But when the hostess brings out penis-shaped mini-cakes for dessert, I am too buzzed to remember my pledge, and I enthusiastically drink the icy, fruity-sweet pink concoction another bachelorette offers me.
The penis cakes are made from German chocolate cake mix, and they have toasted coconut icing between the cake scrotum and the cake penis for pubic hair. "I just love to put a big German chocolate cock in my mouth!" I say because the fruity pink drinks have made me especially witty, and the girls and I all laugh.
We change into our dresses and apply our makeup. I fumble with a curling iron and try to attempt the giant, fluffy bangs I was never able to nail during the real 1980s. After ten minutes I quit, stuck with a tangled coiffure that would better suit Ian McCulloch or maybe a homeless junkie. The bride wears an awful, white satin, floor-length dress with white sequins studding its halter top. It's perfect. "Who knows," she says, "maybe someone actually got married in this."
The hostess collects money for the limo—twenty dollars a girl. I pay and resolve to be a good sport. Limos are for losers who want to feel important. We teeter down the stairs in our secondhand pumps and cram into the limo like glittery sardines. Right away the bride opens the sunroof and pops up, going Whoo! Some of us have to sit on each other's laps. The driver looks at the jumble of girls before he closes the door, possibly thrilled, possibly terrified.
I am wrong about the limo. The limo is awesome. There's a full bar and a bottle of Champagne and a kickin' sound system and a built-in fish tank and an elaborate network of pulsing black lights that electrify the white elements of our costumes, rendering the bride trippily resplendent. We drink the Champagne and look out the tinted windows and see the twinkling city speeding by, then look at each other and grin and cackle. Some of us are mothers, some of us have masters degrees. I've never been with so many girls in such a small space. We do shots straight from the whiskey decanter and, with a rush, I sense our fundamental sisterhood, the universal manic sisterhood that makes girls flash their breasts and scream gleefully. Joyce Carol Oates and Janet Yellen and Margaret Thatcher could all be riding in the limo with us and they'd succumb to the collective, feminine Whoo in the face of alcohol and estrogen. I am no longer Anybodys skulking in an unexceptional purple velvet helter dress, but part of a fabulous multi-organism system of sparkles and curves, intoxicated with giddiness.
The driver lets us out right in front of the club. This is our red carpet. People take pictures of us with their phones. We strut to the will-call booth, past long lines of boring regular guys in pleated chinos who have nothing better to do than wait for half an hour to see a mediocre cover band. We came to make fun and have fun. We are the party.
We go straight to the bar. The bride wears a pink plastic shot glass on a string around her neck. On the shot glass are the words BUY ME A SHOT, I'M GETTING MARRIED, so two guys at the bar oblige. I want someone to buy me drinks. I want my awakening girl power to earn me free alcohol.
We hear music from the auditorium and, in a pack, run right in front of the stage. The band is called Tainted Love and has about seven members, all dressed in outfits way more ridiculous than ours—gimmicky costume-store stuff like fake fur ties and vinyl tank tops with designs of the Union Jack. They play "Come On, Eileen" and "Maneater" and we all dance and I dance, even if it's to stupid Tainted Love and their try-hard wardrobe.
My bra bothers me. It's strapless, with black lace and everything, and I never wear it. I bought it before I figured out that if you are an A cup and you don't want someone to see your bra straps, just don't wear a bra. Now the elastic cuts into my sides and chafes my skin, so I undo the clasp and launch it slingshot-style at Tainted Love. One of the keyboardists makes a beeline and whisks it away as if I'd thrown a Molotov cocktail or a dead possum. "Bite me!" I yell.
Then they play "I Wanna Be Sedated" (not an '80s song) and because I love the Ramones I stop being mad at Tainted Love long enough to shout along and jump up and down until I wet myself a little. Incontinent already! I resolve to do Kegel excercises, and then start—hell, why not—right there on the dance floor.
But jumping up and down makes me hot and I forget about Kegels and tug at my black satin opera glove, accidentally pulling apart the sparkly bracelet I'm wearing over it. Rhinestones fly everywhere. I wish one would hit Tainted Love, but no such luck.
The bride is discontent. She's crying and throwing ice from her drink at Tainted Love, who are playing "Unbelievable" (also not from the '80s). "I hate this song!" she screams. It is our cue. We retreat to the bar. The bride sits on the hostess's lap and then she's straddling the hostess, and the two guys who bought her the shots look over with interest until the bride slides to the floor with a bump.
I notice plush phone booths in the lobby and dash into one, because suddenly it is incredibly urgent that I talk to my boyfriend right away.
"Joe!" I say. "It's me, I'm here seeing Tainted Love. They suck!"
He's confused, startled. "It's after midnight," he says. "Is everything okay?"
"I love you!" I say. "It's so weird here, I just had to call you now and tell you how weird it is. What are you doing?"
"Are you drunk? You're drunk."
"I miss you! I'll see you tomorrow."
"Be careful," he says. "Are you sure you're okay?"
"I love you! Don't worry, we have a limo. Bye!"
I spy a bachelorette swaying/standing. "I think I'm going to throw up," she says.
I grab her arm. We rush to the bathroom. There's a line going out the door, but we cut to the front.
The bathroom attendant—they still have bathroom attendants?—shakes her head. "Nuh-uh," she says. "You gotta go to the back of the line." My bachelorette cannot wait; she vomits into a sink.
"You can't do that in there!" says the attendant. "I ain't cleaning that shit up." She's wearing a polyester smock, like a cleaning lady wears. She has seen girls like us come and go every weekend; our tawdry splendor is less than nothing to her. On our way out, my friend stuffs a handful of dollar bills into the attendant's tip cup, hiccupping wetly.
The other bachelorettes rest in the lobby, wilting on sofas. We rally and summon our limo. I cling to my charge and escort her outside. I realize my shoes are inside the club, somewhere on the dance floor.
The hard-core party girls pop out of the limo's sunroof again, but my once-supple reserve of Whoo is dry. I push girls out of the way to get a seat next to the door as my woozy friend lets out a gurgling belch. I roll the power window down and ease her head toward the fetid city air. The limo breaks hard and girls tumble atop each other, a tangle of stiletto heels and faux pearls and ratted-out hair. I do not tumble with them; I have made myself small and distant.
My friend leans out the window, retching. Her sickness is my salvation; the more I focus on her, the less aware I am of my closeness to the very same state. I hold her hair back to make it okay. I see the chaotic spatter on the glossy black door when we stumble out of the limo in front of our hostess's place. We give the driver what I assume is a very generous tip.
Back in the loft, the intrepid hostess puts on even more '80s music, and it bores into my eardrums like a dentist's drill. The bride moans in an armchair, the empty pink shot glass still around her neck. My friend passes out on a futon, all vomited out, her dress torn. I brought pajamas, but I crawl under the coffee table in my purple dress and wish I hadn't started out the night with red wine.
At dawn, I creep to the toilet to throw up. A few hours later, I wake up to a line of girls suffering for turns in the bathroom. "I think everyone here has puked," the rumpled bride says from her armchair.
It takes me an hour just to get off the floor. Even my hair hurts, which, after a night under the coffee table, now resembles Robert Smith more than any member of Echo and the Bunnymen. I throw up one more time for good measure before I drive home. Joe is there, looking bright and healthy.
"What exactly happened last night?" he asks.
"I'm going to die," I tell him. "Bed."
I sleep until five that afternoon and eat boxed macaroni and cheese for dinner. Three years later Joe and I get married, and I do not have a bachelorette party.
•••
SARA BIR is a chef, culinary educator, and former music critic/sausage cart worker/sportsbra salesperson/library assistant/chocolate factory tour guide. Her writing has appeared in Saveur, The North Bay Bohemian, The Oregoninan, MIX, and Section M. You can read her blog, The Sausagetarian, at sarabir.com.