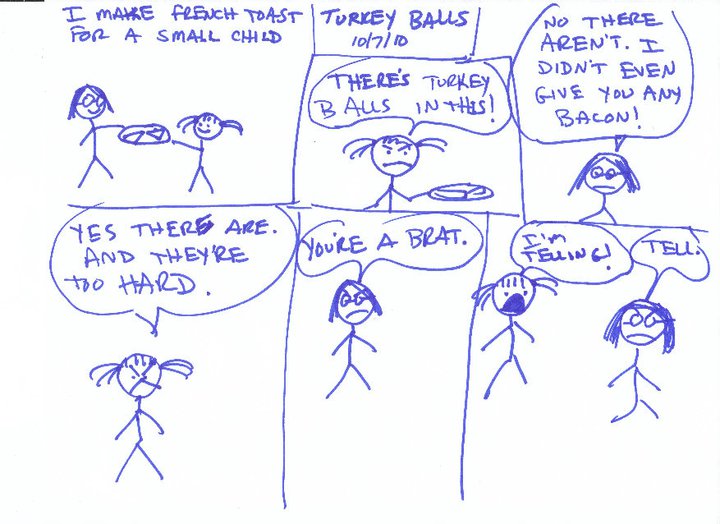 By Jody Mace
Once I was involved in a political revolt. The situation leading up to the revolt was horrifying. I'll just mention the worst of the atrocities. The dictator was sawing people in half at the waist. Led by a wise, bald man, we succeeded in overthrowing the autocracy. My personal heroism was as follows: I rescued a baby from a river, and after we restored a peaceful democracy I contacted a dentist, because many children had lost their retainers during the struggle for freedom.
This was a dream.
The only reason I can describe this dream, three years after it occurred, is because for one year I drew every one of my dreams in cartoon format. I've been asked why I did this, and I'm not sure why I started, but I continued because when I shared the first picture on Facebook, it got lots of likes and my friends said it was funny, and I will do almost anything for a laugh. So I created a Facebook page.
It turns out that I had very few dreams in which I was a hero. In fact, the dreams exposed the worst of myself. I did things that I wouldn't do in real life but might think about. I cheated in sports and I called small children "bitches" (and then lied about it: "Tell their parents I called them 'witches.'") I went ape-shit on a college professor who said I wasn't listening, throwing desks around the room in an uncontrollable rage.
In my dreams I examined what I would do if presented with situations I was unlikely to face in real life. I learned that if I were a soldier, I would avoid injury by finding hiding spots whenever the shooting started. Also, after a rampaging hippo at the zoo was shot and killed, I looted its cage and stole its toiletries. ("This shampoo looks good!")
Everyone knows this about dreams: they're fascinating for the dreamer to talk about but boring as hell for the people who have to listen. Try telling someone your dream from last night and watch for the exact point when the listener's eyes glaze over. It won't take long.
But that's not because dreams are boring. It's because our storytelling is boring. We don't know where to start the story and we sure don't know where to end it. The interesting parts are buried in mundane detail. If I were to describe the political revolt dream but started at the beginning of the dream, where a tour group was packing into a bus and the driver said something a little weird and I looked out the window and saw someone selling hats, nobody would be listening by the time I got to where the dictator was sawing people in half, and that's when it started getting interesting.
If you were telling someone a story about a close call on the freeway in the afternoon you wouldn't start out by describing brushing your teeth in the morning. You probably wouldn't include what kind of shoes you were wearing. Just because something happened doesn't make it a part of the story.
Because I was drawing the dreams, I was forced to boil each dream down to its essential elements, maybe five or six frames. It also helped that I can't draw. So everything that happened had to be depicted in the simplest manner possible, which made it impossible to include extraneous details. The cartoon me had maybe three distinct facial expressions during the course of the year, but I learned to draw those three facial expressions convincingly. My "angry" expression was particularly iconic.
My poor drawing skills did occasionally call for some explanation, so there are a few notes here and there, like "Third arm is an accident," "Not really this tall," "This is not a penis," etc.
The exercise of identifying the interesting elements of a story, and figuring out where a story begins and ends helped me in my other writing as well. I became more ruthless, slashing words, sentences, paragraphs. I think that drawing badly made me a better writer.
Drawing my dreams also made me work harder at the visual aspect of storytelling. Sometimes the dream could be told with hardly any words, just pictures. In one dream I had read a book on caring for chickens and it said that it was good for chicks' social skills to spend some time every day with a rooster. So the picture consisted of several frames of little chickens climbing all over a rooster, and finally a close-up of the rooster with a pissed off look on his face and the words, "The rooster is not amused."
And maybe being creative in a medium for which you have no skill or talent helps your creativity as a whole, because you can't rely on any skill you might have developed. I don't know the "rules" of drawing the way I know the "rules" of writing. If there's a grammar to illustration I don't know what it is. So I had no filter, and it felt good to create with no filter.
Sometimes I drew other people's dreams as well. They'd tell me the long, boring version of the dream, and I'd boil it down to the essentials. Several times I drew my husband's dreams. They were interesting to me because of what they said about our relationship. Like this one: We were climbing around on a cliff. We got to a dangerous part and Stan said, "We should stop," but I said, "No! Let's go!" Then I fell off the cliff into a body of water. Stan had to jump into the water to rescue me, risking his own life, but I was dead. Only I wasn't dead! I jumped up and said, "That was fun!" What this dream says about our relationship is that I'm the fun one.
I also drew my friend Christie's dream in which she and Stan were driving a truck through the mountains, hauling several refrigerators wrapped in towels. The interesting part of the dream is that Christie and Stan were flirting with each other. Later Christie claimed that I misinterpreted her dream and that they were not flirting, but when you ask someone to draw your dream, the artist gets to make the call.
My favorite dream I drew was one of Stan's. It's also probably the most offensive. In this dream we were browsing a catalogue of organic meat and we had this conversation.
Me: "I think I'll get a midget."
Stan: "What? Do you have any idea how big a midget is?"
Me: "I'll cut it up and put it in the freezer."
Stan: "I'm not eating some tough old midget!"
What I like about this dream is that on the surface it appears that he's the virtuous one, rejecting the notion of cannibalism. But really his objections focus on the space the midget will take up and the quality of the meat. (Also, I know we don't use the word "midget" anymore, but this wasn't my dream.)
During the year I drew my dreams, I found that I remembered more of them, probably because the first thing I did each morning was recall them so that I could draw them. I also kept a notebook by my bed so if I woke up in the middle of the night I could write down a word or phrase to help me remember the dream I had before I woke. Sometimes the scribbled notes made me a little sad, like when I read "monster on house" but couldn't remember the dream.
Reading notes about these lost dreams made me appreciate even more the staggering creativity that goes into dreaming. During the day, sometimes I stare at a blank Word document wondering if I'll ever get another idea, and I hit "save" after writing just a couple sentences, afraid of losing even one word. But at nighttime ideas flow so freely. I tell stories, make jokes, invent things, and paint pictures with absolutely no effort at all, and then they're simply released, like they're nothing. If I don't catch them as soon as I wake, they're gone forever.
I rarely draw my dreams anymore, but I still look forward to sleeping every night and not just because I'm tired. Every night I anticipate the places my brain will take me, the surprising connections it will make, the unlikely storylines and the unselfconscious confessions. Every night I hope that when I wake, before I fully surrender to the morning, that I can grab a thread from a dream, give it a gentle tug, and bring that lovely diaphanous memory with me into the world of solid things.
•••
JODY MACE is a freelance writer living in North Carolina. Her essays have appeared in O Magazine, Brain, Child, The Washington Post, and many other publications, as well as several anthologies. Her website is jodymace.com. She publishes the website Charlotte on the Cheap in Charlotte, North Carolina.