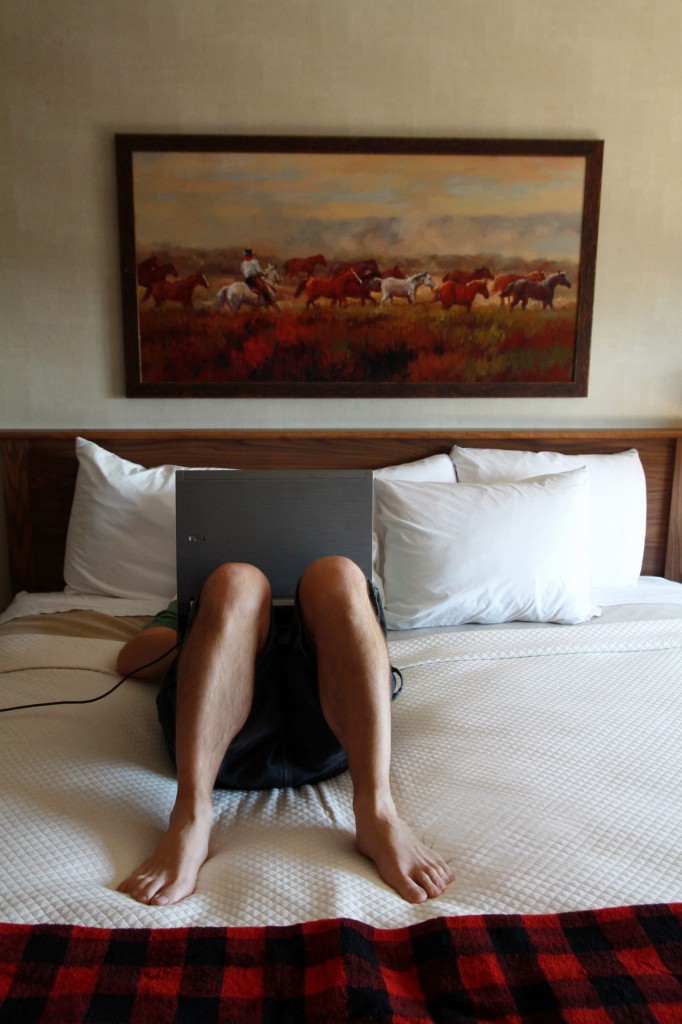 By Jennifer Niesslein
A word association game: Pick up the robocall, and hear the name "John Smith.*"
John Smith means a prince of a man—a beloved elementary-school teacher who your fifteen-year-old son adores. Gifted and popular. Merry eyes, short, kind of a goofball.
"A sad acknowledgement."
Oh, no. Did he die? He's married with two daughters—sweet, smart kids, one in your son's grade, one in your best friend's daughter's grade.
"…arrested yesterday on charges related to child pornography."
Game over.
•••
I'd last seen Mr. Smith a few weekends before. Our kids had arrived at the age when they had many commitments, both social and academic, and no driver's license. It had been the third weekend in a row where my husband, Brandon, and I had listened to another of their musical performances.
Brandon and I waited in the lobby with the rest of the parents while the kids took off their uniforms and packed up their instruments. We chitchatted with the parents of our son's closest friends, but it's a small community—just one high school for the whole city—and we were familiar with many other parents. I called the other parents by their first names, but Mr. Smith would always be Mr. Smith to me; I'd already mentally filed him away as "teacher," an identity that requires a certain amount of respect.
He was standing near the door. "Hey, there," I said to him, smiling.
He smiled back. "Hi," he might have said. "How's it going?" maybe. I actually don't remember. He wasn't clean-shaven, but it was a weekend after all; I looked kind of schlubby myself. He was just Mr. Smith, a known quantity. He was friendly with the other parents, joked with the kids, and carried that particular kind of teacher celebrity—the teacher who every parent wants their child to get—with grace.
When his mug shot was posted on every news outlet in our small city, I could see that, to a lot of people, he would look like a perv. No crinkly eyes, no smile. Just a bald, white man with a grimly set mouth. He was charged with two counts of possession of child pornography and one count of using a communications device to solicit child pornography. I Googled those words as if they could mean something other than what they mean. They don't.
I don't know what kind of story this is yet. Is it about sympathy for the devil? Is it about confronting a monster? Is it about a decent man with a terrible fetish? Is it about my own stupidity?
•••
It should go without saying, but without children, there would be no child pornography. Every child porn video or image out there shows a kid experiencing abuse at best, rape at worst, on film.
It's tough to find numbers on the victims. In December 2012, a Congressional report on child pornography was released. It's book-length and covers everything from sentencing suggestions to behaviors of users of child pornographer to data on the victims themselves. "It is unknown how many victims of child pornography exist worldwide," the chapter on the victims begins. A Canadian governmental report estimates that there are more than five million unique images of child porn on the internet.
The National Center for Missing and Exploited Children has a special task force that looks closely at child pornography. In fact, the Congressional report, as well as federal law enforcement, relies on the Center's work. "The National Center for Missing and Exploited Children ('NCMEC') has reviewed over 57 million images and videos of child pornography (many of them duplicates)" according to the report, "and has assisted law enforcement in the identification over 4,103 individual victims."
(Two things to note: First, those 4,103 kids are just a small fraction of the whole. Also, Reviewer for NCMEC has just shot to the top of my list of Worst Jobs Ever.)
Some numbers, from NCMEC's own intake program, which doesn't necessarily reflect the makeup of child pornography as a whole:
• Girls make up 57% of the victims; boys make up the other 43%.
• Twenty-four percent of the children are pubescent. Seventy-six percent are pre-pubescent; of those kids, 10% are infants or toddlers.
• Most of the victims are abused by someone close to them. It's a fairly rare occurrence for the children (or the adults they become) to speak out.
But when they do, this is some of what they say:
From "Amy," as reported by the NCMEC, at a judicial proceeding against her uncle: "I am still discovering all the ways that the abuse and exploitation I suffer has hurt me, has set my life on the wrong course, and destroyed the normal childhood, teenage years, and early adulthood that everyone deserves."
From Masha Allen, on Nancy Grace, who was adopted from a Russian orphanage by an American man: "My pictures that are on the Internet disturb me more than what Matthew did because I know that the abuse stopped but those pictures are still on the Internet."
From an anonymous male victim originally from Kentucky, in the Tampa Bay Times: "It's taken my happiness, my peace of mind. It's taken everything. I can't get it back. I can't pretend it didn't happen."
According to the Congressional report, both the Supreme Court and Congress have acknowledged that the children abused in pornography experience a unique form of victimization since the record of their abuse lives on and provides fodder for yet another someone to get his rocks off. If that's not enough, some victims have reported that it haunts them that the images of them could be used to "groom" new victims. Worse yet, some victims become revictimized when porn users stalk them, online, at school, or, in one documented case, at a softball game.
•••
Mr. Smith was being held at the jail without bond. The judge said that he would reconsider if Mr. Smith's attorney and wife could prove that he had no access to the internet or smart phones.
We, the community, still had no idea what he'd been looking at. Somehow, it would make a difference, we thought. "Barely legal" or something.
•••
It's a rare scandal that doesn't start with a secret. Ask Bill "That Woman" Clinton. Ask Larry "Wide Stance" Craig. Ask John "You're So Hot" Edwards. Ask Mark "Hiking Trip" Sanford.
Like a lot of reasonable people, I believe that people can be extremely gifted in their work and still screw up royally in their personal lives. I know a guy who's super-smart and creative with tech stuff, yet he has fucked over his family in a major way. I recently read of a wonderful actor with a terrific family who died of a heroin overdose. If I can believe what I hear, I'm a damn good editor, but I know that I'm also a terrible custodian of my own health.
I believe that people can compartmentalize, that the good and the ugly can stay separate and sometimes even work in tandem to make a better, stronger person. When I think of Mr. Smith, my first impulse is good guy, quickly followed by or maybe not.
Can a person have a terrible secret but still be a decent human being? This isn't so much a question as a desperately wished-for hope. (So desperately wished-for, in fact, that my own online search history has become riddled with the phrase "child pornography.")
The research shows that there isn't a definite link between pedophilia and child pornography. "[N]ot all child pornography offenders are pedophiles, and not all child pornography offenders engage in other sex offending," that 2012 Congressional report states. "While there is overlap in these categories, each is separate and none is a predicate to any other."
In some ways, this is exactly what I wanted to know: that it's possible for a person to harbor a horrible sexual fantasy and still keep it in the fantasy realm. This is the best-case scenario, other than Mr. Smith's arrest being a case of mistaken identity. This is the scenario that lets a parent feel okay about her child having been under Mr. Smith's care.
In other ways, it doesn't help at all. In the chapter on child pornography offender behavior, the Congressional report slices and dices all the studies that have been conducted on child pornography offenders. There is a correlation—although not causation—between someone owning child pornography and committing sexual contact with minors. Most child pornography offenders have a certain type of image that they like—a certain gender, certain age of child. Other times, though, some of the data contradicts other data. Some of the data introduced me to a world I had no idea even existed, like online communities where "collectors" trade images and form social bonds with each other. And it occurred to me that all of it is based on the offenders who got caught, which skews the sample.
None of it, really, though, helps me understand what Mr. Smith allegedly did when he thought no one was looking.
•••
Mr. Smith was denied bond at his hearing until, the judge said, a forensic psychologist could determine that he wasn't a danger to himself or others.
According to local media, some details emerged about what Mr. Smith allegedly did. The defense attorney said that Mr. Smith had had some explicit sexual contact with a fifteen-year-old girl living in Northern Virginia, albeit via web cam. The prosecutor insisted that the judge needed to look at the images and the chats and the hundred-plus pages that would show that Mr. Smith had done this sort of thing with other girls in the past two years. It was implied that this was some raw stuff.
Mr. Smith had also submitted to a lie detector test. He admitted to "the essence" of the allegations, but insisted that he has never, ever had physical contact.
When the first judge denied bond, Mr. Smith's attorney immediately appealed, leading to a second hearing in one day. The second judge also said that Mr. Smith could only be released before trial after a meeting with a forensic psychologist and with the caveat that he could have no internet or smart phone access.
The media also reported that Mr. Smith's supporters were in force at the hearings. This, in spite of everything, made me happy.
•••
Fifteen years old. For some people, that detail will exhonerate the alleged crime, maybe just a little, especially in this culture that equates youth with sexiness. If she can bleed, she can breed, I heard a friend's brother say once when I was younger. At the time, this didn't chill me; I grew up in boy culture, all football and heavy metal and talk dirty to me. Girls were ornaments: the cheerleaders, the trophies, the afterthought.
Back when the internet and smart phones didn't exist, I was a fifteen-year-old girl living in Northern Virginia.
I was researching something for school at the library connected to the community center when a tall guy with curly, dark hair started flirting with me. Italian looking and muscular, he'd been playing basketball in the courts in the building. We struck up a conversation. His name was Mike. He was twenty years old.
We went on a date that I cleared with my mother by pointing out that I was mature for my age and he was immature for his. Which was true enough, I suppose. (By the time I was twenty, I'd be in college, living with Brandon, and would have been seriously creeped out by any of my contemporaries dating a high schooler.)
At an ice cream shop, Mike bought us sundaes. All I can remember of our conversation is that he pointed out that our waitress looked like Broom Hilda, the comic strip character. Afterwards, we made out in his car.
We went on a couple more ice cream/ make out dates. I think I liked the idea of him more than I actually liked him. It was probably mutual. I was an honor roll student; I never asked him what he did for a living but suspected it was something sketchy, involving a cousin of his whom I'd met once. I never had sex with Mike, and I think he finally figured out that I never would. The last time I spoke to him was on the phone, when he arranged another date.
He stood me up.
I got dressed and waited for him to pick me up. I waited longer. My mother looked at me sympathetically, but she wisely didn't say a word, not calling attention the fool that I was being made. By the time I conceded that he wasn't coming and I took off my makeup and jewelry, I was seething. I hatched a plan.
In the next month or so, I got a friend who had a driver's license to drive me to the grocery store. They sold raw chicken livers in plastic vats filled with chicken blood. I wanted the blood.
We drove to Mike's neighborhood and found his car.
I poured the blood all over the car. I hoped it would ruin the paint job. I realize now that it probably seeped into the vents and created the ungodliest of stenches.
So, an exhibit: the emotional maturity of one fifteen-year-old.
•••
In December 2013, a Congressional aide named Jesse Ryan Loskarn was charged on counts of possession and distribution of child pornography. Thirty-five years old, Loskarn was allowed to post bond and stay at home until his trial. He hanged himself on January 23.
In a letter he left behind, he wrote, in part:
The first time I saw child pornography was during a search for music on a peer-to-peer network. I wasn't seeking it but I didn't turn away when I saw it. Until that moment, the only place I'd seen these sorts of images was in my mind.
I found myself drawn to videos that matched my own childhood abuse. It's painful and humiliating to admit to myself, let alone the whole world, but I pictured myself as a child in the image or video. The more an image mirrored some element of my memories and took me back, the more I felt a connection.
This is my deepest, darkest secret.
•••
How to make sense of Mr. Smith's deepest, darkest secret? It's a lot to ask of anyone, to open your heart and your mind to encompass this big, gray mess: that Mr. Smith has done an amazing amount of good in his teaching career and that Mr. Smith might have victimized minors. It's an almost impossible thing to ask of his nine-year-old students.
When my son was a year older than them, he joined Google Groups (the precursor to Google Plus). I was nervous about his foray online, and I monitored his account. I noticed an unfamiliar name following—and attempting to interact with—him and many of his fifth-grade friends. Through some sleuthing, I found that this person was an adult man who lived in an Atlanta suburb with his parents. I notified the other parents. I notified the guidance counselors at the upper elementary school. I notified the local police's task force on internet crimes, who asked if my son would let them take over his online identity. (My son declined.) In the end, the kids kind of took care of it themselves, calling the guy out as a "creeper" and blocking him.
I think now that this is a story about loss. Children have lost a certain kind of innocence: the victim in obvious ways, those who knew Mr. Smith as an educator in subtler ways. The city has lost a teacher who makes kids excited about learning. Mr. Smith has, at the very least, lost his reputation and almost certainly his career, no matter what the result of his trial. His family has lost so much, on so many heart-breaking levels.
I've lost a little bit of faith in my own moral compass. I wish I could go back to being able to categorize people as creepers or not, worthy of blood on their cars or not. I can't.
* John Smith isn't the teacher's real name. There's plenty of media coverage of the story, and out of concern for his family, I elected not to go there.
•••
JENNIFER NIESSLEIN is the founder and editor of Full Grown People. Her website is jenniferniesslein.com.