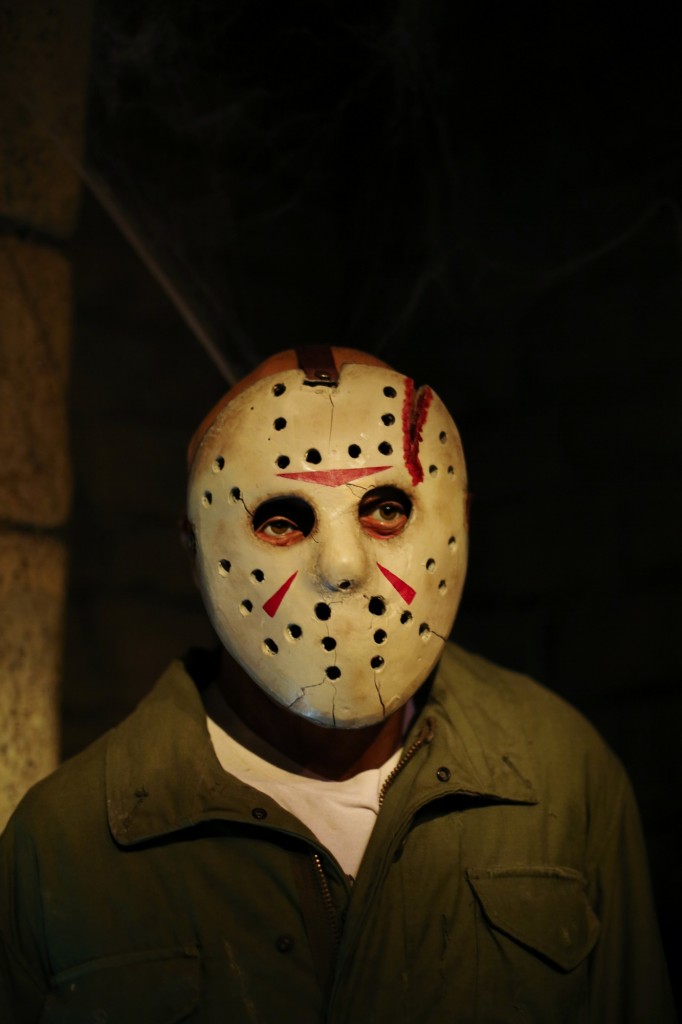 By William Bradley
"Fear of fire, fear of lightning, fear of fire caused by lightning, fear of falling trees, and of those people who drive their cars into houses or gas stations because they confuse the brake with the gas. Once on Central Park West a man reached for my wrist as he said, "Can I ask you something?" but I didn't let him. Fear of unasked questions that will never be answered. Fear of Rumpty-Dudget a character in a book, 'Rumpty Dudget's Tower,' that I have never read, but whose worn blue spine I can sense on the bookshelf in my parents' living room at all times, even now. Fear of women in high heels; fear of Mrs. Stein, my second grade teacher; fear of other people's carelessness. Fear of small but deceptively sharp knives, like the Swiss Army knife that cut my brother's finger so deep only one of my mother's maxi-pads, with wings, could hold the blood. Fear of sirens, though only when I am driving and cannot tell where they are coming from; fear of North Korea; fear of visiting Turkey, where I was born, and not being allowed to leave. Fear that there is something really really wrong. Fear that there is nothing that can fix it."
—A. Papatya Bucak, "I Cannot Explain My Fear"
My wife and I each paid twenty dollars to attend the one-night-only twenty-fifth anniversary screening of the original A Nightmare on Elm Street several years ago. This was at a point in our marriage where we probably couldn't afford to blow forty dollars on a movie, but I had just started my first academic job and, for the first time, we had an annual household income of over $25,000, so we felt rich. More importantly, I love A Nightmare on Elm Street and was excited for the opportunity to see it on the big screen.
If you asked me for my favorite horror movie, I would honestly tell you that it's The Shining. Kubrick's use of tracking shots, Bela Bartok's score, Shelly Duvall's performance as an abused woman trying to survive in an icy, opulent hell—it's all amazing and remains unnerving every time I watch it. But if I have a few beers tonight and decide I want to watch a scary movie, I'll probably put something like Friday the 13th Part 3 in the DVD player. You can watch it in 3D in the comfort of your own home, you know. But more importantly, I find that cheesy slasher movies from the seventies and eighties just have their own sort of goofy charm. Yes, they're violent, and more than a little misogynist. But it's so hard for me to take them seriously at this point. Even though they were rated R, they seem, in their simple-minded black-and-white morality, childish to me. Not of the morally complicated adult world I live in, that's for sure. So watching movies like these reminds me of my childhood, keeps me tethered to the dorky, horror-obsessed kid I was, and—I sometimes like to imagine—keeps me young.
•••
Even before I saw my first horror movie, I found them fascinating. When I was a kid, my parents were diligent in shielding us from movie gore and anything remotely scary; the idea, I know, was to protect our impressionable minds from anything that might upset or disturb us, but I'm afraid it didn't entirely work. In fact, as I got closer to my middle school years and realized that most of my friends had seen Halloween and Silent Night, Deadly Night, I became acutely aware that my parents had been sheltering me: there was a whole world of supernaturally-powerful serial killers and blood-thirsty demons out there. And though I understood, rationally, that these things only existed in movies, on some level I think I perceived something menacing about the adult world as a result of my parents' zealous protection. After all, if there were nothing to really be afraid of, then why would I need to be protected?
But maybe that's not quite right. Maybe my brother and I detected menace before becoming aware of these movies, and that's what caused my parents to try to shield us from multiplex mayhem. I know that the witch in the Wizard of Oz scared me when I was a kid; so too did Dr. Banner's transformation into The Incredible Hulk on TV. And my brother couldn't stand to be in the room when The Electric Company started—the voice that yelled "Hey You Guys!" would cause him to cry if he heard it. And, truth be told, he was well into adulthood before he could force himself to watch the scene in Indiana Jones and the Temple of Doom where the villain rips the guy's heart out of his chest. So, perhaps my parents—realizing that their sons were high-strung and easily frightened—understood that they had to be on their toes when it came to shielding us from big-screen frights.
Or, maybe I'm over-thinking the whole thing, and responsible parents just don't let their kids watch R-rated movies full of naked breasts and chainsaw-wielding madmen who want to turn teenagers into barbecue sandwiches.
The bottom line is, by the time I was in the fifth grade, most of my friends had seen at least some of these movies, and I had not. I was fascinated by the very idea of these forbidden movies, what they said about the adult world, and why my parents felt the need to shield me even while my friends' parents did not feel a similar need to shield them. Plus, there was that nagging suspicion—then, as adolescence was just on the horizon—that there was something more than a little lame about not knowing anything about these movies that were so important to my classmates. I was already beginning to understand that I was a dork—a label that would stay with me at least through the beginning of high school—and part of that dorkiness came, I understood, from my naïveté when it came to these elements of the popular culture that were so important to kids in the eighties.
I found my entrance into this world of horror that my friends knew so well one morning in the cafeteria before the first bell rang to send us to our classrooms. A kid I knew, Jeremy, had a book in front of him—The Nightmares on Elm Street, the official novelization of the first three Freddy Krueger movies. The films' logo—which looked like it had been scribbled by a madman with a nerve disorder—was splashed across the cover, with Freddy's razor-fingered glove hanging down, blades partially obscuring the title with the blood that dripped from them.
In all of my eleven years, I had never seen a book that looked so cool.
"Good book?" I asked him.
He nodded. "Yeah. The movies are better, though."
Of course they were, I thought. "Why are you reading the book then?"
He shrugged. "I just really liked the movies." I think he must have intuited my interest, because he said, "I'm almost done with it. I'll bring it tomorrow, if you want to borrow it."
Jackpot. Jeremy had allowed me to find a loophole in my parents' "No Horror Movie" rule. They didn't make R-rated books, after all—and weren't my parents always on my case about reading anyway? Even if they found the book, I could always use their previously articulated arguments in favor of literacy against them. Finally, I had won. I would learn exactly what was so scary that my parents had felt the need to protect me.
I felt certain that reading the Nightmare on Elm Street book would allow me a deeper understanding of the real world.
•••
I didn't just read the book—I devoured it like a Romero zombie devours brains.
As I read it, I realized that books, too, could be scary. I had an imagination vivid enough to picture what it must have been like for Rod to see Tina's sleeping body rudely lifted from the bed by an invisible force, shoved to the ceiling, and split open by unseen razor fingers. I could see Tina running from Freddy, his arms somehow long enough to stretch across the entire alley, affording her no escape. I could imagine Jesse's dread as he came to realize that Freddy intended to possess his body in order to kill in the waking world.
The irony is, I probably would have been better off watching the movies, as far as my own fear went. When I finally saw the movies, I did find them scary, but I also realized that Rod and Tina were obnoxious and older than they should have been—they spoke the way people in their thirties think teenagers speak ("I woke up with a hard-on that had your name on it." "Tina's a four-letter word—your joint's not big enough for four letters."). The scene where Freddy chases Tina down the alley looked so fake that it made me giggle when I finally saw it for the first time. And Jesse was just an irritating whiner—if Freddy wants him so badly, let him have him, I'd later say.
But that's not how I responded to the novelizations. No, the novelizations were simply terrifying, and—since Freddy Krueger killed kids in their sleep—I promptly resolved to never sleep again.
I didn't actually make the decision consciously, of course. I may have had an overactive imagination and very little idea about how the real world worked, but I wasn't an absolute moron. I knew, logically, that child murderers do not come back from the dead to haunt the dreams of the children whose parents burned them alive in their own boiler rooms. It just didn't happen—and if it had, it would have been all over the news. No, if people could come back from the dead and hang out in people's dreams, I was fairly certain that my grandfather would have checked in from time to time. The premise of the movies was not grounded in reality—it all came from this guy, Wes Craven, who wrote and directed the first movie. And, I could convince myself during the day, that guy probably lived in a mansion in Hollywood, surrounded by movie stars and supermodels, and hardly ever thought about this creation of his that was haunting me so.
That was my rational mind. But how many perfectly rational eleven-year-olds do you know—particularly when they're in a dark room and the rest of the family is asleep and the house is making weird noises?
My parents realized pretty quickly that I seemed groggier than usual at breakfast, and that I was falling asleep while watching TV in the afternoon. And I eventually had to tell them that I wasn't sleeping much at night anymore, and why. I can't say my parents were angry with me, but nor were they particularly pleased. When all is said and done, I think the situation kind of annoyed them. "You're not sleeping because you're afraid that a boogeyman in a fedora hat that you read about in the adaptation to a movie you've never seen is going to kill you?" I don't think that's the type of question any father wants to ask his son.
As stupid as they surely found the situation, I have to say that my parents bent over backwards to help me to sleep again. No more drifting off in the afternoons. A big glass of warm milk before bed. God love them, at one point they even took me to our family doctor, apparently hoping that there was a pill or something that would make me forget to be such a neurotic coward. The doctor, for his part, seemed confused about what his role in this personal drama was supposed to be. "I would say," he eventually concluded, "he needs to get over it and start sleeping again."
Which is exactly what happened. As time passed, my terror over what I'd read faded. In a few weeks, it all seemed silly, and I was quite embarrassed by the whole episode. Scared by a movie character? How dumb. I promised myself that I would never mistake supernatural fiction for reality ever again.
I kept that promise, too. For several months. Until the USA Network showed Children of the Corn one afternoon when I was home sick, and the process repeated itself. Just as it would a year or so later when I saw Halloween for the first time. And then again with Friday the 13th. These movies terrified me as a kid, but I couldn't stay away from them.
•••
As an adult, it's a rare and special thing to find a horror movie that's genuinely scary. The Shining, The Exorcist, and Alien still retain the ability to unnerve, and I'll occasionally find an older movie, like Bob Clark's original Black Christmas, that really freaks me out. But too much of what passes for horror these days seems watered-down, or too outlandishly stupid to be taken seriously, or just not scary. I can't imagine anyone watching the recent A Nightmare on Elm Street remake and actually getting frightened.
Of course, part of the problem is, I've found new things to be scared of. As it happens, my parents were shielding me from the menacing adult world; it was just the nature of the menace that I'd misunderstood. There are no doll serial killers or leather fetishist demons with pins in their heads—instead, there are religious extremists with bombs. There are factories dumping carcinogens into streams. There are people who think a life devoted to literature and art is simply decadent. There's waterboarding.
I fear that my writing is mediocre at best. I fear that my wife no longer finds me as physically attractive as she used to. I fear that I'll never realize my dream of becoming a tenured professor. I fear impotence. School shootings. Stand your ground laws. Getting drunk and revealing how offensive and obnoxious my internal monologue actually is. Cancer. Being revealed as the academic and artistic fraud I'm pretty sure I am. That my parents will die. That my wife will decide she no longer loves me.
These are the things that terrify me. Sometimes, the only way to calm my nerves and quell the fear is to turn my brain off and watch a madman with a butcher's knife stalk and then kill some babysitters.
•••
The twenty-fifth anniversary screening of A Nightmare on Elm Street was kind of a bust, actually. I had this idea that the theater would be filled with aging Gen-Xers excited to recapture the experience of being a child of the 1980s again. And there were a few of us like that in the audience. But there was also a group of about fifteen teenagers sitting down in front, and they were pretty rowdy—shouting things at the screen, giggling, running around the theater, making and receiving phone calls. My shushing got louder as the movie went on; a woman roughly my age sitting nearby eventually shouted at the kids, "Shut the fuck up!"
"This is ridiculous," I kept whispering to my wife.
"Do you want to go complain?" was her constant reply.
I didn't. I didn't want to be the type of person who gets annoyed with young people. I didn't want to be someone who gets angry at the sound of teenagers laughing. I hated the idea that I was the type of grumpy old man who said things like "Get off my lawn!" or who had groups of teenagers thrown out of places because of shenanigans and tomfoolery.
Towards the end of the movie, as Nancy is setting her traps for Freddy, one of the teenage girls came walking up the aisle, gabbing into her phone.
"Oh I know," she said, "it's soooooo stupid, but funny…"
As she walked past me, I leaned towards the aisle and shushed her as loud as I could.
She stopped and adjusted the phone so that it wasn't near her mouth. I was expecting her to whisper "Sorry," but instead she looked right at me and shouted, "Shut up!"
I was shocked, startled both by her viciousness and the phrase that entered my head immediately: "My God, I would never have spoken that way to an adult when I was her age."
When I was her age. Back in the day. The good old days? The grown-ups I knew when I was a kid didn't think so—they thought we were out of control, with crack cocaine, gangs, drive-by shootings, casual sex, and N.W.A. Of course, their parents thought they were out of control, with their LSD, free love, campus protests, left-wing radicals, and The Beatles.
Unexpectedly, I did experience fear that night—the fear that comes from knowing that, somewhere along the line, you became old without realizing it, and you'll never know the reckless energy of youth again.
•••
WILLIAM BRADLEY's work has appeared in a number of magazines and journals, including Utne Reader, The Normal School, The Bellevue Literary Review, Brevity, Fourth Genre, Creative Nonfiction, and The Missouri Review. This is his second essay for Full Grown People. He lives in Canton, New York, where he teaches at St. Lawrence University, and he has recently completed a collection of essays that link to form an unconventional memoir about love, loss, and pop culture obsessions. He also recently found a very cheap used copy of The Nightmares on Elm Street novelization, which he thinks he might re-read this summer. He'll let you know if he ever sleeps again.