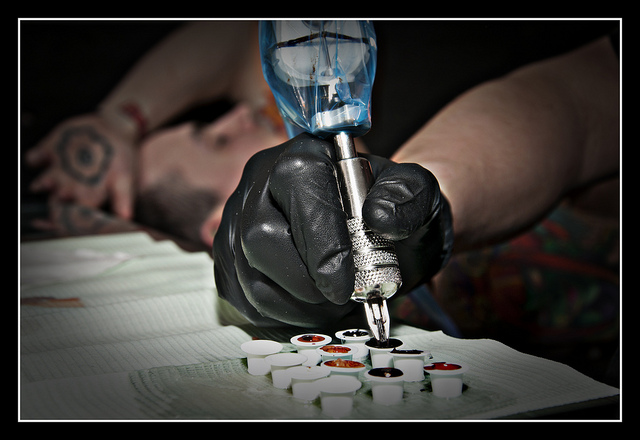 By Zsofi McMullin
I could sort of make out the outlines of the tattoo on my husband's arm on the small photo on my phone. He took it in front of our bathroom mirror, holding up his right forearm in front of his face. I had to turn my head to the side to see that there were sun rays and a sword and a heart—some Masonic symbols that I don't understand and perhaps I am not even allowed to understand. The tattoo stretched from wrist to elbow and wrapped all the way around his arm.
When we got married thirteen years ago, Drew did not have a single tattoo. I don't think we ever talked about his desire to have one. Now he has four, with a fifth one in the plans. The first ones were modest, easily covered up by shirts and forgotten. I was away on a business trip this time and I knew that it was "tattoo day," but the size and scope of this latest ink caught me off guard. I scanned myself for a reaction: how am I supposed to feel when my spouse turns from a baby-faced, soft-haired man into a bald, tattooed dude? I know how his mother feels about his tattoos and, when I think about my own sweet, soft-skinned baby boy getting inked when he is older, I completely sympathize with her. But Drew is not my child—he is my husband. So I should be supportive, right? I want to be—and I am—but I can't help but stop for a moment to acknowledge the unease in the pit of my stomach. Is it the tattoo itself that makes me pause? Or the change that the tattoo signifies? Does it signify a change? How do I know?
•••
Drew and I met at work a year or two after graduating from college. We were in the same class and, in fact, he is in some of my graduation photos, sitting a couple of rows in front of me. But we never met while in school. When he got a job at the same newspaper where I was working, I was dating one of his good friends. When my heart was broken, Drew was right there, ready to comfort me with late night conversations and trips to the mall and movies. We spent long afternoons in his car, driving around rolling Pennsylvania hills and forgotten small towns. We ate bad food at bad chain restaurants and then over drinks we shared the contents of our wallets. His: foreign currency—just in case—cash, credit cards, EMT certification cards. Mine: Hungarian ID, cash, and a handwritten note from my college roommate: "The map is not the terrain."
I don't think it was love at first sight—we even joked about how we weren't each other's soul mates—but it was definitely comfort and friendship at first sight. I didn't want any more friends with privileges or long-distance boyfriends who never called. I wanted someone who was there and who wanted me. Drew was—is—a grounding force: solid, steady, warm. He has a way of simplifying life down to its essential elements: "You love me, I love you. We are a family. What else do you need to know?"
We first kissed on a summer afternoon in my apartment. He brought in a bowl of apricots from the kitchen and told me to close my eyes. He split the fruit in half with his fingers and slowly fed one to me, wiping juice from my chin with his thumb. I heard the clink of his glasses as he put them on the table. The next bite was not an apricot.
We got married in Budapest the following January. We giggled through the ceremony and our vows, and the next morning in our honeymoon suite overlooking the Danube, we drank champagne for breakfast and watched as people on the street below us hurried to work. We felt content and close and didn't take this whole marriage business too seriously.
•••
What do we promise when we say "I do?" Sure, we promise for richer, for poorer, in sickness and in health. But life rarely comes down to such stark choices, especially early in a marriage. We never really have to make a conscious choice to stay married when the other person is seriously sick. Or when money runs out. Extremes happen, sure, but rarely.
When they do happen, it's obvious that it's one of those big, life-defining moments where one's job is to stand by and be supportive. Your husband calls to tell you that he is in the emergency room because he burnt off half his arm in a firefighting accident. His father has a brain tumor. His father dies. He gets the job. He doesn't get the job. These are clear-cut cases. You know what to do about them. You know the right amount of alcohol to pour into your evening cocktails. You know that a rare steak and chocolate cake will bring comfort. You know what words will spur the other person to action or to a different way of looking at the situation. You know when to shut up. Or take your clothes off. Or just get lost for a couple of hours. You know that whatever the thing is, it will pass.
What nobody mentions before marriage is the vast gray area between rich and poor, sick and healthy. That there can be shifts and trembles and almost unnoticeable movements and changes in your life together. When your spouse is going through something personal, a little crisis or journey—one that you are not necessarily invited to. And that's okay, because you do not want to be invited to everything, but still. This person lives with you and you'd like to know where he is going. Will the tattoos lead to a Harley? To a girlfriend? A sports car? Or are they just tattoos? Does he even know for sure?
Looking at the picture of his new ink, the skin around it still raw and red, made me think about my own scars—the ones on my belly from an exploding gallbladder, the ones around my breasts from my breast reduction surgery, and we are not even going to go into the scars and flab and rolls of fat left behind by pregnancy and childbirth. It's easy to forget about those, and even easier to forget about the invisible scars left behind from what everyone goes through in life: becoming a mother, losing loved ones, trying to find satisfaction and fulfillment in a career, figuring out friendships, lost loves, family. It's easy to not look at my own path, to just blindly go on, day-by-day, not glancing back at the big picture. It's easy to not stop and consider how the shifts in my life made an impact on the person I promised constancy to. The heart and the dagger and the rays of sun on Drew's arm made me look at all of that, and I realized that I am fooling myself if I think that he is living with the same woman that he married.
I also realized how it's possible to know someone so well, and yet not at all. How everyone's life is full of topsy-turvy roads and blind spots and how sometimes the person we think we know best is the one who will surprise us the most. Sometimes the person we love wants lots of tattoos.
•••
Our son is five and has a very vivid imagination and his pretend-play is very complex, detailed. He always wants us to play with him, but usually it's hard to follow where he wants a particular scenario to go. He just wants us right there, sitting on the floor with him as he lines up his toy soldiers. I am really not playing with him; I just serve as the audience. He leans on me, touches my hair, or gives me a kiss between battles. He sits on my lap for a while, then just holds on to me with one hand while he rattles on and on. It's obvious that he has a clear picture in his mind about where things are going, who will win the battle, who will capture the castle.
That's how I've been thinking about our marriage lately. Our careers have taken off. We are out of the trenches—or in-between trenches—when it comes to parenting. We have a comfortable life. There are no life of death decisions immediately in our future—hopefully. But on any given day, I remind myself, one of us is on the floor, lining up soldiers. We are off, battle plans in our heads, fighting on, figuring out the next steps. All that we can do for each other is ask questions, listen, and sit there, in case the other one needs a soft, comforting embrace, a hand to hold.
•••
Even before his latest tattoo, Drew's been gently teasing me about getting one too over a small scar on my right shoulder. The scar has mysterious origins—for a long time I thought that it was from a childhood immunization, but my mother told me that happened on my other arm. It looks like a pink bite mark—two distinct, uneven spheres right next to each other. I know exactly what my tattoo would be: a pink peony, the flower that bloomed every spring in front of our summer cabin when I was a child. They somehow became "my" peonies, and even after I moved far away from home, I would get timely reports from my grandparents and parents about the size of their early buds, their expected bloom date, their dark pink color, their fragrance filling up the garden.
So I would have this pink peony over my scar on my shoulder. I think about it every now and then, talk to Drew about it, but deep down I know that I am never going to do it. Whatever Drew is expressing through the pictures on his body is his alone and I know that eventually we'll both understand their meaning in his life—what they are covering up, what they are exposing. I help him apply lotion on his arm in the evenings and make sure that he can be free to go for his next appointment with the tattoo artist to finish the work. That is all I can do.
In return, I know he will tuck our son in bed and bring me tea—or wine, depending on the night—so that I can write these words, perched in bed, listening to the two of them laugh and read. I know that later he will come to bed, smooth his hands over the scar on my shoulder, over my breasts, belly. The skin on his forearm will be still rough under my fingers as it heals. We'll hold on tight to each other so we can battle on. "I love you. You love me. What else do you need to know?"
•••
ZSOFI MCMULLIN is a writer with recent essays in The New York Times, The Washington Post, The Huffington Post, Role Reboot, and Kveller. She has a son, a husband, and, as of press time, still no tattoos. She blogs at http://zsofiwrites.com and she is on Twitter as @hunglishgirl. She is a regular contributor to Full Grown People.