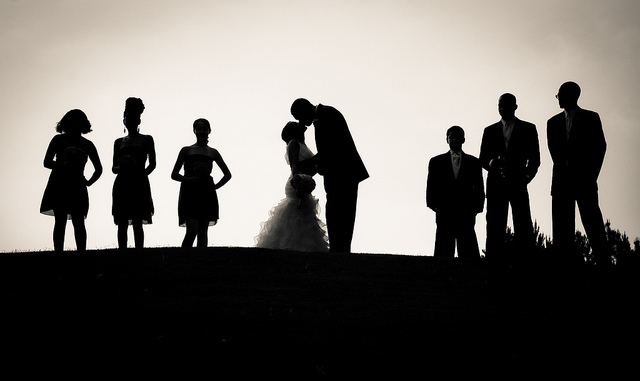 By Keysha Whitaker
My best friend Justine, in a sleeveless white dress that flared out in ruffles above the knees, descended the steps of a waterfront house in Maryland. The fifty hushed guests gasped on cue. They were here to celebrate the couple's forever-love; I was paying my final respects to our friendship.
That morning I hadn't helped blend makeup to match Justine's honey complexion or calmed her down in a moment of panic, even though we'd been friends for twenty-one years. Instead, I wandered around a nearby mall where I once waited while she went on a first date with a man she met online. This was in the early 2000s when Internet courting was synonymous with Craig's List Killer. Then, I was her wing woman, but today I wasn't by her side.
But at least I'd be in attendance, unlike her first wedding seven years ago. Amidst the stress of planning a wedding both families disapproved of, she decided on a four-thousand-dollar per person destination affair, even though I, the maid of honor, was living paycheck to paycheck. We'd already been quarreling about details when she took a new stance.
"Honestly, I don't care if anybody's there. I don't care if my family's there. It doesn't matter if you're there or not," she'd said in a huff. Hurt, devalued, and financially relieved, I'd bailed on the wedding and the planning of her stateside bridal parties. But seven months later, I'd felt guilty.
"It's fine," Justine had said when I'd broken our silence with an apology. "I'm over it."
But I wasn't. I'd vowed to prove myself reliable. So a few years later when she—newly divorced—prepared to relocate to New Jersey, I scouted apartments on her behalf and emailed self-made videos. With my help, she picked a Jersey City high-rise with a hypnotizing view of Southern Manhattan, not unlike the one behind her now.
As the bride stepped slowly into frame, I held up my iPhone and counted: one … two … Two was the number of times that I'd spoken to Justine on the phone in the last two years and I didn't know why. My thumb hovered over the shutter button as I let her walk out the shot and to the trestle where her groom and maid of honor—her college roommate who had replaced me before—waited.
Inclusion on Justine's wedding guest list but exclusion from her life was the culmination of bewildering behavior that began when she left New Jersey in April 2012. For two months, I left unrequited texts and voicemails. At first I was worried that something happened to her until I saw a Facebook post. She was living; she was just doing it without me.
My phone remained silent until September. "Hey. I'm in the City," she texted. "I'm gonna be at Penn Station around seven tonight if you want to meet up. If not, that's fine."
"Sure," I said, trying to match her nonchalant-ness. That evening I braved the rush-hour drive over the George Washington Bridge to meet her in Midtown.
We hugged. Then we laughed.
"What the heck happened to you?" I said.
"I guess I did your thirty days of silence and solitude," she said referencing my sporadic practice to abstain from phone calls to find my true and drama-free self.
"Yours was like three hundred days. And at least I tell people," I said. "You just disappeared."
Justine shrugged. "I did think about you. I'm glad to see you're doing okay."
Until she boarded her train, we made familiar easy jokes and traded expressive glances that had become like a secret language since our first day in a Connecticut Catholic high school. Drawn to each other by the energy that makes atoms collide, we compensated for our inability to take unsupervised outings (edicts set by mothers we believed were overprotective) by creating our own social world that lived on the landline.
We talked every day for hours. Even after college, we chatted in the mornings until she pulled into the parking garage and her signal dropped. Fifteen minutes later, we reconvened at her desk, yapping about work before getting off to actually do it. One year she called me at seven in the morning. A New York City radio morning show was searching for a female co-host. "You should apply," Justine yelled excitedly from somewhere on I-95. She knew my dreams of working in entertainment. I auditioned for the job and got it. If it weren't for her, I never would have heard the ad.
I hoped our train station reunion was the rebirth of us, but my only communications from her the rest of the year were two pictures: one of her in a cat costume on Halloween and another of some balloons on New Year's Eve. The next summer she texted that she was moving in with a new boyfriend. We joked about telling her mom, and I refrained from asking why she moved on from me.
I suspected fundamental differences in our personalities had finally convinced her we were incompatible. While I had been taking creative risks that led to years of low-paying jobs and episodic unemployment, she was making good on a self-imposed deadline to be a six-figure salary executive at a Fortune 500 company by age thirty. If we were TV shows, she was The Jeffersons, and I was Sanford & Son. I knew she wanted positive change for me, but maybe like a haggard spouse grown tired of waiting, she packed her bags and left.
At the end of the year, I found out that she'd gotten engaged. Another friend saw it on Facebook and phoned me before I received my BFF's texted pic of the groom on one knee: "He proposed."
I was truly happy for her. I just pretended to be surprised.
The next month, I actually was astonished when Justine texted a surprise dinner invite at the end of a business trip that had brought her back to town. I agreed.
I picked her up in my SUV, but we may as well have been in Doc's DeLorean. As we waited for a table, I marveled over the chocolate diamond engagement ring and chuckled at stories of her fiancé. After the food arrived, I asked why she disappeared.
"I didn't realize that happened … it wasn't intentional," she said. "It was a crazy time. It's funny because he knows exactly who you are. I talk about you all the time."
Even though unintentional wasn't in her DNA, I nodded. Two months before the wedding, my phone rang.
"Would you write and read something for the wedding? You know me the best and the longest," she said. "I was going to wait until you returned your invite, but I figured I'd ask you now."
The invitation had been sitting on my kitchen table. It wasn't just the loss of friendship that made me debate my attendance; the costly trek from western North Carolina to the coast of Maryland would obliterate the tiny bit of money I had to live on for the summer.
"I'm surprised you asked," I said. "I didn't think that I was in your inner circle anymore."
"I guess we're not on the same page," Justine said. "To me, our friendship is the same even though we don't talk. I thought about what you said at the restaurant. Maybe I pulled away because I didn't want to keep asking you to hang out when you couldn't afford it. I dunno. But if someone asked me, I'd still say you are my best friend."
"Well, I'm honored that you asked," I said, blinking quickly to ward off a familiar sting in the corners of my eyes. "Of course, I'll do it."
During the ceremony, as the couple made jokes with the officiant and guests, I waited for my cue. When she called my name, I rose from my seat and angled my body toward the couple, reading the poem I'd written.
"Love is patient, ever-present /Love is kind, joy divine/ Never envies, never boasts/ Humbles hearts, comforts souls / Pushes towards the finish line /in the midst of mud and grime." I paused at the reference to the couple's participation in a mud-filled obstacle competition and glanced at my old friend. Justine had tears in her eyes.
At the end of the reception, she walked over to me. "Thanks for doing the reading. It was perfect. I hope you weren't put out of your way with all the traveling …"
I was exhausted but not from the physical distance—from the emotional one.
"Of course. I wouldn't miss it," I said, glancing only for a minute in eyes that used to say so much before averting my gaze to the blue-black water behind her, almost indistinguishable from the night sky.
"What time does your flight leave? We are having people over for crabs tomorrow at eleven if you want to come."
"I leave at one." I gave her a loose hug. "Congratulations."
"Thanks."  She gestured towards remaining wedding business. "I got to go."
"Yeah," I said. "I know."
["Justine" isn't her real name. —ed.]
•••
KEYSHA WHITAKER has a MFA in Creative Writing from The New School. Her work has appeared in The Jewish Daily Forward, The Frisky, and the New York Press. She hosts Behind the Prose, a podcast for writers, from a closet in Pennsylvania.