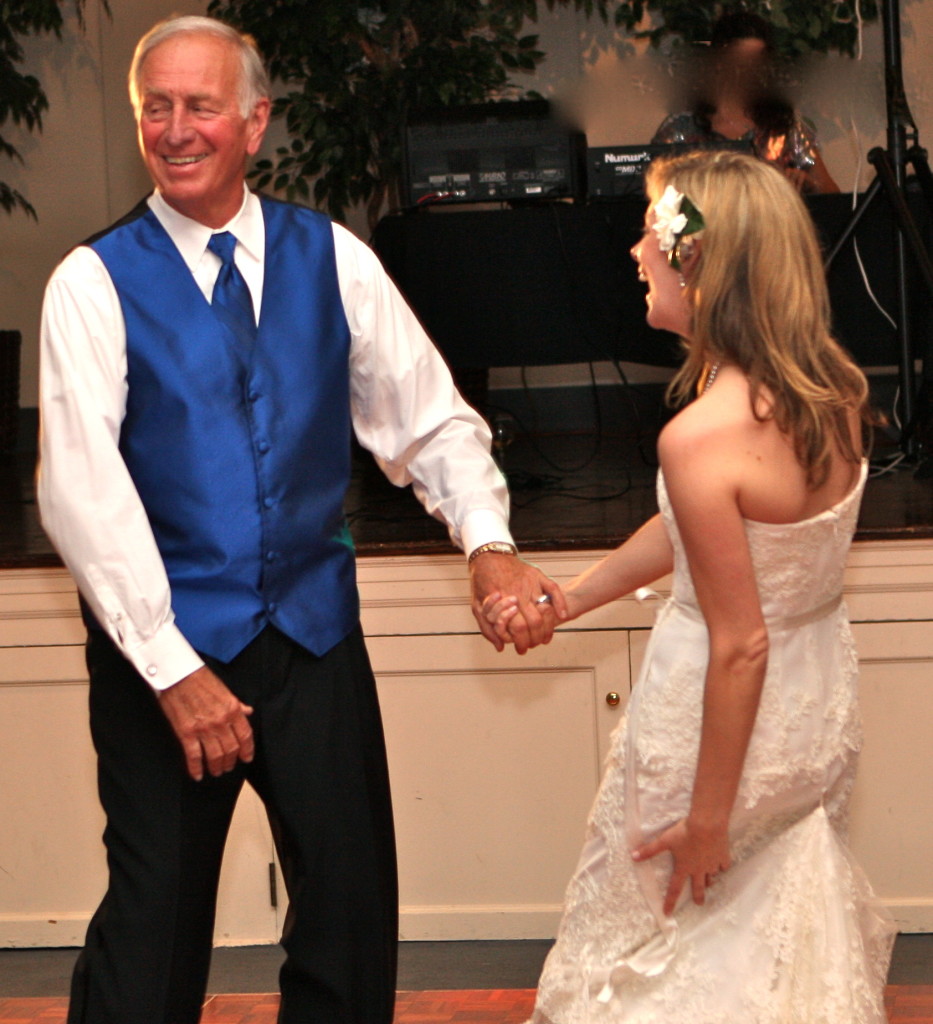 By Johanna Gohmann
Nine years ago, I am 27, and I am home in New Albany, Indiana visiting with my family. There is a birthday party for one of my seven siblings, and there are the usual hot dogs, and paper plates, and perspiring cans of soda. My mother has brought in a big bunch of brightly colored helium balloons as decoration.
The morning after the party, I am up in my childhood bedroom, and when I look out the window, I see my Dad standing in the front yard, alone in the quiet of a spring morning. The dewy grass is giving a sheen to his leather shoes, and he is holding the big bunch of balloons in his large hands. I watch as he struggles to carefully separate the strings, then he releases the balloons to the sky one at a time. He stares at each one as it drifts up and away, until it becomes just a tiny pinprick of color.
It is a rather odd sight—this 6"5, grandfatherly figure, clad in impeccable dress slacks and a sport coat, playing with a handful of children's balloons. Watching him, I feel something inside me twist tightly. I slip on some shoes and go outside to join him. When he sees me, he smiles a distracted smile.
"I like watching these balloons float away, Josey."
We stand together, and he releases the string on the last balloon. It drifts skyward, joining the other tiny dots of color in the sky. We watch silently as it sails up into the clouds, fading into the blue. It is a rare, quiet bit of togetherness for us, and should be a sweet moment. But watching those balloons drift away fills me with a strange, anxious kind of melancholy. I don't like watching them go.
When I am 35, my Dad is diagnosed with Alzheimer's. The diagnosis isn't a surprise. He is 77, and I have seen the shift in him—his confusion with numbers and dates…the way he repeats stories within minutes of each other, sometimes transposing the names of people and places. And yet, when my oldest brother calls me with the news, it still feels improbable. As if my commanding, in charge father never would allow such a thing to happen to his solid, intelligent mind.
For a while, medication seems to slow things down, but then a full year later, it's undeniable that my Dad is slowly coming uncoiled. It becomes the norm for him to appear wearing a shirt inside out, or sporting two pairs of pajama pants beneath his dress slacks, even in the heat of August. I buy him a beeping gadget to help him locate his constantly misplaced glasses and keys. He loses the gadget.
At 36, I am pregnant with my first child. When I talk on the phone to my Dad, I can feel my baby rolling back and forth in my belly, his strong kicks and punches occasionally making the fabric of my dress hitch and jerk. I listen to my father struggle through the conversation, and I try to float, relaxed and easy, through his tide of tangled words. I rub at the patch of flesh over my flailing baby, and I try to imagine my Dad holding my son as he did his other grandchildren—bouncing him gently on his knee, letting him teethe on his heavy silver wristwatch.
As I watch my Dad slowly lose bits and pieces of himself, I think about those long ago released balloons. I know the bright shades of my father are fading with each passing day. They are drifting further and further away from me. And I can feel myself scrabble to contain them…trying to grip the tangled strings of them tightly in my fists…struggling to somehow make them stay.
He spent his life as a successful insurance salesman. This makes him sound staid and dull, but in reality, he is a big, playful personality. His large blue eyes perch above a smirking mouth, and as a younger man, he bears a striking resemblance to Chevy Chase. As he grows older, his features crack and curl, and he suddenly begins to look and sound like Gene Hackman—the same knowing, smiling eyes—the same gruff voice. Once while watching a movie, I hear Gene Hackman tell someone to "shag ass", and it's as though my Dad has been transported to the big screen. Shag ass means "to hurry," and the only other person I've ever heard say this is my father.
He has large, mitt-like hands, and their Shrek-like size renders certain tasks comical, such as when he struggles to use scissors, or when he reaches to pet his tiny terrier that he calls "Princess." He has a tiny bit of shrapnel from the Korean War imbedded into the thumb of his right hand, and as children we probe this tiny black pellet with wide-eyed fascination.
He is, as my mother says, "full of foolishness." In one of my favorite photos of him, he is in a Freddy Krueger hat and sweater, brandishing a pair of rubber knives, and giving a hilariously hideous snarl to the camera. As kids, he often tells us about pranks he pulled as a child. When he was a young boy, he and a friend took Limburger cheese (a product whose smell can only be described as fecal) and hid slices in their palms. They went up and down the stairs of their Catholic grade school, quietly greasing the banisters with the stink. When people came down the stairs, they walked away sniffing their hands with disgust.  As a little girl, I am enthralled by this prank, and my friends and I reenact it on our last day of school. The cheese is gooey and the smell makes me gag, but I love feeling mischievous like my father.
He likes teasing us—his children—most of all.  One warm May night we are all gathered watching "The Incredible Hulk", and my Dad comes into the living room and looks at us with a grave, stricken face. He tells us that he's just seen a special news report, and he has some terrible news. President Reagan has decided children simply aren't learning enough, and he is cancelling summer vacation all across the United States. At first we just roll our eyes at him, but he keeps his face so stone cold serious, we become panicked.  We begin pacing the house and shouting. One of us anxiously flips through channels trying to find the "special report." We groan on like this for almost half an hour, until some of us begin crying and shouting our hatred for stupid President Reagan. My Dad finally breaks down, and admits that he's only joking. We pile on top of him—half furious, half laughing—and try to punch him with our tiny fists.
When we are young, he is gone a lot. He goes on business trips and golf trips, which are often one in the same. He leaves the house in a dark suit, toting a scuffed leather duffle and a rattling bag of clubs. When I kiss his cheek goodbye, my lips come away lightly greased with his aftershave.
When he is home for long stretches, it is an event, and the house buzzes nervously with his presence. At dinner, my six brothers and my sister and I sit around our large kitchen table passing plates of Shake and Bake pork chops and spilling milk. My Dad shouts out "reports!" Which means we are to share any interesting events from the day. My mind always goes blank at this, and I feel as if I never have anything worthy of reporting.
After dinner he helps my mother bathe us. We call bath time "souping", because my Dad adores the nonsense words and nicknames that come out of our mouths as toddlers. When a little one refers to bathing as "souping", he makes it part of our permanent lexicon. The same for "goosing", which means teeth brushing.  He is forever asking us if we have "goosed our teeth."
The best part of souping is when my Dad comes in, a giant bath towel in hand, and slings one of us inside the towel, then carries us on his back like a hobo sack. He hauls us to our respective rooms and deposits us on the bed with a bounce. We call this "geeking", and we all beg to be "geeked." When it is my turn, he drapes the rough towel beneath my underarms, then throws me over his broad shoulder. I travel down the long hallway bumping damply against his broad back, slick as a seal tucked into a papoose.
After our baths, he comes into my brothers' bedroom and stretches his long frame out on the carpet. We excitedly cluster around him in footed pajamas, shouting for a story. He tells us made up, ghostly tales that are always designed to teach us a moral. There is the smug "Simon Cigarette", who chokes to death on cigarette smoke. Or "Reginald Reservoir", the bratty boy who ignores his parents' pleas to never go near the deep reservoir, and of course meets a terrible fate. And then, the favorite, "Little Sally Go To Church", about a little girl who doesn't want to go to church, and instead wants to stay at home and eat junk food. Sally's lack of piety is always punished by a visit from the Sunday Monster—a giant beast who jumps out of nowhere with a horrific roar. My Dad roars in his deep baritone, and we all scream with terrified delight, beg him to stop, then quickly beg him to do it again.
When I am small, he calls me "Josey Lamb", because when I'm around the rowdy swirl of my siblings I appear shy and quiet: gentle as a lamb. He continues to call me this even after I am fully-grown, and have become loud and opinionated, and decidedly less lamb-like. But he does so ironically, with a glint in his eye.
He tears up easily. Which seems funny for a man with such a large, commanding presence.  But certain songs and movies leave his eyes pink-rimmed and glistening, and when I am growing up, I actually see him cry more times than my mother. On my wedding day I select "Someone to Watch Over Me" for our father-daughter dance, because it's a song I know he likes. But he refuses to slow dance, and just keeps shimmying around the floor, making goofy faces. A few bars in I ask him what exactly is wrong and he says, "Josey! This music is too sad!" Flustered, I go up to the DJ and request that she instead put on Supertramp's "The Logical Song", another favorite of my father's. He is thrilled, and in my wedding photos we are both spinning and laughing, giving high, jubilant kicks.
When I am in my 20s, I chafe at his politics, and what I consider his small-town small-mindedness. He is a staunch republican and extremely conservative, whereas I consider myself very liberal. We have heated arguments at the dinner table that leave us both red-faced and shouting, and make my mother flutter nervously around the kitchen. My other siblings never engage with my father in this way, and they find it hilarious the way we shout at each other about Clinton, and both Bushes.
Sometimes, to gall me, he tapes conservative news articles to the lamp hanging above my place at the table. I come down for breakfast and find Karl Rove's smiling face torn from the paper, dangling in front of me from a piece of Scotch Tape. I sleepily look to my father, and he smirks at me over his bowl of Raisin Bran.
With the Alzheimer's, the days of political debates and discussions come to an end. There is no longer any real, lasting talk of the present. My father's mind becomes stuck in the past, like a wheel that can't quite push over, and he speaks to me about long ago events, as though he is plucking dusty photos from an album in his mind, and holding them up to me, saying, "Here. See?"
He tells me several times about how his father once gifted him a new baseball glove. He says he loved the glove so much he oiled it every single night.
Or he recounts the time he found a dead body on the golf course. He describes how he and a friend were playing on New Year's Day, and were the only ones stomping their spiked shoes though the frosted grass, knocking around balls. When my Dad rounded a sand trap, he spied the man—gray-faced and frozen, a bottle of whiskey at his side.
He talks about his time in the Korean War. About how frightened he was lying on the floor of a cargo plane, traveling further from his Indiana home than he'd ever been in his life. One night in camp he polished his army boots white, as a sort of goofy mini-protest, and he was soundly punished for it by the Colonel.
And he talks about Lynne Anne, the oldest child and sister I never knew. She died when she was five of meningitis. He fingers the tattered prayer card that he still, 38 years later, carries in his wallet, and he tells me in a low, quiet voice how delicate and beautiful her hands were. He talks about her golden hair.
I listen to him talk, and feel overwhelmed by how much there is about him that I don't know, or can't really fathom. His life stretches behind him full of heartbreaks and triumphs and mysteries that I will never really grasp. And through him, I learn that understanding people, and loving them, sometimes has very little to do with one another.
Now, when I am home visiting, he really likes to give me things. He has always delighted in giving gifts, but now, each time I am there, he gives me funny things—strange bits of odds and ends. He has taken to handing me the smallest of trinkets, the kinds of treasures a small child might hide away in a cigar box.
"Here Josey," he says.  "You can take that home with you."
And he hands me an old golf tee, or a tiny, pretty seedpod that he's spied on the ground. A St. Anthony prayer card. Old fishing hooks. A tattered National Geographic. I save all of it. I bring it back to New York with me, and I tuck it into jewelry boxes and special drawers, hidden away like clues.
Losing someone in this way—this subtle losing, piece by piece—is its own unique kind of sadness. It's a mean, cruel kind of grief that I feel could drag me under if I let it.  And so I try to focus on the fact that my father is still here with me. He still makes me laugh. He still loves to tell stories. And he still loves to tease. Even now, he still calls me up and holds the phone up to the radio, so that when I get back to my apartment I have a voicemail that is nothing but Rush Limbaugh ranting away. I play back these voicemails, and I picture my Dad huddling in the background, struggling to hold in his laughter. Just like the trinkets, I save these garbled voicemails. And I try to focus on the father I still have…on the bright shades of him that remain.
I can't ever bring myself to think of when that final dot of color finally fades from sight, completely out of my view. Until then, I steadily train my eye on what I can still see. I take in every last glimpse.
•••
JOHANNA GOHMANN has written for Salon, The Morning News, xoJane, Scratch, Babble, and Curve, among others. She is a regular contributor to Bust magazine. Her essays have been anthologized in A Moveable Feast: Life-Changing Food Adventures Around the World, Joan Didion Crosses the Street, The Best Women's Travel Writing 2010, The Best Sex Writing 2010, and The Best Women's Travel Writing 2015. www.JohannaGohmann.com
Republished with permission. Johanna Gohmann's "Balloons" is one of 25 personal essays by women writers writing about their fathers in Every Father's Daughter, a new anthology edited by Margaret McMullan, including an introduction by Phillip Lopate. Contributors include Alice Munro, Jane Smiley, Jayne Anne Phillips, Alexandra Styron, Ann Hood, Bobbie Ann Mason, Maxine Hong Kingston, and others.