By Janet Skeslien Charles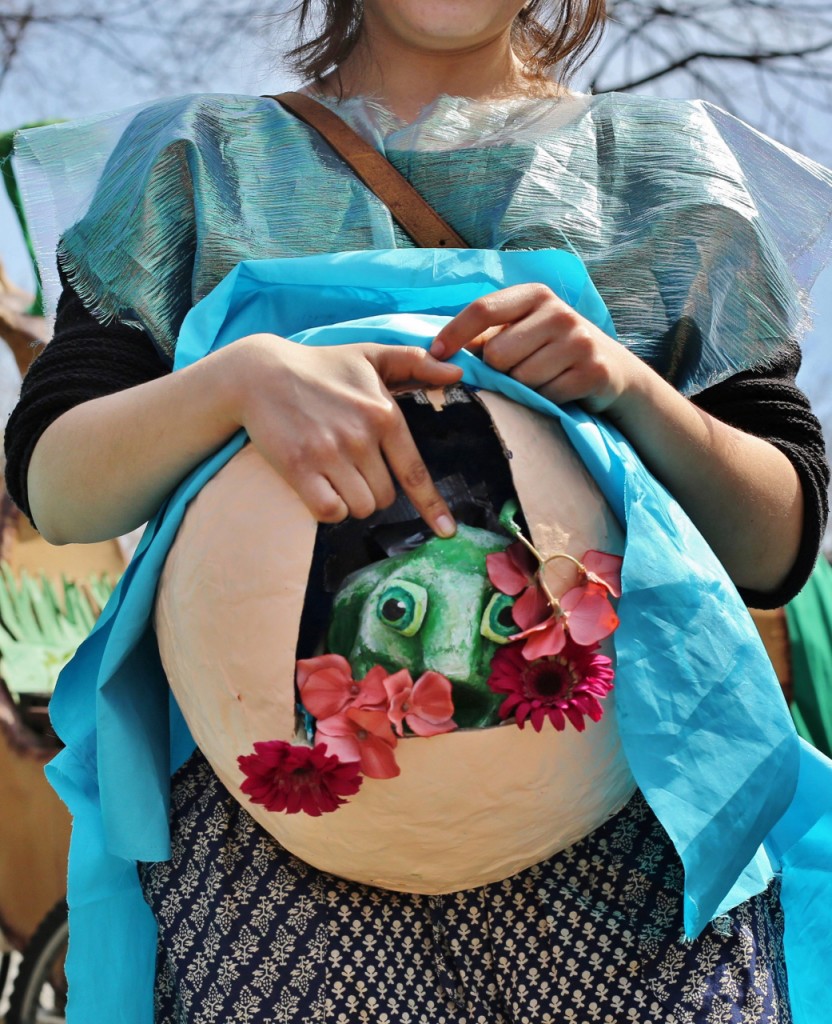 JOB OFFER: ACADEMIC PROGRAM IN PARIS has immediate opening for housing coordinator. Bilingual/bicultural skills, experience with Word, Excel & Filemaker. Prefer candidate with middle-aged (or defunct) uterus.
The ad didn't read that way. But it might as well have.
Jobs for English speakers in Paris abound—if you want to teach business English or wash dishes. The salaries for both are the same, as are the possibilities for advancement. I came to France thanks to a year-long teaching position. Graduate school in my native Montana hadn't worked out as I'd hoped. We teaching assistants huddled in our offices, hoping to avoid French professors who battled in the halls, and I'd started to hate French. In coming to Paris, I'd hoped to salvage my love of the language, but instead found a different kind of love. I met my husband and decided to stay. For several years, I went from job to job, private lesson to private lesson, metro line one to metro line eight to metro line fourteen, spending more time in tunnels—sometimes an hour between jobs—than I did above ground, and started to dream of having a job with only one daily commute instead of six. I loved my students. But for a tenured position in the French school system, you must be European. So when my contract wasn't renewed, I decided to write a novel.
I think of myself as on sabbatical. True, this period of enrichment and growth was to have lasted just a year. It is now going on three. "Unemployed" would be the precise term for my condition, but I prefer to be vague.
I apply for jobs. Just this week there was the job at a Jewish NGO, a housing coordinator position, and an editorship for a leukemia magazine. I look at the want ads dutifully and write cover letters so that I can tell myself that although the competition is fierce, I am trying. I send resumes out in the same way children send letters to Santa Claus. Of course, the children eventually wise up. I never seem to.
La directrice of the academic program calls to arrange an interview for the housing coordinator position. I put on my blue suit (only worn three times) and grab my briefcase, bought last year in hopes of making me look professional. My life is so empty that the briefcase is still stuffed with the wadded tissue paper from the store. When I arrive at the office, la directrice smiles and asks if I'd like a cup of tea—she's just brewed a pot. As we chat, I take in her friendly manner, long, cherry Kool-Aid-colored hair, and pea-green boots and think that she is not your typical director. She asks me to sit down. The office furniture is black. There are no plants. Although we're both American, she conducts the whole interview in French. It's strange. She says the salary isn't great, but employees have three months of paid vacation. They'll pay for my cell phone. If I want to work only four days a week, that's fine. The perfect job.
The interview goes well, although near the end, she asks how old I am then notes that I've "not passed the child-bearing years." I stare at her for a moment before answering—she pretends not to notice. As la directrice walks me to the door, she says she feels we've clicked. She looks giddy and tells me that there's another candidate who is forty-nine, which is good on the one hand because she's already raised her children. On the other, she is not as dynamic as me. La directrice wants me. We've clicked, she says again, and invites me back for an interview with la directrice executive on Monday. As I leave, I glance at my watch. The interview lasted nearly two hours. I didn't see the time pass. For the first time in years, I let myself feel hopeful about a job.
Paris, the city of languorous lunches and long walks along the Seine, has not pounded the need to be prompt out of me. I'd rather be an hour early than five minutes late. So I arrive ten minutes before the 9:00 am interview. I know the building code and hit the numbers on the brass pad. Not wanting to be too early, I wait five minutes in the closet-sized vestibule, then ring the interphone. Once. Twice. Three times. No response. Sigh. It was all too good to be true; they've forgotten about me. I consider leaving, then consider my bank account. I stay.
I've never gone to an interview in which the interviewer was late. It makes me feel uneasy. I wait five minutes, then five more, then five more. When la directice executive arrives at 9:10, she scowls at me like I am an idiot for being on time. Impeccably groomed and the size of a Kewpie doll, she wears a Hermès scarf. Loosely translated, this word means, "I have four hundred dollars to waste and desperately need people to know that." She unlocks the door; I follow her up the narrow staircase.
In French, she lectures me on the importance of a gracious welcome. The students—from Harvard, Yale, Stanford—pay almost $30,000 per year, so there's a lot at stake. La directrice executive mentions the other candidate, "She's forty-nine. She's raised her children."
"How old are you?" she asks.
"Thirty-five."
"Are you married?"
"Yes."
"When do you plan on having children?"
Huh?
When I don't answer, la directrice executive points out that I am "still in the child-bearing years."
I say my husband and I haven't discussed it; she looks at me suspiciously.
"But you're thirty-five," she informs me, as if I've forgotten. "The whole reason people marry is to have children."
The last person to say this to me was a priest. The day before Edouard and I got married, Father William said he'd refuse to marry us if we didn't sign the form stating we'd raise our theoretical kids as Catholics.
"Can you promise that you won't have children?" la directrice executive asks. "Just for the first year."
I am dumbstruck. The silence makes her nervous. She fiddles with her scarf.
"Not that I'm forbidding you to have any," she assures me. "I'm a mother. A working mother. I would never deprive any woman of that pleasure. It's just that now is a bad time for us." She squints in the direction of my stomach, then she yells, "Tell me when you're planning on it. When? When?"
It's so hot in the office that I can't breathe. La directrice joins us. "Everything all right?" Dazed, I nod. They smile brightly and I know the interview is over. I tell them that the other candidate seems better suited to the job, then thank them and leave as fast as I can.
When I talk about the interview with Parisian friends, they're surprised I haven't been asked about having kids—with France's generous maternity leave, companies have much at stake.
"The next time it happens, pretend to tear up," one advises. "Tell the interviewer, 'You've brought up a painful topic because I'm sterile.'"
In Courrier Cadre magazine article "Discrimination: Solutions that Work," Cecile Pincet writes: "Between the ages of 28 and 35, women are often asked 'Are you planning to have a baby?' in job interviews. You must respond no. Sometimes, you have to know when to lie." In the jobs edition of the magazine Femme Actuelle, Amelie Cordonnier and Marion Kressmann note that asking about pregnancy is illegal. "He oversteps his rights, but to remind him of this would be risky. You can respond in all honesty with a minimum of information: 'Yes, but not in the immediate future.' You can also turn it around: 'Is that a problem for you?' It's a good way to not fall into a trap and to keep the upper hand."
La directrice calls to offer me the job. Finally, someone wants me. I sent out dozens of letters and someone responded. We clicked. I thought that I would be happy. She says that her boss loved me and asks how I feel about the interview. I don't mention la directrice executive's thoughts on why people marry, or the fact that she asked me not to have kids. Instead, I complain that she was late, and that when she read my hyphenated last name aloud, she said, "Do we have to say it all?" La directrice admits that la directice executive can be… difficult. She, too, has had ups and downs with her boss. Plus, they are both a bit tense after learning their academic coordinator is pregnant. I tell her I felt manipulated when they kept bringing up the candidate past her child-bearing years. In other words, I ruin everything. I'd kept my mouth shut during two interviews, why couldn't I have kept it shut during one phone call?
La directrice calls to rescind the job offer. She feels that I am volatile and judgmental. Maybe I am volatile and judgmental. I contemplate what bothered me, beyond the invasive questions, beyond the fact that la directrice executive looked at me like I was a liar when I said I wasn't thinking about having children.
The reason I sabotaged myself is difficult to voice: la directrice executive asked questions I don't even ask myself. Questions even my mother and mother-in-law don't ask, though they're probably dying to. Questions I avoid. Even my husband avoids them. Two years ago, when I asked if he wanted children, he replied it was up to me. And that was the end of the conversation. La directrice executive demanded answers I couldn't give. When am I going to have a child? When? I don't know. I keep waiting to feel the desire, some little spark, but it's been thirty-five years and I still don't feel it. I don't think I'll ever feel it. This is hard to face. So hard to face, I chose to avoid it, until the job interview. Now it's all I can think about.
I remember an image from the eighties, a woman with foofy hair and too much make-up screeching, "My biological clock is ticking." I never felt a single tick. If I have a clock, someone forgot to wind it. Until the interview. Now I feel a strange, hard ticking, like a bomb set to go off, making me more and more nervous. "When? When? Just tell me when!"
Growing up, I expected to have kids just like everyone else. I love my husband and know that he would be an amazing father. Why don't I feel a desire to bring life into this world? Why can't I at least talk about it? All around me, it feels like people are moving on, moving forward. Friends and family are having babies, having miscarriages, getting fed up with IVF treatments, getting divorced, getting remarried, buying houses, going to recitals, finding better jobs, earning more money, making new friends, having affairs, selling houses, going on diets, reading good books, having deep conversations, making important and not important decisions while I sit frozen.
Two weeks later, I pick up the bilingual job ads and pore over each page like a child making a wish list—project manager for the Invest in France Agency, editor at Datasia, account manager at Azego. I even look at the hotel and restaurant section—Wili's Wine Bar needs someone, as does the Indiana Cafe.
After my strange job interview, I don't mind being unemployed. At least in my living room, no one asks personal questions. It's a relief not to be in that stuffy office with edgy women. (I imagine la directrice executive greeting me in the morning with a birth-control pill and a glass of water.) It's a relief to go back to not thinking about having kids. Glancing down the page, I spot the program coordinator position at an MBA school. I applied for that job five months ago. Third time this year it's appeared. Apparently the person they chose didn't work out. Again. I turn on my computer, click on the cover letter, spruce it up and change the date, then send it to the North Pole.
•••
JANET SKESLIEN CHARLES is the author of Moonlight in Odessa (Bloomsbury), which was translated into twelve languages and reflects her time as a Soros Fellow in Odessa, Ukraine. Her poetry and short stories have appeared in Slice and Pharos. Originally from Montana, she traveled to France in 1998. She interviews writers at jskesliencharles.com and is on Twitter as @moonlightodessa.