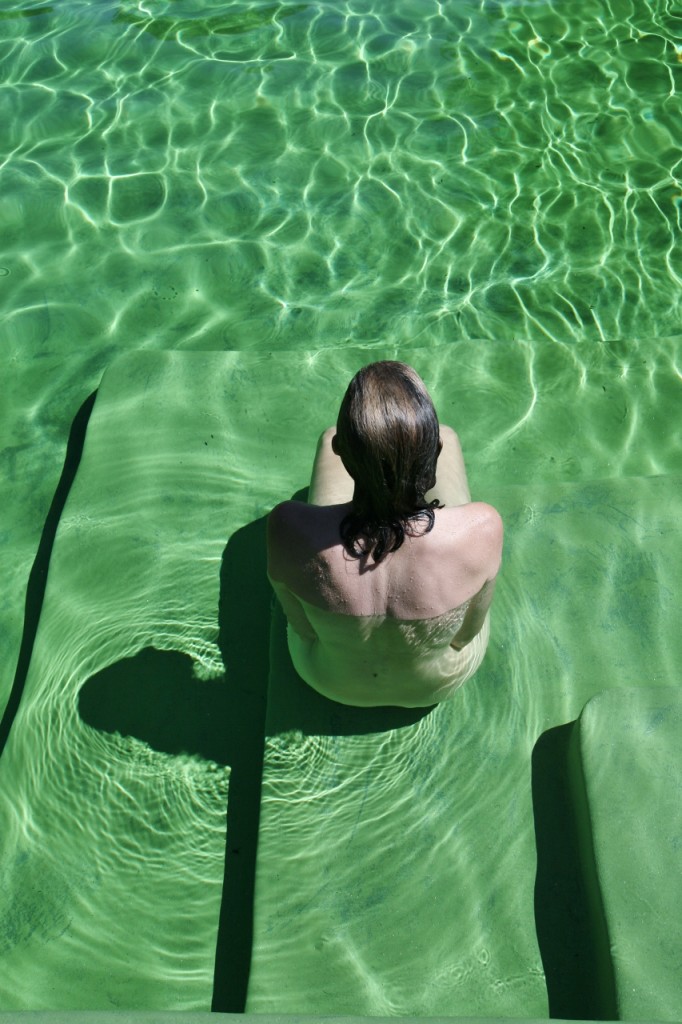 By Laurence Dumortier
1. When I was a child, my family lived in the south of France, in the town of Aix-en-Provence. My father had been transferred there for his job. He worked for Shell Oil and had not yet learned to hate it. Later, when my brother and I were old enough to think seriously about what kinds of jobs we might have, he warned us away from working for anyone; he felt he had wasted much of his life in servitude to bland corporate life. He urged both of us to be our own bosses!, to not get stuck in what he considered the unimaginative hell of middle management.
The advice was mostly lost on me, but that came later anyway. This period in the south of France was before my father's disillusionment. He was still a young exec in the early seventies and Aix was not an expensive city then. My parents found a second-floor apartment for rent that, while not large, was palatial in its high ceilings, tiled floors, elaborate moldings, and the most extravagant wallpaper in the living room. In photographs, though discolored with time, it is still stunning: a deep green background with bronze vines in vertical lines.
None of this was of much interest to me at the time, though. Instead, for my brother and me, the appeal of the place lay in the gigantic terrace. It still amazes me to think that this was where I learned to ride a bike. It was sized like a mini-mall parking lot. Except it was beautiful and sunny, with geraniums growing out of old planters and a wrought-iron barrier to keep us from tumbling into the street below.
Across from our building was a gated property. Though the house was not visible from the terrace, the garden was, and it had a pool. I heard it said that Alain Delon lived there. The name meant nothing to me then, except I realized it must belong to someone important or famous, because of the thrill I discerned half-suppressed in its saying. It was clear that to have a pool like this, you had to be important or famous or at least rich.
The pool was shaped like an old-fashioned mirror, straight on the sides, and curving in and out at each end. I don't remember ever seeing anyone swimming in it. It was just there, turquoise and sparkling, inviting but inaccessible.
Amazingly, my father put up a huge blow-up pool on our terrace, big enough for my brother and me to swim in. Now that I'm an adult, I can't imagine doing such a crazy thing. The terrace was not built to hold the weight of that many thousands of gallons and might have collapsed. Or, if the pool had burst suddenly, I can only imagine the awesome spectacle of all that water gushing out and flooding our apartment and the one below. But neither of these things happened, and my brother and I splashed and shrieked and swam all summer long. It was nothing like the beautiful and stately pool across the street but it was still heaven to us.
Plugging the building's address into Google maps, I am a little stunned to have a satellite view of the terrace, and, across the street, Alain Delon's former garden with its cypress trees and Mediterranean pines, and its pool gorgeously intact. It is surprising somehow to see my childhood memories so unambiguously confirmed. We moved away from Aix when I was five so there is much about our life there that I don't remember clearly. The terrace and the pool and the wallpaper, among a handful of other things, remained vivid to me but it seemed the vividness of a dream.
The convergence of dream and reality in this one memory sends a chill down my spine. Time has passed and so many things have changed, but this thing has remained the same.
2. Fast forward fifteen years. After my French schooling, I went to college in the U.S. My college boyfriend, though majoring in history, was a musician, almost famous at a couple of east coast colleges, including Dartmouth where his band played a couple of times a year and where Michael Eisner's son went to school. The young Eisner had ambitions to start a record label or a management company—I can't exactly remember now—and he wanted my boyfriend to be his first client. The summer after we graduated, he arranged for my boyfriend to play a showcase gig at The Viper Room. The club was legendary to me, because only a few months earlier River Phoenix had OD'ed on the sidewalk outside, which broke my heart for his family and friends, and for all that wasted talent and beauty.
I was living in San Francisco right after college, though I felt utterly adrift, struggling to find a job and a place to live. My mother had arranged for me to stay for a few weeks with a friend from her own college days. Instead of being grateful for this generosity, I resented having another parental figure and labored to hide my sullenness. By the time my boyfriend called to tell me that he was being flown out to L.A. by Eisner's son and did I want to spend a few days with him in a hotel there, I felt desperate to escape the claustrophobia of my own fumblings and failure to get a toehold on adulthood. Yes, I wanted to go! I was too broke to fly and didn't know how to drive so I bought myself a bus ticket to L.A.
This was by far the longest bus ride I had ever taken. It left at five a.m. from San Francisco and took almost twelve hours, through the Central Valley. No one actually wanted to be on the bus, but it was a fifth the price of a plane ticket, and we all had places to go. We stopped in Modesto, Merced, Fresno, Visalia, Delano, Bakersfield—towns with names that were intriguing and mysterious to me. I was new to California, and the Central Valley presented such a strange contrast to the foggy, winsome beauty of San Francisco. I was gobsmacked by this demonstration of how gigantic California was. In France, a trip that long would mean you had crossed into another country, but here mile after mile after mile under the beating, hard sun and still there was more road between the bus and L.A. With each stop the bus filled more until every seat was taken. Many of the passengers were older, and some were infirm. One or two looked like they might have just been released from prison. One woman spoke loudly to herself the entire bus ride.
When we stopped at the Greyhound depot in downtown L.A., I was relieved and euphoric to see A. waiting for me with a borrowed car. My lust for him woke me up from the grogginess of the journey. We hadn't seen each other since I'd decided to move to San Francisco, and he had decided to pursue his luck in New York. While not exactly broken up, the distance between us had seemed to contain a resounding finality. And now we were here. Together. In L.A.
It was late afternoon but still very warm. As we drove, I noted that I liked L.A.'s wide streets. I didn't mind that the traffic moved slowly since I had no particular agenda. I was happy sitting next to A., and I was interested in everything moving past my window—billboards, palm trees, convertible cars with their tops down. I felt calmed by the gentle weight of A.'s hand on my leg. I didn't know what was going to happen to us in the long run, but here we were together now.
In another half hour, A. and I were in Michael Eisner's pool. I imagined the dust of the trip washed off by this pure and cool water and was pleased at this image. In the back of my mind I was a little horrified at how rag-tag I must have seemed to the Eisners, sweaty and rumpled and dazed from so many hours of sitting in one place. But this was only in the back of my mind because in the front of my mind was A. We stood in the shallow end of the pool, facing each other, skimming the surface with our fingertips. I didn't trust myself to touch him, but I could feel the water conducting the electricity between us. How perfect it would have been to fuck in this perfect pool. But the whole Eisner family was inside, and in another half-hour we were going to sit down to dinner, and however bold I wanted to imagine myself, I wasn't bold enough to do that.
I don't remember much about the dinner, except it was lovely and generous of them to host me and A. Michael talked to his son, giving him advice about dealing with the music bigwigs who were coming that night. I had no idea how to interact with anyone in this particular situation so I was quiet. All I could think about was going back into the pool with A. and having the whole place to ourselves. It no longer seemed incongruous for us to be there. I didn't consider us out of place. If anything, everyone else seemed out of place, superfluous. Such a beautiful pool only needed two people, in love with each other.
3. A few years later, I moved to L.A. Despite our best efforts, A. and I broke up, and I made new friends to distract myself. One of them, Jason, was a production assistant on Ted Danson's short-lived TV show Ink. Jason had become friendly with Danson and his wife Mary Steenburgen, and they'd entrusted him with their house and pets while they went out of town for a few weeks. Jason found a way to insert "Ted and Mary" into his every other sentence, which I liked because I would have done the same thing.
One evening Jason invited me to swim at Ted and Mary's with a couple of other people. When we got there Jason led us through the back gate to the pool area. He went inside the house to get towels, saying, "You guys stay here." We hadn't particularly been planning to go inside, but at his admonition, we teased him by coming up to the French doors. We found he'd locked them behind him. We were faintly outraged at his having done this and teased him—"Jason, we're coming in!" we shrieked softly, rattling the doorknobs for effect.
I glanced at the interior, which looked cozy in an English-countryhouse-via-Beverly-Hills kind of way. This was a popular decorating style for a certain Hollywood crowd, I guessed, but when I thought of England I didn't think swimming pool. It was thinking of the south of France, and of Aix, and the mirror of water across the street, that put me in the mind of pools.
Soon enough we were bored of pestering Jason and instead we jumped into the luminous water. At night, pools are mysterious and alluring. With the lights turned on they have an eerie, glowing beauty. The deep shadowy places where the light doesn't reach makes them a little bit frightening too. Movement at the water's surface is magnified. Light breaks apart and comes together again. Planar geometry makes its own strange kind of sense in the refraction of moving light. Bodies glow in a way they never otherwise do.
The setting was so beautiful, it seemed to call for some flirtation and it seemed wasteful to pass up this opportunity. I began to banter with a boy in our group.
A few years later, I would marry him, but I didn't know it yet and just then such a thought would have seemed ludicrous. At that moment we were simply making jokes and observing each other from this new vantage point. We were buoyed by the water and by the sense of having stepped out of our ordinary lives. A few steps away there was a cozy interior but the doors were locked and we were out here in the eerie luminescence.
4. In Santa Monica, right off the Pacific Coast Highway is the pool that Marion Davies and William Randolph Hearst built for their beach getaway. Now it exists as the Annenberg Beach House, and it's open to the public in summer. On Sundays I often go with my guy and our kids around five o'clock. The air is still warm then and the pool is heated to a decadent eighty degrees. What a crazy luxury to swim in the late afternoon in clear water that is almost bathtub-warm, with the scent of the Pacific around us and the entire sky overhead. The pool is spectacularly beautiful, its perimeter tiled in a Greek key pattern and its bottom encircled with mosaics of ocean life. Speckled green and blue and yellow fish swim among the octopi and the billowing seaweed.
The main house, designed by Julia Morgan, was torn down in 1956 but I can imagine, floating in the dreamy water, that it is still there and that Hollywood intrigues are just out of earshot. I think of Marion Davies who is so often reduced in popular imagination to her caricature as Charles Foster Kane's untalented, complaining mistress in Citizen Kane. Watching the real Davies act, in The Patsy for instance, she deploys her charm and her comedic chops with a dazzling ease. She gives side-eye like a boss, she pouts adorably, and she transforms herself in quick-witted imitations of her contemporaries.
It is easier, though, I suppose, to see Davies as the "mistress." An untalented hack, in other words, for whom a smitten Hearst bankrolled pictures. It is easier somehow to reduce her to that narrow role, than to take in a whole person and her complex relationships to others. Hearst was older than she was. He was by far the richer of the two. We believe we understand what this means. "Oh, it's like that. Of course it is."
As I rise and break the surface of the water, I think of the trajectory of my own life, of my early childhood in the South of France, of the life I've made in Southern California, of how, if I were rich or famous of the object of any curiosity, it might be read in this way or that, to make more sense, or at least to make easier sense. My choices so far have been rather conventional, but even so each one was made for its own particular reasons, generated by circumstances and emotions that take root in the mix between the personal, the cultural, and the societal. My life is not scrutinized, but I loathe that famous women's choices so often are, and then reduced to categories of convenience.
Plunging underwater again, the sound of my own blood throbbing in my ears, my mind wanders. I think of Alain Delon, who said recently about his love affair with the beloved Franco-German actress Romy Schneider, that while he still grieved her death at only forty-three, it had at least preserved her beauty: "It's difficult to admit, but I wouldn't have wanted to see her at 70. It's better she went this way." I turned forty-three this year, and while far from possessing Schneider's beauty, the thought that in any universe it would be "better" to die at forty-three rather than to age—as we all must if we are to live, as Alain Delon himself has—strikes me as obnoxious in the extreme. Can there be a starker example of reducing a multi-faceted person to a mere surface? If Delon loved her, how could he not take in that she was more than just her physical beauty? That Schneider had depth beneath her surface loveliness, that she was more complicated, more flawed and more profound, should not be so very difficult to understand.
5. If I ever figure out how to have a pool of my own, it will be like a David Hockney painting. Sparkling and rippling in the sun, a nude figure emerging from its cool clearness.
When my children are teenagers and have their friends over, I will leave them to their youthful splashing. They will be surprised, and a little annoyed perhaps, at how much skinny-dipping there is when my friends are over, though. They will hardly be able to believe how comfortable we are in our middle-aged bodies. At least that is how I picture it all when I daydream my pool into existence.
I think of growing older with M. How impossible this was to envision when I was a young adult—a lifetime spent by another's side. How easily I picture it now—now that we have almost two decades together under the bridge.
I think of our children growing up and the pools into which they will dip their own toes. The choices they will make, the paths their lives will take, and the nostalgias they will carry with them. I think of us swimming together in Marion Davies's old pool. I think of the long summers of their childhood and try to picture where they will choose to make their lives. I imagine the possibility of some far-off day holding grandchildren as I wade with them into welcoming waters somewhere—perhaps even in my own backyard. I am wistful contemplating the adventures my children will undertake, and the unguessed ones still ahead for me, for M., for all of us.
•••
LAURENCE DUMORTIER writes essays and fiction. She is finishing her PhD in English, with an emphasis on gender and sexuality. You can find her online at twitter.com/ElleDeeTweets