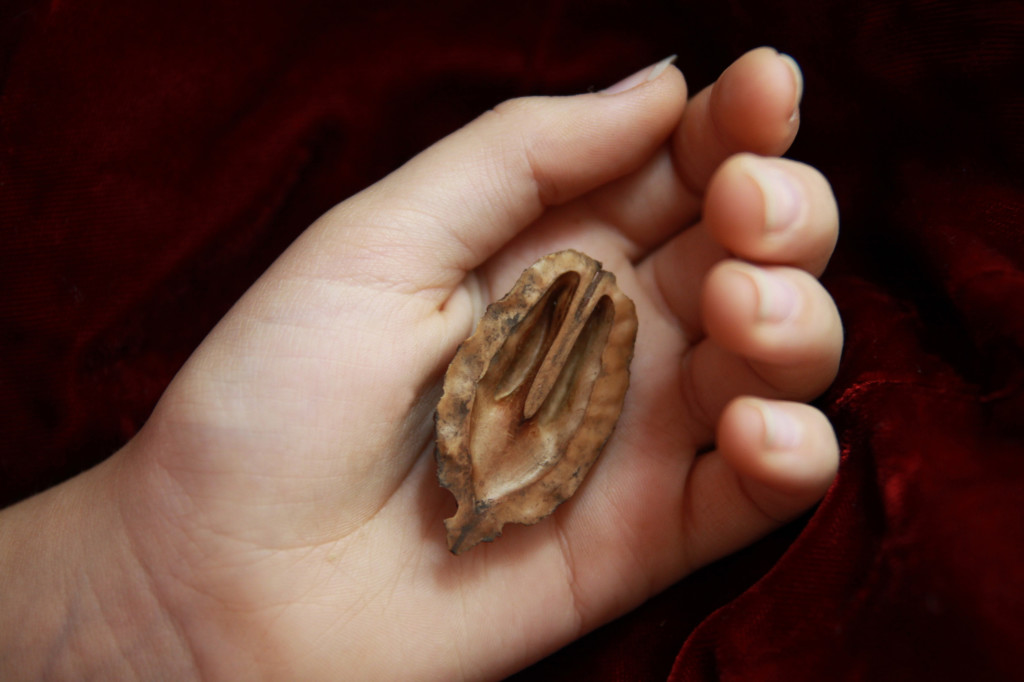 By Jody Mace
For most of my life you've been the size of walnuts. Nuts and other produce are standard measurements for small bodily organs and glands. The prostate gland is also the size of a walnut, but by the time a man is forty sometimes it's as big as an apricot. The pituitary gland is the size of a pea. Whereas we measure hail by sports balls. When hail gets to be the size of golf balls that's when it starts to get serious. Someone's going to take a picture of that hail.
When I was born, stored inside the two of you, ovaries, was half the genetic material for a million people. That's about the population of San Jose, California. I've never been to San Jose, but I'm imagining it populated solely by those people, the potential humans whose blueprints you harbored. Tall men and short women. Dark-haired, with poor eyesight. If I were thinking of starting a business in that alternate San Jose, it would be an optical shop. There wouldn't be a lot of audience participation at concerts, as my people don't like to draw attention to themselves, but the shows would be well attended. The population would have to pay special attention to sunscreen. It would be a snarky San Jose.
But amid all those brown-eyed wallflowers, maybe there would be a few blonde-haired, blue-eyed standouts. They would be the product of long-forgotten recessive genes that give them the ability and inclination to be cheerleaders or to complete layups in a graceful fashion.
Those million people, though? They're only a fraction of the story. When I was a fetus, you held seven million eggs follicles. That's the population of New York City, minus the Bronx. But to be brutally honest, most of those potential people didn't have a lot of, well, potential. So you performed a culling, keeping only the most promising million egg follicles. And of those million, throughout my lifetime, maybe 500 will get even a shot at the big show.
I think of my San Jose with affection, all those ghost people, the artists, the bricklayers, the teachers, the petty thieves, the bureaucrats, the scientists. The odds were against them, were against all of us. But we made it. How can we ever look at another human being without a sense of wonder? Every person who takes a breath has scaled the Kilimanjaro of biology, has won the Powerball and is standing there with that big check and the shit-eating grin, or should be. We should be embracing each other as comrades, as survivors. Just showing up on Earth at all means we're winners.
I know we can't always get along. We need to argue about important things like the environment and the economy. We also need to argue about things that don't matter, like the Oxford Comma and whether leggings are pants, because written into our blueprints are brains that want to make sense of things, that want to nail down the rules. Also written into our blueprints is the desire to have the last word.
But still, every so often I meet someone and I'm struck by the unlikelihood that I exist and that she exists and that we're in the same place, having a conversation, and we understand the words that the other says. And I feel a connection to her. When I read about a crime, I sometimes think about both the perpetrator and the victim and feel an almost unbearable sadness that there are perpetrators and victims, after all the work that was done behind the scenes, within the warm, dark factory of the human body, to bring them into the world. I think about my ghost San Jose, and all the other ghost San Joses, and about how we're the ones who made it into the outside world. We should be a little gentler with each other. We should be gentler with ourselves.
But back to you, ovaries. Of those million egg follicles you kept in safe keeping for me, two of them became living, breathing people. There's no mystery like that of a newborn baby. I never saw my job as molding my children, but more as letting their mysteries unfold. Deep in the genetic makeup of my son were instructions to curl his toes under his feet when he sits, like one of his uncles does. How far back does that go? Maybe five hundred thousand years ago there was a Homo heidelbergensis sitting on a rock in what would eventually be Germany, sharpening a stone point for a spear, with his toes curled under his feet.
Etched somewhere in the DNA of those two well-timed eggs were determination, a love of music, sharp wits, and a great capacity for kindness. Also (between the two of them, not naming names) stubbornness, perfectionism, a habit of telling jokes at the wrong time, and difficulty with time management. You did your part and I've tried to do my part. I tried to help them find their paths, but to also do a lot of staying out of their way so that they could become who they actually were and not who I imagined they might be. I didn't do much, but I think I didn't mess up your hard work. They're adult and almost adult, and so far, so good.
I'm grateful that these are the two I got, although I guess that I'd feel the same if I'd ended up with two of the ghost children in San Jose instead. I know I'm anthropomorphizing you way too much, ovaries, but you did a good job and I appreciate it.
Of course, you're only half the story. Testes are nothing to sneeze at either. They stay busy, cranking out genetic material on an as-needed basis, at an incomprehensible rate, like 1,500 sperm cells a second. It's survival of the fittest when it comes to sperm, and the culling is even more cut-throat than that of the egg follicles. In heat after heat in the race for life, almost all of them lose. Forget about my San Jose or even my New York City without The Bronx. We're talking twice the population of the earth every month. You, ovaries, are the students who prepared ahead of time. You read the syllabus and did the assignments the first week of class, and then just waited for the due dates. Testes are the students who goofed off all semester and then crammed the night of the test and still pulled off a pretty good grade. But don't resent the testes. It takes all kinds.
So, with all this talk of eggs and children I want to point out that I'm much more than a mother. I'm a writer, I understand at least ninety percent of the rules of football, and I'm a highly competent parallel parker. Reproduction is only one of many facets of me. But you, ovaries, are unabashed in your single-mindedness. Everything you do is to advance the cause of extending my genetic legacy. I'm going to tell you something, but I think you know it already, if you're really honest with yourself: no more eggs will become people. For a while now, you've been acting as if nothing has changed, but really you've just been going through the motions, like a bookkeeper in an abandoned office. There's no new business, nobody's asking for the report, nobody's reading your emails, but you've still been keeping the books month after month.
At some point, though, your job will be done. Remember when you were the size of a walnut? Ligaments strained under the weight of the future generations within you. But eventually you'll be the size of an almond. I wonder what size nut you are now. A pistachio? Or maybe a cashew?
There's not too much plot to our story, and that's a good thing. You haven't been stricken with any diseases or major dysfunctions, although there's still time, I guess. Most likely one of my organs will eventually do me in, but sentimentally, I hope it's not you. You're my connection to the future and my link to the past. Just about every other part of my body could, theoretically, be swapped out for someone else's, or replaced by a machine. They just have their jobs to do. My heart pumps blood, my kidneys clean that blood and my lungs supply that blood with oxygen, but they don't do their job differently from anyone else's heart, kidneys, or lungs. But you took pieces of me, of my mother, of my grandmother, of my great-grandfather, and offered them as possibilities to the future. You know the secrets of who I am and who I could have been. I'd like you to be with me until the end, like two old friends, side by side in rocking chairs, sitting quietly. They know each other so well that they don't have to say a word.
•••
JODY MACE is a freelance writer living in North Carolina. Her essays have appeared in O Magazine, Brain, Child, The Washington Post, and many other publications, as well as several anthologies. Her website is jodymace.com. She publishes the website Charlotte on the Cheap in Charlotte, North Carolina. She is a regular contributor to Full Grown People.