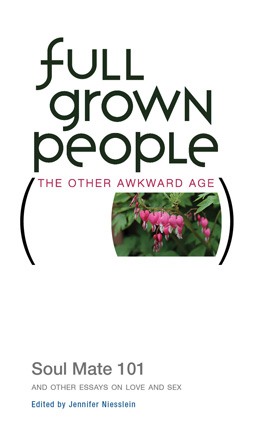 By Jennifer Niesslein
Hi everyone,
I'm working on the new anthology (pictured above, featuring a glorious photo by Gina Easley.) This time, I'm switching things up a bit.
The theme of Soul Mate 101 is love and sex, all done up in the FGP way. About half the essays are brand-spanking new work; the other half are some gems from the site. I'm already so thrilled about it that I can't imagine the state I'll be worked up into by the time the book actually is published—I'm shooting for mid-September.
Who are writers in this latest one?
Why, none other than Sara Bir, William Bradley, Gayle Brandeis, Glendaliz Camacho, Carolyn Edgar, Sarah Einstein, Reyna Eisenstark, Dionne Ford, McKel Jensen, Jean Kim, Antonia Malchik, Zsofi McMullin, Catherine Newman, Deesha Philyaw, Browning Porter, Susan Kushner Resnick, Natasha Saje, Tracy Sutton Schorn, Louise Sloan, Megan Stielstra, and Elissa Wald.
I'll be introducing them in the notifications letter in the coming months. (Some of them have books coming out or out already. Some good, good stuff.)
I hope you'll preorder now. I'm the only one who has read this whole collection so far, but all of these true tales of love in the time of adulthood have me swooning. I think you're going to love the book—and, hey, I haven't steered you wrong before, have I?
xxoo,
Jennifer