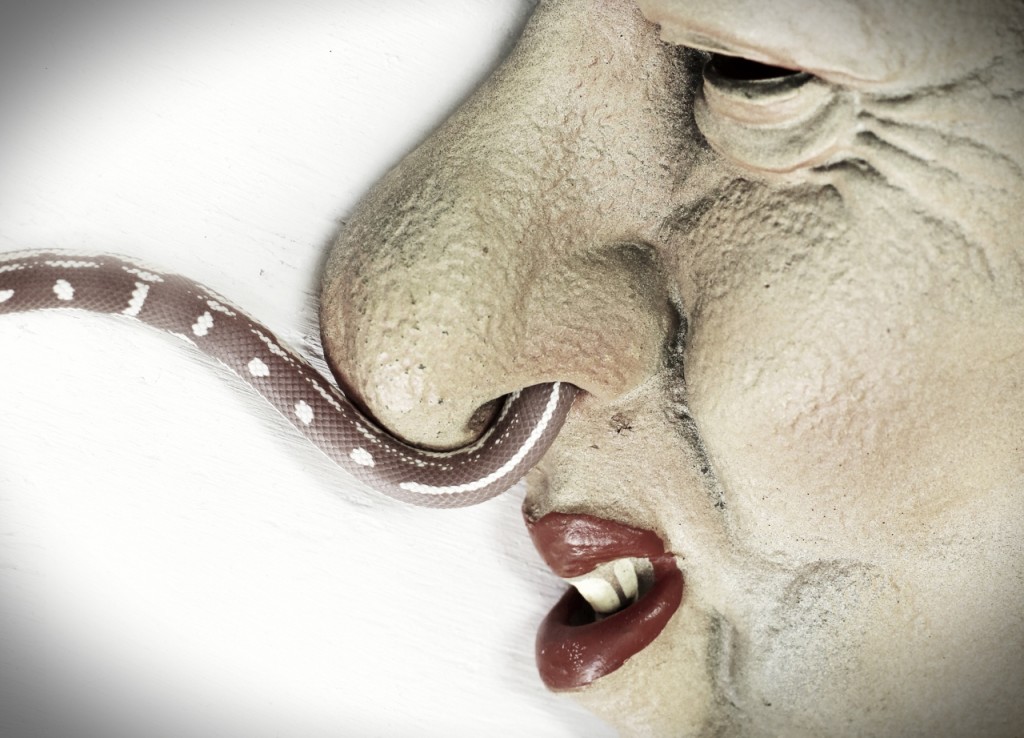 By Randy Osborne
In high school after lunch I goofed off in the library with my misfit friends Richard and Joel. Richard: grubby, overweight, and indifferent, with taped-together glasses that sat crooked on his head. Joel: milk-white skin, wispy hair, and translucent, vaguely bluish eyes, like an alien. Voice so deep it was almost inaudible. My boys.
On this day, I was getting over a bad cold. My entire face hurt. We sat at one of those round study tables. Joel, who would die of a rare disease a few years after graduation, said something unexpectedly funny and I laughed—really more like a snort, with unintended oomph.
My entire sinus cavity … disgorged.
There was a lot.
The result was not something that could be discreetly nostrilled up, like a worm that poked from its hole (maybe they saw, maybe they didn't). It was a hot, greenish-yellow blob, like something from another world that covered my lips, and half my chin, and was advancing. The jackpot of snot.
As teenage boys we reveled in bodily functions, of course, but in the seconds after my blast each of us knew in his own way that I had gone too far, albeit helplessly and by surprise. Richard and Joel gaped. They cackled. I did the only thing I could think of.
With a cupped paw, I wiped away the seeping, viscous wad. Then I chased Richard and Joel around the library with it, my handful of disgrace. We howled with a kind of weird joy, they scrambling, me in pursuit as the masters of world literature gazed down at us from the shelves, disdainfully.
Fast-forward a decade or so. Joel was no longer among us, and I'd lost track of Richard, as one often does after high school. I was getting married. In those days, state law required emissions tests not only for cars but that, too. The doctor used one of those cotton-swab sticks, like a Q-tip but about nine inches long. It didn't have to be that long.
"Wait," I said. "Why is this even necessary? My fiancé is the only person I've ever had sex with." This was true. Go ahead and feel sad for me here if you want. I felt a little sad for myself.
AIDS wasn't around back then, but herpes was, and syphilis, and gonorrhea. Also human papillomavirus, or HPV. I read the other day that every sexually active person will come into contact with HPV at some point, if not one of the others. Think of it. An ordinary person's loins are seething with contagion. Maybe you'll meet someone new tonight.
The doctor muttered something about public health. "We just want to keep you honest," he said, and I realized, possibly for the first time in my stupid existence, that I could lie but my body would tell the truth.
Next I was a new husband, with a job: photographer for the weekly newspaper in our northern Illinois town. One day my editor sent me to shoot the girl's swim team at the high school, which had won some kind of award. I arrived at the appointed hour during practice, everybody out of the pool, lined up. Thanks to a powerful strobe flash on the camera, I was able to stand far enough back to fit all of these nubile beauties into the frame. I left the school feeling good. I've always felt good, leaving schools.
In the parking lot I heard distant sirens, then closer, and then a line of squad cars followed by an ambulance heading into the cemetery across the street.
Because I was a newsman, I followed them. To the body, which lay face-down on a grave in front of the headstone. I captured that image, and next the overall scene, then zoom: the lad's half-open mouth, tousled hair, the cassette player near his elbow.
A guy came over yelling and waving his arms. Owner of the cemetery, private property, get out, no pictures, get out get out. Because I was a newsman, I photographed that guy, teeth bared and veins bulging on his forehead.
Later he phoned the office and apologized for his rage. Just came out in the moment, he said. I lost control. But he also threatened to sue if we used the pictures. A boy who lost his girlfriend, as people like to call it, in a traffic accident had shot himself on her resting place while their favorite song played.
We consulted our lawyer. Yes, any cemetery is private property. But the usual rules don't apply when an event of public concern takes place on it. An event, he said, of public concern.
We didn't use the pictures.
I peered over my editor's shoulder at the prints of the swim team. It must have been the strobe flash, the water still on the girls fresh out of the pool, and the weave of their nylon suits. Two rows of beaming maidens faced us looking—except for the faintest shadows of what they wore—as naked as newborns, albeit more interesting. "Nice," my editor said. "We can't use these either."
Fast-forward another ten years into my starter marriage, as people like to say afterward. Let's extend the housing metaphor and say it was a fixer-upper. Let's say it had a weak foundation, and was falling down around us. It did.
They say the body is the house for the soul, the body that secretes and excretes and blurts. The body that things come out of, not always planned, and can't be put back in. The body that's cut and bruised in wrecks of all kinds. The body that's brokenhearted. That might be hidden, and—in a flash—exposed.
Wikipedia defines flesh as "the soft substance of the body of a living thing." The body: private property we have no choice about showing other people, since the body is where we meet them, in our mutually arranged or accidental events of public concern. It's the site of inevitable trespass, too, at least until the house is foreclosed on, emptied, and then gone altogether.
I still think about that swim team.
•••
RANDY OSBORNE's writing has appeared in various online literary magazines. In 2014, his work was nominated three times for the Pushcart Prize, as well as Best of the Net. One of his pieces, which first appeared in Full Grown People, is listed in the Notable section of Best American Essays 2015. He lives in Atlanta, where he is finishing a book of personal essays.