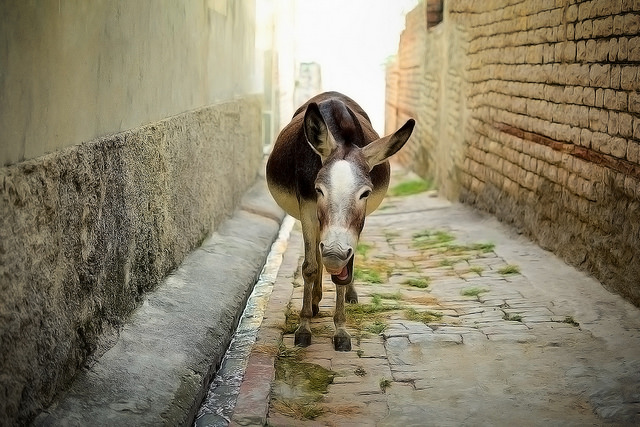 By Kristin Kovacic
It's the end of October, it's my birthday, and my husband and I are on our way to grant me some wishes, one of which I'm already realizing—to be traveling in October (every teacher's wish). I also want to see the Atlantic from the French side, I don't remember why, and we are four hours from the coast when we stop to have some lunch and fulfill my third desire—to eat cassoulet, in its region, in its season. A chilly mist penetrates the Languedoc today, and the French people filling the restaurant around us—we're the only foreigners, an attendant wish—are tucked into their somber winter scarves.
I'm experiencing all of this with my interior eye half-open, a psychological squint. I'm not accustomed to such indulgences, to even having words like birthday and wishes, refer to me alone. Semi-retired from parenting, with my two kids at college, it feels strange to be on the receiving end of some of the world's booty. For more than twenty years, I've been tending to other people's dreams and desires. Teacher, mother, Santa—that's me. I'm not sure who this woman is, here, free from so many obligations, taking the heavy menu at Restaurant Le Tirou, her life served back to her. Que desirez-vous?
Suspicious of my luck, I talk to my husband about unpleasant things, like the fact that I forgot my debit card PIN code, took my husband's card and somehow botched the transaction, and now we're shut out of the ATMs here and are penniless, cashwise. We have to rely upon the mercurial power of our credit card, which has a computer chip, just like European chip-and-PIN cards, but no PIN number, for an unfathomably American reason, and so, well, there's nothing to remember with the credit card, except how to sign our own names, except that some places here can't accept the signature and our card simply doesn't work.
I worry aloud if this could be of those places.
Did a new card come in the mail before we left? my husband asks reasonably, and I'm forced to face one of the spaces in my memory that have recently opened up, white and empty rooms, like the ones in heaven you see in movies where no trace your life as it was actually lived survives. By now, at age fifty-two (a new number I will need some willpower to remember) I have visited these rooms before, and I know with certainty that I could walk around in here forever, feeling the walls, asking his question—Did a new card come in the mail?—and never get out.
So I pick up the wine list, also heavy. Another wish my husband is granting is driving our car on this trip, so I can—unspeakable pleasure—enjoy wine the way French people do, savoring a modest glass or two over the large unhurried lunch they call midi, but which actually starts at 12:30. I scan my choices, pretending to evaluate vintages and terroir, when in fact I'm looking at the prices and wondering how little we need to spend, really, for my solitary uneducated palate, and noticing that there are words on the menu I've recently looked up, like Corbière, which may or may not mean crow, and whether the fact that my French is not sticking the way it used to, or that I've lost consciousness of something as essential as my bank card, is a sign of dementia, until I stumble across an odd word on the Rouge list: Fitou.
Fitou. Fitou. It sounds like something you say when you can't say the worst, like Fitou! You forgot the PIN code! but then, I remember: my friend Lynne liked a wine called Fitou; I had it at her house in Miami the year we lived there. This factoid is all I have to go on, so I order the Fitou, une demi-bouteille, and am rewarded by the waiter, who compliments me on an excellent choice.
Of course, he also compliments our choosing cassoulet for lunch, which is simply what one orders in October at midi. We are in Castlenaudary, after all, one of the trinity of cassoulet cities—Castlenaudary, Carcassone, and Toulouse; Father, Son, and Holy Ghost. Everyone here will be having the Father.
Le Tirou (which means something I once looked up) is a cassoulet itself of haut and bas décor, lamps emerging out of teapots, houseplants from the necks of Victorian dolls, tables set with the overblown goblets Americans think of as wine glasses, but which in France indicate that you're about to pay too much for your meal. I remind myself that today is my birthday (fifty-two, which sounds suspiciously like Fitou) and should not be wasting my desires, whatever they may be, on the check.
The wine arrives and I taste it. A French word I've recently relearned returns, souple—supple, gentle in the mouth. I take another easy swallow. Why have I retained the memory of this wine, not well known or expensive, which I drank just once in 1992, when I have forgotten so many more important things: how to formulate the subjunctive, the time it takes to hard-boil an egg, where the hell I think I'm going. It makes me wonder what this says about my priorities, now, our children's futures banked at universities, our retirement years on the near horizon. Is this what will stick, the wine? Will my husband, in addition to driving, be designated to remember everything else? What is going on, here, in the newly foreign country of me?
A busboy comes by to brush our breadcrumbs with that . . . thingy, and I look away to see two donkeys pass by the dining room's sliding-glass doors. Diners at the next table send their children out to visit. I am puzzled by the French passion for donkeys. They are installed everywhere around here, like living stuffed animals, eating and excreting and making a sound like agony finally expressed. Nobody seems to ride them, or, thankfully, eat them. Close up, they're dirty, with flies in their eyes. There could be a reason for the donkeys I'm just not remembering, or perhaps it's one of those things you can never understand about another culture, like our neighbors back home on Halloween, installing inflatable, light-up, fog-emitting graveyards on their lawns.
Which reminds me of when our kids were little (by which I mean Once upon a time, by which I admit the years have blurred together), when we used to bring them to France to create delightful, unDisneyfied memories together. Here in this region, in fact, we stayed in a renovated farmhouse (a gîte) and I mapped out places to visit—Roman aqueducts and forums, medieval fortresses and cathedrals—that could be both historical and fun. Which is how we once arrived at Carcassone, the Son, a few kilometers from here.
From a distance, Carcassone looked magical, its crenelated walls and turrets rising up to form a fairy tale kingdom on a hill. Inside, though, on the other side of the drawbridge, it was a roiling cauldron of tourists suffering that summer's (I don't remember which) record-breaking heat (the record has since been broken). Like the people expiring all over unairconditioned France, we were heatstruck in Carcassone, our feet swollen and appetites evaporated, yet we saw blazing plazas full of foreigners like us consuming souvenir bowls of steaming cassoulet. Just thinking of putting a hot spoon inside my mouth made me want to bray. We stumbled with our miserable kids along Carcossone's authentically buckled cobblestone streets, lined with gift shops selling cassoulet keychains and cassoulet refrigerator magnets, and looked for shady places to duck into that weren't restaurants serving cassoulet.
Which is how we came to be seated at an animatronic sideshow about the massacre of the Cathars, former religious inhabitants of Carcassone, who held, among many heretical beliefs, that Catholics could not possibly, in the thirteenth century, still be eating Christ's body. Christ just wasn't that big. And anyway, they asked the Pope, do you know where those wafers have been? First they were straw, that went through a donkey's ass and fertilized a field of wheat. The Eucharist was donkey poop, according to the Cathars.
I'll never forget watching rock'em-sock'em robot Crusaders knocking off the heads of the poor literalist Cathars, accompanied by a weird English voice-over narration that sounded like Bill Murray playing a drunk, screaming New Zealander (their jowls, their bloody jowls!). Like any real massacre, the story was complete chaos, impossible to follow, and the kids closed their sweaty eyelids against it, slumping heavily into our overheated laps.
Carcassone was one of the first reconstructed historical sites in the world, setting the path for preservation destinations like Historic Williamsburg and Historic Greenfield Village and all the candle-dipping, blacksmithing field trips my husband and I went on when we were kids. What we failed to remember, as we dragged our own kids through it, is that we ourselves never came to appreciate history, at least in the form of blacksmithing or the Revolutionary War, and even if all the power went out in France we still couldn't summon light from a string. We'd also failed to notice, though we thought about our children constantly in those days, that they weren't of the castle-knight-dragon-princess-obsessed variety. Look at the turrets! we screamed at them in Carcassone, in what we suddenly heard as our Bill Murray voices, The bloody turrets! They never had their eyes on the prize, it seemed, never truly saw the things we had paid extravagantly for them to see.
Like the donkey at the gîte we rented, advertised as a family-friendly, authentically renovated farm, though when we arrived at the property the stubborn âne wouldn't come out of the barn. He doesn't like children, our hosts explained merrily, and the feeling was mutual.
What they did like was a German police drama they caught in reruns on TV at the gîte, featuring mod, smoking detectives and a crime-solving shepherd dog named Rex. They became obsessed with "Rex," though his barking was the only dialogue they could possibly comprehend. They wanted to stay all day in the gîte to watch "Rex," please, torpedoing my memory-making itinerary. They liked all gîtes, in fact, all hotels, motels, B&Bs. Like birds or dogs, turning in concentrated circles, they liked scoping out a new nest: opening the drawers, sniffing the soaps, changing the channels. Like Goldilocks, they tried all the beds. With her one-button plastic kid's camera, our daughter took a photograph of the toilet in every place we stayed, making a serious study of the variation of the species.
As is traditional, our waiter brings the cassoulet to table, in its signature earthenware pot (cassole), fired at a kiln nearby. He deftly dishes out a portion of every meat—duck confit, pork shoulder confit, house sausage, all shining dully with fat—then ladles some of the famous white (Appellation d'origine contrôlée) beans artfully over that. There's a pause, during which I'm too shy to applaud. Instead, I take a deep inhale of the scent of my desire—a warm dish on a cold day, a hunger about to be satisfied. He leaves the cassole on the table, still bubbling and brimming.
The word confit derives from the French verb confire, which means to preserve. Le Tirou does their own confiting, in a stainlessly cozy meat atelier next door (which could be, now that I think of it, what le tirou actually means), where animals are slow-cooked in lard, then put up in jars and cans. Paradoxically, it's the fat that creates a sterile environment, an impenetrable barrier to bacteria, allowing something as delicate and ephemeral as the thigh of a duck to be kept on a shelf a long time. With a pantry full of confit and a bag of beans, you could make cassoulet any day of the week, all year long. To hell with the seasons. You could feed four hungry people with just the bowl they've served us.
As I imagined once upon a time when I made my wish, watching a German shepherd dig a femur out of a flower bed, cassoulet is delicious in October. Wild, savory, rich, father son and holy ghost, all the separate ingredients melt together into one texture and flavor—something like a warm, salty, ice cream sundae. Then comes the Fitou, souple, gently washing all the fats away. Fitou is made around here, too, so it shouldn't be surprising that it pairs perfectly with cassoulet, but it surprises me that it is my wonky memory, and not the sommelier, that has made this excellent choice. I think about the hundreds or thousands of hours (the math is beyond me now) we passed together with our children–at tables, theatres, zoos, in castles, cars, beds, on couches, bicycles, airplanes, trains, funiculars, carousels, boats. I wonder what is sticking with them now, as they drift into their own history, what will be preserved in the mind's impenetrable fat. I wonder, not for the first time, if I've been a good mother. It's my fitou birthday, which I'm trying to remember. My memory stinks, a fact I'm trying to forget. I wonder if what's scrambling the signals right now is that what I truly desire and can never have again is my children's uncomplicated presence beside me. I tuck into the cassoulet, so my husband doesn't see me cry.
You can eat a cassoulet almost without chewing—everything's that tender. Soon I am seriously full—Thanksgiving-full. I excuse myself for a stroll to the toilettes, passing by vitrines displaying jars of confit you can take home to make your own cassoulet, if you so desire. You can even pick up a monstrous silver can, of a cassoulet already assembled, happy pig skipping across the label, offered by a formally dressed Teddy bear. It makes me a little sick, actually, thinking about everything I've just swallowed and may never properly digest. It occurs to me it really doesn't take that much faith to believe in a meal that lasts forever.
Before he left for college, our son filched some pictures from our albums to paste into a scrapbook to leave behind for his sister. Though touched by his sentiment, I was furious that he'd raided the family photos without asking. Then I saw the book he made, intended only for her, captioning seemingly random photographs (not the ones I would have missed) with inside jokes. The book is called LMAO (Laugh My Ass Off, I had to look it up), which is exactly what our daughter did when she read her little book.
She shared it around, but no one else, including me, could see what was so funny. Like "Rex," their childhood was a story they'd been telling to themselves all along. In LMAO, my husband and I are pretty minor characters, smiling like cartoon pigs on the sidelines, and I had to consider that while we were earnestly plotting their futures, arranging the scenery (fortresses, spaceships, windmills, caves) to be as inspirational and educational and pleasant as possible, they were naturally oblivious, laughing their asses off, following their own desires.
In LMAO, there's just one photo from our Carcassonne trip. Remember, my son wrote to his sister, under a picture of the two of them, adorably eight and nine, or seven and eight, standing on the reclaimed wooden fence next to the stone barn where the donkey was brooding, those amazing pillows?
The credit card works, and my husband excuses himself to walk off his cassoulet, or maybe the shock of the bill, while I finish, yes, the whole half-bottle of wine. With my sidelong eye I watch him lope away, slender back I still have a crush on. It really is just the two of us now, and that's more than a girl could wish for on her birthday. I pick up his pen to write a note on my hand: Remember. To thank him for the lovely lunch. To apologize again for the card thingy. And to tell him about the chef in his toque, white and wide as a sail boat, navigating among the groaning diners towards me. He asks, with a shyly satisfied smile, if the cassoulet has pleased me. I take his hand, and my fingers disappear into the largest palm I've ever held, a deep bed of warm, meaty flesh, softer than the softest pillow. I am, oui, pleased. This I will remember.
•••
KRISTIN KOVACIC is a teacher and writer currently on sabbatical in France, where she is watching, with sympathy and recognition, the traumatization of a culture. Winner of numerous awards, including the Pushcart Prize, for her essays and poetry, she makes her home in Pittsburgh, where she teaches creative nonfiction in the MFA program at Carlow University. A new chapbook of her poems, House of Women, is forthcoming from Finishing Line Press.