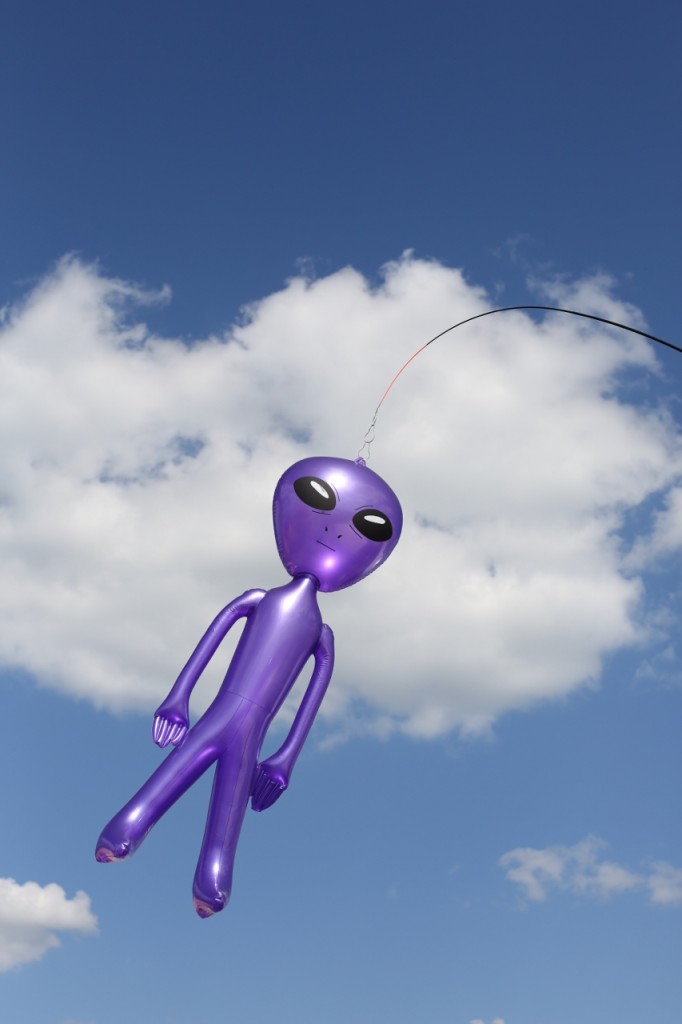 By Joelle Renstrom
"All the earlier changes your race has known took countless ages. But this is a transformation of the mind, not of the body. By the standards of evolution, it will be cataclysmic… It has already begun."
—Arthur Clarke, Childhood's End
On New Year's Day, I huddled next to a space heater on the porch as snow piled up on the windowsills. It was four p.m., that dead time between day and night. The utter lack of change blanketed everything, much like the snowflakes that dropped from the sky, unhurried and sticking fast, piling up like days, weeks, and years. It had been a year and a half since Dad died, since I moved back to my hometown of Kalamazoo, Michigan. Eighteen months seemed like an arbitrary measure of time; I had been there forever—perhaps I had never left.
I spent some time that day putting together a syllabus for a class I'd be teaching that winter called "The Evolution of Science Fiction." One the works I most looked forward to teaching was Arthur Clarke's Childhood's End. In the book, a mysterious alien race called the Overlords descends upon earth and eliminates famine, war, and crime, ushering in a utopia. The humans don't know the Overlords' ultimate objective, but it becomes clear they're trying to prompt an evolutionary leap in the human race—a leap that the Overlords themselves cannot make because although they're technologically superior, they're otherwise limited, or, as Clarke puts it, "trapped in some evolutionary cul-de-sac."
"Evolutionary cul-de-sac" described my feelings about Kalamazoo. I'd already lived nineteen years of my life there, and when I went to the grocery store or to work, I ran into people who'd known me since I was a kid. Even though everything was different now, it was hard to escape the powerful orbit of history. On New Year's Day, my thoughts solidified into a single goal: I needed to leave Kalamazoo. I needed to continue evolving. The stakes were immeasurably higher than the first time I left home, college-bound, still a kid. In a few months, I'd be turning thirty.
I started a blitz, applying to jobs from California to Cairo. I sent out at a dozen applications each week, waiting for the tiniest nudge in any direction. None came.
Toward the middle of February, we started reading Childhood's End in the science fiction class. Another line echoed ceaselessly in my mind, an admonition from the Overlords: "The stars are not for man." I seemed to be sending my CVs into a black hole—most of the time I didn't even get the courtesy of a rejection. Is the universe telling me that the vast expanse out there isn't for me? I wondered.
The day Arthur Clarke died, I spent hours in my dad's office, sometimes spinning around slowly in his desk chair. The shelves were almost empty. I hadn't yet taken down the pictures that showed us the way my dad had seen us: backlit against a campfire, laughing over a board game at the table, stuffing our faces with chocolate while dressed in soggy Halloween costumes. The family on the wall seemed unfamiliar, as though it could have come with the frames. In the third drawer of Dad's desk, I found a stack of my own poems. I read them all, as though I'd never seen them before. If I concentrated, if I pushed my brain back through the quicksand of time, I could picture who I had been when I wrote them. That person was gone, yet like the family on the wall, she haunted any space still open to the past.
Clarke's death felt like an omen. The death of a visionary felt to me like the death of a vision—the death of my vision. I'd expected the job search to be rough, but I hadn't expected to be still entirely unacknowledged almost four months into the process. Unless I went to a random place on a wing and a prayer, I might not go anywhere at all. Come late May, contracts for the next academic year here in Kalamazoo would arrive; what if I signed one after the other after the other? I envisioned another year, or five, or ten, of unlocking the door of Friedmann Hall's third floor and entering the same hallway that smelled of sneakers and White Out and microwave popcorn. A universe folding under its own weight.
The months rolled by. Kalamazoo was the last place I'd expected to be when I turned thirty. I still had no leads on a job or a new place to live, no indications of the change I'd been pursuing with increasingly frantic abandon. Was it okay that at age thirty, I had no idea what I was doing or where I was going, that I was as clueless as a child? Even though I was back at the starting point of my personal history, I felt way off the map. On my thirtieth birthday, I drove to a cabin in the middle of the woods even though I knew my life and everything I wanted to leave behind would find me in the end.
I shivered under my birthday moon and pulled the drawstrings of my hood until it was a small circle around my face. I thought about how Arthur Clarke gave a clipping of his hair to a company that sent it on a three-week suborbital ride to space and then returned, ready for another mission—perhaps a longer, more permanent one. Clarke's DNA has and will travel to places he wrote about; theoretically, an alien civilization could reconstruct his genetic code. Either way, the stuff of Arthur Clarke could exist indefinitely and infinitely. Could the idea that one's DNA can be perpetuated far beyond one's physical body explain the many times I've felt Dad's presence, sometimes uncannily enough to prompt me to look around?
If they have the ability, the sentient races in Childhood's End evolve to a transcendent state in which they join an infinite consciousness, the essence of all things—the Brahman. When they do, they transcend reason, corporeality, time, and space. When I first read the book, I wasn't sure what to make of Clarke's fusion of spirituality and science fiction. Later in life, he ceased believing in what he called "superstition," but I found my trajectory to be just the opposite.
What if life and death as we think we know them are only two stages of existing? What if spirits or essences can exist in an infinite number of forms not limited to corporeality or to conventional conceptions of an afterlife? Between what we think of as life and death, there might be countless planes of existence or realms where anyone departed from earth could dwell, neither alive nor dead, in some form unrecognizable or unconceivable to us. What if there are actually seven dimensions, or eleven, or twenty-eight, and what if some of them are places or spaces we go when we die? What if Dad, or Arthur Clarke, lingered in such interstitial spaces, uncategorized and uncategorizable, defying nothingness? What if the sense that he's around me isn't just me unable to accept that he's truly gone—what if it's me sensing his particle waves, the way one senses that a radio is on in an adjacent room?
•••
After my birthday, I redoubled my efforts to move, keeping in mind Arthur Clarke's second law: "The only way of discovering the limits of the possible is to venture a little way past them into the impossible." My dad's diagnosis and death had thrust me into positions I never would have chosen for myself: caretaker, custodian of information I didn't want to possess, watcher of death. Everything felt impossible, and in some ways still did. But as I became a person I didn't want to be in a place I didn't want to be, I also became something I'd had no need to become before—the architect and guardian of hope.
If the universe gives us what we need, rather than what we want, then the story of my life—or at least my perspective on that story—changes. There had to be a moment that changed everything. There had to be a place to leave, a life to leave, a me to leave in order to go back to Kalamazoo. And there had to be a Kalamazoo to leave in order for me to rebuild and evolve. There had to be a time and place for me to decide to make my life about something other than Dad's death.
•••
At the end of May, I got an email from Emerson College about an adjunct teaching gig. I booked a ticket to Boston and sent my resume to every college and high school in the city. A week later, I got on a plane and then spent five days lugging a suitcase to job interviews and to apartment showings. I put all my eggs in that basket. One doesn't make it to the stars by playing it safe.
Dad would have been excited at the prospect of my moving to Boston—he had taken us there on a family vacation when I was nine. I allowed myself a brief fantasy of walking down Massachusetts Avenue with him, past Harvard and MIT, pausing on the bridge to look at the sun glinting off the State House. Whatever place I next inhabited, he would never visit me there. That thought slayed me, but at the same time, I felt curiously liberated. For the first time since he died, I felt like a real person with hopes and dreams and a future that made my stomach buzz with excitement. Was it possible that after all this time dizzying myself with the unanswerable why, Dad's death could take on meaning if I looked at it as a catalyst for evolution?
Childhood's End depicts the evolution of children into something beyond human. My evolution wouldn't be that dramatic, but I had the distinct sense of being catapulted beyond my parents, especially my dad. And ultimately, isn't that the point? Aren't our predecessors supposed to pave the way for substantial movement, for progress? I hadn't merged with the Brahman, but I was no longer the person I had been and was afraid I'd always be.
The day before I moved to Boston, where three part-time jobs and apartment awaited, I finished cleaning out Dad's office. I boxed up the pictures and slid the nameplate out of the holder. The empty office seemed not to belong to this world, as though it was a place in limbo, waiting to be filled. It wasn't clinging to my dad, his belongings, or his memory. It was time for Dad to inhabit some other place, and it was time for me to do the same.
On Wednesday nights at the Boston University observatory, I look through telescopes at Venus, Mars, and sometimes Jupiter and Saturn. I imagine Arthur Clarke's DNA on an endless voyage. As I look at our solar system, a tiny parcel of space, it's clear that time and space have only as much sway as I allow them. They, like everything else, can be modified and adapted. Arthur Clarke is right—death can beget life, and extinction can be evolution: "There lay the Overmind, whatever it might be, bearing the same relation to man as man bore to amoeba…Now it had drawn into its being everything the human race had ever achieved. This was not tragedy, but fulfillment."
In this universe, my dad still exists. In this universe, there is room for the me that is six years old, still sitting on my dad's knee, the me that tangles with the transition between life and death and back again, between then and now, and the me that believes that three dimensions are only the beginning.
•••
JOELLE RENSTROM is a freelance writer based in Somerville, MA. Her collection of essays, Closing the Book: Travels in Life, Loss, and Literature, was published in August; a version of this essay appeared in it. She maintains an award-winning blog, Could This Happen, about the relationship between science and science fiction. Her work has appeared in Slate, Cognoscenti, Guernica, The Toast, and others. She teaches writing with a focus on sci-fi, AI, and space at Boston University.