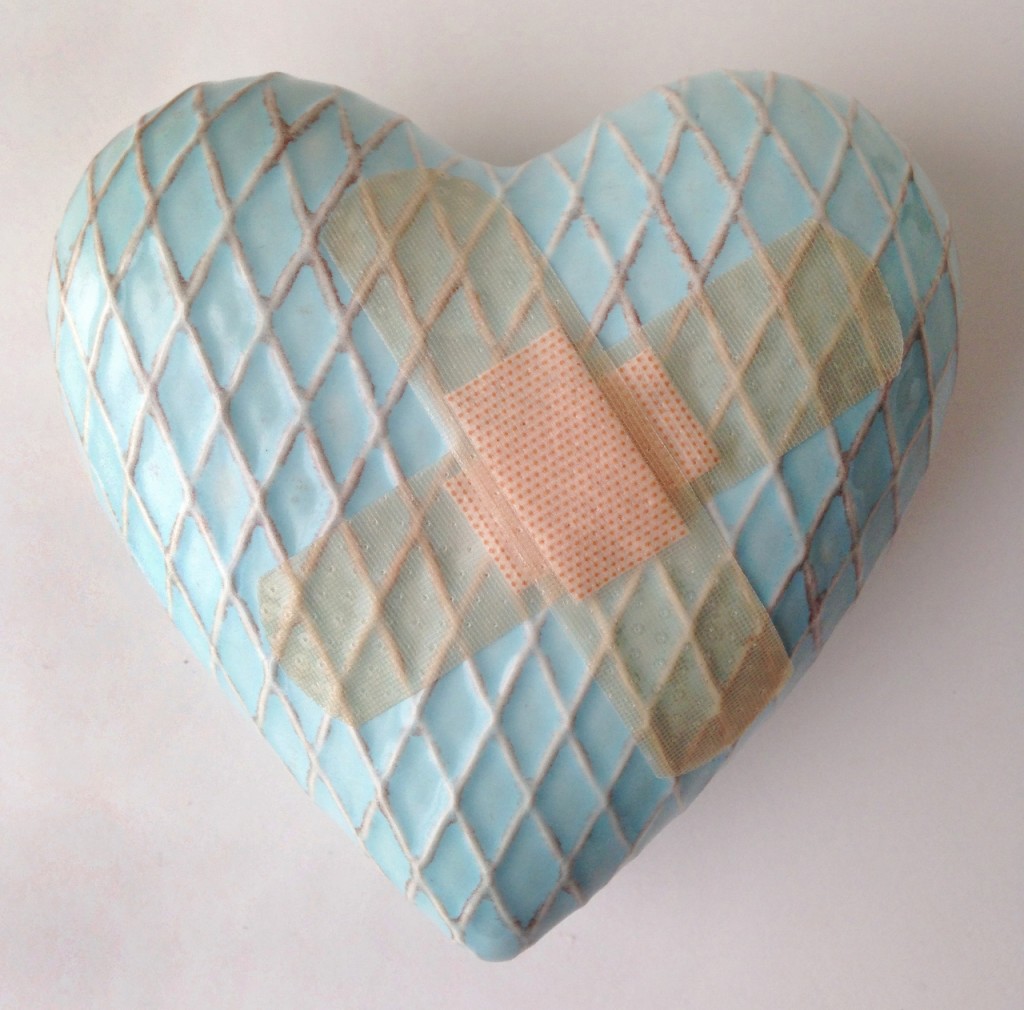 By Penny Guisinger
I held his hand as we crossed the street from parking garage to hospital. The black-and-white lines painted on the asphalt guided us to the automatic door that whooshed us into the building. He was eight years old, and his fingers felt sticky from breakfast, sugar, and sweat. I let go of him only for a moment so I could check my watch. We were on time. Neither of us wanted to do this, though I had tried my best to spin it as a grand adventure.
"You'll get to see a cool video of your own heart," I had told him at least two hundred times leading up to this day.
"I know, Mama," he had come to say. "I know."
"Don't you think that will be cool?" I had said it again that very morning at the Dunkin Donuts.
He had plucked a sugar-covered chocolate donut hole from a bag, and said, "Yes." He popped it in his mouth and licked the sugar from his fingertips. "Very exciting." He was like this all the time. Even his understatements were understated. He endured me.
I had known what would happen when I told his doctor what Owen was regularly saying. "He says his heart feels like it's beating funny, and sometimes his chest hurts." You can't say those words to any responsible medical professional and not set this chain of events in motion. Though our doctor had said all the appropriate "I'm-sure-it's-nothings," she ordered an x-ray, EKG, and an echo, and referred him to a pediatric cardiology practice no fewer than one hundred and ten miles from our rural home.
"Oh, look," I said, finding the name of the practice on a directory. We had entered the cool and quiet of the medical building. The floor glistened beneath our sandals. "We need to go to the fourth floor. We get to take the elevator. Want to press the buttons?"
"Yes," he said, scanning the length of the hallway. "I do." He was carrying Tiny White, the floppy, dirty, white bear with a blue hat and scarf that Santa brought to our house many holidays ago. The bear didn't exactly go everywhere with us, but he was pressed into service for special events.
In the elevator, he reached up and pressed the four button. The doors dinged and closed and the floor started to rise. Owen smiled. "I like elevators," he said.
To call our area "rural" doesn't quite capture the experience of living over a hundred miles from the nearest Starbucks, airport, shopping mall, or franchised restaurant without a drive-up window. In easternmost Maine, we all drive to Bangor to do anything much of anything. We grocery shop, do our banking, and fill our prescriptions locally, but if we need running shoes, jeans from someplace other than Walmart, a roller rink, or to see a medical specialist, we all make the trip across Route Nine, through the dense, endless wild. So to Owen, an elevator was a relatively big deal. A trip to Bangor was a celebration, and I was determined that our day would include some fun to underscore that this was nothing.
We found the right door and let ourselves into the waiting room. The receptionist gave me a clipboard and a pen, and Owen flipped through a Lego magazine while I wrote his name and birthday on at least nine different pieces of paper. Then we waited together in side-by-side chairs with wooden arms and scratchy upholstery. I ran my fingertips across the surface of his back, scratching him through his tee-shirt. He had picked out a Lego Star Wars shirt especially for today. With his tee-shirt, Tiny White in his lap, and the Lego magazine opened across his knees, he looked exactly like who he was, and it was my own heart that assumed an irregular rhythm.
In the first room, where they did the EKG, he told the nurse or the PA or whatever she was that he had an irregular heartbeat. She nodded, looked at me, and said, "He's right. He does."
I thought about how our family doctor had looked at me and said, "I'm sure it's nothing," and for the first moment since she said that, I doubted. This doubt would not linger past the appointment's end, just an hour later.
•••
While we waited for the next room, for the next nurse or PA or whatever she would be, I said to him, "Let's do something fun after this."
He was looking at something. What was it? The Lego magazine? A book? The television? The floor? I have no idea, but I know he said, "Okay, Mama. Like what?"
"I don't know," I answered, trying to think of something we could do in Bangor, something fun, something different. It was summer in Maine. There has to be something.
Something, yes, but this was nothing. It would be nothing.
The echocardiogram was, as predicted, incredibly cool to him, but only for the first ten minutes. "Is that my heart? How is that my heart?"
The black and white, fuzzy images on the screen, constantly in motion may as well have come from a probe on the moon or from distant Tatooine, so unlike were they from any images we understand of the human heart. It was not pink, not red, not even heart-shaped. No black outline, no arrow through it. Its valves opened and closed the way a praying mantis lifts and lowers its legs, and the cross sections were bell-pepper-shaped.
"I don't see how that's my heart," he insisted once more before drifting into the spell of the cartoons on the television high on the wall, strategically placed for viewing from the table. Then he added, "These aren't very good cartoons."
The echo tech did her job by not interpreting anything. She didn't share any reassuring commentary. It was like the ultrasound I had when I was pregnant with my oldest, Abby. Because of her positioning in my uterus, I had a lot of ultrasounds throughout that nine months, and most of the techs were like tour guides of the baby, pointing out toes, elbows, her heart, her little space-alien movements. But one tech was wordless throughout, creating an absence of sound that was louder than any noise I had ever heard. She spoke only at the end when she said, "Do you have an appointment with your doctor this afternoon?" Panic set in, and I went to that appointment already in tears, prepared for a terrible piece of news that was, of course, nonexistent. It was just a tech doing what they are supposed to do: collect, not interpret.
There, next to my son, who was complaining about bad cartoons, I listened to the silence of the tech. She was clicking on her keyboard, capturing measurements, snatching images of Owen's heart doing various tricks. And I knew. I knew it was bad. I knew it the way I know that there is gravity and that the sun sets and rises each day and the way I knew that I too would eventually die. The scenario spun out in my head—he would need a transplant. This would be our life now. That very day, everything would change and whatever fun thing I thought of to do that afternoon might be the last moment of fun we would have for years, or for months, or maybe forever. This news sank into my bones like a cold front. I checked my watch again. I interpreted, then misinterpreted. We had been in here too long.
•••
It gets hot in July, even in Maine, and it was a day too warm for go-karts. But go-karts were what we decided to do. I drove us across the bridge from Bangor to Holden, following a rush of summer traffic; tourists heading to Bar Harbor, heading to the coast. Owen sat behind me in the back seat, and together we watched for the signs for the go-kart track I had found online. I spotted it. "Is this it?" Owen asked, leaning forward against his seat belt for a better look out the window.
"Yes!" I almost shouted. "Let's have some fun!" My emphasis on that last word was, perhaps, much more enthusiastic than the situation called for. But he was eight, and I was his mother, and we were going to have some fun.
It was about ninety degrees, and the go-kart track was in full sun. The young attendant who sold us our tickets asked how many minutes I wanted to ride. Rides were sold in seven-minute chunks of time, so I bought three. I looked down at Owen and said, "Let's ride for twenty minutes the first time. We can go again after that if we want."
He looked across a grassy expanse that sloped down to the fenced-in go-kart area. A fleet of small vehicles, with lawn-mower-style engines, was lined up, ready to go. Not a single other driver was on the track. We had the entire, squiggly-shaped road to ourselves.
Owen was too small for his own kart, so we were assigned a two-seater. The attendant showed us how to buckle ourselves in, how to steer, and how to brake, then he pulled on the start and the engine noisily fired up. I pulled onto the track, got a feel for the quick, tight steering. With hot wind now blowing through our hair, I stomped on the accelerator, and the kart responded by quickly coming up to racing speed, but there was nobody to race.
Owen gripped his seat. "Mama, I'm not sure you should go this fast." He was like this all the time: a worried, middle-aged little man in dark-rimmed glasses.
I leaned into a tight turn, felt the tires grip the track. "We're okay, Owen," I reassured. "Are you nervous?"
He nodded but was grinning a grin that I took as evidence that I was being an awesome mom in the face of a hard day. We were having fun. His expression proved it, even though his little knuckles were ivory-colored and he had that edge in his voice when he said, "I think you should slow down so we don't crash."
I eased off the accelerator and slowed as we took a turn. The breeze stirred up by our forward motion fought the heat. We settled into a comfortable speed, and I steered the vehicle around and around the track. Owen's body seemed to lighten as he relaxed into the activity, though I did not sense any actual joy. He watched the scenery pass by—the entrance gate, the parked row of karts, the booth where the attendant sat, the highway, the entrance gate again—over and over and didn't say anything. I sped up and slowed down and leaned over and yelled over the noise, "Isn't this fun?"
He met my eyes with his, grinned, and nodded, then went back to watching things go past us. His heart, I knew, was beating its irregular rhythm under his Star Wars tee-shirt and moving blood through all the veins in his small body. It ran through the small veins in the fingers he was using to grip the sides of his seat, though his grip had become less fierce. His small heart—how small was it? They say the adult heart is the size of a fist, but perhaps that is an adult fist. Perhaps his heart was the same size as his little, seat-gripping fist that was given its gripping ability by his irregular little heart. Perhaps it was my adult-fist-sized heart that made me grip him this tightly.
Another family appeared at the ticket booth, buying some turns in the go-karts. I thought that this was good, that it would be more fun if there were some obstacles, some challenges, some easy, fun competition. I navigated two turns while watching the group walk to the gate. They waited there. The attendant did not make a move to let them in. I wasn't sure how many minutes we had been spinning around these arcs, but it seemed that we had a lot of time left.
The other group watched us through the chain link fence, and I felt obligated to pick up the pace. Owen's knuckles grew white again, but he didn't say anything. Members of the other group shuffled their feet, glanced at their wrists or their phones, the sun hot on their bare heads. We flew past them, past the parked fleet, past the attendant, letting the hot July wind blow across our bare heads.
"Are we almost done, Mama?" Owen asked me, but I couldn't hear him over the din of the engine, and he had to say it again. If he had been wearing a watch, he might have checked it.
"I think so," I shouted back, then added, "This is fun, isn't it? Do you like it?" I reminded myself to stay in the moment, to experience this summer-in-Maine joy, to stop interpreting and do some more collecting. In a few weeks, Owen would start fourth grade. Summer was short. And here we were, with this new clean bill of health—he did not need a transplant. "A lot of kids have arrhythmias like this one," the cardiologist had told me. "He'll grow out of it."
He will, I know, grow out of all of this. He will grow out of summer and Lego tee-shirts, and go-karting with me. I should be grateful. We should finish this joyous ride in triumph, then go inside the pizzeria next door and order the largest one they make with whatever toppings we want. We should drive home with Owen's favorite band, The Beatles, cranked all the way up and with both of us singing. We should be awash in summer-healthy-heart joy. I pressed the gas pedal and took a turn as fast as I could. The g-forces pressed Owen into my hip. The wind flattened his hair against his forehead, and he squinted up at me, still hanging on tight to the seat, and I thought, "This is something."
•••
PENNY GUISINGER's first book Postcards from Here, published by Vine Leaves Press, will be released on February 16th and is available for pre-order on the 1st. In 2015, one of her essays was named a notable in Best American Essays, and another was nominated for a Pushcart Prize. Other work has appeared in Fourth Genre, River Teeth, The Rumpus, Guernica, the Brevity blog, Solstice Literary Magazine, Under the Gum Tree, multiple anthologies, and other places. She is an Assistant Editor at Brevity Magazine, the Founding Director of Iota: The Conference of Short Prose, and a graduate of the Stonecoast MFA Program at the University of Southern Maine. To learn more, visit: www.pennyguisinger.com.