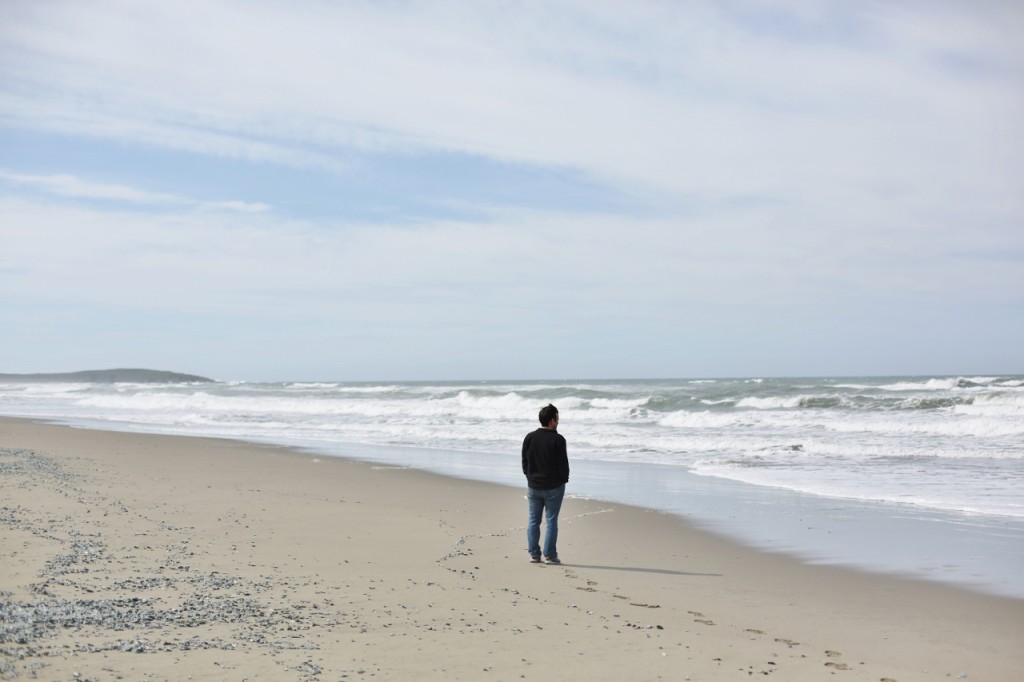 By Noah Renn
Leslie had been deployed nine months when Troy tried to grab my dick. He lived in the apartment next door, and I would go over there when Carmen went to sleep for the night. I would bring the baby monitor so I could hear if she woke up while Troy and I drank Dominican rum and smoked cigarettes. He was a flight attendant and would be gone for weeks at a time, but when he returned, he was always looking to hang out. His place provided brief moments of relief from the loneliness of our apartment. I always felt guilty, like I was doing something dangerous or neglecting my kid, but she was a good sleeper. Once she went down for the night, she wouldn't wake up until the morning. Plus our building and apartments were so small; in his kitchen, I was literally two rooms away from her crib.
He was a nice guy but kind of a weirdo. Overly cheerful about his obviously isolated life. Overly enthusiastic about his one year in college at Colorado and his choice to drop out and follow Phish for a couple years. He was a rambler, jumping from subject to subject, not ever really allowing or needing me to get a word in. A bit spaced-out in his explanations about the beauty and connectedness of things, like he'd dropped too much acid in his twenties. Troy was also a close talker, always leaning in my face or ear as he talked, as if he were divulging something important and as if I were the only one he made privy to that information, though he probably told those stories to anyone who would tolerate them.
His stories always had to do with him on vacation. As a flight attendant, he got free trips to the places on his airline's routes, so on his breaks, he would take advantage and travel. It seemed these free rides were pretty much limited to the eastern seaboard or the Caribbean, and appropriately, so were the settings of his stories; this limited his stories to places less exciting than I'd like to hear about.
"Where else have you been?" I'd ask.
His favorite place was the Dominican Republic where he would always describe lazy beach days and wild nights clubbing with a woman name "Tamia" who he called his girlfriend. I always found his relationship with her suspect. How could he spend enough time there to not only find someone but become romantically involved? It's not like he was visiting every week. He could only take off a couple days a few times a year.
Another thing always in the back of my mind when he described Tamia was that a couple of neighbors who had lived in the building long enough to know Troy more than I did had indicated that he was gay.
Adam, in the unit directly below mine, said that Troy tried a little too hard to hang out with him all the time. That Troy was "trying to put moves on him."
Ashley, in the first floor corner unit, outright asked Leslie about Troy. "He's gay, right?"
Gay or straight, his life paralleled my own. We were both guys who lived in small apartments. Our partners were far away from us. This, besides the fact that he was generous with his booze, was one of the reasons I liked hanging out with him. We shared a similar struggle. He would sometimes ask me about Leslie, and what is was like for her to be in Iraq while I was taking care of our one-year-old.
That night he added, "You have a beautiful family. You're so lucky, dude."
I took a deep breath and said, "It's not that hard."
This was how I responded to most people in my life:
"Seems like I'm able to handle it."
"Sometimes it's easier than when she was here because there's less conflict."
Or: "I get to make all the decisions"
Even though I felt that way sometimes, it was mostly that I wanted to come off strong to my friends, coworkers, and family members. I didn't ever want to be someone who needed sympathy or help. What was I going to do? Wallow in tears because my wife was in a war zone? I was in grad school, writing poetry while she was off driving tractor trailers over the Tigris River. Stereotypical gender roles were reversed. I was trying to be tough and macho.
Other times I had to admit to myself that parenting is hard, especially for one person. And for all the stories I heard growing up in Norfolk, Virginia, home of the largest Naval Base in the world, about military wives recklessly spending their husband's money, letting the house go to shit, or sleeping around on them, I came to realize it's not easy to be alone with the kids for so long. When a spouse is so far away, so close to death and destruction, to war, the absolute worst thing in the world, so near the possibility of being killed or maybe even worse— having to kill—there's a certain longing for recklessness back at home, even though it seems everything in our nature should guide us toward the opposite of that, to comfort, stability, and safety.
I was thankful that family gave me great support. My mom, who lived close by, would take Carmen any time she could. And every once in a while Leslie's parents would come down from Winchester and take Carmen for a week or so. We called it Camp Grandparents. These week-long breaks allowed me to catch up on the overwhelming amount reading, writing, and grading I had piling up, and gave me a chance to live momentarily as a carefree bachelor—kind of. I would have no child to take care of and no wife to answer to, more or less, so I would try to go out and have a good time. But there was something odd about having a good time in public when my friends knew my wife was deployed. So mostly, I found myself not doing much. I wouldn't really go out or spend a lot of money. I mostly just drank some beer by myself and went to sleep earlier than I would when Carmen was there. This, I thought, was probably more relaxing than calling my single friends and hitting a bar. So I didn't regret it.
One morning when Carmen was away at Camp Grandparents, I ran into Troy in the hallway. He'd just returned from a two-week trip. I hadn't seen him in a while, so we agreed I'd come over that night. I could drink and smoke, and at least I didn't have to do it alone.
That night as we settled in, he picked up a framed picture of him and Tamia standing at a hotel pool. He shoved it in my hand and looked at it with me.
"She's so beautiful, isn't she? We are in love."
In it she was wearing a server or staff uniform and looked like she could just be an employee who agreed to take picture with him. There was no indication of romance.
I gave a general response like always. "That's nice. She seems great."
He took it back and stared at it longingly before putting it down on the table. I could imagine he needed someone or something in his life that he could say was permanent. Flying around and staying at hotels for weeks on end would probably compel most people to latch onto any connection they might make—whether it was real or imagined.
We shot rum and chased beer. I lit a cigarette and feigned laughs as he told me work stories.
The buzz provided a moment of clarity. I was putting on a front. Some of my strength and resolve at that point in my life, like Troy's relationship with Tamia, was just imagined.
He put on a cassette tape of some Pink Floyd, closed his eyes, and swayed. He was drunk. I was drunk. Realizing it was time to go, I pointed to the clock.
"It's pretty late, man. I should roll out."
Not ready to end our "chill session," he swung around me in the narrow, galley-style kitchen, reached across my chest and shoulder into a top cabinet, and grabbed a bag of weed and a pipe.
"I can't smoke 'cause they'll test me, but you should smoke some. It's so good."
His eyes were just slits. His grin curled.
I was reluctant, but I relented even though I knew it would mean I'd have to hang around even longer. I couldn't just smoke a dude's weed and leave. He said he wanted to close the door, so I didn't smoke out his whole apartment. I thought this was odd because he didn't have a problem with chain smoking Camel Lights in every room. Breaking up the nuggets of weed and loading up the pipe took me back a couple years—back to undergrad when I worked in bars, before I was married, before Carmen.
When I found myself making stupid decisions during the time Leslie was deployed, I chalked it up to the fact, that as a country, we had found ourselves tumbling recklessly into a war we should never have started, so I could justify letting myself tumble recklessly into something stupid, into places I should have never found myself. I was a stateside casualty of war. The terrible foreign policy decisions that got my wife deployed begot any terrible life decision I could make. This was a lame excuse, and I knew it.
I lit the pipe. Troy flipped the tape.
An hour or two later, the bottle of rum was empty and the kitchen was starting to turn at a carousel pace. I needed out. I made my way to the kitchen door.
"All right, Troy-boy. I gotta go."
He snapped out of his musical trance and hurried after me. "Just drink one more beer."
I turned so my back was against the door, the fridge to my right. Before I could respond he had opened up the fridge and was grabbing two more beers. For a second I was pinned between the two doors. He emerged and dropped a can at my feet. As he bent down to grab it, his hand didn't move toward to floor. It stayed at crotch level and his body lunged forward. He was right on me. He went for me. I opened the door and moved back and out of the way. On one knee now he looked up at me. He suddenly seemed completely sober.
"Aww, come on… What's wrong, man?"
It was like he knew his move didn't work, but he still had some hope that something might happen. I turned my head at him in confusion.
"I'm leaving."
When I got back to my bedroom, I noticed how messy it was. Clothes on the floor. Baby toys scattered around Carmen's crib. Disorganized changing table. I don't think I made the bed once since Leslie left. I had escaped, but Troy was still just two rooms away.
I couldn't give much more thought than that to what just happened—I didn't really want to be sure that it did, but there was an awkward feeling, a sense that this dude had just tried to grab my crotch, molest me. I tried to rationalize. Maybe he was just falling or not paying attention. It was an accident. He couldn't have really…
But I knew. When he moved at me, it was like the way I had moved at girls in high school—I'd be ready for things to escalate, to get under their shirts or in their pants. The way I moved away tonight was like how those girls might have moved away from me. Okay with staying close but not ready for that kind of touch. I felt creeped out that I had made someone feel the discomfort I now felt. It was that discomfort that let me know his move was real. That he was going after something. And what if I'd let him? What if I didn't move away? What did he think was going to happen? What was his end game? This I still don't know.
As time went on, I tried to avoid Troy as much as possible. It was pretty easy since he really wasn't home much. When I ran into him weeks later outside the building, I just gave a passing nod and said, What's up? There wasn't any bad blood or even real tension. It was just that we both knew we weren't going to be hanging out anymore. We went back to being our lonely, isolated selves. I could consider my loneliness and isolation as a lingering effect of war. Something that absolutely affects every military spouse, something that isn't calculated with cost and casualties. But if they can't even provide proper treatment for soldiers with PTSD, it's understandable why a depression like this often gets pushed to the side, forgotten about. But I had Carmen, so I wasn't really alone. Right? Troy was still alone. Leslie was still alone.
The next day when I Skyped with her, I told her about it. She seemed as surprised and confused as I was.
"Oh man," she said. "I'm glad you got out of there."
It became a joke between us, and we thought that any questions we had about Troy's sexual orientation were answered.
"Well, Adam was right." I said. I even joked that now I knew I was desirable to men.
"Don't you cheat on me," Leslie joked. We could make light of it, but when she would bring up the guys she was deployed with and how they would constantly say how horny they were, how they objectified the women, their fellow soldiers, I got worried.
What if something like that happened to her? That was the one and only time anything like that had happened to me, but women in the military are more likely to be sexually abused or raped than to suffer injury or be killed in combat. The abuse often occurs during periods of deployment. The majority of women who are sexually abused don't feel like they can report it. Out of those who do report, large numbers have faced worse repercussions than the men they accuse. She'd have no door to escape. She'd have no apartment to hide in. I couldn't imagine what she would do if she found herself in that situation.
Another part of me was scared of the possibility that she'd want someone to make an advance. She could in be in a such a state of isolation and fear and trauma that intimacy would be the one thing she needed—that so many of the those lonely, horny men would be willing to provide.
I'm not mad or weirded out by the thought of what Troy did. I do wonder what would have happened if I had gone super-hetero on him, punched him in the face, and said terrible things to him. How dare he do some gay shit like that? But I don't fight. I'm not macho. My wife is the warrior. I write poetry.
I can understand that his attempt at having something, even just for a moment, to feel like someone wanted to be with him, to touch another human, wasn't necessarily something so terrible. I can say that during that year Leslie was gone I don't know how I might have reacted if a woman made the same move. I may have been just as vulnerable and desperate as he was.
I woke up the morning after, sore in the head and body. My eyes peeled open to the messy bedroom, Leslie's side of the bed and Carmen's crib, empty. First the bells, then the lyrics from Pink Floyd's "Time" rushed into my blurry mind, "Ticking away, the moments that make up the dull day… " It would be three more months before Leslie came home. Before I could touch, be touched by her.
•••
NOAH RENN is writer and teacher living in Norfolk, Virginia. His poetry and nonfiction has appeared in The Virginian-Pilot, The Quotable, Undressed, Princess Anne Independent News, and Whurk, among other journals. He is a 2015 Pushcart Prize nominee. He teaches composition and literature at Old Dominion University, and he leads a poetry workshop at the nonprofit organization, The Muse Writers Center.