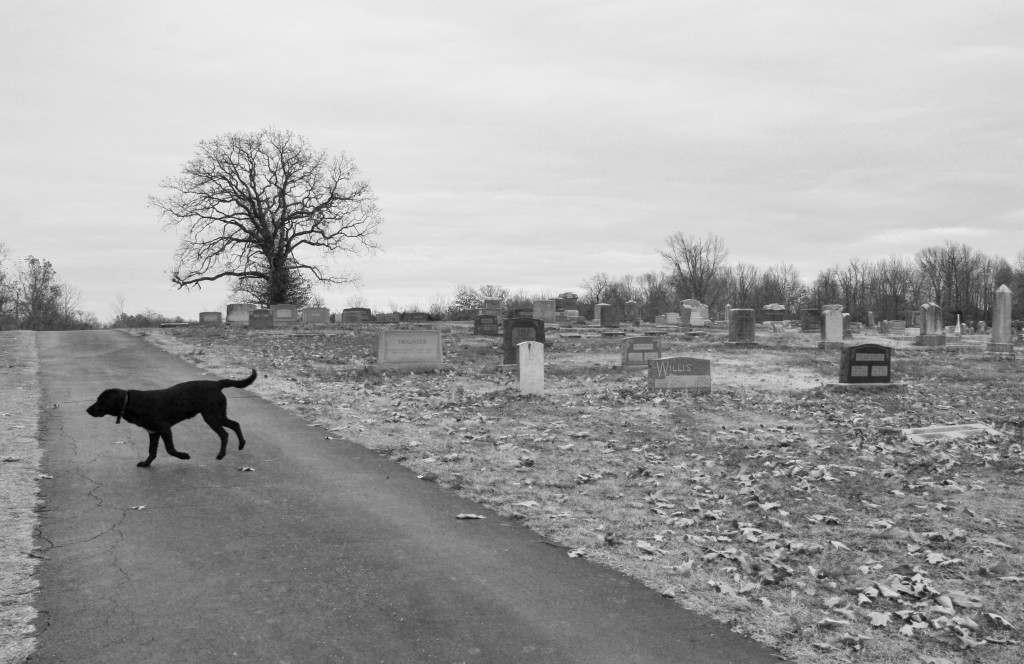 By Amy E. Robillard
I wish I could count on both hands the number of times Annabelle had gone missing, the number of times I'd found myself standing in the middle of a street or a stranger's yard or a cemetery yelling her name, sometimes with a hint of irritation, sometimes with raw desperation. But I can't. It happened too often.
She was my first dog and, as is true with so many firsts, I measured all dogs that came after against her, believing that all dogs possessed this mischievous streak, that all dogs were whip-smart, devising ways to test the limits of their person's love as they chased squirrels and cats and bunnies and the occasional opossum. Some years later now, I know that this isn't so, that Annabelle was something special, that she was an old soul, wise beyond her years, able to love and know me in a way I'm not sure I'll ever experience again. Annabelle was not a people-pleaser, though she loved affection and was particularly sensitive to my moods. The one or two times I made the mistake of crying in front of her, I stopped when I realized she was scared to death and shaking. She didn't like being hugged, but she was just so huggable. When I'd get down on my knees and put my arms around her and squeeze, she was the perfect size. When Steve met us and saw the way I hugged her, he always said she looked put out. But I couldn't help myself. I just loved her so much.
To be put out by another's love: to acquiesce to the affection of the ones who cared for and cherished you. This, I think, is what Steve meant when he said Annabelle always looked put out when anyone tried to hug her. I did most of the hugging, of course, and he's the one who had the best view of the look on her face. After she died and we'd gotten to the point where we could laugh at the funny things she did when she was alive, Steve and I recalled the look on Annabelle's face when she was put out, and he uttered the line that captured Annabelle better than any I could ever come up with. "Annabelle," he said, "made acquiescence into an art form."
Annabelle was a black lab mix, all black with some white speckles on her chest, her toes, and her nose. She had a white tip on her tail, as though she'd dunked it in a can of white paint in order to dash off a quick letter home. Steve and I had been dating for almost two years when I called him late one weeknight, frantic, because Belly had gotten loose and I'd called her and called her and she wasn't coming back.
He hopped in his car and came over right away to help me search for her. As I walked along the sidewalk in the dark calling her name, I nearly brushed up against the hideous opossum that was surely the cause for her darting off when I went to bring her in for the night. The house I rented had a fenced-in yard, but there were stairs and a couple feet separating the back door from the fence gate. Lately I'd become lax with her and just opened the gate to let her walk back into the house. I'd begun trusting her to come to me because she'd shown me enough times in a row that I didn't need to lead her by the collar. This opossum sat frozen on the top of the chain-link fence and I shivered and instinctively pulled away when I recognized what it was. Ugly little thing.
•••
We were fifteen, Hillary and I, walking together to her boyfriend Gary's house when we spotted the flowers. Hillary and I did a lot of walking together—our houses were six or seven blocks apart and, even as we got older, we had no access to our own transportation. So we walked or rode the bus. This time we walked from her house to Gary's, though I cannot, all these years later, recall why we were going there together. Hillary's attraction to Gary bordered on obsession, but then, that was typical for us. When we found somebody we liked, we went all in. In the days before email and texting, we wrote endless notes to our loves, even long after our loves were no longer interested, had broken up with us, had told us to please stop. Some might call what we did a mild form of stalking. We called it devotion. Dedication.
•••
Belly had gotten loose in this neighborhood before, but it had always been daytime. And more often than not, as I'd gone out searching for her, she'd found her way home and would be waiting for me on the front porch as I made my way back around to the house. But this was different. It was 11:30 at night. It was dark. She was black. We lived a block away from a street with heavy traffic.
Steve arrived and I got in the passenger seat of his car. He drove very slowly around the streets of the neighborhood, both windows open, listening carefully for her bark—she was a vocal dog—in between calling her name. The neighborhood was made up of a number of one-way streets, so our route was somewhat restricted, but we regularly made our way back to my house to see if she was waiting for me on the front porch. After fifteen grueling minutes of this, I was losing my grip on what little hope I had that she'd be okay. She was a black dog. It was nighttime. Nobody would be able to see her. I was utterly dependent in that moment on chance, banking on nobody being out driving at the very spot Belly was running. I kept waiting to turn the corner to see a big black splat in the middle of the road. My Annabelle. My Bug. The love of my life.
•••
The first object of my devotion was Gerry. I believe I ran over his mother's foot while rushing to escape his dead-end street after spying in his basement window. I didn't yet have my license. I'm pretty sure she was fine.
As we were walking to Gary's house, we passed a family-owned restaurant. Flower boxes on the windows held colorful bouquets of plastic flowers. Why not bring some to Gary, we thought. We walked on over, picked some like we owned the place, and kept walking until we heard a woman yelling at us to get back here. Young ladies! Get back here! Those are not your flowers to take! Hillary and I looked at each other. We really had no choice. What were we going to do, run?
Heads down, we shuffle back to the restaurant, which we now see is only the front of what is actually a very large home. The woman calls us up to her porch and tells us to stand and wait while she calls the police. We're not going to just get away with this, she tells us. We can't just steal something that doesn't belong to us and walk away. She goes inside the house to make the phone call and her children peek at us from behind the screen door. We are an example for them. What not to be.
What made us stand there? Why didn't we run?
•••
Steve continued to hold onto hope, reassuring me that she was going to be okay, that we'd find her safe, that she was just out on one of her adventures. "You know how she is," he said. Perversely, the part of me that endlessly worried that I was never able to give Annabelle the amount of exercise she needed felt relief that when she did come home, she'd be good and tired.
As we were driving very slowly up one of the one-way streets, we realized that a police car was behind us. We pulled over so he could pass, but we signaled to him to roll down his window. "We're looking for our dog. She's black," I called over to him.
"What's her name?"
"Annabelle."
"I'll keep an eye out for her," he said, and he drove off slowly.
•••
The police officer arrives and we're whisked away. I recall his making some remark about the silliness of the whole thing, but that could just be me looking back. But let's say he did say something like that. We took Hillary home first—her house was closer. I stayed in the car while he escorted her up the stairs to her older sister. Her mother wasn't home. The officer came back, asked me where I lived, and drove me home. When we got to my house, I had to wake Ma from where she was sleeping on the couch, the tissues she'd stuffed between the cushions falling to the floor. Groggy. "What is it!"
"Um, Ma, there's someone here," I said, gesturing to the policeman, his presence dwarfing us both in the small dark living room with its wood paneling and its console TV that seemed never to be off.
He apologized politely for having woken her, told her why he'd brought me home, and promptly left. Ma didn't blink an eye. She barely lifted her head from the couch. I called Hillary and we went back out.
•••
Our search continued ever so slowly, up one street, down the next, calling and calling in between attempts to keep myself from completely falling apart. We drove by the house again. No Annabelle on the front porch. The streets were so quiet. My stomach felt so sick. Around the block again. Up and down the one-way streets. Back around to my street, in front of the house.
That's when Steve heard it. The faintest sound of Belly's bark. "Did you hear that?"
I froze. Turned my ear to my window. And that's when we both saw Annabelle booking it down the street perpendicular to ours, slowing down just enough to take the sharp corner onto our street, and then speeding up again into my long driveway. Steve stepped on the gas. I jumped out of the car and ran up the driveway. She stood there near the back steps panting, tongue hanging down, body shaking, and I held her. I was so mad at her but I was so happy to see her that I just held her and hugged her and told her how much I loved her. Not two minutes later, the police car pulled up in front of the house, and Steve went out to talk to the officer. It turned out that the officer had seen Annabelle running the streets and, keeping his promise to us, rolled down his window and called her name. That was all it took to send her running home.
•••
To put out is also to extinguish. What had extinguished Ma's ability or willingness to rein me in, to set boundaries? Perhaps it was just the same old story: I was the last of five children. She was tired.
Or maybe she felt put out by the love and affection her children tried to show her until they finally gave up because something had extinguished it in her.
Or maybe it had something to do with the possibility that the last time she'd seen a police officer standing in her living room, he had been trying to comfort her because she had just learned of her husband's death. Eleven years earlier, he had left her to finish raising all five of us by herself. She'd been put out in ways I still cannot imagine.
Or maybe all of this is nonsense. Maybe this is what we do as adults. We make gross and inexact comparisons between what our mothers did with us and what we did with our beloved dead dogs and we try to find a through line, a way to make sense of it all while making ourselves seem the more ethical party, the more mature actor. But in the end what we're really doing is grasping so desperately and so terribly transparently at a way to understand how to make sense of the things we cannot bring home because we never lost them because we never owned them in the first place.
•••
AMY E. ROBILLARD is a writer and a teacher of writing at Illinois State University. She's a regular contributor to Full Grown People. She and her husband Steve are the guardians of two very special mutts, one named Wrigley Field, and one named Essay. They all love the Cubs.