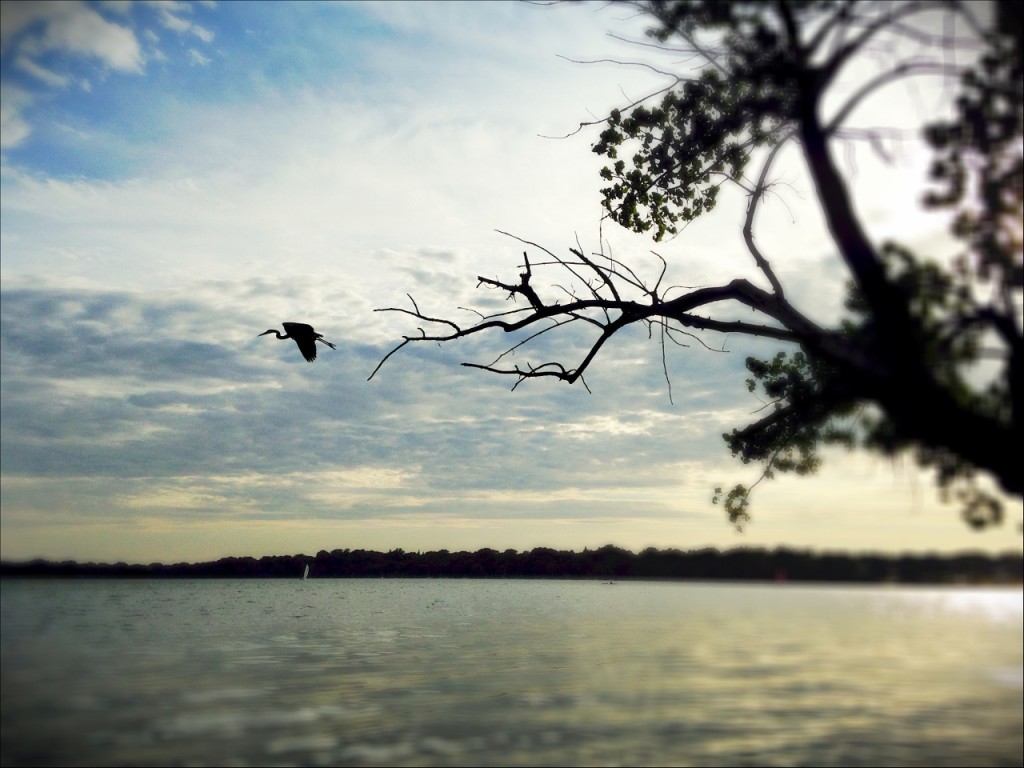 Content warning for scenes of sexual abuse. —ed.
By Carla Sameth
I take my first shaky step and see my eight-year-old son standing on the same thin rope one hundred feet above the ground as he takes a step in my direction. "Raphael! Are you okay?" I ask, panic edging my voice.
Raphael looks directly at me from what seems like an insurmountable distance across the tight rope. He stands still for a moment, balanced. "Mom, I'm okay. You need to just think about yourself now," he says.
I see my son's intent gaze, long eyelashes, café-au-lait–colored skin, the face of my father, the face I know better then my own. I am barely holding steady and realize that in order for me to make it across and hug him briefly, as instructed, for this trust-building exercise, every last part of me needs to be focused. I need to let go and be in my own moment in order to reach Raphael.
We are on a challenge ropes course at Camp Tawonga, near Yosemite, at a special family camp weekend for multi-racial, Jewish, inter-faith families. I've tried a couple different family camps and it's hard to find one that fits our family: LGBT, "Keshet" (rainbow), inter-faith, biracial, single parent. I'm hoping for "spiritual renewal," to find kinship, perhaps some answers, by connecting to similar families, or maybe just some rest, when Raphael spends time with his father or other kids. But much of the time Raphael is clingy, not wanting me to be far away, often not wanting to participate in the camp activities. So when he enthusiastically demands we do the ropes course, I know I have to go.
We have on harnesses, but for me, it's still terrifying. I've only stepped up because Raphael asked it of me, knowing that this exercise is not something his dad would ever participate in—the heights, the tightrope. His dad and I have been separated since Raphael was eight months old, but he agreed, warily, to travel with us for this family camp weekend. It's still a time in our lives that we sometimes attempt to be a family, though not together as a couple. Perhaps he too is hoping to find examples of families like ours to look to for a model to co-parent together. He is down below, looking up at us, standing alone.
Raphael and I walk towards each other. I am utterly present; to do otherwise, I'd fall. My worries slip away—financial, mother-son tug of wars, ongoing tension with his dad. The still uncut umbilical cord propels us closer, step by step. With one big step, we meet, hug, and somehow find the coordination to move as if in one graceful motion as we edge past each other to the opposite side, and then go down to the ground. We hug again, longer. "I love you," we say to each other.
•••
It's October 9, 2015, about eleven years later after the ropes course we did at Camp Tawonga. In the near future, Raphael will move out of the recovery house that he will have been in for almost two years, since January 2014, when he was just short of eighteen years old. During that time, he's graduated from a local high school, found his first real job, gotten sober, and managed to turn his life around; he's excited, following the plan of moving out to an apartment with two other graduates of the recovery program.
I'm suddenly terrified. The scaffolding of the young man's recovery house, the "New Life House" will still exist as a place to go for support, but in reality it's time for him to go out and live his life. He's only nineteen, soon to be twenty, and I'm fucking scared.
I have spent the last three weeks spinning out of control myself, worried perhaps I won't graduate from school, the long awaited book and MFA maybe not completed. Perhaps I won't be able to support myself in the world as I get older. Perhaps I'll lose my mind like my mom. Seeing my mom as we knew her vanish adds to my sense of shakiness, utter lack of control, as I prepare for Raphael to go out in the world.
My mom talks about fairies that might come rescue her from the assisted living residence she calls prison and take her home to the Bronx where she hasn't lived for more than sixty years. Recently she was questioned by a social worker to determine if she still had dementia and qualified for her long term care plan: "I can't tell you how old I am. But I can tell this—I do exist," she said.
•••
Five years ago, when I was fifty-one, I decided that I needed to make a visible statement and get a tattoo. Hineni: I am here. I had the Hebrew words tattooed on me. My brother in his Mr. Spockian way said, "I am here? Is this a map?" (Like "you are here.") I have a Hamsa (to ward off the evil eye) on my back and Hineni in Hebrew letters is inscribed below. Very tiny Hebrew letters, because after all, I don't want to be a target.
For years I contemplated a tattoo and went over what I'd want and where. I researched the rules on Jews and tattoos and found out that it's urban legend about the ban on tattoos, and in fact, in Israel, some very high percentage of people, ages, say, nineteen to forty, have tattoos. And you can be buried in a Jewish cemetery. I went to a tattoo artist who turned out to know me and my son from a co-op preschool that our kids went to in Sierra Madre many years ago.
The place I went to get my tattoo was called Shangri-La, and it looked like that, vines of bright scarlet, purple, and orange bougainvillea intertwined with Province Blue Morning Glory, and sweet-smelling jasmine. The studio was in the backyard of the tattoo artist, and I felt as if I were walking into another dimension. After I approved a mock up of the tattoo based on my ideas, she started her work, turning her needle buzzing quietly into my skin, while she explained that the natural endorphins would kick in after a bit of pain.
At first I did feel intense jabs of pain. (I'd asked a woman getting a tattoo in Old Pasadena which hurt more—getting waxed or getting a tattoo—and she had said waxing for sure.) But the pain was sharp enough that I gasped and I asked the tattoo artist to tell me a story about herself and how she decided on her profession. Her dad, a biker and also a rocket scientist, suggested it to her as a way of making a living; she'd been trained as an artist and illustrator.
And then miraculously those endorphins did kick in as she was asking me about myself. I told her all about me, about the recent episode getting my nose broken by a sheriff's deputy when I couldn't immediately find my metro ticket, and about losing everything because of my marriage break up and unblended family. (I didn't yet know what more I might lose or have the potential to lose because of addiction). But at that point I'd decided I had survived. By the time, I got to the point in my story where I was saying that I was now okay, "and that's what happened," she'd put the finishing touches on my tattoo.
•••
In the last three weeks, I thought that now I had the freedom to go off the deep end myself because my son seemed to be doing beyond well and my step-daughter had stopped talking to me and everyone else for a bit. So I felt free to obsess, agitate, and generally neglect my own wellbeing. I've thought about using heroin—for real—and for the first time. I've "self-harmed." I dug a hole in my leg with my fingernails as I tried to feel, to give a face to the pain that wracked me following an argument with my girlfriend. My first cutting like incident at age fifty-six. Is there a support group for older onset cutters?
I'm glad the black and blue mark, the jagged scar/scab, remains so I can remember. I did that. I went there. I knew I was bleeding inside and I wanted the red, the injury, to be visible. Then perhaps the pain would stop: I would be seen. But perhaps I'm only seen as insane. I've also contacted my old ex—"mi Chiquita"—via text, and I've cut it off, seemingly for good. She's my heroin and I've had to stop.
I started looking at violent Internet porn, something I've got control over, unlike my dreams. Throughout my life, I've often dreamt of being raped and I have an orgasm while still resisting. It reflects the real-life complications of my sexuality, how many times I have been aroused in my life by what seems to be something, somebody so wrong, and yet some kind of twisted sexual friction is created, a Pavlovian response that I imagine began when I was around eleven or twelve and was sexually abused by my piano teacher back in the woods where the Jewish Temple was being built.
We'd recently moved to the hated suburbs outside of Seattle—Bellevue—from the inner city where I had been a tough tomboy: "Sammy Boy." Now we were outcasts in the WASPish land of what we called ultra-suburbanite snobs. In those days we stayed out all afternoon and evening playing increasingly complicated games with the local kids where I tried to teach them about spying, starting a gang which was a cross between my "West Side Story" (which I had memorized in entirety) and my old rough playground.
I went back to the woods with another piano student, a girl from the neighborhood who was developing already, popular with the sleazy guys for her breasts and willingness. We walked into the woods with our nineteen-year-old piano teacher, who was crater-faced with bright, inflamed pimples. I can't remember how we first began these walks out to the woods, the same woods where the older kids would sneak out late at night to play spin-the-bottle and smoke pot. Did we think it odd that our piano teacher wanted to go back into the woods alone with him; did we do this after our piano lessons? We walked through the path in the woods and it was probably already dusk. It gets dark early in the winter in Washington and we must have walked back there, the trail behind our neighbors' house in the fading light, surrounded by moist, lightly rained upon ground and trees. The hammers of the workman who were building a Jewish Temple could be heard in the distance, but they would soon cut out for the day. Did we take a flashlight?
I remember once out there sitting down with him and perhaps one of us asked him about what was the lump in his pants—or did he guide one of our hands to it? Or did he just start talking about "his handkerchief" as he moved our hands and we felt it through his pants first? I began to get a funny sick feeling in my stomach. "Touch it, it's soft," he told us. He moved our hands on his pants where the crotch went from being soft and full to feeling much harder after he moved our hands back forth and then he pulled it out—a big wide fleshy penis; it seemed enormous and swollen, the color reddish purple, not exactly like the large pimples that covered his neck and face. I imagined he touched us too because I remember starting to wonder, to even be curious to see what it would be like to have that penis inside me. "It would bust you wide open, so we have to wait," our piano teacher told us." Some days we stayed out there kind of late, almost dark, dinnertime, but I always made it back before my dad would come looking for me.
I can't remember what happened exactly that last time, only the sound of my dad entering the woods, his flashlight, annoyance in his voice as he called out for me, and the sudden rush of shame and fear as the three of us stood up and walked quickly out of the woods.
•••
I'm guessing I was sexually aroused because I sense that was when those dreams and those feelings started. And thinking about the possibility of having been aroused as a child, when I was being sexually abused—a memory which makes my stomach churn, now even as I picture the bright blistery pimples on his face—offers a clue as to why I might turn to something completely wrong, like the violent porn I had begun watching for the first time.
Until someone more knowledgeable than me said, "Stop—it's an extremely difficult addiction to break." After the post-menopausal drought of libido, and the despair I had been feeling but not understanding, my body was beginning to respond to the rough, sometimes even brutal sexual images, almost like a drug. All my past years of being sexual with the wrong" person, getting driven by those intense pulsating hormones and endorphins that immediately turned to shame after an orgasm and resulted in so many twisted, dangerous, near-rape and actual-rape experiences. This was coupled with my inability to keep feeling sexual with someone who felt safe. My feelings changed so quickly to shame and inertia that I'd rather just sit and watch videos, eat, ruminate, or anything else other than try to rouse my shut-down body.
The thing that has held solid for me now for so many years is writing, and I finally thought I'd made the space to concentrate on it. But I found myself focusing on everything else but the writing. I was yanked away by the rip currents of my mom leaving us as the mom we knew. Moving her close to her children in Southern California from where she had lived more than forty-five years in Washington, propelled her into a much more advanced state of dementia. Now we have to wipe her butt, try to get her to take her medication, and leave her as painfully as leaving a pleading toddler.
I've just simply been thrashing about. I still long for something that I don't believe I have—complete freedom to write and the belief I'll be okay. In reality I could decide to believe that I have that kind of choice and abundance. Then again, I might never write another intelligent word or decent story that anyone will read. Over the years, I've painstakingly eked out some writing here and there while attending to the more urgent needs of others: son, step-daughter, work, aging parents. After witnessing how fragile life could be, watching my mom start to lose her mind and my son almost lose his life, I decided I couldn't put off seizing my time to write. But it's hard, this business of focusing on and believing in oneself.
•••
For many years, I held an image of sitting in the woods, head leaning against a long-haired woman. She was comforting me, perhaps stroking my hair and singing and our child was in my lap.
I held onto this image as I lost baby after baby and endured rage after rage and suffered my own rages and bouts of craziness flailing about in my desperation to "be seen." (And what the hell does that mean anyway?) What was that urgent despair that demanded I be a mother, I carry a baby, I create this safe haven, this nurturing and nurtured family? That I didn't actually create—or rather what I did create was so distorted, it didn't look like that safe home in nature. But I did create something, something solid, a strength my kids know exists. They know I'm there day after day; my family and my friends know that in my so-very-imperfect mode of being in the world—messy, interrupting, inconsistent at times—I'm a person who loves unsinkably, solidly loyal. Now it's time to look that love in the mirror.
•••
I've felt secure enough in my son's recovery, his sobriety, to believe that I was free to go back to my old ways, the self-torture, rumination, all the anxiety I was raised with by my family, in particular my dad. Instead I discover I must be vigilant. Lack of gratitude will cause life to simply slap the shit out of me. If I don't enjoy or at least appreciate every moment I have on the earth with a living, vibrant life-loving son out in the world, well, I'll get kicked in the butt. Even if I can't always sing with gratitude, I need to stop this genetically ingrained journey to the hellhole of regret and worry. And when I remember Raphael staggering about with his eyes rolled back of his head, saying he didn't have much more time, then I need to remember how lucky I am that he does exist, that he's found a spirituality, a core of inner strength, and support system that I alone could not create for him.
I want there to be some kind of "letting go" ceremony. "It all happened too quickly," one friends says, lamenting the absence of her two sons finally gone off to live their lives, university and beyond. I remember my son saying to me so long ago on the tightrope walking that rope's course we did together, "Mom, I'm okay, I will be all right. Worry about yourself now." I'm not so sure I'm ready to let go. I'm not so sure I'm ready to worry only about myself.
•••
CARLA SAMETH is a writer living in Los Angeles. Her work has been published in several anthologies and has appeared in online and print publications including Mutha Magazine, Narratively, Pasadena Weekly, Tikkun, La Bloga and forthcoming in Brain, Child.  Her story "Graduation Day at Addiction High," which originally appeared in Narratively, was also selected for Longreads, "Five Stories on Addiction." Carla was awarded a merit scholarship from the Whidbey Writers Workshop MFA program in 2014, and is currently an MFA candidate with the Queens University of Charlotte in Latin America. She has helped others tell their stories as co-founder of The Pasadena Writing Project, through her business, iMinds PR, and as a writing instructor/mentor with WriteGirl working with incarcerated youth. Carla is working on a memoir of her non-traditional journey as a single mother to two children, born four months apart, now twenty years old.