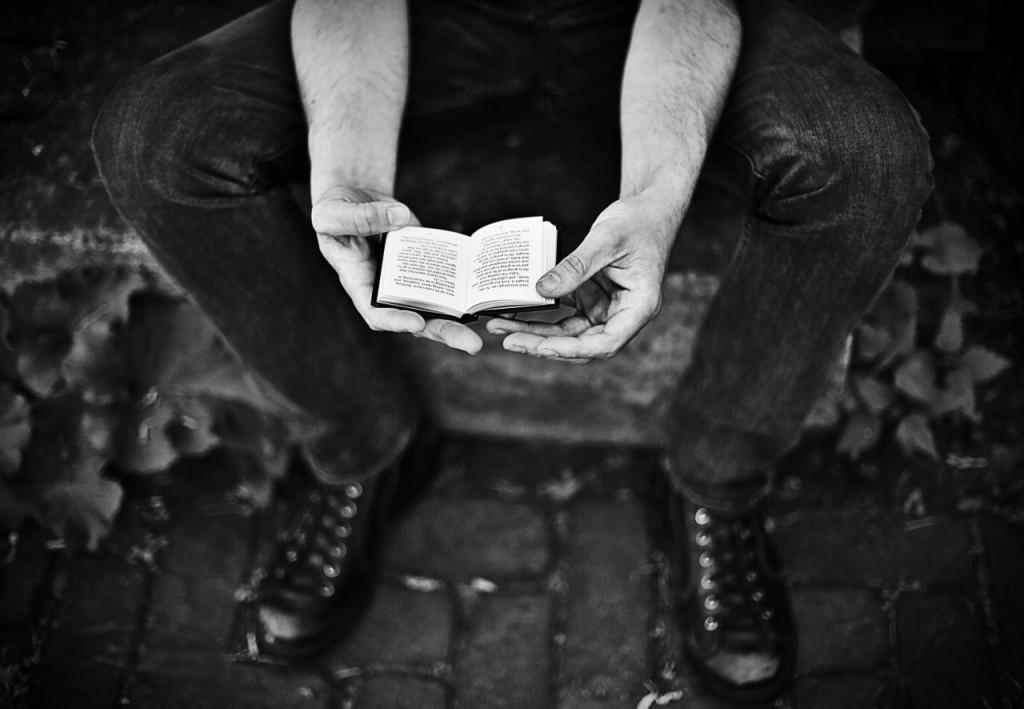 By Randy Osborne
For the second time in weeks, I am rudely shouted at by a person half my age. Wait. You're not about to read the routine old-man gripe about the next generation's lack of respect, even if some of that's in play.
It happens in San Francisco—I'm here for my job—at one of those upscale salad bars where you pick the ingredients and watch your lunch assembled and sealed into a plastic rectangle. Long line. A salad prep specialist waves his latex-gloved hand, next.
But the suited lad ahead of me stands frozen in the condition of Staring At Phone Oblivious (SAPO). He doesn't move.
I tap his shoulder, lightly. Politely. Not a hurt-the-bones, get-moving-kid, the-geezer's-ravenous type of peck. Or maybe so, because he whirls around and glares. On this porcupine, every quill's up.
Suddenly, irrationally, I am afraid, unable to speak. I nod toward the prep area. Try to convey by my nod, my smile—twitchy, can't help it—look, sir, it's your turn. By now, however, the greens technician is wiping down the counter, tending to other matters. As if he had never signaled in the first place.
The executive lad spins back to me, drills me with his eyes. "Who?" he yells. "Who?"
His hand without the phone, I notice, clenches and unclenches.
My scalp tingles, my torso thuds. What if he takes a swing, throws me to the floor? Someone in line behind us will defend me, surely. I look around. No. All SAPO, every customer.
At last, another salad professional waves the lad forth. Come sir, please. Render unto me your garden-based needs. My lad marches over, shaking his head, phone clamped to it now.
Later, I'll feel peculiar gratitude for my loud interlocutor, or non-interlocutor (we didn't really converse), gratitude that's irony-free and slow to grow and seeps into my bloodstream like the first drink at day's end. I had touched an almost-forgotten world of raw heat and urgency, of special, newly minted vigor that I wasn't sure I would have recognized. I'm refreshed.
Not that, at sixty-one, I hobble, decrepit. Yet to arrive are my barrel chest, twig arms, and lizard neck. Not for a few years will these rubbery cheeks sag into true jowls. I'm physically fit. Most of my mental faculties are yet to flee. I don't grouse or meddle excessively. Don't repeat or explain jokes.
Still, age has made me more of an outsider than all my weird traits combined, which is saying something. Dull is everything I know, every known thing, and strong the daily tug of negation that I know is ahead. A return to the empty abundance back of it all, the blank potential we came from.
Back to the salad shop, close call. In the moments after what I perceived as his near attack, I study the lad, finally ordering, his frown, the jaw jabbering, and imagine how his dense black hair, like swirled tar in a vat, would feel between my fingers, how his face might smell if I pull him close, all of his surprised flesh against mine.
This was the second episode of yell. The first took place maybe a month earlier, home in Atlanta, in my apartment building's elevator. Not in, exactly, but at the door—a threshold event—as it opened to let off me and my dog and allow a woman and hers to board.
Both dogs went berserk. Hers a low-slung, otherwise docile ragmop I recognized and had watched her pilot along the sidewalk like a floor polisher. Mine a yappy Chihuahua, ever on the edge of exploded nerves and more often over it, a toy Cerberus.
For a few seconds the dogs lunged and scrabbled. We watched like bettors at a cockfight, yet to put money down. Then I stepped out of the elevator and held the door open for the woman, crouching now with her dog, fiddling with its collar. Her head jerked up. "Go!" she yelled. "Go!"
Go, old man, is what I heard.
Yes, I thought, soon enough I'm going.
If everything is a metaphor, what's real?
I went.
"Probably because you touched him," my girlfriend Joyce said about the San Francisco salad incident, which she (waiting for me at the hotel) missed. "You're not supposed to touch anybody. Even hugging is considered a trespass on personal space. It's all over the internet." The internet, our lord and regulator. I ought to have known. As much a disciple as anyone, I slog through the tedium of my day job online and hover there still at night, aglow. Click click, tick tick, and tock, the clock: I'm hooked on the frenetic stasis of mediated non-experience, dying in front of a screen. These machines we dream into.
•••
My salaried chores in San Francisco done, we take the weekend and trudge the city. We strain to take our minds off the latest shooting, another budding male gone haywire, why don't people out here talk about it, Joyce asks, and in reply I say that one of the things I miss about San Francisco when we're gone is the smell of jasmine. Sun-warmed vines of jasmine grow on the walls out here, exhaling their fragrance. Nob Hill. I sniff the jasmine.
On Sunday, roaming in Fairfax, we find ourselves at a festival. Music, street food, paintings by locals. A pair of wizened hippies runs a poetry-and-storytelling booth. One will spontaneously tell you a story if you ask, whatever story unspools for him, go with the flow. The other extends a hat with slips of paper inside. You draw a name and he recites the poet's verse from memory. I step to the booth because I detect a chance to brag (senior move) about my son Skyler, his Michener fellowship in poetry at the U of Texas.
Both guys hug me.
We talk about storytelling and poetry and how impossible it is to make money in creative work, blah blah. "Well, there's always marketing," the white-bearded bard says. "Where poets go to die." We laugh to the tree line, as the pensioner crowd is wont to do at clichés. I mention Matthew Dickman, poetry editor at Tin House—and a hero of my son; we're getting closer to the brag—who said he rarely teaches and instead freelances in marketing. Happily.
The storytelling guy says, "Did you say Tin House? You mean Tin House in Portland? My god-daughter just got a job there two weeks ago. It's a sign. Synchronicity!" People in California are always seeing signs.
I pick a name from the hat: Antonio Machado. The first two lines of the poem are, "The wind, one brilliant day / called to my soul with the odor of jasmine … "
Poetry guy says he has taught for sixteen years at the Great Mother and New Father Conference in Maine, and is a longtime friend of Robert Bly, who won the National Book Award in 1968 and founded the conference in 1975. Bly, I know, fueled the "men's movement," which led to face-painted suburban dudes banging drums together in the woods, often tagged latent homosexuals by people as backward as myself. Poetry guy points out that it also led to those fathers around us at the Fairfax festival, schlepping their babies in pouches on their backs. Happily.
We talk for a while about Bly, and men, and what's missing in the world for boys. Though it seems a logical topic, none of us brings up the latest shooting. Why don't people out here talk about it? Maybe they do.
Maybe we did, sort of. What I want anyway seems always between, in back of, just offstage from the main action. I listen for what we don't say or can't. How the truth slips between words like a blob of mercury pressed under your thumb. You see it in the faces your lover makes in sleep.
The last lines of the Machado poem: " … the wind left. And I wept. And I said to myself: / 'What have you done with the garden that was entrusted to you?'"
•••
In Atlanta, the checkout kid rings up my senior discount without asking for ID, which I discover when checking the receipt, another geriatric habit. I say thanks and snicker to him about how if you're going to get old, you might as well have something to show for it, heh.
"Yes," he says. Pause.
Then he says: "Wisdom?"
I'm aware of my impulse to guffaw. It would be my attempt to mark myself in his view as one of those aw-heck old farts, really I'm just like you teenagers of today, who can know what's up in this zany world, nobody learns anything.
I'm aware of my impulse to nod soberly, which might suggest to him that I have indeed seized upon hard-won sagacity that you, too, my student, may one day own, after you've lost everything else.
Lies, either way. I get the hell out of there. Someday I may end up on Social Security or worse, barred by poverty even from awkward moments with checkout kids. Shuffle the produce aisle, steal a grape, like in the Bukowski poem. The class divide has become a two-sided canyon, and those lucky enough among us find ways to service the rich, some licit, some not. We occupy their cubicles. We scrub their mansion floors. We nanny their foul brats. We ____ their ____s.
Here's how Joyce and I finance "vacations": She accompanies me on job trips. I'm planning another, and we need someone to dog-sit our savage whelp. Instead of asking a friend, I am of course—like a person with no friends—on the internet. There's a rover.com for friendless dog parents, just as there's a zipcar.com where you can rent wheels on short for less than a day, if owning is beyond your means and you have no friends who'll take you places. I point all this out to Joyce, crankily. Poor Joyce, twenty years younger than I, skilled at suffering. I hope she wouldn't call it such.
Those people on the shore your boat has cast off from, they're not waving you goodbye; they don't know you've left. They are turned again to each other. What matters is that you have a boat, and there was a shore. Doesn't it matter? To make the answer, as Philip Larkin wrote, "Brings the priest and the doctor / In their long coats / Running over the fields." Hordes of them, my god. Here they come.
Possibly, death—such is the pot banged by Jungians, tarot card readers, and motley mystics—amounts to a transformation only. Verb disguised as noun. (How many nights you've spent, head in hands, over those "transformed.") When the no-longer shows up, we continue: altered. In my after-which-there-is-nothing, I am retooled by magic as the changed one I'd waited to become, standing those vain years in the ravenous line.
But who would I become? Who?
•••
RANDY OSBORNE's work has appeared in many small literary magazines online and four print anthologies. It was nominated three times for the Pushcart Prize, as well as Best of the Net. One of his pieces is listed in the Notable section of Best American Essays 2015. He lives in Atlanta, where he is finishing a book. He's a regular contributor to Full Grown People.