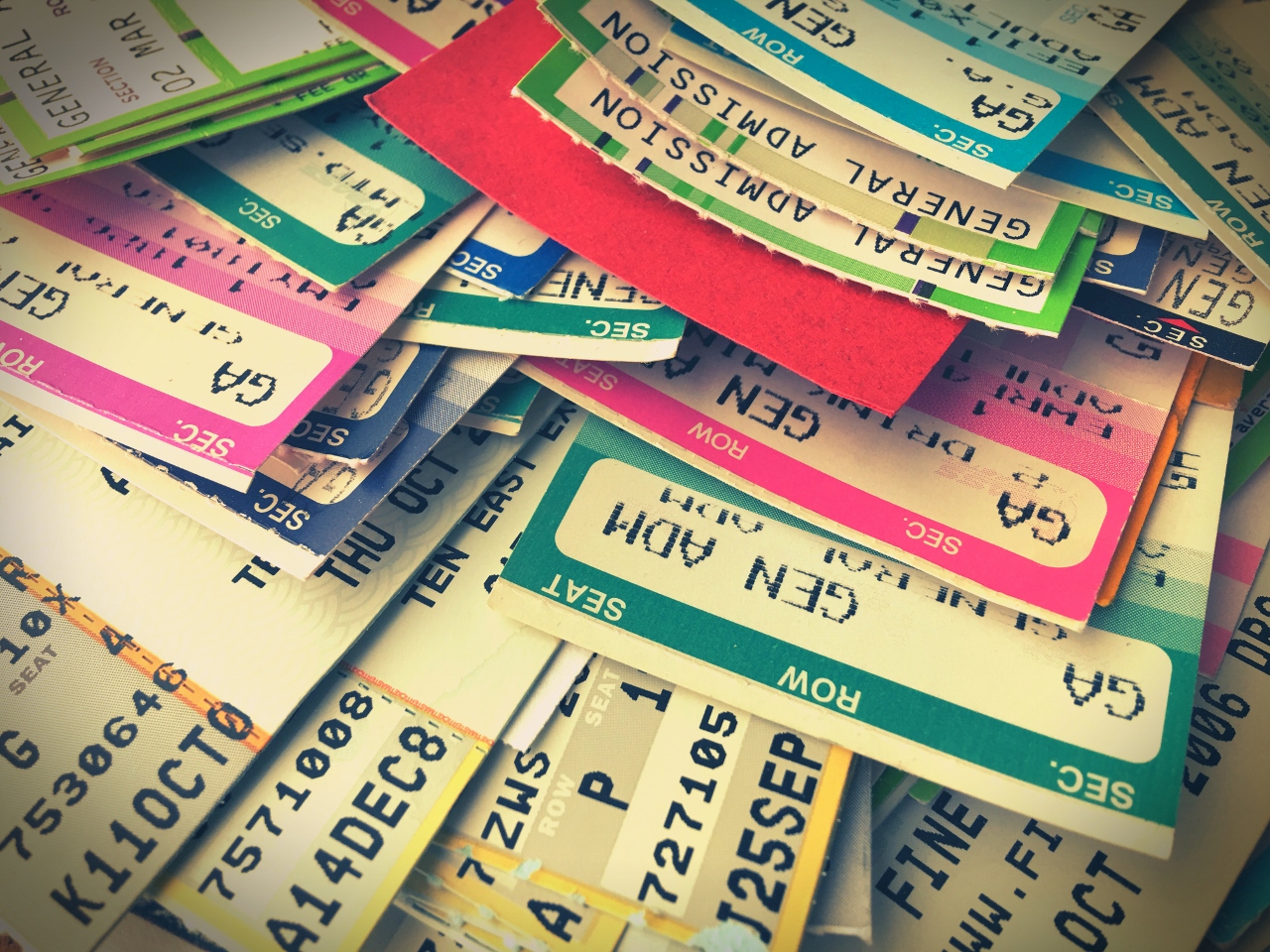 By Sara Bir
It starts with a song. Maybe it's on the radio, maybe on TV. It could even be the artwork on the cover of an album. Or it could be an interview.
Initially I'd not even liked the band, and the first time I saw them play, I left the all-ages music hall early—it was a sparsely attended weeknight lobby show—and fled with a friend to a scuzzy bar a few blocks away. I'd moved to Sonoma County because I wanted to be a wine writer, but that all went out the door when I discovered the area's extensive indie band scene, complete with its own tabloid-sized free magazine published cheaply on newsprint with ink that left telltale smudges all over readers' hands. Something about it all resonated with me, this hidden but vital world of scrappy bands thriving among the vineyards and bucolic golden hills.
Later, I shoehorned myself into working as the magazine's managing editor for free. The editor gave me a copy of the band's demo and after listening to it once out of duty, I was surprised to find I couldn't stop. I played it every morning, usually twice in a row. The songs were soundscapes, heavy with blissed-out distortion, and I liked how they set the tone of the day I wanted to have. At one of the magazine's weekly editorial meetings at a mediocre coffeehouse that also served beer and sandwiches, we decided to run a short profile of the band in the next issue, and they dispatched me to interview them.
The house where the band rehearsed was on a poorly lit rural road, easy to miss. Like many dumpy rental houses that play host to various band members over the years, it had a name: The 116 House. Inside, it was dim and there were about five old couches in the living room. They guys welcomed me in and we all sat on the couches and did the interview. I recall little else about it, though I still have the microcassette recording.
It was the night I met my husband. Joe was the band's drummer, and he'd said just a few words that evening. He still has a drummer's predilection for staying in the background.
•••
We liked a lot of the same bands, as it turned out. Joe and each I had Ride CDs separately before we coupled, and our devotion to Ride is still such that we can't bear to part with the duplicates. I shelve our CDs alphabetically by artist, and the Rs—I also love The Ramones—are disproportionately gnarly. In its purest sense music does not take a tactile from, but in a practical sense I adore the plastic and vinyl flotsam of albums and their colorful sleeves and inserts. Even if the music isn't on the stereo, I like knowing it's there twice.
Some of the guys in Ride were still teenagers when (to deploy a trite phrase of music journalism) their band exploded onto the British music scene. It's almost criminal how fully realized their sound was at such a young age. Listen to Nowhere, their first album proper, and it's still fresh and epic. Their music was noisy and angelic and gorgeous but always had a solid pop sensibility at its core. Unimportant to Joe but very notable to me, they were also really fit. That, my friend, is arty chick bait. I was an easy mark.
Even so, there was little evidence of Ride's physical deliciousness on Nowhere, the cover of which is a blurry image of a cresting ice-blue wave, so the songs themselves had to be the heartthrobs. I got into Nowhere my freshman year of college, hijacking my roommate's copy and eventually listening to it every single morning twice in a row, blissfully existing inside of it the same way I would with Joe's band's demo years later. On an opposite coast, a world away, Joe was nowhere, too.
•••
Music was everything to me in my teens and early adulthood. School, jobs, responsibility: these things made no sense. Music did, and by first channeling a real-life situation through the glorious prism of a band, it came out as something I got.
I saw a lot of rock bands back then. They spiritually realigned me, helping me function the rest of the week. Everything else was planned around their shows. At a release show for a compilation CD Joe's band was on, I got drunk and gave Joe my business card. A few days later he actually called me, instantly distinguishing himself from all of the other guys I kept tabs on at shows. We had our first date. And then we kept on dating.
I liked Joe because he was sincere, and I liked his friends and the other guys in the band because they were fun and not mopey, self-obsessed weirdos. Joe and I liked a lot of the same bands, too. We saw bands together, plus I tagged along to almost every one of his shows. For a four-piece, they had an insane amount of gear: a Farfisa, a Moog, two drum kits, assorted amps and amp heads, a few suitcases full of pedals and cables, and a film projector (I know, I know). It took a long time for them to load in, but it took forever for them to load out. Joe may be sincere, but he had no hustle. I grew adept at lugging bursting-at-the-seams drum hardware bags up and down narrow club steps and onto filthy San Francisco curbs. All those dingy clubs, all those pints of Lagunitas IPA, the residue of the stamp on the back of my hand giving away the cause of my next-day grogginess at work. I lived for it.
•••
One of the most disappointing things about being married to a drummer is that, no matter how mind-blowing their playing might be, it gets to a point where the person practicing on the kit in the garage is just making an unbearably loud racket. At least I appreciate Joe's drum kit. It's a set of vintage Ludwigs in a coppery sparkle wrap called Champagne. I see them glimmer every time I bring in the groceries. Those drums have traveled quite a bit, in the backs of vans and then in moving trucks. They've spent years in their drum bags, and then in the basements of friends, and then, finally, in our basement. Now that we have space for them, Joe does not have anyone nearby who jives on the kind of music he'd most like to play, and at best he sometimes does shuffle beats at casual jam sessions with friends. But he never gets to really wail.
We have a Ride poster that's the cover of their 1991 EP, Today Forever. The poster was Joe's initially, and for some reason he got it laminated when he bought it, and that's probably why it's still around now. I love that EP; the cover is a photo of a shark baring its teeth and RIDE is superimposed in capital letters and it's cryptic and badass. I tried to put the poster up in the basement to remind me that we used to be cool, but no matter what kind of tape I used, the combination of cinder block walls and humidity conspired to make the poster fall down. It bummed me out. I think I was hoping it would spur Joe to play his drums more often.
I'm still plotting ways to hang that poster. Loving a band is like having a crush. Simply saying their name out loud feels gratifying, almost illicit. This is perhaps why music journalism has decayed into an endless stream of lists: assembling and deconstructing them allows you to handle the names, the bands, to build them up into a gigantic consolidated tower, an epic hypothetical luxury condo of rock and roll exclusivity that's just to your liking. Even just typing certain band names now gives me a rush: The Charlatans. Sonic Youth. Dinosaur Jr. The people from these bands are officially old dudes now but not to me. Rock music is commonly thought of the music of youth, perhaps because only in youth do we have such an abundance of potent feelings in need of a vessel.
You'd think music would take energy from you, but that's not how it works at all. It only gives. What a privilege to have that in your life, a special thing that's all yours to obsess over.
•••
When my appetite for new bands took a nose dive about a decade ago, it disarmed me. Who was I if I didn't care about current music? I wound up getting into really square stuff like Henri Mancini and Dionne Warwick and Johnny Mathis—the kind of music I used to make fun of. The albums were plentiful and affordable; I could get a whole box of crappy vinyl at the Goodwill for a dollar, pick out the good stuff, and turn right back to re-donate the rejects.
I missed leaving a club feeling both spent and entirely filled up. Live shows stopped doing it for me. I was tired of standing in a crowd on dirty floors in my impractical rocker-girl black vinyl boots, tired of sitting at a cocktail table in a sparsely populated club, tired of scoping out a spot to pee in an alley off San Pablo Avenue because the toilet got clogged at the artists' loft party. The toilets at loft shows always got clogged.
Going musically frigid changed me, or I changed and then I went frigid. To care so much seems petty, but the emotional significance of a single song can run so deep, like a fissure in the ocean floor. Some people find God. Others find bands, and their music fills a void. Listening to a song is at once completely universal and profoundly individual, and the people who made that song you come to carry in your heart because they created something that lifts up your life and articulates this roiling feeling you either have or yearn to have.
•••
"Ride's getting back together!" Joe said right when he came home from work. "They're touring and will be in Cleveland."
This was huge. "When?" I asked. "Did you get tickets? This will sell out. We need tickets."
"But what if your mom can't watch Frances?"
"THIS IS RIDE. Get the tickets."
He got the tickets. I arranged for Mom to watch Frances, and we booked a hotel not far from the venue, because Cleveland is a bit of a trip for us, and I'd done enough drowsy post-show drives in my life to know how stupid it is to get in a car with your ears ringing and a body full of adrenaline and blood tinged with alcohol, only to later doze off going 75 on the interstate with still over an hour left to go, thinking, "Crap, am I going to make it home alive?"
Neither of had ever seen Ride, who broke up in the mid-1990s. They hadn't played together formally in over twenty years. Joe and I left for Cleveland in the afternoon, and when we got downtown, the traffic was outrageous and Joe nearly had a panic attack. It turns out there was an Indians game that night, and our hotel was blocks from the stadium, so by the time we checked into our room, we'd weathered a nightmarish hour of gridlocked rerouting and impossible parking.
Key cards in hand, we got in the elevator. Joe was surly, swearing under his breath, and I had to give him the kind of wifely "get your shit together, man" look reserved for public situations.
But something quickly drew my attention away from my irate husband. Right before the elevator doors closed, a man rushed in and stared intently at his black rolly suitcase. In the understated dark clothing of a traveler, he didn't look like any of the garishly dressed Indians fans we'd just seen by the bucketload, and he was giving off a powerful vibe I recognized but couldn't quite place. The doors slid closed, and the typical awkwardness of a crowded elevator ensued. I thought about asking the intense guy which floor he needed—he was cute, a good excuse to be polite—but opted not to because he was actually closer to the buttons than I was.
I spent the following impossibly long elevator seconds mulling this over, and then bing! the doors opened to our floor. The intense dude quickly scooted out before us to the opposite wing. Once we got down our end hallway, Joe turned to me. "I think that was Loz."
"What?" I said. Loz is Ride's drummer. It's short for Lawrence. I think there's a rule that all British rock band percussionists need to have nicknames with a Z. Joe's always admired Loz musically. He's not the kind to idolize people, but he's told me a few times how the song "Leave Them All Behind," which is crazy-full of drum fills, had been one of the things that motivated him to start playing drums in the first place.
"Yeah—in the elevator. His suitcase had a luggage tag that said OXF." Ride is from Oxford.
I was dubious, because Ride was a distant thing from a mythical realm, one that did not include blasé, overpriced rooms at the Radisson. "Let's just figure out where we're having dinner and relax a bit," I said. But I was not relaxed. I'd suddenly slipped back into the old Sara, a person who was impulsive and excitable. We headed out and kept our eyes peeled.
Dinner was awful. Ride was fantastic. The reunion was not at all a pandering or opportunistic. I always wonder about this, the motivation bands have to reunite. Every person has events that define their lives, but for a band who achieves renown in their youth, that becomes—to the public, at least—the defining thing in their lives. Joe had certainly not spent the ten years of our marriage being nothing but the former drummer for his band, though they never exploded onto any music scene.
We go through the years, and ideally become more sorted-out and mature. There are jobs that don't involve musical instruments or amp heads or tour vans that stink of farts and t-shirts in bad need of laundering. There are relationships and families and prosaic things of incredible, meaningful depth: homework on the refrigerator, walks with the dog, lopsided birthday cakes spattered with droplets of pink and blue wax. But there are also the lingering fumes of four guys who were on a stage together and did this incredible, transformative thing, and while other life events can eclipse that in significance, nothing can duplicate it.
•••
Pop culture holds such a mighty sway over our society that we tend to define ourselves by what we like, not what we do. Those filters—favorite bands, favorite books, favorite movies—are handy, but they're not airtight. I might meet a person who agrees with me that Ejector Seat Reservation is Swervedriver's best album start to finish, because duh, it is. But you can love Swervedriver and be an asshole. Joe and I can relate to each other over somewhat obscure music, but that's not what makes a relationship endure. I'm not sure what does, actually. Maybe not knowing is the key.
After the concert, Joe and I agreed it was for sure Loz in our elevator that night. While the show itself had been the main attraction, this one fleeting non-encounter gave the whole weekend a symbolic significance. The Pope had just concluded his North American junket, but screw that. Loz stayed on the same floor of our hotel.
That following week I spent electrified, floating in a heady altered state. Joe and I dug up a documentary about Creation, Ride's record label, and it included this offhand home move footage of Ride from back in the day—they couldn't have been any older than twenty-one—and they were just these totally hot little shoegaze babies peering out from a lost window of time that held so much promise. What was I doing when that was filmed? What was Joe? I couldn't even fathom it. I wanted to go back and re-watch that snippet about fifty times, which is exactly what I would have done in 1991.
My body surged with my own teenage fervor, churning with pheromones long unused. The intimacy and immediacy of all the music I'd ever loved came rushing back, and my ears were receptive in a way they hadn't been in years. I daydreamed a lot and was not terribly productive with work, instead going on runs more frequently, the pace brisker and the route longer. Joe sat at his drum kit in the basement and played it hard, like he used to before we learned to automatically default to common respect for our neighbors.
The world nostalgia comes from the Greek words nostos and algos—"pain" and "return home," respectively. The pain isn't from the past itself, but the impossibility of fully experiencing that home again. I was afraid I'd feel pained from what I'd see up there onstage, that the reality of a middle-aged Ride today would maybe squelch a vision of the past I cherished, a time of dewy skin and dreamy faces. But I didn't. (It certainly helped that the band's members have aged well—hiya, Loz!)
I could listen to the interview I recorded at the 116 House in 2001, but do I even need to? Part of the 116 House lives here. Home is dynamic. At its kernel is the eternal awe of youth, embers that you can't let die. We move artlessly though time, as dumb today as the day we were born, and the day we skipped class to go flip through the bargain bin at the record store, and the day we drunkenly handed a drummer a business card after that show at Bottom of the Hill, and they day we put our kid to bed for the thousandth time. Every morning we wake up again, and it is today forever.
•••
SARA BIR is a chef and writer living in Ohio. Her book Foraged, Forgotten, Found: Rediscovering America's Abundant Wild and Unusual Fruits is forthcoming from Chelsea Green Publishing.