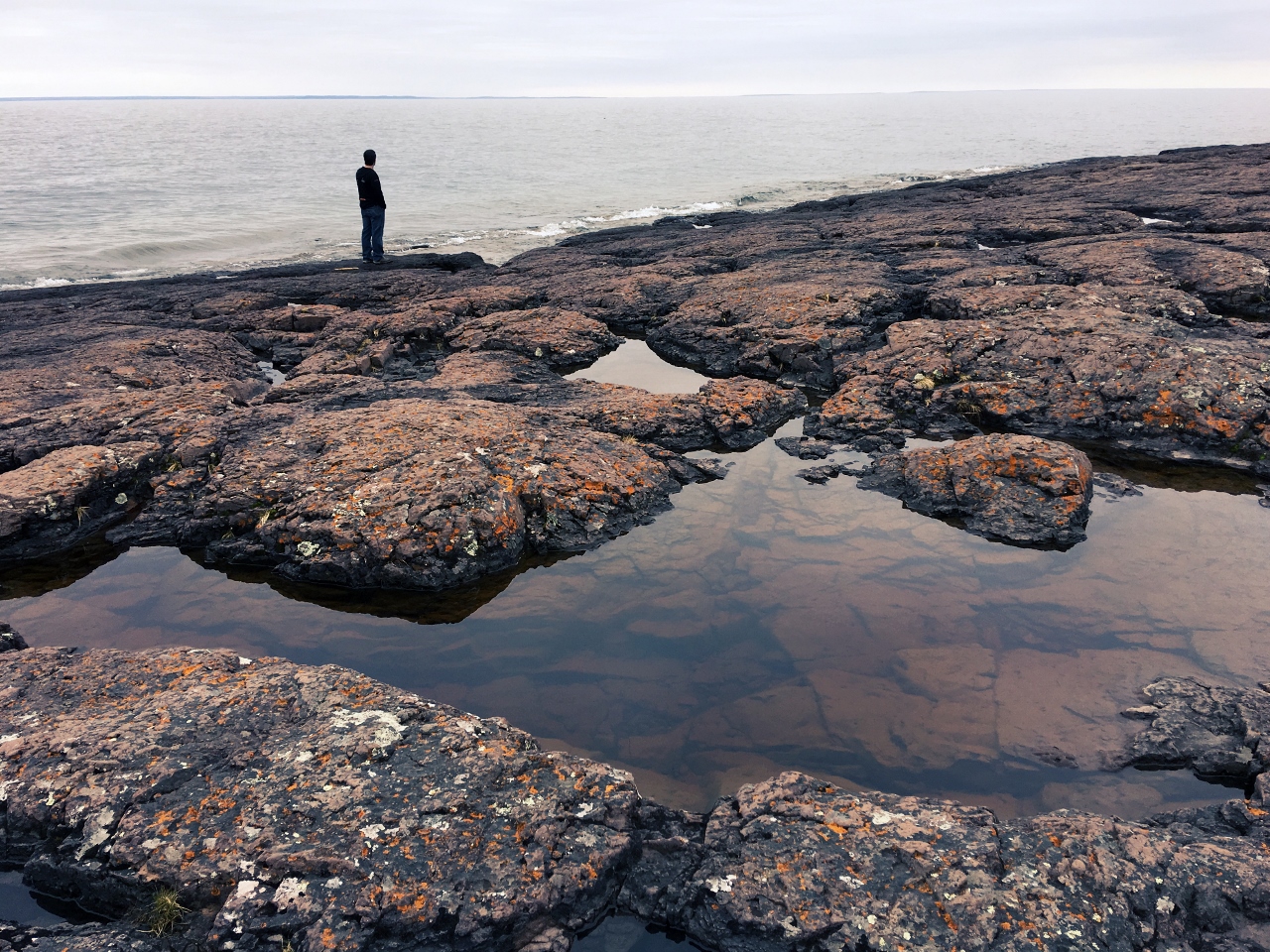 By Lillian Ann Slugocki
Lucinda shows up in Wisconsin, on September 25 by way of North Carolina—our half sister from another mother. She is the younger, better version of me in every way, but I'm the only sibling that she talks to—there are three others.
She arrives after a twenty-five-year absence in our brother's life; a seeker, a philosopher, convinced she can carry the weight of his impending death, that she could, in fact, be his angel of death. Like Charon, she has the gold piece for passage in her teeth at all times. She is both midwife and doula for the dying. Our first night together, at the all-night grocery store, Mark wears flannel pajama bottoms, white socks, flip-flops. His eye sockets are purple under the canopy of fluorescent lights. She's Martha Stewart on crack:
Pro biotic for your belly. Score! Fresh ginger, for nausea, Ooooh, I like this soap, it's organic, it's lavender! I love these fruit cups! I love mandarin oranges! We'll have lasagna for dinner tonight.
And he's in absolute thrall to her: a school-boy crush, for this paragon of love and light. My god, so much light, so much energy—it crackles from her skin like static electricity. This girl is lit up. I trail behind the two of them; so animated, so colorful, it's like watching a passion play. He willingly hands over all his power to her. I am completely stupefied, silenced, erased. Back at his apartment, breakthrough pain! Lucinda calls her mother, who is not our mother. Mark takes the phone, turns his face to the wall. He might be crying. I don't know. I can't bear to see him like this. It unhinges me. I smoke at the window in another room. Lucinda enters, crying—she takes my hand. She wants to be the doula for my pain and grief, too. But here's the thing. It's not what I want from her, at all.
I want her to get out of my way; I need her to shut up, be humble, bear witness, and respect a bond she knows nothing about. But she's too high on her mission to help, to fix, to redeem—and doesn't see this, or if she does, chooses to ignore it. I've been dispossessed in my role as the oldest sister, his oldest friend. She is the changeling who replaces me, and then tries to help me. When he's passed out on his pain meds, she wants to go to a salon and get a pedicure, go shopping for new clothes, sample cheese curds, go for a drive. I just want to curl up in a ball and sleep, too. This is not a vacation. And does it really matter if your intentions are pure, and your compassion is real, but your actions ultimately create even more chaos? Who can really tell when times are so fraught?
I can see her mind working: He's a cool guy, after all, full of flaws, like we all are, but also charismatic and funny. And I see her guilt and her regret, for ignoring him all of her life, but I can't fix it for her. I can't fix it for anyone. And I don't want to. I don't have the bandwidth. I have my own path to walk—this is my mandala. Go find your own.
At the V.A. clinic the next morning, his doctor examines him. He sits on the table, emaciated, yet still very much in his power, in his body, and still very hip, a rocker—in his black hat, purple hair, and Tibetan beads. We're in an air-conditioned, windowless room, beige walls and tiled floors. Lucinda and I sit on folding chairs, facing them, doctor and patient, as if it's a performance. And he's the star of the show. At one point, the doctor says to him, So yes, you could die in your sleep, and that's when Mark got up and left.
As I leave to follow him, I hear Lucinda still with the doctor: He needs a higher dose of Fentanyl, now. Today.
In the parking lot, in the sunlight, Mark leans against her neon blue rental. His beads are loose around his wrist and his neck. We don't say anything. It's too much; I try to hold him, but we both pull away. What if Lucinda sees? But also the idea of his death is just too crazy. We try to square up to his mortality—the white clouds roil in the sky above our heads. It's a perfect September day. The leaves are just starting to turn. We're on the south side of town, in a neighborhood I don't recognize. He has six weeks to live. Lucinda triumphantly emerges from the clinic,
The patches, she announces, one thousand milligrams, will be in your mailbox, tomorrow! Fed-exed, baby.
Back at his apartment, she draws up a complex schedule for his complex meds, puts it in a spreadsheet, gets it printed, and tacked to the refrigerator. Also tacked to the refrigerator are all her cards and letters to him—spanning the entire length of their relationship, almost six weeks, including a selection of her favorite quotes from their time together:
Screw break out pain!
You're like a real sister to me!
And taped to the purple wall in the hallway is a hand-painted birthday card from her son. It hangs next to a Xeroxed copy of a prayer by Tecumseh, a Shawnee Indian chief, which reads:
When it comes your time to die, be not like those whose hearts are filled with the fear of death, so that when their time comes they weep and pray for a little more time to live their lives over again in a different way. Sing your death song and die like a hero going home.
•••
In the kitchen, she heats up the lasagna, and I pour vodka into a green plastic cup. Mark eats a tiny sliver of his dinner, and then they're off to the dunes of Lake Michigan, so he can smoke his evening joint .I don't go. It's not my ritual. It's theirs. I pour more vodka into the green plastic cup, which I drink in silence and utter confusion in his empty living room. The hospital bed is to my right, Tibetan prayer flags overhead, courtesy of Lucinda. When they get back, she kisses me on the cheek, says, I love you, and is gone. She sleeps at my aunt's house. She'll get her hands dirty, but not that dirty. I'm happy that I'm getting out of here tomorrow.
In the morning, I'm confident, at the very least, she'll give me some space to say goodbye to him. I have to go home. I have a full teaching load. I have a dog. I pay New York City rent.I'm at the limit of how many classes I can miss before my pay is cut. In his bedroom, I'm packing; she arrives precisely at ten a.m. to take me to the airport. She picks up my hair brush, and pulls out a new one from Walgreens: Look! I got it for you on the way over! The old one is so gnarly. She marches into the living room, calls out his name:
Mark! Honey, hi, you up? Did you take the anti-nausea meds? Let's look at the schedule.
He's been avoiding me all morning, will not talk about how this might be my last morning on earth with you. I don't want to go there either, but I do want five minutes at some point in the day, before I get on the plane, to say goodbye. Because it might really be goodbye. So, will you, Lucinda, will you give me that space? But it's not looking good. I stand in the shadow of The Changeling, a sister he never really knew, who now controls everything. Because in the land of dying, everything is upside down. Everything is topsy-turvy. It's like the circus has come to town. Lucinda and Mark make plans to eat lobster, in downtown Milwaukee, after they drop me off at the airport.
And I see as I get in the back seat, and they get in the front, that this is the way he wants it. He's not going to say goodbye to me. It's a much smoother ride with The Changeling in charge. It's easier on him. He hardly knows her. He basks in her reflected light, as they talk cornfields and lobster rolls. I'm in the back still holding out hope—two minutes alone at the airport, that's all I'm asking. This is all I want. And Lucinda is an exceptional woman. We've been friends for 20 years. She will honor this connection, which doesn't include her, and step aside, but when we are pulling into the entrance for my airline, she says,
Let's take a family picture!
She gets out, helping me with my bags, I whisper furiously to her,
I do not want to take a family picture.
And I can't even manage to sound like a sane person. I'm acutely conscious that my head might explode. She wants a picture to post on social media? My brother looks terrible. I look terrible. I don't want a digital snap shot, or simulacrum of any kind, of this day, this moment. This moment can burn in hellfire, the second I don't need it to move to the next. Mark stands at the curb, says, What's wrong? Lucinda, on the verge of tears, replies, She doesn't want a family picture, and points at me. I pick up my suitcase and throw it at her. It's too big and too heavy to make much headway, but I make my point.
I'm out of control.
Mark calls out to me, as I walk away, You're coming back, right?
In the lounge, at my gate, I call my younger brother of the same mother, and tell him what has just happened. I stand in front of a row of floor to ceiling plate glass windows, overlooking a 747, illuminated by a brilliant afternoon sun. I'm center stage, on the red carpet, in the brightest spot in the room, practically blinded by the light, and I weep. It is such a relief to finally be the despairing, messy, breaking-down woman that I'd been holding back for so long and so hard. Everybody in the terminal watches me cry. It's the happiest, and most satisfied I've been in weeks.
•••
The next time I fly back, The Changeling has vanished, for good, dethroned when my brother didn't want to go along with their suicide plot. She said it was time, and he said, no. He texted me: She's Dr. Kevorkian! Tell her to stay away! She got on a plane anyway. She called me from Atlanta. I knew her heart was breaking. I told her, don't go. Turn around and head home. She didn't listen. She didn't know him. When he says no, he means it. She pounded on his door. Crying. Let me in. But it was over.
This long-lost half-sister brought him, for a brief time, what he needed—organization to the chaos of his dying. This must've been a relief, and maybe it even promised a different ending, a kind of redemption. But in the end, she didn't prevail. She was banished. Two weeks later, I flew back into town, at his request. Left to our own devices, we watched movies and smoked pot with cousins and siblings, ate frosted cinnamon muffins for breakfast, and a candy bars for lunch. I didn't try to fix him, redeem him, or help him.
I bore witness, and believe me, this is infinitely more difficult because it's acknowledging that you are helpless, and power greater than you is in control. I tried to stay longer, but he said, no, go home. I knew better than to argue. He died a few days later.
He died like a hero going home.
•••
LILLIAN ANN SLUGOCKI has been nominated twice for Best of the Web, a Pushcart Prize, and was winner of the Gigantic Sequins prize for fiction. She's been published by CCM, Seal Press, Cleis Press, Heinemann Press, Spuyten Duyvil Press, as well as Vol 1: Brooklyn, Bloom/The Millions, Salon, Entropy, The Nervous Breakdown, Hypertext Magazine, The Doctor T.J. Eckleburg Review, The Manifest-Station, The Forge Literary Magazine, BUST Magazine, Angels Flight, literary west, and others. Her latest book is: How to Travel with Your Demons (Spuyten Duyvil Press, 2015). She founded BEDLAM: New Work by Women Writers, a reading series @KGB Bar. @laslugocki