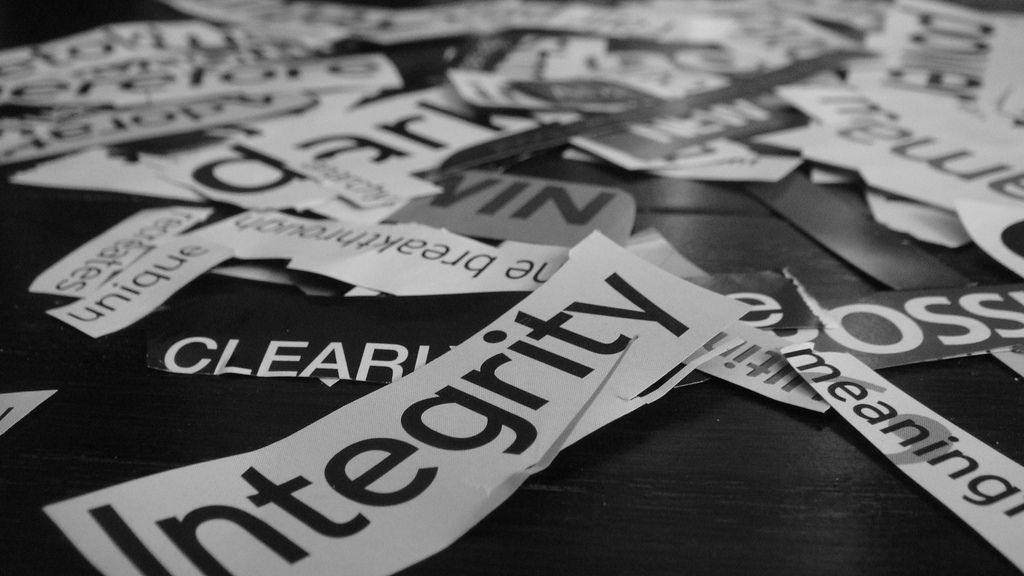 By Jonathan Kalb
From as far back as I can remember, I was what grownups called a verbal kid. My parents were both high school English teachers, my mother for thirty years, and I was lucky enough to inherit their predisposition to articulate speech. At this point, in middle age, I know that this articulateness is a privilege—a gift reinforced by a few beloved mentors and heaps of inspirational highbrow entertainment—but that's not how it always felt growing up. Speaking precisely was no social advantage in the public schools I attended in suburban Wayne, New Jersey. I would much rather have been good at baseball.
Early on, I developed a tendency that, for all I know, is common among verbal kids, though I've never heard it mentioned. I began privately adopting certain words as my own in the secret belief that, like an ardent lover, only I fully understood their true colors, coded signals, and secret desires. I'm not speaking of what people often call pet words—favorite, everyday words that we all have, replace over the years, and tend to overuse. The words I mean are deeply lodged within our psyches and continue to move and sometimes bedevil us even as we age out of them.
I have intensely vivid memories of the circumstances surrounding my learning these words, which subsequently became totems and touchstones, seeding private jokes, tempering and organizing experiences, and affirming my core beliefs.
•••
"Solicit." Google definition: "to ask for or try to obtain (something) from someone."
One day during tenth grade, I saw an enticing ad on my high school bulletin board: "Easy work. 1-3 hours after school. Earn $50 to $100 a week." That was big money in 1974.
The job turned out to be selling subscriptions to The New York Times door-to-door on commission. The clincher was that the guy on the phone promised I'd be paid a minimum daily fee no matter how much I sold. My mother liked his articulate-sounding voice and didn't pay close attention to details. He picked up me and five other boys in a van the following week and drove us to a leafy section of Hackensack.
We were set loose in pairs, and my partner and I were at it about fifteen minutes when we walked up to a stocky guy standing in his driveway, who asked what we wanted.
"Would you be interested in home delivery of the New York Times?"
"Are you soliciting?" Neither of us knew that word.
"We're selling subscriptions to a newspaper."
"So you're soliciting."
"We're selling …"
"That's soliciting. Soliciting is illegal in Hackensack." The guy then pulled out a police badge, yelled toward his house, and asked whoever was in earshot to summon a patrol car.
Twenty minutes later the two of us (and then four, then all six) were sitting on a bench at the station, waiting for Hackensack's finest to decide our fate. We could hear the panicked van driver being grilled in a side room. The next few hours were a gauntlet of tedium, hunger, peremptory harangues, and supercilious questions from cops half-heartedly trying to bait and shame us.
They eventually just let us go. I thought my mother would kill the driver when we got home very late, and he explained what happened. He never paid us for the day.
The dangerous and dubious edges of "solicitation," the word's slightly sickening aura of unfairness, has been part of my worldview ever since. When I later learned this word's association with prostitution it made perfect sense to me. It was a name for something casually polarizing, acceptable to some, depraved to others: not just selling but unwanted, disreputable selling. Not just asking, seeking or applying but supplication, begging, the stain of importunateness always there.
I've collected random bits of trivia over the years about many of my words, but particularly about "solicit." I happen to know, for instance, that the Latin root sollicitare means to disturb, rouse, trouble, or harass. I make space in my head for the fact that Samuel Beckett used "soliciting" to describe the diabolical activity of the purgatorial light interrogating the characters whose heads stick out of funereal urns in his anti-drama Play. I'm probably the only fan of Shakespeare's Coriolanus who looks forward to the particular slur a plebeian politician uses to trigger an anti-patrician mob reaction: "He did solicit you in free contempt."
To this day, any neutral use of "solicit" startles and jars me. If a colleague, for instance, proposes soliciting opinions or applications, I automatically regard the appeal as disingenuous and probably futile. The colleague's motivations seem questionable purely because of the choice of word.
"Solicit" isn't for everyday use (unless you're a British lawyer). It's one of those occasional words that hangs around your brain and exerts its force over time. My sense of its effect on me is that it influenced my disposition toward decorum, convention, and propriety—the whole basket of deplorable ideas that poisons the concept of respectability. Thanks to the Hackensack police, Beckett, and Shakespeare, the word is forever linked for me to all the species of exclusion and harassment that authorities soft-soap as protection: "right to work" laws, gratuitous prohibitions in public spaces, arbitrary restrictions on journalists, protesters, students. I would guess that, more than any other word, "solicit" helped make me politically liberal.
•••
"Spontaneous." Google definition: "performed or occurring as a result of a sudden inner impulse or inclination and without premeditation or external stimulus."
When I was ten, I nearly set fire to my family's house. I, like many kids, needed to test grownups' claims, and one that struck me as particularly dubious was that gasoline was flammable since it was a liquid. Every liquid I'd ever seen meet a flame—water, soda, juice, pee—had extinguished it, and, yes, I'd done that experiment any number of times. How could anything you poured out, that splashed and sparkled, possibly burn?
One day when my parents were out shopping I rolled our lawnmower onto the driveway, unscrewed the gas-tank cap, and tipped it over—a clumsy maneuver that created a bigger puddle than I intended. Some gas dribbled toward the driveway's edge, but it looked as if it had evaporated so I wasn't worried. I threw a lighted match at the entrancing polychrome fluid, jumped back, and thrilled at the windy whoosh. What do you know—the adults were telling the truth!
Within seconds, however, the harmless blue flames on the pavement had spread to the bushes in the adjacent flowerbed and were snaking toward the garage. I stomped on them, waved my arms and dashed about, but the area was already too wide and I found myself surrounded by fire. Then, out of nowhere, an older boy who lived across the street—who had evidently been watching me—ran up, pushed me away, grabbed a garden hose, and doused the fire in a heart-attack minute. Thanks be for fluids that behaved themselves!
I begged him not to say anything to my parents. Then I dashed inside and dialed the Wayne Township Fire Department, asking the guy who answered: "Hey, is there any way that gasoline can catch fire without a flame?"
"Spontaneous combustion," he shot back, declining to elaborate.
I ran to the dictionary. I didn't completely understand its complicated definition, though the gist was clear enough and flooded me with relief: a thing could ignite on its own without heat from any external source. I'd found my alibi, and a marvelous new word. What grownup could possibly have such specialized technical knowledge?
My father saw the damage as soon as he pulled up in his Buick Electra. I babbled out my terrifying tale of having "accidentally spilled some gas" while trying the start the lawnmower, after which I was shocked to see it "spontaneously catch fire all by itself. I have no idea how!" Then he asked me to tell him what really happened.
Long story short, since he knew exactly what spontaneous combustion meant and knew it couldn't happen out on a driveway, he confronted me. He said that if I'd admitted I was trying an experiment because I didn't believe that gasoline could burn he would have been annoyed and probably made me pay for the bushes. Instead my lie had deeply disappointed him and had to be punished.
This is how the word "spontaneous" became inseparable in my mind from visibility and discernment. My father saw right through me; there was no hiding from him, and this incident marked the turning point in childhood when I suddenly grasped how much more adults saw about me than I'd allowed myself to perceive. All children are humored and cosseted. Adults want them to enjoy their natural curiosity and spontaneity as long as possible. But that indulgence is mostly pretense, condescension. Real respect, I realized then, can't come from pretense. It has to be earned. I'd been expelled from the Eden of childish egoism and felt naked and embarrassed.
From that day on, "spontaneous" could never again be an index of simple or sincere expression to me. The word instead reminds me how complicated trust, honesty, and instinctiveness are. If, for instance, someone praises an actor, a musician, or a painter for the amazing spontaneity of a creative act, I might share in the admiration but I'll also ponder the years of preparation and seasoning behind the act. If a child asks for my spontaneous reaction to something—a joke, say, or a picture, or a feat of agility—I will oblige, but I'll also wonder what his real game is. I know something else is at stake and want to know what.
"Spontaneous" set off brain-alarms when I first noticed how overused it was in the essays of Richard Wagner. Wagner felt that his music-drama was the spontaneous expression of the will of the German Volk, and this word made his ardor suspicious well before he made clear that the German Volk excluded Jews. "Spontaneous," ironically enough, planted cautiousness in me and reinforced my naturally analytical disposition.
•••
The earliest word I remember adopting is "shortchange." Google: "to cheat (someone) by giving insufficient money as change."
On a field trip to the American Museum of Natural History in fourth grade, my parents gave me six dollars to spend on lunch and souvenirs. My bill at the cafeteria, where I'd scrimped to be able to afford a dinosaur at the gift shop, was $1.83. I gave the cashier my single, searched my pocket in vain for change, and then handed her my fiver. She gave me back seventeen cents, snapped her drawer shut, and wouldn't acknowledge or investigate the error no matter how much I protested.
My tears came, the manager came, and the upshot was that they would reconsider my claim only at the end of the business day when all the register cash was counted. A sympathetic teacher brought me back to the cafeteria then, delaying the homebound buses, and the manager handed me four dollars—"Okay, young fella. I guess you were right!" I still felt indignant since the gift shop had closed. Worse, when I showed my four dollars on the bus, a creepy little red-haired kid cracked wise that he thought I'd just been "jewing" the lady over my lunch bill.
For me this was a story of epic complication and monstrous injury. My parents—whom I never told about the bus comment, which felt humiliating—glossed it with a single word: I'd been "shortchanged!" A good word, I remember thinking, useful, self-explanatory, but too succinct for the outrageous context. It left out the condescension, the bigotry, and the still more stinging injustice that I never got a dinosaur.
Since that day "shortchange" has carried a charge of special outrage for me. It doesn't just mean cheating, but cheating with malice, discrimination, and intolerable collateral damage. I never hear or use it without flashing back to the experience of not being believed, of belonging to a category of person (children, Jews) whose complaints could be summarily brushed off. In college, I once joined an anti-apartheid divestment campaign I'd been ignoring after receiving a flyer about blacks being shortchanged by the South African government. Recently I deleted the Uber app from my smartphone after reading a headline about the company shortchanging its drivers in New York City. The word made it impossible to believe that Uber's error was anything but a deliberate fraud.
Even when "shortchange" is used in its softer sense of underestimate—as in, "Don't shortchange Mitch McConnell. He's a sly old tortoise!"—it carries a repugnant aftertaste for me, a sugarcoating on dishonesty. Someone is lying to him- or herself about the real merit of an opponent. The word is fused in my head with the principle of fairness at the core of democracy, which is no doubt because as an adult I know that bourgeois democracy, with its rational values, is what gave Jews a path to social inclusion and equal opportunity after some two millennia of exclusion. Jews esteem articulateness. For a long time they did so out of faith in the Enlightenment dream that reason would soon reign over human affairs—that the articulate, being most reasonable, could compete to best advantage on a level playing field in the brave new reasonable world.
•••
Many people have personal dictionaries, lists of words and phrases they use and understand in idiosyncratic ways, shaped by their unique experiences and quirks. These dictionaries are usually unwritten, though a friend of mine told me that she and her siblings once wrote one as a gift for their father on his seventy-fifth birthday. It was about fifteen pages long, she said, and contained several dozen personalized definitions of not only his pet words but also the grumpy connotations, guilt-trippy subtexts, unspoken addendums, and affectionate intimations behind his expressions. The gift made him weep—the tears prompted, I imagine, from the feeling of being so clearly seen, so intimately known by his loved ones.
No one but me could compile a dictionary of my adopted words—and I could add a dozen more to these three—because I don't use them often. They operate in my inner life as sources of knowledge and attributes of my character. They're not quirks of speech. Even my wife of twenty-nine years didn't know most of these stories until she read a draft of this essay. I sometimes think of these words as my deep personal myths.
Roland Barthes famously argued that myth was "a type of speech," not merely a genre of story. He defined it as speech that treats anything (objects, ideas, people, places, words) as rooted in the natural order when in fact it reflects a very specific and contingent ethos or value system. Nations, communities, and social classes share experiences that make certain concepts appear ineluctably true, timeless, or transcendent. Loving wine, for instance, becomes a token of being truly French, loving ideas for their own sake a mark of being German, and trusting inarticulate people more than articulate ones an acid test of Americanness. Personal myths are much the same as communal ones, only subtler and more virulent in their effect on the psyche.
Since the election of Donald Trump, I've been struck again and again by the fact that the leader of my country is now a man so antipathetic to language that he might as well be my mythical enemy. Everyone can see that the communal myths that helped elect him are noxious and retrograde, even his supporters. What interests me more are the personal myths that roil and curdle and fester inside the man. These you can't see but I imagine them to be grotesque counterpoles to mine.
Trump is a prodigy of belligerent self-absorption who hides behind a protective wall of muddled, degraded, and degrading language. Most of the words he relishes are monosyllabic fetishes ("win," "sad," "huge," "weak"), and he deploys these more like punches than thoughts. I doubt many of them hark back to complicated childhood stories. Nevertheless, without getting too psychoanalytical about it, they probably all have sharp early associations with shaming by some combination of teachers, coaches, and Fred, his blunt and brutal father. One can easily imagine this rolling dumpster being set aflame with remarks to the effect that, "Whadda you smilin' at? You didn't win!"; "That's a sad report card!"; or "Why such a weak swing? Choke up!"
We will obviously never know the whole truth about Trump's myth of grievance against proper and precise language, though we can all agree it's now a serious matter indeed. It's one thing for an average person to heedlessly mangle and ravage words, quite another for the most visible and influential man in the world to do so.
Masha Gessen, in her wonderful "Arthur Miller Freedom to Write Lecture" this year, carefully explained just how thorough his assault on clarity and truth is. She examined a random interview transcript and pointed out that approximately one in ten words was wholly drained of meaning. "Trump's word-piles fill public space with static," she wrote. "This is like having the air we breathe replaced with carbon monoxide. It is deadly. This space that he is polluting is the space of our shared reality."
Our shared reality. That is what a myth purports to define but instead pollutes, sickens, and destroys when it is this malignant.
I'll be candid about my own corner of this shared reality. My adopted-word myths admittedly contain fear, loathing, envy, and even aggression toward people who can't or won't speak well. Zadie Smith put the matter succinctly in a recent piece on the question of who owns black pain: "Our antipathies are simultaneously a record of our desires, our sublimated wishes, our deepest envies." Yes, all those dull-witted kids who could catch, throw, and bat better than me, win more votes for student council, and get dates with the cheerleaders—they had things I wanted. Personal myths are defenses as well as weapons. At their worst, they're a form of lamination keeping our ideas clean and utterly unreactive.
The learning moment then must be when the lamination tears. At some point, we must all hope, that will occur in Trumplandia. Some anomalous freethinkers in his ragtag army of gloating elite-bashers, pricked to attention by the jagged edges of, say, "collusion," "rapist," "hacking," "laundering," "proliferation," "denial," "fraud," "fact," "treason" or some other word that miraculously survives the wreckage, will pluck up the courage to admit their real resentments. Only then will the mythical curtain start to rend and make the driveling man behind it visible again.
•••
JONATHAN KALB is Professor of Theater at Hunter College, CUNY. He has published five books on theater and his essays have appeared in The New Yorker, The New York Times, The Nation, Salmagundi, and many other publications. His blog, "Something the Dust Said," can be found at www.jonathankalb.com.