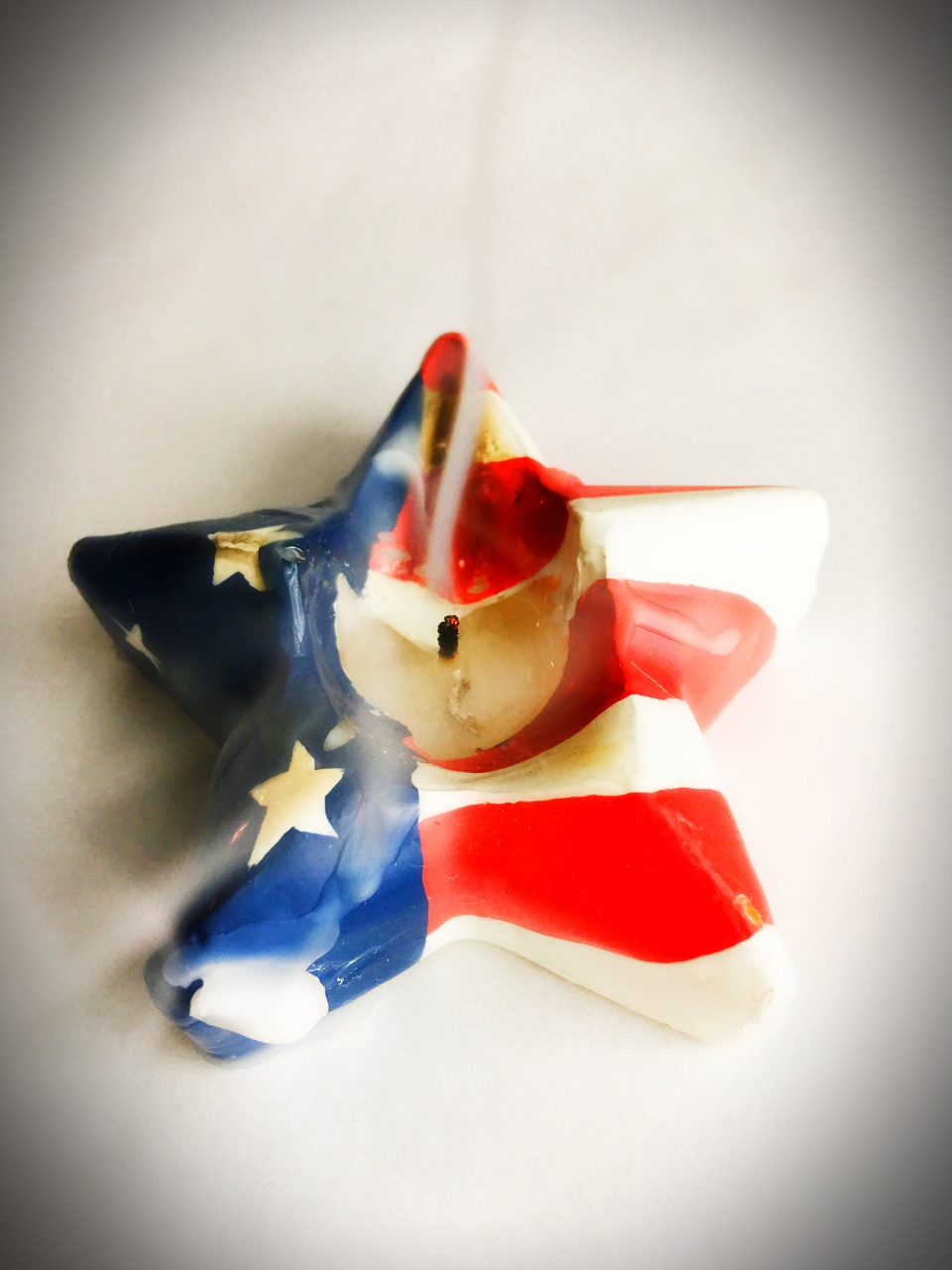 By J. J. Mulligan
My daughter has begun to do this thing where she tucks both of her little thumbs inward and then clenches her four fingers around the thumbs into tight fists held in front of her, all while tensing the muscles seemingly in her entire body. She doesn't breathe for a few seconds as her face grows from a porcelain white to pork pink and finally to bullfighter-cape red. A few veins stick out in various places and she shakes slightly from the effort, as if her thirty-two inch body were lifting some invisible too-heavy weight. Then she abruptly stops, unclenches her hands and releases everything she had previously tensed. The red leaves her face and she goes about whatever she was doing before.
She did this the first few times in the same afternoon. We asked her what was wrong, why she did that—as if she could respond—and then finally we told her, "No! Don't do that!" She understands surprisingly much for a one-year-old, but she kept doing the clenching and tensing no matter how many times we admonished her in Spanish first, then English although she understands it less. My wife began to cry and I was at a loss for words to console her. We called the pediatrician, not sure what was happening with our daughter. The pediatrician asked us a few questions: Did she have a far-off look in her eyes after the "episode"? Did the actions seem involuntary? No and no, we said. Another string of questions led the pediatrician to rule out seizures and thus he saw no need for us to take her to the emergency room. Because we had the one-year visit scheduled already in two days, the pediatrician told us not to worry—he would look at it then.
Those two days, of course, were agonizing. Any new parent that hears the word seizure in reference to their child, even if it's to say that they don't suffer from seizures, is incapable of ignoring possible symptoms. We looked for a far-off look in our daughter's eyes at every turn and analyzed every movement to make sure it was voluntary.
Two long days later we were in the pediatrician's office, with our daughter receiving the necessary vaccines, her height and weight being checked, blood drawn to check iron levels and so on—all the standard one-year visit formalities. At some point, between vaccines, our daughter tucked her thumbs inward, clenched her fists as tightly as she could, and tensed her entire body. She turned red and visibly shook from the effort, this time looking more as if she were ferociously constipated than if she were lifting an invisible weight. The pediatrician pulled the needle back and asked us if this was what we had called about. Yes, we said, this is exactly what she's been doing that has us so worried. That, the pediatrician responded, is your daughter's way of expressing her frustration or anger at something. Because she can't speak yet, she has to show or let out her frustration in other ways. It's perfectly normal, he concluded, and in fact, from the age of one up until eighteen or twenty months, she will have moments of intense rage, with outbursts of tears and screaming that could last several minutes. We should ignore these moments and not try everything in our power to console her—the outbursts will pass with time.
My wife left the appointment satisfied with the pediatrician's explanation—seizures left her mind—and ready to ignore our daughter's future fist clenching scenes and moments of rage when they should start to appear. I, on the other hand, was distraught; I knew that the pediatrician didn't have the full story and neither did my wife.
During my days, I represent immigrant youth from Central America who can't afford an attorney and are being deported—many of them will be slaughtered by gangs in their home countries if they're returned. What my wife and the pediatrician had not taken into account was my daughter's time alone with me following those days when the world seems to have you in its teeth and won't soften the bite. The times when I would come home from work destroyed from my interactions with the Department of Homeland Security and she would cry deep and uncontrollably into my face while I tried to put her to sleep. Or a fifteen-year-old Salvadorian girl would share the rapes she had suffered on her journey to the United States, and then my daughter wouldn't eat the food I had prepared for her that night. Or a young woman, an undocumented college graduate, would beg me to find some form of immigration relief that she could possibly qualify for so that she can live out just a slice of the American Dream she was told existed for everyone, and there would be nothing I could do for her, and then my daughter would thrash around while I was changing her diaper and everything on the changing table would be a mess, dripping to the floor. All of these moments would intertwine inextricably with the 2016 presidential race, the ominous cloud hanging over everything and all of us.
In those moments, where my thoughts would seem profoundly dark although the sun had just set and rays of light still broke through the Brooklyn townhouses visible from my daughter's bedroom, I would clench my teeth and tense my whole body, not breathe for a few seconds and if there had been a mirror nearby, I likely would've seen my face turning red as well. I would shake slightly from the invisible but actual weight and if I was holding my daughter in my arms, I would hold her a bit tighter and sometimes even jump up and down a few times, begging her through gritted teeth to stop crying and go to sleep, eat her food, or be still while I changed her diaper. The throbbing at my temples would become less dull and unrelated frustrations would blend together. My daughter had undoubtedly picked up her fist-clenching, body-tensing behavior from those moments—I know it and no explanation from the pediatrician can change this. The frustrations of my days representing immigrant youth in an unfair system, interspersed with the twenty-four-hour news cycle on the general decline of American policy and politics—including a man that wants to deport everyone, all of the young men and women who have become more than clients to me—are bleeding into my nights with a rapidly developing baby, who soaks up every emotion and stimuli her father gives her. These are the cracks on the hardened shell of a man who keeps everything in.
•••
In one of my rare escapes from the house after work, I met up with a friend at a bar not far from the Nostrand stop I get off at the other day. As with any conversation for the last six months, we talk about the presidential race and it feels as if we are summarizing an episode of Jerry Springer more than the intricacies of the highest office. I try to share some of the things I see and hear at work, but as often happens, not much comes out. I say the government is unfair and that President Obama, a man I love, is complicated when it comes to immigrants and immigration. Complicated indeed, replies my friend. He brings up the basics: the two million deportations carried out under President Obama that have torn apart families versus the Executive Orders signed by him to protect young immigrants and the undocumented parents of US citizens.
We change the subject. This friend of mine has a more hands-on job than mine: he works at a butcher shop in Park Slope. I prefer to hear about his job, since he's always creating new sausage recipes and so on. He mentions a Banh Mi flavored sausage he is tinkering with.
After we clink glasses on our second beer, he tells me something he's never told me before about his job, and it sticks with me. He tells me that he has no problem advising each person that enters the shop which cut of meat is the freshest that day, which would make a great dinner and the best way to cook the meat; that he derives pleasure from imagining the customers enjoying their meat products; that he even enjoys slicing the meats and arranging them on display. But, in order to do all of this, he said it is vital that he cannot think about the lambs being slaughtered.
I thought about this a lot on the walk home. Every immigrant youth that has come into my office has the same question, the question that has forced itself into every legal intake I've recently done, every application I've completed, every court appearance, as if none of these painful and tortured migrant lives really matter in the end. It is the question everyone working with immigrants—and maybe all of us in general—cannot escape: What if he wins the presidency?
Eleven million people will be deported, he says. No Muslims will enter the country and Mexico will pay for a wall to keep everyone out of the U.S.
My friend's comment came into my mind again tonight on the way home from work.
Now it's one a.m.
I have sat at this couch since eight p.m. watching a map of the United States of America slowly and incomprehensibly turn more red than blue. I listened half-heartedly to analysis and prophecy—teetering between falsities and doomsday—finally turning the television off when the end was all but assured. I didn't wait for the final call or hear either candidate speak; I held a slim hope that I was already asleep and the morning would reveal the actual reality. My eyes have been closing for some time and there is no one awake to talk with me. This could all not be happening.
Asleep or awake, I get off the couch. I pour myself a glass of water and go into my daughter's room, waiting for my eyes to adjust to the dark, to the new world. Once they have, I look into her crib and see her lying on her back, arms and legs in a peaceful outstretched X with her chest slowly rising and falling in the middle. I reach into the crib and pick her up. She murmurs slightly and moves a bit as I put her on my shoulder and carry her to our bed. My wife is sleeping just as peacefully—she has an early day tomorrow and was convinced enough by the confident and uniform predictions that tonight held no surprises. She watched the first states being called, shaking her head when I tried to explain what little I understand of electoral college. Then she went to bed and I thought I would follow soon after. My wife, the immigrant. America has just slit her wrists.
Looking at my wife and holding our daughter in my arms, I become more aware, somehow more at ease than at any moment in the last year—as if all of it has been a daze of too many deadlines and deportations played to the soundtrack of bigotry and racism. I know what is happening now: the dull fear, the this-will-never-happen, is reality. I am awake. I feel my daughter in my arms and shiver at the thought that my days had been transferred to her in some way, that her bright eyes and developing mind are soured by emotions I have let overrun me. How do you help others without destroying yourself, your family? How do you keep a belligerent world from seeping into your daughter's bedroom? My fatherhood has been enveloped by a dark blanket which I just now—ironically—feel that I am shaking off. This is the moment we have most feared coming true. And I find that we are ready for it.
I lay our daughter next to my wife and crawl into bed next to them. My daughter has kept on sleeping just as peacefully as before, like her mother. I roll onto my left shoulder so that they fill my view. It doesn't seem so dark now; I can make out all of their features. I think to myself that every day will be okay if this is how it ends. I breathe deeply and instead of tensing muscles and clenching teeth—symptoms of the anger and frustration I'd felt so much in the last year—I discover love and comfort where it has always been. The world away from our mattress matters as much as an itch on a toe as you fall asleep: you leave the doorstep of sweet dreams if you scratch it. These women next to me are my lifeline. I see this as if a blanket has been lifted.
My eyes are too heavy now but I steal one last glance at them, then I quietly fall asleep. Tomorrow the world will be different, but this and us will not. We were part of a tussle; now comes the war. Tomorrow the fight erupts: the butcher is coming for every lamb.
•••
J. J. MULLIGAN is a non-profit immigration attorney representing immigrant youth who cannot afford an attorney in New York City. He is a new father, former college basketball player, and a diehard San Francisco Giants fan. His writings and translations have appeared in his mother's native Chile and in various publications here in the U.S.