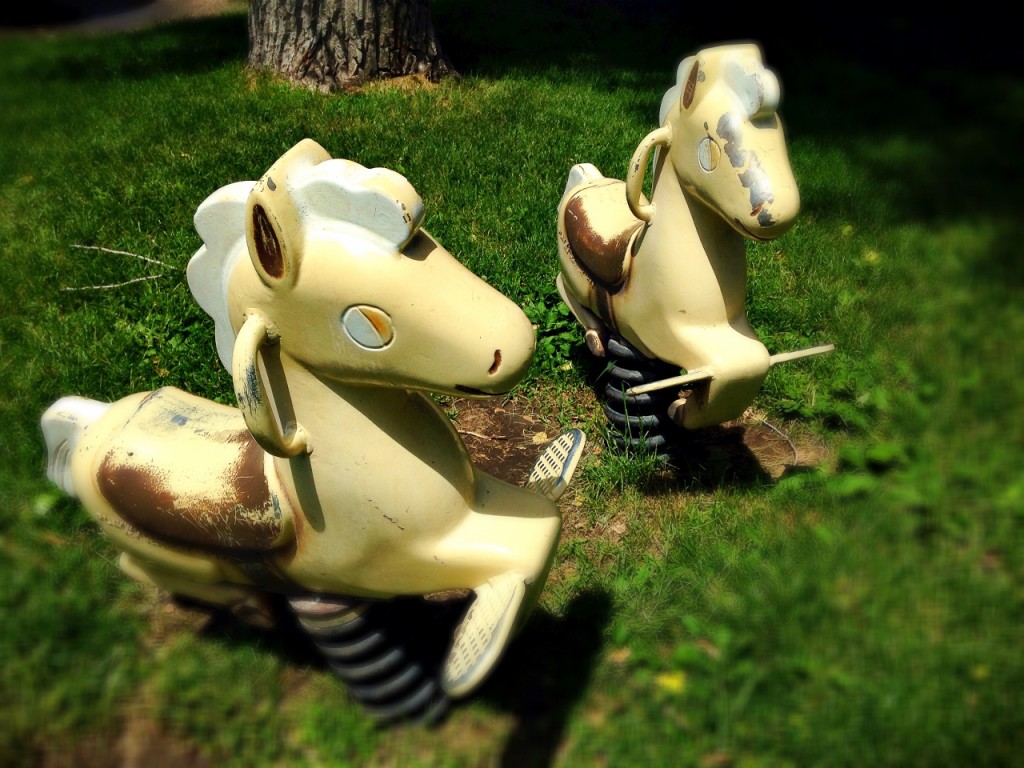 By Lisa Romeo
The first thing I remember about Nancy is her laugh—full throated, companionable, frequent, wise. Nancy was about thirty-three then; I was nineteen, in college studying journalism. With her, I felt secure and mature, understood and supported. We met at a competitive hunter-jumper show stable in upstate New York, where we both boarded horses, hers bought with a husband's money, mine with a father's funds. Nancy encouraged me to be more serious about my riding goals and slightly less serious about school, to have more fun, because if I wasn't at the stables, I did little but study. Nancy was confident, capable, and spontaneous. She had grit, and what my father used to call gusto.
Nancy's interest in me felt palpable, and it seemed I could tell her everything, if I wanted. I watched her keep confidences and protect others in the often snipey, political world of horse showing, and I saw that she was loyal. I knew a secret sent her way was sealed. And so I told her mine. That I was secretly in love with a black stable manager back home in New Jersey, that I was occasionally and of course also secretly seeing a married horse show manager, and that despite the horses and ribbons and Dean's List and my father's polyester money, I'd always felt like an outsider.
But here's the funny thing about a friendship rooted in a shared and specialized activity: two people can spend a lot of time together—in riding lessons, on the trail, in the stalls, setting jumps, sitting up overnight when the other's horse is sick, driving to look at horses to buy—and know everything about how the other rides and what she can and can't do in the saddle, and what she dreams about in that narrow arena of equestrian longing, and still know little of that person's life outside, in the world. It's shocking then, and a bit sad, to find that the person you already counted as your closest friend (or maybe that's closest horse friend), has another life away from you, and that it is also wide, satisfying, and absorbing.
Slowly, I realized that what I knew of Nancy was only what she chose to reveal to other horse people. It wasn't until six months after we became close that I realized in many ways I did not yet know her at all. I knew she was married, but not to an erudite, urbane man twenty-one years older than she. I knew she was a part-time stepmother, but not to an out-of-control teenage girl who routinely told her to fuck off, and to a twenty-two-year-old money-sucking manchild. I knew the horses came via her husband's money, but not that he was the founding partner of a prominent local law firm. I didn't know she'd first met Mark when he was on a business trip and that it broke up his marriage and that his first wife went a little crazy over it and once tried to hurt some people she loved. I didn't yet know that Nancy had started out in a lower middle class family and floundered after college, but that by the time I met her she could stage a charity gala, do the New York Times Sunday crossword fast and in ink, or that while she loved having time and resources to ride, she secretly speculated about doing something else entirely.
I learned all of this almost all at once the first few times Nancy invited me for dinner at her house, which was about midway between the stable and campus. I'd unknowingly driven past it almost daily. I quickly became a regular, eating, watching movies, playing Scrabble, settling in. I loved having a family to hang out with, a house to feel at home in, where I could walk in the back door without knocking. We three spent many nights, for many months, then for years, around their kitchen table, me trying to figure out so much, including what I should do about the married horseman and how much of my post-college life to spend on the show circuit. Because I took college courses over the summers, Nancy and I grew closer, and because the twenty-mile drive between campus and stable worried my father, I moved into a condominium steps from Nancy's house.
•••
I was five when my only sister left home in New Jersey for college in New England; the void seemed unfillable, but soon Laura and her family moved in next door. She was two years older; our connection was immediate and intense, and until midway through high school, we were often mistaken for sisters. We liked being called "Lucy and Ethel" for the hijinks we got into, especially when she traveled with my parents and me. Though Laura temporarily abandoned me for a boy, her future husband, I forgave her because I abandoned her, too, when my father's business profits spiked, bringing me the horses I'd yearned to own.
Once I started riding—late, at age fourteen—I always also had a "best horse friend," though typically not another spoiled teenager. I drifted instead toward young women who were older than me and either could afford only mediocre horses or whose parents managed a promising horse but not the monthly board and show fees—riders who were "working off" expenses by mucking stalls, resetting fences, cleaning tack, packing the horse van. I liked their workmanlike demeanor and pragmatic approach, because though I never needed to work to whittle expenses (at one point I owned three horses at a time or, I should say, my father did), I also had parents who didn't brook entitlement.
Laura, a runner, had no interest in horses, and I had no interest in training for a marathon; she had a steady boyfriend, and I had a steady need to spend every moment with my horse. While this might have broken up other teenage girls who had been friends since preschool, it didn't break us.
•••
Mark and Nancy were good neighbors, and I burrowed further into their family. It was Nancy who found a handyman (before Mark came home) to fix the garage door that I backed into. It was Nancy who folded me in her arms and poured me a scotch and talked me over the unfamiliar grief when the married guy was killed in an accident. It was Nancy who kept me fed when I was too busy studying and too nervous about finals to shop or cook.
When I graduated, it was Mark who gave me a generous check and conducted mock job interviews, and helped me weigh unpaid internships and low wage journalism starter jobs against my father's offer to fund a few years on the horse show circuit while I tried to make it as a freelance writer—and didn't criticize my inevitable decision to light out for the West Coast horse show circuit, typewriter in tow.
And when, after eighteen months in California, I moved my horses back to New York and the East Coast circuit, it was Nancy and Mark who gave me their guest room while I apartment-shopped and healed from another break-up, and Nancy who performed a mini-makeover when I plunged into a depression about my big-boned, brown-haired, Italian-girl appearance, fueled by constant exposure to California girls, horse show princesses, and the hopeful actors who had lived in my Los Angeles apartment complex.
Nancy wasn't classically pretty – she had a long nose, big teeth, kinky hair, freckles, chunky calves—and I liked that about her because I had a wide nose, a broken (and not very elegantly fixed) front tooth, frizzy hair, and thick thighs. But Nancy knew how to buy cosmetics and use them, what expensive clothes could do for a soft figure, the wisdom of paying for a great haircut, and how to use the right blow dryer and brush. She knew, in the early 1980s, about teeth-whitening, juice cleanses, all natural facials, the tonic of a weekly pedicure (manicures were a waste for riders), and what not to wear. She suggested, I nodded. She selected, I agreed. And though I could have paid, she treated.
I'm not sure what I did for Nancy, what I offered or gave her. Perhaps I was the stepdaughter she didn't get—guileless, rule-bound, happy to hug and hang around the dinner table, who valued her counsel. Maybe I felt like family, when her own was hours away and disapproving, and her husband was consumed with work, and all around town she kept running into people loyal to Mark's ex-wife. Though she was friendly with other riders, I was the only one whose reach extended beyond the stable driveway. Maybe there was no other reason except, as I've always believed, we just clicked.
•••
What I knew about friendship by then was only this: you stuck, until the other person peeled away. And then, you stuck still; things might change. During college Laura was consumed with pre-med studies and her future husband; me with horses and writing, but we reconnected on college breaks and pretended to still understand one another's lives. I was a bridesmaid in her wedding a few weeks after I graduated; she helped pack when my parents moved to Las Vegas; we loaned each other shoes.
After college, while I was riding on the West Coast circuit and writing for equestrian magazines, Nancy and I kept in touch with phone calls and letters. But her letters grew shorter, clipped, the calls abbreviated. I often reached her answering machine, and I wondered if she was standing in her kitchen listening, as I'd seen her do many times when someone she didn't care much for phoned with some request. Soon, the letters and calls were mostly about why Nancy and her horses were leaving the fancy equestrian center for a smaller, less competitive stable when she grew more interested in the slow dance of dressage and the science of horse breeding—and in dogs.
When I moved back and settled in an apartment near her house, I returned to our old stable and trainer, but Nancy never visited me there, though I spent chunks of days at the barn where she'd moved her horses.
One chilled spring night she and I met a plane at the nearest major airport, where a flight attendant passed us a sealed medical bucket, a tube of high-priced semen from a champion dressage horse inside. We drove an hour back to Nancy's stable, freezing because we blasted the air conditioning to keep the sperm active, and when we arrived, I held her mare's tail aside as Nancy inserted the baster-like syringe. Eleven months later, we slept on horse blankets tossed over hay bales, taking turns to check on that mare every twenty minutes, and I was the one who first spotted the steaming foal in the straw.
Perhaps experiences like this seduced me into thinking we might stay bound, for a long time, forever. When my three-year post-graduate "parentship" of riding and writing ended, I left for a regular job in Manhattan and an apartment back home in New Jersey. There, I found a place at Laura and her husband's kitchen table, where I also eventually found someone special, someone appropriate and available. I'd still occasionally make the four-hour drive north to visit Nancy and Mark, and one weekend I brought Frank. By then they were living on twenty acres in a stunning Danish modern house they'd designed together. Nancy, by then, had her own barn, but owned more canines than equines and was considering becoming a dog trainer.
•••
For someone who, for thirteen years, had been spending much of each day in a stable and at horse show grounds, where dogs of all kinds and sizes were always in residence, I was surprisingly intolerant of the animal. I found many dogs cute and sometimes admired their loyalty and how their humans loved them, but I did not love dogs. I detested being licked, and I was always tamping down blades of fear that rose whenever any dog, large or small, got too close: as a child, I was once charged by my grandmother's huge Collie, who lived, wild and wolf-like, on acres of his own.
I wanted to be good-friend-enthusiastic about Nancy's dog plans, and I thought I was, but that weekend I sensed that she wanted more from me, wanted me to be invested in her three dogs and bigger dog dreams, to be physical with them, and to want to know everything about them, as we once wanted to know everything about one another's horses. These were Australian Shepherds, energetic, and to my mind, frenetic, aggressive dogs, and I couldn't get beyond an obligatory pat. The time I'd hoped we'd spend with her horses while Frank and Mark watched a tennis match, we instead spent in an open field, Nancy showing off her dogs' natural and learned skills. I watched, muttered faint praise, but I was bored and at moments, frightened. I know it showed.
Years later, I would come to think of this as the reason our friendship fractured, but at the time it was clouded by something else that seemed more threatening. On Sunday morning when Frank was in the shower and the three of us were around the kitchen table, I asked what they thought of my boyfriend. Oh, he's nice, they said, a really great guy—but. But he has no college education. But he's kind of unsophisticated. But we always pictured you with someone older, someone with money.
I laughed it off, tried to lighten the moment: Ha! I know! Opposites attract, right? But the kitchen air felt heavy and no one was laughing.
I had valued Nancy's opinions and Mark's, too, for years, maybe too much. I wanted to remind Nancy that, years before, her friends had warned her off Mark (too old, too married, two kids). I also wanted to say that they were not the only people to think this, that what they were saying I had even said to myself a few times, but that my heart pulled me. But no words formed in my mouth. The subject changed.
A year or so later, I married him.
Since the weekend visit, Nancy and I had talked by phone, written letters. In those conversations, on those pages, everything seemed the same and also different. Though I still had a horse, my equestrian life was winding down, my career and home life expanding. Nancy was selling off her horses, immersing herself in the dog world.
Years later, re-reading those letters, it seemed clear that she was losing interest in what had tied us together, the horses and stables, and maybe more in the idea of keeping up a long distance friendship with someone whose life and interests now no longer matched hers. All I knew then was that so much was left unsaid, unexamined, so unlike in our previous friendship, the one we'd forged in person, on horseback and around a kitchen table.
•••
Frank and I were getting married on Mother's Day, and several people had replied "regretfully cannot attend," citing mothers or mothers-in-law or stepmothers. Months before, Nancy had laughed off my request that she be my matron of honor (I'm too old. You should ask your sister), and she'd shown little interest in my wedding planning. Still, this didn't alarm me. She'd always favored the unfussy approach to traditional events. I was confident I'd see Nancy and Mark at our wedding; Mark's mother was dead, Nancy's then estranged, and they disliked "Hallmark holidays".
But they did not come to our wedding.
When no response appeared, I called, left messages (Did you get the invitation? Are you guys okay? Are you coming?). Even if the invitation had not arrived, my letters had all the details. I knew only that they were just 200 miles away, and that someone who they once held dear was getting married, and they did not respond, did not come, did not send a gift, or a card, did not.
In the end, one of those who stood by my side was my old friend Laura, and her husband handed Frank the ring. They had a child by then, were settling in to parenthood, had a sprawling expensive house, and ascending careers. None of that resembled the life Frank and I were then forging. But we'd stuck.
I thought I might try contacting Nancy and Mark again after my honeymoon, thinking that there must have been some major problem. Mutual acquaintances, however, shrugged and said they knew of nothing that might explain their absence. In the months that followed, I cried, but that was all I did. I did not call, did not write, did not.
In the silence of rejection, guilt and regret rose up. Something precious and important to me was ending and there must have been something I'd done.
•••
Eight years later, I saw Nancy one more time.
After several years of infertility, I then had a two-year-old son and had just miscarried another pregnancy. What had always helped me after an emotional setback was a weekend on my own. I drove upstate on a Friday and spent Saturday visiting a beloved college professor and my old stable—people and places that once made me feel strong and confident, back at a time when I was sure so much good was ahead.
I knew Nancy and Mark had moved ninety miles away, and I took a quiet, long, out-of-the-way route home on Sunday, see-sawing in my mind those first eighty-five miles, debating if I'd stop in or not. I didn't have an address, but I assumed it wouldn't be hard to locate them or perhaps Mark's son Alex, now a caterer in the same small town. When I phoned information, Alex's number was the first offered, and when I called, he immediately realized who I was, his greeting so effusive that I wondered if we had once been friendlier than I remembered. He said he'd call ahead to let his dad and Nancy know I was on my way, that he was certain they'd both be so very pleased to see me after so long.
As I turned off the main road, it was Mark who was already waving, already trotting out the front door and across the porch and down the front steps, Mark who was smiling when he jogged to meet my car in the gravel drive that separated their large home, a converted Dutch colonial barn, from a huge metal pole barn and kennels where, I'd learn, Nancy ran a major dog training, breeding, and boarding business.
It was Mark who said how happy he'd been when Alex called, Mark who hugged me. It was Mark who assured me that Nancy would be thrilled to see me when she got back from the farmer's market. And so it was Mark who I talked with for an hour over coffee, Mark who took me on a tour and explained how they'd moved the barn to the property and restored it with period materials and furnished it with regional antiques. It was Mark I told about my small struggling child and his developmental issues and the babies I'd lost and how I might not have another, and it was Mark who said how he was never so happy to have been wrong about someone, meaning Frank. As he talked, I realized that for the first time—which even then I knew was ridiculous given how obvious it suddenly seemed and must have been since the first night I'd had dinner with them—how much Mark reminded me of my father.
He said Nancy would show me around the dog operation, would want to tell me everything about her thriving new business, and why she didn't ride anymore.
But none of that happened. Nancy came home and registered surprise but little other obvious emotion. She scrubbed vegetables while we talked, and the conversation didn't have that intense compressed quality of reunited old friends who talk over one another's sentences and are unable to stop grinning. She did not show me the dog buildings, and we did not talk of horses or the show ring gossip I'd heard the day before. Since I had already told Mark my other stories, I glossed over it all, hoping he'd fill her in later (hoping, too, that he would not). I felt the visit slipping from me. Until then, the weekend had done its job, replenishing my depleted energy, balm for my sore heart, reminding me of all that can still lie ahead; now, I was spiraling back in the other direction.
I had to go.
First though, and while Mark was out of the room, I did ask what I had come to say: "I've always wondered—why you didn't come to my wedding? Did I do something?" I chickened out at the last moment from adding, Why did you leave me? Was it me? I missed you so much. You broke my heart.
I was prepared for anything—a secret illness, scandal, a simmering grudge, an argument that I'd forgotten or pretended was trivial when it wasn't, some slight I'd once dealt and then denied—but mostly I was prepared for something, some reason, any reason.
The answer came, on waves of Nancy's throaty laugh. She couldn't remember, she said. It was years ago, she said. There must have been something going on, she said. Maybe that was when Mark's business collapsed. The time she'd had kidney stones. Or when they were moving. It could have been breeding season. Maybe they were in Europe.
•••
I am now warm friends with several women at least a decade older than me. Occasionally, when I'm having brunch or a glass of wine with one of them, I find myself thinking, this is someone Nancy would like. When I'm keeping in touch with them via text, Twitter, and Facebook, I occasionally think, if only we had so many ways to stay in touch back then, maybe Nancy and I would still be in touch. Maybe.
I thought of Nancy most recently when Frank and I were setting out food for the New Year's Eve board-game-party we toss together at the last minute every year with Laura and her husband. Over the years, they have gone as far in the opposite directions as possible from us in matters of politics, religion, child-rearing ideas—even sport teams. But we stick, still. That night, in those quiet moments between our laughter, I drifted, as I do sometimes, to new theories about losing Nancy: I was searching for another older sister who, unlike my own, thought horses were important, and later, when my sister and I grew closer, Nancy sensed that I had less need of her. I was the younger sister Nancy always longed for, and then I eventually, naturally, outgrew the role. I took advantage of their hospitality too constantly. I was the child that she'd agreed, when she married Mark, never to have, and once I'd moved on to adulthood, we'd all outgrown those poorly understood roles.
•••
A few years ago, I looked for them both on Facebook. Mark returned my friend request within hours: So glad to reconnect…what nice looking sons you have…I hope you and Frank are well. He was in his late seventies, posting about running road races, new business ventures, fine wines. He looked great, fit and friendly. For a year, I hit Like on many of his posts. Then they all stopped. I was afraid to find out why.
My friend request to Nancy (Hello old friend…I'd love to be back in touch…I have so many great memories…) languished, and when finally she approved it, there was no personal reply. Her Facebook page was all about dogs. I had nothing to say about that, and finally, nothing to say at all.
•••
LISA ROMEO is a freelance editor and founding faculty member of Bay Path University's online MFA program. Her work has appeared in the New York Times, O The Oprah Magazine, Under the Sun, Sweet, Hippocampus, Sport Literate, Under the Gum Tree, and several anthologies. She is seeking a publisher for her memoir, The Father and Daughter Reunion: Every Loss Story is a Love Story. Lisa lives in New Jersey with her husband and sons. Find her on Twitter @LisaRomeo, or at her blog, where she posts interviews and resources for writers.