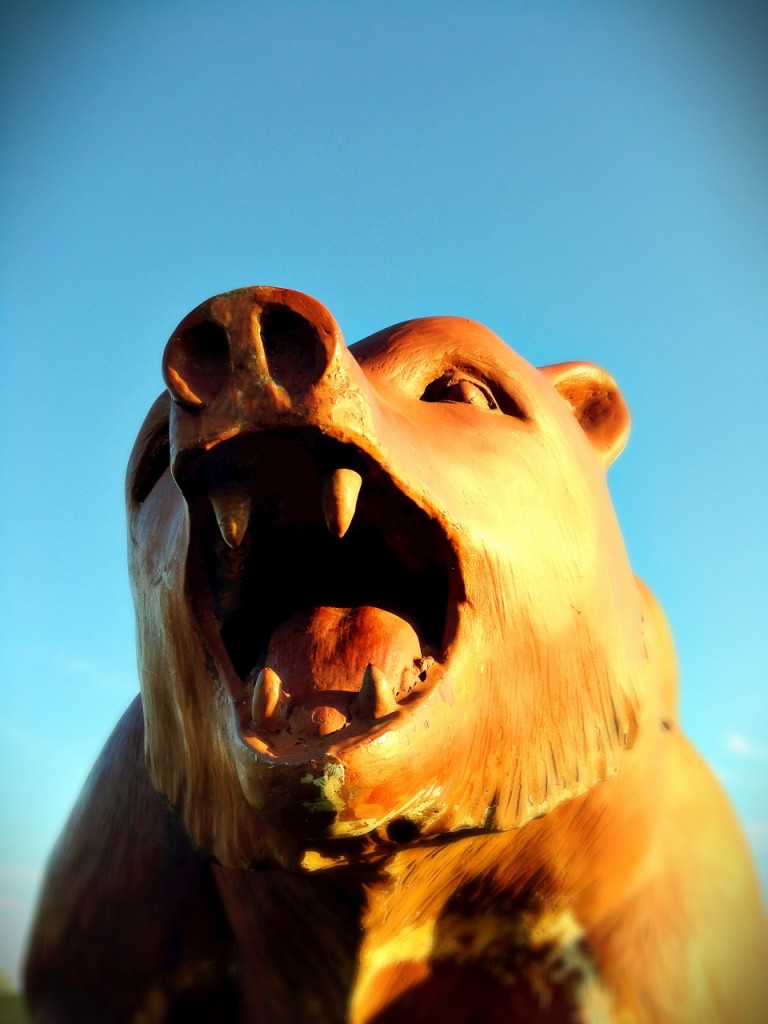 By Matthew Olzmann
I.
I didn't actually think I was going to be eaten by the wild, but you never know. For the past fifteen years, I'd been living in Hamtramck, Michigan, where the "natural" landscape consisted mostly of pigeons and broken streetlights. An abandoned axle factory. Railroad tracks. But I'd recently moved to western North Carolina to take a teaching position at a small college in the mountains, and, here, in Swannanoa, Mother Nature touches everything. The fairytale-like shadows of infinite forests. Kudzu crawling up the sides of farmhouses.
Out here, there are seasons possessed by swarms of one strange insect, followed by seasons possessed by swarms of another strange insect. And then there are the black bears, which in this part of the state are seemingly everywhere. They'll rip through your trash at night. They'll climb trees to take down bird feeders. (They love birdseed). They'll block traffic when they lumber down the road. I have a friend who even saw one walking through the Target parking lot. If you don't see them, you still know they're there. The darkness of the western North Carolina night is immense, and when you peer into that darkness, you can only imagine what thunders through it. I tend to imagine things with teeth and claws. They prowl behind the shadows, just beyond the small perimeter of light that circles my house. Or maybe they watch me from afar charting my movements and recording my actions on a clipboard. Or they clean a grill in their backyard, look over recipes, and invite guests to an exclusive dinner party.
Perhaps the biggest adjustment I had to make was not to the actual presence of the natural world, but to people's attitudes toward that world. I think bears are terrifying, but this is not a widely-held belief in these parts. Anthropomorphization is the act of assigning human-like qualities to nonhuman entities, and it's fairly common for people to do this with animals. Regarding the bears of North Carolina, I've heard people say, "The bears, here, are so friendly" and "they have such gentle spirits" and "they are beautiful and peaceful souls" and "it's possible to be their friend—they really like people." I appreciate these ideas. But I don't really believe them.
II.
In his stand-up special, Oh My God, comedian Louis C.K. says, "I don't know if we fully appreciate the fact that we got out of the food chain. That is a massive upgrade. Because for every other living thing, life ends by being eaten."
III.
I don't know why I imagine bears hunting me with poison-tipped spears, while other people imagine them burning incense and dancing through a massive drum circle of love, but one of my favorite things about working at a college is that I'm surrounded by people who are smarter than me. People with knowledge about the world. People who know how things really work. Perhaps someone here can explain the true nature of animals and—you know—tell me I'm right.
I bring my query to the science department, where Dr. Jessa Madosky, a conservation biologist, says, "Strict animal behaviorists might say we should never anthropomorphize animals and claim they have feelings. I tend to be more generous in my thoughts about that, but there are a lot of images in the media that can give people the wrong impression about animals. There's one commercial that has polar bears drinking bottles of Coke, wearing scarves, and acting like human families."
And I say, "So you're saying they don't do that?"
And she says, "Yes, as far as I can tell," then laughs, but cautiously, and I secretly wonder if she's trying figure out how it's possible that we could both be employed at the same institution of higher learning.
IV.
Speaking of polar bears, whether they're drinking cola or not, they're not exactly affable and kind. They're carnivorous, known to be aggressive, and not only kill people, but occasionally eat them as well. In other words: they're dangerous. But in 2009, a woman had to be rescued from a polar bear attack at the Berlin Zoo after jumping into their enclosure and swimming toward them. Occasionally, when bears aren't acting like people, they act like bears.
Even the panda (undisputedly, the most adorable of all bears) is still a bear. In 2006, in Beijing, a panda named Gu Gu ripped apart a man's legs when the man jumped into the bear's enclosure. Reportedly, the man wanted to hug the bear. In 2008, a panda named Yang Yang attacked a student at another zoo. The victim was quoted as saying, "Yang Yang was so cute and I just wanted to cuddle him."
V.
We got out of the food chain, but it's possible to apply for readmission. No cover letter, CV, or letters of recommendation are necessary. Your materials will be processed quickly. Look: they've already completed the paperwork. Congratulations, your application has been accepted.
VI.
There's a black bear in the poem "Twilight" by Henri Cole. The speaker of the poem sees a bear in an apple tree and says, "Come down, black bear,/ I want to learn the faith of the indifferent."
"Indifferent" might be the best description I've come across. Despite my tendency to imagine bears as vicious hunters and my neighbors' tendency to picture them as joyful hippies, there's the possibility that bears actually don't give a damn. They're animals who just want to eat berries and roots and occasionally fish. And then be left alone. Still—
VII.
I too want to learn the faith of the indifferent. To eat what I want and not care. To be left alone because I'm the swiftest, most powerful animal among these trees. At night, I go to the grocery store. It's open twenty-four hours and everything shines in neat little rows. I'm the strongest thing in the wild. I buy onions, potatoes, and jalapenos. I take it all home. There's a skillet. There's a flame. There's always salt. Everything is fine, I tell myself. I eat what I can, because I still can.
•••
MATTHEW OLZMANN is the author of two collections of poems: Mezzanines (Alice James Books, 2013), and Contradictions in the Design, which is forthcoming from Alice James Books in November, 2016. His poems, stories, and essays have appeared in Kenyon Review, New England Review, Necessary Fiction, Brevity, Southern Review, and elsewhere.