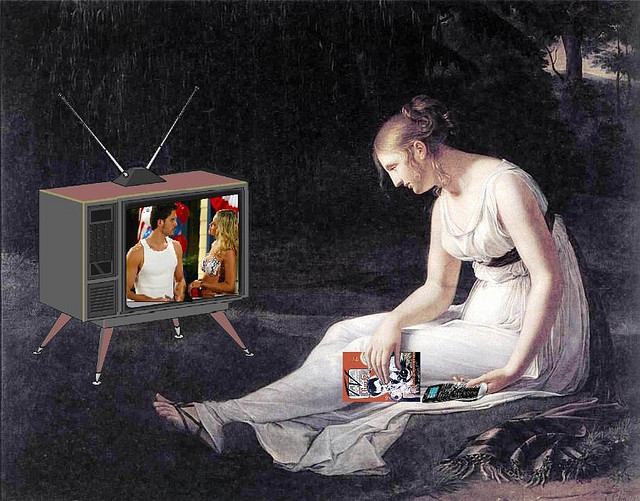 By Rebecca Fremo
On a gray January Monday in 2008, Diego Alcazar—back from the dead despite being tossed from Hangman's Bridge by brooding Jason Morgan—kidnapped slutty, sneaky Samantha McCall and winsome Nurse Elizabeth Weber. Then he gunned the car, drove the women out to the same bridge where he had nearly met his own maker, and smashed through a guardrail. The car dangled over some unnamed river outside Port Charles, New York.
The scene was only made possible, I learned during a special SoapNet exclusive later that evening, due to revolutionary green screen technology, which finally allows soap characters to leave their hospital beds, nurses' stations, and posh boudoirs and then hit the great outdoors. And I have to admit: the bridge scene was spectacular. Water rushing, car creaking and careening, twisted steel scraping the concrete—I clung to our green faux suede sofa, simply transfixed, right up until the commercial for Yaz, a revolutionary new birth control pill that I am now officially too old to take.
Nurse Elizabeth escaped just before the car, with slutty Sam still locked in the trunk, plunged off the bridge into the water. Holy shit! I yelled to my six-month old son, Cyrus, who, according to the American Academy of Pediatrics, was not supposed to be in the presence of television before the age of two. Instead, in its 2001 Policy Statement titled "Children, Adolescents, and Television," the AAP suggests that parents should "encourage more interactive activities that will promote proper brain development, such as talking, playing, singing, and reading together." Fair enough. I decided to go for talking.
They killed Sam! I began our conversation. Cyrus mouthed his orange binky with some disgust before turning back to the task at hand: trying to lick the blue plastic dangle-toy on his exersaucer. I figured it wasn't my fault if he didn't want to talk back.
•••
Earlier in the fall, Cyrus was only six weeks old and I was still trying to nurse him, so I couldn't leave the house without giving the general public a size 42-DD dose of a woman's right to breastfeed. I was thirty-nine and already into my second marriage. Recently tenured, I had earned my first sabbatical leave from the small liberal arts college where I taught, the kind of college where students are likely to study abroad in exotic places. At least, they seem exotic to me. (I once crossed the Canadian border at the International Peace Garden on a trip to North Dakota.) The resident xenophobe by comparison, I have listened with envy to my students' stories of intestinal discomfort in Shanghai and New Delhi, quaking at the very idea of such flexibility, such openness to change.[1]
Many of my colleagues, too, travel internationally, finding ways to take their families on sabbatical trips overseas, blithely asking their children to pick up and leave relationships, soccer teams, Play Stations. These colleagues—mostly men, many of whom have stay-at-home partners—view their everyday lives as escapable, as malleable and impermanent. Mortgage payments need to be made, certainly, but houses can always be rented out for a semester or two.
When colleagues learned that I wouldn't be traveling at all during my sabbatical, they worried that I'd be isolated at home. But I would have all the company I needed: the new baby, his or her preschool-aged brother, and their Pokemon playing idol, the second-grader, who would entertain us daily just as soon as he came home from school. Most importantly, thanks to my friends at General Hospital, I would enjoy genuine camaraderie. I did not share this particular insight with my fellow faculty members.
•••
I only allowed myself to watch GH when my five-year old, Ellet, attended Little Saints Preschool on Monday, Wednesday, and Friday afternoons. On Tuesdays and Thursdays, when Ellet stayed home with me, I sacrificed my General Hospital time in the name of motherhood. I made that sacrifice from mid-September until Halloween, when Nikolas Cassadine, finally reunited with the love of his life, Emily Quartermaine (now played by gorgeous, dull Natalia Livingston, instead of the fabulous Amber Tamblyn, who originated the role back in 1995 before she became Joan of Arcadia on CBS), announced an impending Black and White Ball, which would take place on Spoon Island, home of the creepy Cassadine mansion. This wasn't going to be just any black tie soap opera party. I knew that nearly every major character on the show would attend. That's because General Hospital creates special events to bring the whole cast together twice a year: during the sweeps weeks of October and February.
My beloved ABC friends would drape themselves in the most stunning formal gowns and tuxedos for the Black and White Ball. They'd sparkle with jewels. The spectacle of it, I thought. That October I couldn't wear anything but the pink and white nursing shirt my friend Tina gave me, which I coordinated with some attractive size 2XX pedal pushers from Target, the same ones that I wore the night my water broke.
I just couldn't help myself. Preschooler in the room or not, if the party started on a Tuesday, we would watch on a Tuesday. I had to attend the ball.
That's how my five-year–old found himself a mesmerized guest of the Cassadines at their Black and White Ball. Ellet wore full Batman regalia at the time—he often dressed then either as Batman or Darth Vader—so he fit right in. He plopped his caped crusader self right next to me on the sofa and watched the entire first hour of October sweeps, enchanted by the cloak and dagger drama of it all. "Why are they dressed up? What are they eating? Is it a party? Will they open presents?" I beamed at him.
"Who's that girl, Mommy?" he asked as Emily first entered the room.
"That's Emily," I told him. "Not the real Emily, of course, since Amber Tamblyn left. It's just Natalia Livingston." I made sure to respond accurately.
"Oh," he said.
Unfortunately, this new sweeps plotline revolved around a series of strangulations that took place at the Black and White Ball that first night. My son was delighted. Between the kissing and the killing, he thought that this was a pretty good show.
I'll admit it. I loved having Ellet beside me that first Tuesday we watched GH together. "You're such good company," I told him. I let him watch again on Thursday. But when he stepped off the afternoon preschool bus at 3:10 on Friday, ran to the front porch, threw down his backpack, and asked me what he missed on General Hospital while he was at school, I knew we had a problem.
Let the innocent among you cast the first stone.
My son remained captivated throughout November, as Port Charles citizens tried to identify the crazed maniac who had stalked them on Spoon Island that Halloween. Ellet watched through Christmas and New Year's as well. But by February, I noticed that Ellet's baby brother Cyrus—now five months old—was also watching GH.
I tried to get Cyrus to nap from 2:00 to 3:00 p.m. each day, but sometimes he just wasn't sleepy, and so, as the National Academy of Pediatrics suggests, I'd let him play with blocks on my lap, or I'd read him books during the commercials. I hoped we weren't doing any permanent damage.
•••
I first watched General Hospital as a teenager in the 1980s. Each day I rushed home from my suburban high school at 3:00 p.m. Eastern Standard time. Clad in size 14 Pretty Plus blue jeans from Sears—how I wished I could fit into the Levis that everybody else wore!—and a preppy pink sweater with a whale on it, clutching a full sleeve of Chips Ahoy and a can of Faygo diet root beer, I tuned in, turned on, and checked out. Because I did so, it mattered a little less each day that my sometimes belligerent, occasionally drunk younger brother counted the cookies I ate every afternoon, humiliating me at dinner each night by announcing how many were missing. It mattered a little less that my mother's still undiagnosed bundle of mental illnesses overpowered us like a tsunami, leaving my brother and me drowning in her unpredictable behaviors, doubting our own instincts, never sure if what we witnessed was real or imagined.
I gratefully escaped to college, where I scheduled my classes whenever possible for the hours prior to 3:00 p.m., the show's East Coast airtime. When I accepted my first high school teaching job, I sometimes took sick days to catch up on my grading and my viewing. And when I returned to graduate school to earn my masters degree, I watched whenever my class and work schedules allowed.
I completed qualifying exams for the Ph.D. in 1996, and that's when I tuned in religiously. For two years, as I wrote my dissertation, General Hospital seemed to provide a little bit of comfort while I fought a nasty case of Imposter Syndrome. No matter how many professors complimented my work, I couldn't shake the certainty that I didn't belong in a Ph.D. program. There had been a mistake—surely the fellowship I received in my first year was intended for someone else. I wasn't intellectually strong enough to survive. I couldn't trust my own instincts as a writer or a researcher; I always sought approval from my professors before I could commit ideas to paper. The prospect of writing a dissertation nearly crippled me.
The worst part about graduate school was the fact that I couldn't predict where I would end up in the long run. Even if I miraculously finished my dissertation, would I get a job? Soon I spent more time worrying about my future than the present. Only television offered me relief. I wasn't alone in this habit.  Most of my women friends in graduate school watched an enormous amount of television. The Eighteenth-Century British Literature specialist watched Felicity. A poet raised in an uber-religious household devoured Will and Grace. Creative writers and linguists and medievalists alike adored Ally McBeal. But theirs were weekly diversions. Mine was the only daily devotion. Watching General Hospital became sacrament.
•••
In the fall of 1999, I sent sixty-five job applications, suffered through sixteen humiliating job interviews at the annual Modern Language Association Convention, often sitting on beds in some department chair's hotel room, and then gratefully accepted the one job offer I received from a small college in southern Minnesota. I quit watching General Hospital cold turkey. Hung up on the idea that real professors didn't watch soap operas, and stunned by the new demands on my time, I traded afternoon delight with ABC for curriculum committee meetings and conferences with students. But in fall of 2007, I underwent tenure review and applied for my first sabbatical leave, a full year devoted to research, writing, and new course development.
Newly tenured and about to give birth to my third child, I needed the comfort of something familiar and dependable as I faced staying home with the new baby (not to mention a preschooler and a second grader). I had no idea how I'd behave. Would I don an apron and bake cookies? I don't own an apron. Would I find myself utterly fascinated by my children's development, and thus inspired to write? Would I feel trapped by my circumstances and lack of mobility? Would I act out? Who would my children become? Who would I become? My whole life felt like a Friday afternoon General Hospital cliffhanger. I figured I might as well tune in and find out.
Contrary to what sociologists might assume, I've never turned to daytime television in order to escape to someplace new. New places frighten me. Instead, I use daytime television to return to someplace familiar, a place where people always behave in predictable ways. In Port Charles, New York, doctors always seduce nurses. Nurses always get pregnant out of wedlock before finding true love with good-hearted gangsters (apparently Port Charles has some sort of gangster pipeline from New York City). These gangsters always prove to be twice the men the doctors ever were. Gangster-Nurse weddings always end in fistfights as doctors experience post-break-up regrets.
That fall, surrounded by burp rags, I needed desperately to be able to simply turn on the television and slip back into Port Charles. I figured it would be like returning from hiatus. Once I turned that television on, it wouldn't really matter how much time had passed since I last watched the show.
But now I lived in Minnesota on Central Time, where the show comes on at 2:00 p.m. and people eat lunch at 11:30 a.m., an hour clearly better suited to blintzes than burgers. It wasn't quite as easy to slip back in to life in Port Charles as I'd hoped. But I was determined to succeed. I took deep breaths each time a new mouth spoke the words of a beloved character; I didn't even flinch when characters returned from the dead. I wasn't bent out of shape when I found that Noah Drake—remember Rick Springfield when he played dreamy Dr. Drake back in the '80s?—now had a son named Patrick, who was already a grown-up brain surgeon. Patrick was in love with Robin Scorpio, one of my favorite pre-teen characters back in the '90s; thank god Robin was still played by Kimberly McCullough, who left the show briefly about the same time I went to grad school. Apparently, Robin, who contracted H.I.V. from her true love, Stone, just before his heartbreaking death, and then hooked up with Jason Morgan (the same Jason who threw Alcazar off Hangman's Bridge), was already an experienced surgeon.
Bobbie Spencer, the prostitute-turned-nurse who once dated Dr. Noah Drake, was now in her late fifties and crammed into her nurse's uniform in a most unfortunate way. Some new soap hunk played Lucky Spencer, son of Luke and Laura.[2] A posse of new teen characters—Maxie, Georgie, Dylan, all descendents of GH regulars from the 1980s, wiggled their shapely young asses across the screen daily. A new token African American character, a wise, tough-yet-tender woman named Epiphany, now ruled the nurse's station. Epiphany had a sidekick, an orderly named Cassius, played briefly in cameo by Billy Dee Williams. Yes, that Billy Dee Williams.
No, really. It was mind-boggling, but since I have a Ph.D. I caught on quick.
•••
I knew I could catch my show on SoapNet each night at 9:00 p.m., after Cyrus and Ellet went to sleep, enabling them to retain their innocence just a bit longer. But I have never watched General Hospital at any time of day but the afternoon. I have always wanted—needed—to watch it with the rest of the stay-at-home mothers, the homebound and the elderly, the night shift workers, and the teachers staying home sick. I needed to watch it with the dissertating female graduate students in emotional crisis. I needed to watch it with the overweight high school girls, the ones with snarky brothers and anxiety-ridden mothers and no athletic team practice to keep them late after school. I needed that viewing experience to signify that I am part of something bigger than myself, a community of viewers who also need their worlds to stand still—even if only for an hour—each day.
When I go to Port Charles, I am removed from my own setting and transported to a place where characters behave in blessedly predictable ways, year after year. Time itself doesn't stand still at General Hospital. But the master narratives remain the same, and those archetypal characters—the winsome nurses, lecherous doctors, and good-hearted gangsters—behave just as they ought to behave, just as I expect them to behave, just as I need them to behave, forever, no matter where ABC's green screen technology takes them.
We humans learn from both fantasy and imitation. Let's say a young, unmarried GH nurse discovers her unexpected pregnancy. I can study her response. When that plucky nurse bounces back a few months later (pregnancies are always shortened on GH) as a sexy single mom, I learn that we need not drown in our respective pools of misery, no matter how deep they might seem at first. Watching General Hospital helps me to draw a frame around my own life, to see where its parameters lie. Daytime television shows all of us, thanks in part to that green screen technology, where the edges are in our lives. Just how much philandering is permissible before someone is redefined as a cheater? How many times can a role be recast—how often can a character literally remake her self—before the essence of that character's identity is lost?
I tune in not because I fear change but because I fear my own unpredictability in the face of change. There's a difference. Even change can be predictable. It's predictable that ABC will recast the roles played initially by children, for instance, substituting picture-perfect teenaged actresses for gangly eleven-year old ones. Soap opera children always grow up too fast. But those soap opera children follow well-mapped paths: they will either be doctors or gangsters, nurses or prostitutes, and they will die of car crashes or failed surgeries.
My children don't yet know what the future holds for them. I don't know what the future holds for them. And I don't know how I'll behave as they begin to make their own choices. I only know that the children of Port Charles will grow up as their beautiful parents fade gracefully into the background; I know that child actors will become featured players, their flawless faces illuminated in the green glow.
•••
REBECCA FREMO teaches English at Gustavus Adolphus College.  Her essays and poems have appeared or are forthcoming in Compose: A Journal of Simply Good Writing, Water~Stone Review, Lake Region Review, Tidal Basin Review, Poetica, Red River Review, and Naugatuck River Review. Her chapbook of poems, Chasing Northern Lights, was published by Finishing Line Press in 2012. A Virginia native, she now lives in St. Peter, Minnesota, with her husband and three sons.
---
[1] As I revise this essay, it is now 2014, and I am on my second sabbatical from the college. Because I am a working mother of three, it's taken me seven years to move through the revision process on this essay.
[2] That's because the phenomenally talented Jonathan Jackson, nominated as Outstanding Younger Actor at the Daytime Emmy's in 1996 and 1997, before winning the award himself in both 1998 and 1999, had moved on to prime time pastures. You can catch Jonathon Jackson now, in 2015, on ABC's splashy nighttime soap, Nashville, which I watch faithfully each Wednesday night at 9:00 PM.