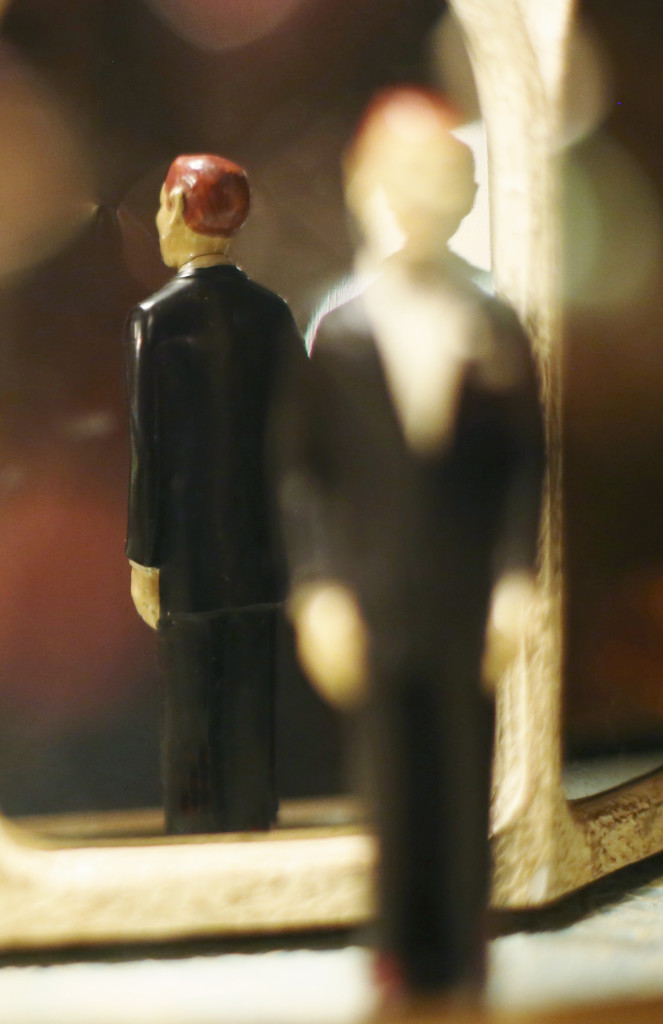 By Sara Marchant
1.
We are clearing out his apartment, sorting papers and photographs, and bottles upon bottles of medication when my sister, Rebecca, asks for one more favor. The mortuary has called and said her ex-husband's ashes are ready for pick-up. Can we please go with her? She isn't up for a solo trip.
It's two days after her wedding, which was one week after her first husband's memorial service. The entire family is still reeling from the juxtaposition—it was all we'd talked about before, during, and after the actual wedding celebration. In conversation we'd put air quotes around "celebration." We used anger and sarcasm to mask our sorrow and confusion.
Rebecca hadn't known her ex-husband was going to die the week before her wedding when she'd planned it, of course. She'd gotten engaged almost immediately after the divorce had been finalized, while Charles was undergoing chemotherapy; but she was living with her boyfriend already. We all knew a wedding would happen sooner or later. "But why couldn't it have been later?" our mother had asked me, crying, the day before the wedding. "Much, much later?"
I had no good answer to give her.
Now, two days after living through the wedding, we go out to lunch first before visiting the mortuary to pick up Charles's ashes. While we eat Rebecca wants to talk about her wedding. What did Mom think? Did it go okay? I take a big bite of fish and chew, ruthlessly leaving my mother to answer.
"That was the most beautiful wedding dress I've ever seen," our mom says tactfully. She always starts with a positive statement unless we've really pissed her off. I shove in a bite of mixed vegetables because the critical portion of Mom's sentence is about to arrive and I want a physical excuse (my mouth is full!) not to intervene.
Focusing on my food helps me not think about Charles. Two weeks after his death I'm still accustoming myself to not thinking about him. While he was sick, then sicker, then dying, he took up so much space in my thoughts. My life was planned around chemo trips, emergency visits to the doctor or the ER or just the grocery store and pharmacy runs. For the last few months, whenever the phone rang, my heart filled with hot liquid and my fingertips would go numb.
It wasn't just worry for him, dread for the end; I was so damn tired—it was dread that it would never end that seized me. Sometimes I'd worry that I'd never stop feeling guilt for my relief at it ending and anger for my guilt—it was much easier to be angry at my sister. It is much easier to keep eating instead of acknowledging how I feel at all.
They have stopped discussing the wedding dress. It was a beautiful dress, like something a classy lounge singer would wear in the 1940s. If Rebecca and I had figures even remotely similar—she got the butt, I the boobs—I'd steal that dress, dye it black or scarlet and wear it to her next wedding. But the conversation has moved on from the dress. My mother is expressing her displeasure with the ceremony. "It was all Cheshire, all the time."
Our family wasn't included in any aspect. The groom's niece and nephew sang. The groom's sister (not our eldest sister) was Matron of Honor. The groom's family composed two-thirds of the guests and as for those speeches… Well, "inappropriate" is too mild a word. Did Rebecca know that the two of her kids who'd come to the wedding (her oldest daughter flat-out refused) wept through the Best Man's speech when he'd revealed that my sister's affair with her new husband had been going on for two years longer than anyone had known?
"I didn't know the kids cried!" my sister says. Here's the weird thing, though—she isn't upset that Mom is displeased with her. Normally Rebecca does not take criticism well. Off-hand comments that our other sister or I would shrug off have been known to send her, this new bride, into her closet to indulge in angry weeping. A chance directive from our mother, something about keeping cats as indoor pets, led to my sister not speaking to Mom for two years. Two years of silence for saying, "Keep your cat away from Rachel, she's allergic." But bashing the wedding as inappropriate, liquor-soaked, and hurtful? My sister is fine with it. No, it is weirder than that. My sister seems pleased.
Don't get me wrong—she's not happy. She defends the liquor consumption. She defends the inappropriate speech by blaming the liquor consumption, and she defends the lack of her family's inclusion by offering, "Well, everyone is so sad because Charles died—I didn't think they'd want to be included."
Choking laughter overtakes me. I cover my mouth with a napkin. My mother slides my water glass closer, and my sister pats my back. I laugh harder. Tears are running from my eyes. They start to laugh, too. Other restaurant patrons are staring.
None of us wanted to be included, I don't tell Rebecca. None of us wanted to fucking be there at all. Her daughter was the only honest one. We're all wiping our eyes now and we don't have to say anything.
We don't have to say that we are angry that my sister remarried a week after her ex-husband's funeral because she knows. I don't have to say that I'm laughing because her reasoning is always so self-centeredly skewed because they both know. She doesn't say that she's pleased that Mom is unhappy with her and critical of her wedding and her general behavior these last few years because we know. Rebecca knows that we forgive her and she knows that we forgive her because we know that she is never going to forgive herself.
After a lunch like that, it's understandable when we get in the car and Rebecca starts it, she has a brief freak-out. "Oh my god! I don't know where we're going! I mean, I know where the mortuary is, but not how to get there!" There is a shrill lining of panic around her words, and the air in the car tastes like chewing on aluminum foil.
Our mom pats her shoulder, not knowing what to say, what directions to offer, but recognizing panic. I back-seat-drive to the location. From spending time with Mom when she lived here, as well as Charles, I am more familiar with Hemet than my sister.
It's an ugly city. The cracked, ill-kempt streets are laid out in a tidy grid, but it seems that if one drives too far in any direction, one hits the same boggy agricultural field. The air is brown and fetid from smog and pesticides trapped in this weird little valley populated mostly by the elderly. Traffic is both slow and erratically dangerous. Sometimes in my dreams, I drive the city's streets, a sick animal in the backseat that I can't clearly see or reach to comfort, its whimpers of pain forcing me to wake myself up to avoid crying myself.
When we reach the mortuary, there is an atrium filled with birds. A faux-desert scene houses little pheasants, and tiny roadrunners wander forlornly, glassed in on all four sides. They can never not be on display, but Rebecca is happy to see them. She likes birds. Watching them calms her. We wait in a musty room. I poke around, examining the literature, how the place is decorated, and what is stored in the credenza against the wall (mostly off-brand tissue boxes and religious bookmark looking things I don't understand). I am writing a novel that is set in a mortuary; I can use this.
A man comes and shows us to a room where a wooden box sits on a table, shrine-like. We all back up. We put our hands behind our backs. No one wants to take it. We engage the man in conversation, admiring the box without actually looking at it. We all three flirt with the man; we are expert flirters. My mother and sister share a flirting style, I see for the first time. They cajole and flatter; there is a tone in their voices not normally heard, like jollying a petulant child out of his mood.
Finally, Mom tries to take the box. She is the brave one. It is too heavy for her. I help the man set it into a red velvet bag and he puts in into my sister's arms. She does not look comfortable with this. We walk out to the car and I get my mother settled in the front passenger seat, and my sister sets the bag containing the box on my mother's lap. My mother rhythmically pats it, as if comforting a fussy baby.
Mom agrees to take the box home with her and put it in her closet next to our stepfather. They can hang out. No one mentions that they never really got along while they were alive. At Charles's sadly empty apartment, where Rebecca drops us off and Mom and I climb into my car, I belt the box into my back seat and start home.
Mom is unusually silent. This is understandable, I think, and a bit of a relief after the tense day. Up in the mountains she says, "You've come full circle. You were his ride when he found out he was sick. Now you're his ride home."
We are in the highest part of the mountains. We have been climbing the twisting, looping, steep, two-lane road, and then the top opened up to a stunning view—any way we look is stark California mountain. Here, on this flat opening amongst them, we seem higher yet still protected by ranges surrounding us.
I pull over because I can't see out of my tear-filled eyes and am having trouble getting air. I'm parked on the side of the road, gasping, feeling like I'm about to vomit. My mother is apologizing and I look out the window and realize where I am. This is where I stopped to talk to Rebecca on the phone that horrible day. This is where I talked to Charles after her, reassuring him it wasn't all a nightmare, the cancer wasn't a mistake that my sister had the power to make him "take back." Years before that, this is where I used to stop and vomit when my body was flush with hormones, natural and injected during my decade of infertility treatments. I am beginning to hate this beautiful spot.
"I am ready to go home," I say. "I am ready to be done."
2.
My sister puts her head through the open passenger side window and says, "My husband was always a pain in the ass. Why should he be any different now that he is dead?" And she gestures to the backseat where the wooden casket containing his ashes has been sitting all this long, hot afternoon, carefully belted in.
This is the fourth stop we've made in our search for a decent spot to illegally scatter his ashes. Charles chose this road in a remote part of Riverside County, telling everyone who'd listen he wanted to be "thrown to the wind" here. But he never went into specifics. He never said exactly where, he never said why, and we're wondering if maybe chemo brain was responsible for his decision because this is a damn-awful place to drift into the wind.
August is the worst of the summer months in Southern California. June and July have sucked any moisture gone, so August is lip-cracking dry and the intense heat casts a yellow glare over the afternoon. It feels like the sun is personally angry at us, driving all over these dusty roads, and has persuaded the wind to join him in tormenting us as it swirls and eddies in mini-dirt devils, flinging gravel at our toes exposed by inappropriate sandals when we dare to leave our vehicles.
The first stop we made was above a house surrounded by dead cars and some very mean looking dogs. The second stop was next to a gun range where armed rednecks were actively shooting. The third stop, we realized was outside of Charles's specified location and his three grown children got into an argument over whether proximity mattered.
This fourth stop is a dirt fire road clinging precariously to the side of a slippery, dusty mountain, ruts and boulders line the edges. We are caravanning and my sedan doesn't fit on the road. I am perched half in the two-lane, busy highway. My elderly mother is in the passenger seat. Even with the a/c turned all the way up, she is red and sweaty.
"Are you getting out?" Rebecca asks. I think our mother is about to cry.
"Take the ashes," I tell my sister, leaning into the backseat to pop the seat belt loose. "I'm taking Mom home."
"You're not staying?"
"We're not?" Mom asks, and she smiles at me in relief. Her back is to my sister, who doesn't see the smile.
"I can't drive up that road, Mom can't walk it, and look at her"—Rebecca does and my mother flips open the visor mirror to see herself. "I think she has heatstroke. She's seventy-four. She's too old for this shit."
My sister laughs while my mother nods seriously. "I am too old for this shit." She starts to cry and my sister hugs her through the open window and kisses her goodbye.
My sister won't take the ashes. She calls for her middle child, who calls for her boyfriend to carry the pretty little casket. I loan them my pocket knife. They look confused.
"There is a plastic zip tie on the baggy inside," I explain. "You'll have to cut it loose."
I discovered this at the first stop when everyone except my oldest niece's husband ran to look over the edge of a cliff rather than deal with the ashes. My nephew-in-law, a sweet boy from Kansas, only shrugged when I snarled, "Why the hell are we the ones dealing with this?"
I was shocked out of my irritation by the contents of the baggy. What had once been Charles was now strangely dry, chalky dust with surprisingly large shards of bone in it. I shifted the sealed bag in my hands, listening to the rustling, slushing noise, examining the end sum of my friend. When I was growing up, Charles was so handsome, he was the standard by which I judged all male beauty. Now that beauty, whittled away by his cancer, is reduced to the contents of this gallon-sized plastic bag.
There was one shard of bone, not quite arrowhead shaped, a littler smaller than my littlest finger. I planned on slipping it into my pocket when no one was looking. I wanted to keep it. I wanted to carry it in my mouth.
But Charles's children decided to move on—they didn't like the junk-yard look of this stop and I had to force the ash-baggy back into its covering box, shaking it roughly like a colander of pasta to make it fit. Several family members watched, but no one offered to help.
By the fourth stop, by the side of the road, I am ready to hand over the ashes. I am ready to go home. We call good-byes and love-yous out the window and drive away. "I'm sorry to make you miss it," our mom says.
"I'm not," I reply. "I've done what I could. I did what I could for him while he was alive. My duty is to the living. You look like hell."
"Gee, thanks," she says and points the last air vent at her face. All the air vents now hitting her, she rummages in my purse.
I place the back of my hand on the hot window at my side. "I've done what I could," I say, but to myself.
My mother pulls a red lipstick out of my bag. "How 'bout I put on some lipstick and you take me out to dinner?"
"All right," I agree. A cool, dark restaurant would be soothing. My hand is still on the burning glass.
3.
We are sitting around Rebecca's new kitchen table, eating lunch, reading aloud from a book about healthy cholesterol levels, when she expresses how angry she is at her husband. My mother looks up. "Which one?"
I laugh. My sister does not. Her face is tight, but then crumples as I watch.
"Charles never did anything to help himself and then he got sick and his family never did anything to help and never brought his father to see him before he died. And his bitch sister had the audacity to hint to my little girl, at her daddy's funeral, that we should reimburse Grandpa for the money he paid to the private nurse." Rebecca is crying so her speech is almost unintelligible, and her "little girl" is twenty-five, but I take her point.
Our mother cries in sympathy. I bring them tissues and make cups of tea and pat them on the back occasionally. I don't cry. I am tired. I think about the shards of bone in the bag of chalky dust that used to be Charles. I think about my stepfather's ashes in the pirate chest in my mother's closet. I remember that my mother has filled in paperwork naming me responsible for her ashes when the time comes. I wonder who will deal with my chalky dust when I am dead.
On the drive home my mother asks if my sister does that often, cries out of anger with her dead husband. I think Rebecca must clean up her emotions when talking to our mother alone.
"She didn't deal with her anger at the time," I say, feeling enlightened. "She took off. So she's gonna have to deal with that for the rest of her life."
"You're right," my mother nods her head, begins to cry once more. "You're right."
At that moment I see a Starbucks up ahead. I'm about to offer to pull in, buy a vente pumpkin spice latte (damn whatever the seasonal cut-off date might be) to cheer her up, but then I remember that it's my mom in the car next to me. My mom hates Starbucks and doesn't drink much coffee at all. It isn't her panacea. Now who is confused? Now who is angry? Now who is unenlightened?
Months later, my throat feels choked when I see a Starbucks. I want to go in and order a pumpkin spice latte, but I want my brother-in-law back with me. I want him healthy or at least not actively dying. I want the coffee klatch to be for fun, not a treatment for the chemo shakes and sickness. I want too much, I know.
I have a terrible suspicion that I will never be able to drink coffee again. I am angry about that. I am angry about a lot of things. I am okay with this anger.
•••
SARA MARCHANT received her Master of Fine Arts in Creative Writing and Writing for the Performing Arts from the University of California, Riverside/ Palm Desert. Her work has appeared on The Manifest-Station and Every Writer's Resource. She lives in the high desert of California with her husband and varying amounts of poultry.
Some names have been changed. —ed.