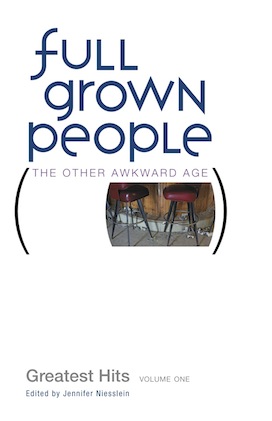 "Full Grown People is my new appendage. I've dragged it everywhere, reading each essay again and again, reliving their surprises and sorrow and humor (in my case, the snort-laugh variety). As individual pieces, they tackle the joys and challenges of this beautiful mess of a life—fear, faith, class, health, healing, staying/going, kids/no kids, and love in its wild and myriad forms. Taken together, they challenge us to consider what happens after the coming of age, posing questions of this world that I didn't know I had and giving me a part of myself that I didn't know was missing. Jennifer Niesslein has done the impossible with this anthology: inspiring us not just to survive this life, but to live the holy hell out of it." —Megan Stielstra, author of Once I Was Cool
Full Grown People's first book! An anthology of thirty essays from the site, The Greatest Hits takes you on a tour around the awkward ages in adulthood. The Writer magazine says Full Grown People publishes "powerful personal essays that examine the human experience with candor and wit." All that and free shipping? That's right, baby.
• To read the intro, click here!
• Please note that The Greatest Hits, Volume 1 is a paperback.
• The paperback is being sold exclusively through the FGP website.
• You don't have to have a Paypal account to order—a credit or debit card will do just fine.
• If you want to send gifts, please add the addresses of the people you'd like to send it to in the notes to the seller box on Paypal.
NEW! The book is now available as an ebook! To get one for the Kindle, order here. To get one for your iPhone, iPad, Nook, or any other ereader, order here.

Updating...