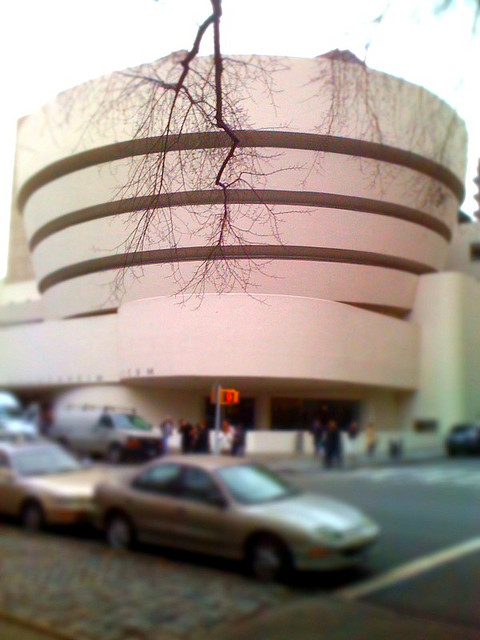 My father loved architecture the way a 1950s teenager loved rock and roll. He was an art professor by trade but admired the craft of architects with the ardor of a fanatic and the admiration of a fellow artist. Frank Lloyd Wright was my father's Elvis and the Solomon R. Guggenheim Museum in New York his Jailhouse Rock.
Bruce—or Dad, as I never called him—died before I was old enough for him to tell me of his passion. But for as long as I can remember, there'd been proof hanging in our house: a framed black and white print promoting a German Frank Lloyd Wright exhibit from 1964, the year my parents were married. The only pictorial reference to Wright was that of the Guggenheim, in various degrees of pixilation as if printed in an old newspaper and blown up to abstractness. The image is unmistakable. As a child, the form of the building loomed like a mammoth, multi-tiered spaceship that, in my imagination, rotated and hummed and twinkled and could rise effortlessly from the ground before soaring upward toward infinity. Long before I could read, the architect's name in bold, art-deco lettering at the top was a cryptic alien code designed to prescribe the spaceship's astral trajectory.
The poster didn't have the name of the museum written on it. I knew it was called the Guggenheim, though, because I'd been told. The glottal G's and hard vowels in the name made me giggle. The sound brought images of clowns and bubbles and circus acts.
To me, Wright took pride of place in our home gallery amid other names I'd grown up with: Ben Shahn, Hundertwasser, as well as Bruce's own sculptures and watercolors. Maybe it was the graphic, monochromatic minimalism that appealed to me; maybe it was that spaceship thing. Or maybe it was because the framed print was imbued with the few scattered memories I had of my father.
By the time we moved out of my childhood home in Toronto, my mother had collected new favorites to take center stage so FLW got seconded to the unlit, low-traffic zones of the new house. Eventually it was removed from the wall and stored in the dank, cement basement where its wooden frame dampened and sagged and eventually broke. When I moved out for the first time shortly thereafter, I salvaged it from its indifferent hiding place and had it reframed. I like to say I inherited it from my father. Today the poster crowns the top of the stairs in my south London home.
•••
Last year during a chilly, late-winter afternoon, I found myself heading up 5th Avenue toward the Guggenheim. It was my first trip to Manhattan in over twenty years and the first time I'd had the opportunity to visit the museum. I could have taken a taxi or the subway after my meeting near Union Square but instead I walked the eighty or so blocks up the east side of Central Park. Call it a pilgrimage of sorts.
As the street numbers got into the 60s and 70s, I thought about the print on my wall and the excitement my father must have felt in purchasing it more than forty years earlier. When I was growing up, my adventurous weekends were spent taking the subway into downtown Toronto to find posters in the head shops along Yonge Street. I couldn't wait to put the new image of David Bowie or The Police on my bedroom wall. But none of those earned the esteemed framing treatment that my father's Frank Lloyd Wright poster deserved.
Approaching 88th Street, I expected to see the great flying saucer of my childhood magically hovering over the leafless trees on the edge of Central Park: broad, white circles spinning and buzzing in preparation for take-off. But it was smaller than I'd imagined, the smooth, white cement dwarfed and hemmed in by the surrounding brick brownstones. The famous circular rotunda, an inverted round ziggurat, sat compactly on the street corner. It appeared weightless, lifting from the sidewalk like a dandelion in seed on the wind. Far from being disappointed by its size, I marvelled at the scale and eagerly went inside.
The indoor space belied the first impression given by the exterior. The spiralling gallery seemed to rise magnetically up toward an infinite glass dome. The endless sources of natural light created intimate shadows that mingled with the reverential whispers of the gallery's visitors. If the outside seemed unnervingly squat, the interior had quite the opposite effect. It existed in a constant state of levitation; a swirling, weightless eddy of white light.
Sitting among the dizzying ramps of the Guggenheim, staring at the buoyant structure and the artwork—secondary to the building in which they were housed—I was struck by two things. First, the building so favoured by my father, that to me had been little more than a two-dimensional representation of his joy, was very much real. Secondly, so was my father.
As I explored the scrolling halls and surprising annexes, I was aware that Bruce had scaled them, too, and, like me, was taken more by the building than the priceless Kandinskys and Chagalls. But whereas the museum's unique architecture and cultural grandeur drew my father close, it was his visceral crush on Frank Lloyd Wright's masterpiece that brought me there. In doing so, it brought me closer to Bruce than I'd felt in many years.
When my father died, I felt his loss the least; I was the youngest in my family. I understood that he was gone, but I didn't grieve as an adult would. What I lacked in melancholy, though, I more than made up for in appreciation for the good fortune my life had given me in spite of his death. It was as if some mystical authority was atoning for the missing Dad in my life. The stories I knew of him were generally the ones told to me as family myths by those who remembered him more clearly. In this way, his presence remained.
In New York, I reclaimed memories of my father, no longer relying on the words given to me by others. Flashes of him that simmered like mirages and grew threadbare with age became fluid and elegant in the Guggenheim. He showed me how to swing a baseball bat; he let me throw clay on the wheel in his pottery studio; he taught me that it was okay to laugh at myself. His toothy smile and brown beard were at home in a gallery with portraits both traditional and contemporary. For a moment I thought I heard his voice, a sound I'd missed for nearly forty years. In this building I was infused with him in his eternity.
Like the museum, my father's memory had always seemed to levitate and rise toward infinity. It coiled around me, at once ethereal and tangible, like a celebratory cloak that waved in the wind as I flourished and settled over my shoulders when I needed reassuring. This was all the proof of immortality I needed: testimony of our ability to create life after death by keeping ourselves alive and experiencing those who died over and over again.
If I believed in heaven, I would imagine the entrance to be more like the Guggenheim: a slow-rising ramp rotating with centrifugal equilibrium and endless promise. Not a rigid stairway with lavish, baroque gates at the top. And if I believed in heaven, then this is where my father would live out his eternity. After all, shouldn't we be allowed to choose what our heaven looks like? I would certainly choose this place for Bruce.
After a couple of hours visiting the memories inside the Guggenheim, I crossed 5th Avenue into Central Park. By the time I'd reached the footpath that circles the reservoir, I looked back over my shoulder at Frank Lloyd Wright's gleaming white spaceship, Bruce's heaven. But it was gone, discreetly grounded behind the curtain of winter trees. Or perhaps it finally lifted off. I walked on alone, leaving my father inside where he belonged.
•••
JON MAGIDSOHN is originally from Toronto, Canada. He's been featured in the Guardian and Bangalore Mirror, also on Brevity, Chicago Literati, Good Men Project, Mojave River Review, 100 Word Story, and currently publishes three blogs. This is his second essay for Full Grown People. He's been an actor, singer, waiter, upholsterer, sales representative, handyman, and writer. He and his family are now in Bangalore, India, where Jon writes full time. www.jonmagidsohn.com