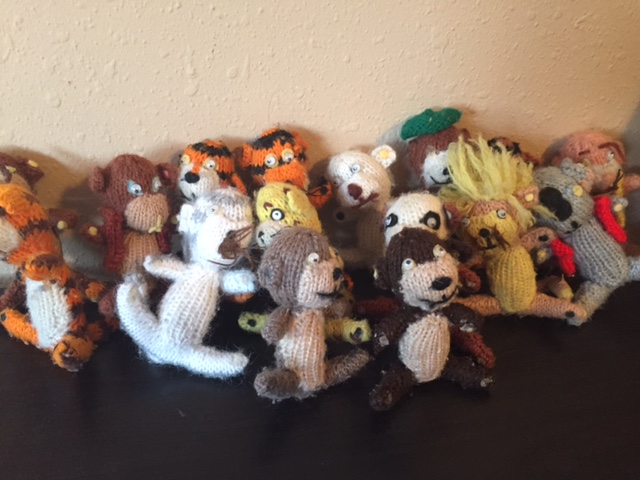 By Naomi Ulsted
We moved a year ago, but my office is still cluttered with boxes, the dumping ground for random stuff without a home. I've made a goal to put away one box a week, so as I was digging, I rediscovered The Guys. Opening a drawstring cloth bag, I pulled out a tiny crocheted lion, its yellow yarn hair fanning out haphazardly. There were sixteen more little Guys in the bag. White and black panda bears, little tigers, other little animals that could have been bears, but maybe tigers. I received The Guys over thirteen years ago, gifts in a dark bar on slow afternoons.
•••
It was quiet at the Rose and Thistle pub and I leaned back against the bar, watching a thin haze of smoke linger up near the ceiling. It was early so there were only few patrons, drinking and smoking. Later tonight, after ten, the smoke would be thick and dense in the dark. We didn't care. We took drags from cigarettes at the edge of the bar in between drink orders.
My early afternoon regulars were there. Denny and Joe sat with their pints of Bud Light, and Carleen with her glass of red wine. Thomas was playing video poker in the back, where, alongside the bar, behind a curtain, there were three video poker machines. Thomas was the oldest of the group, who were all well over fifty. I figured Thomas was over seventy. His face was wrinkled up, both in good and bad places. He had soft white hair that straggled over his forehead in lazy curls that he didn't bother combing. He wore the same jeans and plaid shirt over his thin frame every day. The curtain rustled and he stood at the opposite end of the bar, holding his empty glass.
"Ready for another, Thomas?" I asked, reaching for the bourbon. Thomas was always ready for another. I pulled out the milk carton.
"Yep, might as well." He inhaled from his cigarette. "How's that class going? Your class on all those old books."
I smiled to myself as I poured the milk. "You mean my Milton class?" I was studying Eighteenth Century Literature.
"Yeah, that one."
"Good," I said, handing him his bourbon and milk. "I love Milton."
"Glad someone does," he replied and gave me a crooked smile.
I leaned over the bar toward him. "Why do you drink that stuff? It looks awful."
"Good for the belly," he replied. "You should try it."
"I don't think so," I said.
"Got something for you," Thomas said and reached into his jeans pocket. He pulled out a tiny crocheted bear and held it out for me. It was orange with black stripes. It might have been a tiger, except for the ears, which were distinctly bear like. It had a thin, black yarn smile and two tiny googly eyes glued on.
"I love him!" I exclaimed, holding him up. "Look everyone," I held him up to the three regulars at the bar. "A new little guy." They nodded at me and Thomas, and Joe gestured to his empty glass. "Thanks, Thomas," I said and stuck him in my apron, so his little orange head was poking out.
I had several of these Guys already. He crocheted them himself with tiny needles, straining his eyes over the thin yarn, and stuffing them with fluff. Frequently, he crocheted them tiny hats or gloves or little vests. He never left me any money for tips, but once every couple weeks, he threw his money into the machine, drank his bourbon and milk, and gave me one of his animals.
Denny and Joe knew him a little. He'd been an iron worker, but had spent all his money on bourbon. He'd had a family, but none of them talked to him anymore. He lived in a home with a couple other elderly people a few blocks away.
"Thomas," I said once, as he leaned up against the bar and took a drag from his Pall Mall. "Don't you have any grandkids to give these to? I feel bad taking these guys. I know it must take a long time to make them." I ran my finger over a little brown bear with blue felt eyes.
Thomas sighed and the wrinkles in the sad places on his face seemed deeper. "I have some grandkids," he said. "But their dad doesn't much want to see me anymore."
"Why?" I asked.
Thomas looked down as he talked. "I did some things. Made some mistakes."
I leaned over toward him, holding out the bear and said in a soft voice, "Maybe you can undo those things. You know, start over."
"No," he replied and looked up at me with his clear blue eyes. "Too late for that, I figure. You might as well take them."
•••
By the time I quit working at the bar, I had seventeen of these little animals. I kept them in a shoebox as I moved from apartment to apartment, finished school, moved to Astoria, and married my husband. I pulled them out now and then to finger their tiny ears and look into their googly eyes.
When I moved back to Portland, my son, Logan, was just six months old. I brought him into the bar one afternoon, just to say hello. The smoke was still thick and I was much more concerned for my baby's lungs than I'd ever been for my own, so I only stayed a few minutes. The owner told me Thomas had passed. He'd been transferred to a nursing home and died in his sleep there. Some of my old regulars had gone to the service, but no family had come.
When Logan was two, five years after I'd left the bar, I pulled out The Guys. They quickly became favorites. Logan named them all in ways that made sense to him—Motorcycle, Cupboard, and Window, for instance. We sat on the floor of the living room with a set of giant Legos and made enormous castles for the Guys. Motorcycle would be asleep in his bed, while Cupboard stood guard on the turret. Window rode in the back of the police car to jail, having been apprehended by Lion. The Guys had long conversations with one another, achieved great acrobatic feats, and slept in bed with my little boy. Many times I wished I could have let Thomas know that The Guys were alive and well, living in castles my son built.
Both my children are older now and don't play as much with The Guys. The little vests and mittens had gotten separated from their owners and I was worried The Guys would be lost in the maelstrom of toys, so I gathered them up. Now they're lined up on a shelf, looking down at me while I write. The crochet work is in great shape, with stuffing only popping out of a few. But they're worn. They've been played with and kissed. Their yarn is grungy and some are missing eyes, although I superglued many back on. Their little smiles are frayed.
When I found out Thomas had passed away with no family attending his funeral, I was angry with his son. What could Thomas have possibly done to merit what I saw as this neglect? But there are things. I saw only the old man, kind and loving. But kind people can be terrible people capable of terrible choices. Kind people can harbor deep wells of regret. I have people in my own life whom I have cut off, who I will never invite back in, who will never know my children. It doesn't matter how kind they are to the people in their lives now. But those little guys have spread love in my family. It was too late for Thomas with his own family, but it was not too late for him to spread love in mine. So one night as I took a writing break, I noticed The Guys looking down on me. I went upstairs and poured myself a bourbon and milk. "Cheers," I said to The Guys. It wasn't half bad.
•••
NAOMI ULSTED is a memoir and fiction writer from Portland, Oregon, where she lives with her two boys and her husband. Her work has been published in Salon, Luna Luna, Maximum Middle Age, and Narratively. She is also the director of a Job Corps center for training under-privileged young people.