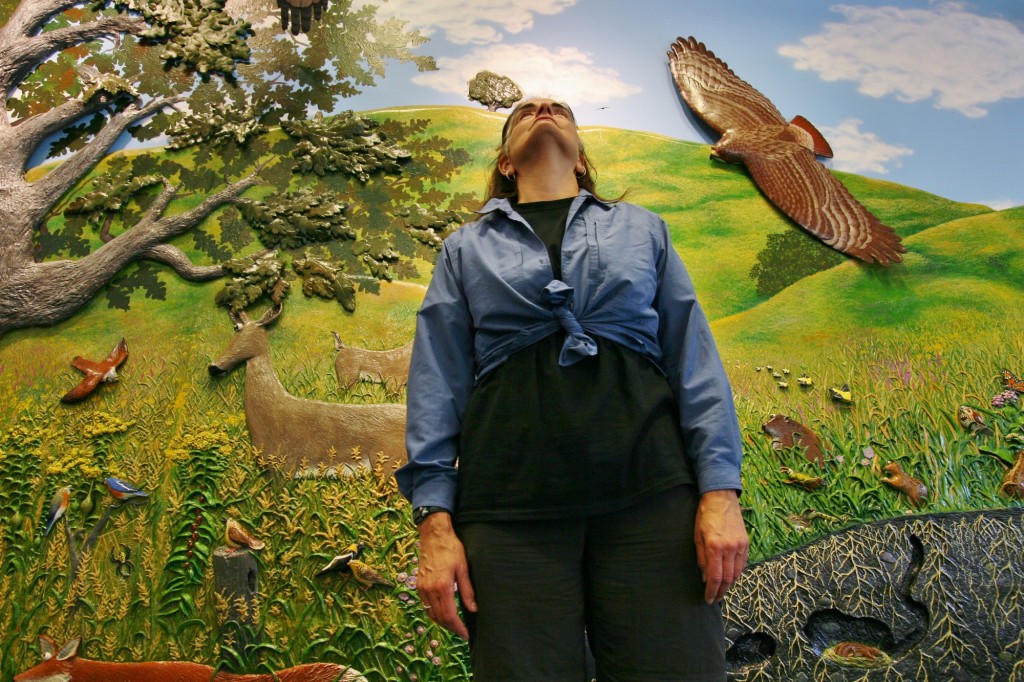 By Kate Haas
Until the bear came along, I was doing fine with nature. Shafts of sunlight were falling on the red huckleberries lining the trail, setting them aglow like tiny rubies. All around me, huge, craggy Douglas firs reached toward the sky, their limbs draped with moss, and giant ferns carpeted the forest floor in every direction. My family and I were deep into Olympic National Park, ten miles from the nearest paved road. This is the forest primeval, I thought, gazing at those massive trees. The murmuring pines—well, firs—and the hemlocks. I felt an unwonted surge of affection for good old Longfellow.
Let me be clear: the forest primeval is not my natural habitat. I grew up in the suburbs, the child of New Yorkers. Our family adventures involved the wily nabbing of city parking spaces en route to the ballet. On the few occasions that my parents took me hiking, I trudged along reluctantly, nursing a strong sense of grievance. What was the point? I complained. Why walk through the woods for no reason, only to turn around and walk right back out? Couldn't I stay in the car with my book?
Sure, I loved my Quaker summer camp, where I learned to build a fire and use a compass, earning a "woodswoman" badge for acquiring these skills. I appreciated nature, all right. But for the most part, mine was the bookworm's comfortable, vicarious appreciation. I savored descriptions of Heidi's beloved Alpine meadows; the vast, mysterious swamp in Girl of the Limberlost; the cave-riddled coast in Island of the Blue Dolphins. From my vantage point on the couch, this was great stuff. But deep down, despite that badge, I wasn't truly woodsy. And I never would be.
But then, as one does, I met a guy. I'll call him Nature Man.
Nature Man was a biologist. He liked to lift up rocks and examine the grubs underneath. (He did this on our second date). He talked in near-religious terms about the glories of the ocean and could identify edible and poisonous plants in the woods. He took me bird watching, hauling along a giant spotting scope he'd borrowed from work, through which I watched, in horrified fascination, as a Peregrine falcon devoured a pigeon. ("Way cool, huh?" he said.) Nature Man also played old-time banjo and wrote me love letters illustrated with funny line drawings and watercolors. He planned romantic, themed birthday celebrations in my honor, and he liked to spend rainy Saturdays roaming the big downtown library with me, each of us collecting a stack of books to take home and read companionably on the couch.
There was no doubt about it. I would be learning to love nature.
In the seventeen years that I've been married to Nature Man, I've logged my time in the woods. I've nursed a toddler in a tent and gotten the hang of lighting a camp stove. I've grown fond of the scent of citronella candles. Planning a camping trip no longer fazes me, although it does tend to inspire irritation. Why go to all this trouble to haul pots and pans and ingredients into the woods, when we could cook at home in a nice, comfortable kitchen? But Nature Man and our two boys love camping, and I love them, so I keep this thought to myself. Most of the time, anyway. Because once we're out there, amid those giant trees, out where the mist hangs like a dream over the mountains, and the jade green river churns between ancient rocks, I'm awed, each time, by the sheer splendor of the natural world. And at some point on each of these expeditions, I'm always struck by same thought: without Nature Man in my life, I wouldn't be marveling at all this.
But in all these years, I've never articulated to my husband just how uneasy I sometimes feel in the wilderness. I can't forget how far away we are, how isolated. And thanks to a ranger program we attended on yet another camping trip, I can't forget about the cougars, either. Puma concolor, I learned that evening at the park's rustic amphitheater, roam the Pacific Northwest. They are silent and stealthy, capable of leaping twenty feet from a standing position to land on the neck of their prey, killing it instantly.
I looked around the amphitheater. People in the audience were snuggling with their kids, spritzing on bug repellent, or nodding along with the ranger. No one seemed alarmed. Did you hear that? I wanted to yell. Twenty feet from a standing position! Onto your neck!
The next day, walking along the trail, I tensed at the creak of a tree branch, the back of my neck prickling in dread. Then I looked ahead to Nature Man, pointing out licorice ferns on a nurse log to one of our boys. My husband, I reflected, knew the woods far better than I, and he didn't seem concerned about being attacked by the New World's second heaviest cat (after the jaguar). You need to relax, I told myself.
I was successfully following that very advice the next year, the day we met the bear. I hadn't entirely forgotten the threat of cougars, but I'd pushed it into a small corner of my mind, a little closet where I stash other irrational notions, like my conviction that a headache heralds a brain tumor or that only my will to live keeps the plane in the air. So as we walked deeper and deeper into Olympic National Park that day, I was happily gathering huckleberries for pancakes and musing about nineteenth century poetry.
Not everyone in our party shared my sunny outlook. Unlike twelve-year-old Simon, loping ahead of me in his broad-brimmed hat like a young Indiana Jones, Nate, my nine-year-old, was decidedly grumpy. "Why do we always have to do this?" he muttered. "You should have left me in the car with my Tintin book."
I repressed the urge to confess that I often feel the same way about hiking. Instead, I told him what I tell myself on those occasions. "We're a family, Nate. And families do things together." But there was no denying this particular apple's proximity to the tree. When it comes to hiking, Nate's my boy. Nature Man and I had lured him along with trail mix for the first hour. Sparring with his brother on a rustic bridge, re-enacting the encounter between Robin Hood and Little John, had improved his mood after that. But now, just half a mile from our destination, we were out of bribes. "I'm walking for five more minutes," he said darkly. "That's it."
It was at this point that Simon came running back toward us, an expression of alarmed excitement on his face. "There's a bear on the trail!" he announced breathlessly.
My mental closet burst open. Here it was, the confirmation of all my fears. Nature was a dangerous place, after all. Fearsome things did lurk here. If not cougars, bears, dammit all. Instinctively, I turned to Nature Man. He didn't say what I expected: "Okay, everyone, turn around—fast!" To my astonishment, what he said was, "Let's see this bear." Then he kept walking.
For reasons that remain obscure to me, I followed him.
Sure enough, twenty yards down the trail stood a bear. It was black, with a patch of white on its head, and it was looking right at us. What struck me immediately about this bear—beyond the hair-raising fact of its presence—was its size. This was not a large bear. It was on the smaller side. No, I realized, as my heart began to pound quite unpleasantly, it wasn't actually small. It was a young bear. Quite young.
All of us, even those not particularly cognizant of the natural world, know exactly what goes along with a young bear. Any second, I imagined, the enraged mother bear would burst from the woods. She would maul us and leave us for dead on the trail. Later, there would be a memorial service, and everyone would cry over the family killed by bears, and we would be forever held up as a warning whenever the park rangers give those talks about wildlife.
Simon had followed his father, and now he turned back to me. "See? There really is a bear!"
"Back away!" I said frantically, still fixated on our memorial service. "There's a mother bear around here, and she's going to eat us up."
Nature Man, who was just a few yards ahead, did not appear to hear me. "Nate, can you see the bear?" he asked. "Let me lift you up." He raised our son in his arms, as if making an offering to the ursine gods.
"Get my baby away from that bear!" I hissed.
Nature Man made a small sound, which could have been a chuckle. Nate said, "It's been five minutes. I'm not taking another step."
The bear gave us a last look, then ambled back into the underbrush.
"See, it's gone," said Nature Man. "I'm willing to keep walking."
Simon said eagerly, "You mean, we'll follow the bear?"
Nate looked even more mulish. "You'll have to carry me," he said.
I stared at my family. "You people are insane."
Nature Man gave me a quick careful look, then hustled everyone back in the direction we had come. A few minutes later, as we walked quickly along the trail, Nate riding piggyback on his dad, my husband explained that he had only advanced toward the bear because he wasn't sure Simon had actually seen one. And he had lifted Nate up partly for a better look, but also because, when confronted with a bear, you're supposed to make yourself look bigger, to intimidate it. "And I wasn't laughing at you. Well. Not exactly."
Unwilling to be mollified quite yet, I informed Nature Man that he could forget about taking me hiking, ever again. Today it was a bear, but tomorrow? Cougars, for sure, and what next? Vermicious Knids? Wisely, my husband did not argue with any of this, not even my suggestion that Charlie and the Great Glass Elevator's amorphous space aliens might materialize in the Pacific Northwest. We both knew I didn't mean it. Love had gotten me out of a book and into the wilderness in the first place, and I would be back in the woods next summer or even sooner. Besides, we were a family, and families do things together. Like get nearly eaten by bears.
•••
KATE HAAS is an editor at Literary Mama. Her essays have appeared in the Boston Globe Magazine, Salon, Brain, Child, and other publications. She's a regular contributor to Full Grown People and lives in Portland, Oregon, with her family. Read more of her writing at www.katehaas.com.