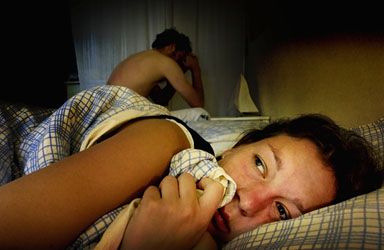 By Eric Williamson
This essay contains spoilers about Breaking Bad, so if that matters to you, bookmark this baby. —Ed.
I have something of dire importance to say to my wife, Sheryl, but she's on the phone. So I grab a beer and mill about.
When she's finally off, she tells me that she went to Zumba, how tired she is, how her cute dominatrix instructor from the Ukraine encouraged her to up her weight limit, what her dom wore to class, what she wore to class, what the other people wore. Sheryl knows I hate this kind of conversation, because it's not really meant for me—unless, perhaps, as punishment.
When she's done, I say, "There's a new theory floating around about Breaking Bad."
She doesn't respond, just stares at me. This is significant because, for the past several years, the one thing we could agree on, without fail, was that show. Following the saga of Walter White—the cancer-stricken high school chemistry teacher who transforms into a drug kingpin—was inexplicably therapeutic for us. The rule was we had to watch every episode together, without cheating, or there would be serious hell to pay from the other. Afterwards, we would discuss.
We got married, in fact, because we liked talking to each other.
Here's the gist for those uninitiated into the series: Walt needs to earn money for his family before he dies, so he enlists the help of one of his former students, Jesse, and together they secretly cook meth in an RV out in the desert. But Walt's plan is complicated by the fact that he excels at his new cottage industry. His blue meth is the purest around, which puts him both in competition, and in league, with some of the most ruthless members of the criminal underworld. Ultimately, his megalomania endangers the lives of everyone he loves, including his wife Skyler, his teenage son Walt Jr. and his newborn Holly.
"The theory," I continue, "is that what we saw wasn't the real way the show ended, and that the last episode was all in Walt's head."
Sheryl looks around the room, at the color of the walls that she's not satisfied with, at a stinkbug pioneering a stretch of molding.
"The idea goes that as the police close in on Walt in the snow-covered car he's trying to hotwire, he changes up the game in his head. The cops pass him, he magically finds a set of spare keys behind the visor, and rejuvenated by his sudden good fortune, returns to New Mexico to settle his final scores."
She stares at me again. At least it approximates eye contact. "But what does it matter?" she asks. "He dies anyway."
Her comment feels like a kick in the nads, but I catch my breath and soldier on. "Well, it's important because it determines whether he's able to die on his own terms. It's about being a man, you know? And then you're left to ask: Well, is that just after all he's done? Is that right?"
But she persists in her take—which is not to have a take, I guess.
"I'm just saying, what's the point of even talking about it? The show's over now."
"You're right," I say, deflated. "What's the point?"
•••
Sheryl and I met as undergrads at the University of Georgia, reunited on Facebook twenty years later, flirted by phone for several months, and then finally began our bi-coastal dating relationship.
Jet-setting between my home in Los Angeles—the entertainment capital of the world—and her home in Charlottesville, Virginia—where nothing much happens but the weather—was super-romantic. She was the one who wooed me. She sent me handwritten love notes and little gifts (including a cast iron skillet) that evoked pleasant thoughts of domesticity.
When we were together, we were always on vacation.
When we were apart, we talked on the phone almost every night, about the old times, the status of mutual friends, the unspooling of our lives. Unspoken was how she became more conservative with the birth of her son, how I became more liberal from my five years of living on the Left Coast.
What didn't seem like a match two decades earlier gradually came to seem do-able.
The difference in time between Eastern and Pacific meant my stories were often bedtime stories for her, and I could tell by the long pauses between affirmations when she was nodding off. Neither of us minded so much that I didn't always get to the ending, though.
Some stories—the ones we truly love—we don't want to end.
•••
I never meditated too long on why the writers chose the name "Heisenberg" for Walt's alter ego. I knew his namesake was a scientist and that it had something to do with the atomic bomb, but I figured they would either explain it more or I could look it up later. Well, I finally looked it up.
Warner Heisenberg was one of the fathers of quantum mechanics, which not only led humanity down the road to atomic weaponry, but it also led us down the road of quantum theory in general, which includes quantum chemistry and quantum physics.
Just like with Walt, good intentions could be viewed as having gone astray (although in the real Heisenberg's case, it was a more complicated matter). The real Heisenberg had terminal cancer, too.
Now I'm not a scientist, and I understand the show's creators had very little scientific background as well. But there is a concept called Heisenberg's Uncertainty Principle, which states that the more certainty you have in measuring the position of a particle, the less certainty you'll have in defining its momentum—and vice versa.
Subsequent theories in the quantum realm express similar dualities. Just like that old chestnut about the Deep South, it's all relative, right? The truth and how well it can be defined are sometimes dependent on your perspective.
At least two realities exist in Breaking Bad. One is the TV ending we can live with. Walt finds a way to transfer his ill-gotten gains to his son, exacts his revenge on those who crossed him (who were conveniently more evil than he was), and rescues Jesse from the meth dungeon, where he had been forced to cook for the thugs that Walt had previously allied with.
I still need that ending. It may not be quite as logical, as "real," but I cannot live in a world in which Jesse at least doesn't get away. He doesn't deserve that fate.
But I've also come to accept the implicit ending, that what Walt thinks he experiences is actually a fantasy he concocts in his own rotting brain. He's still aware, of course, of the logic of how people will react to him, based on how they've reacted to him in the past, and this knowledge keeps him from spoiling his own illusion that he has continued forward, even though he has really gone nowhere.
With a generous nod to postmodern film criticism, which counts viewer interpretation as being as valid as the filmmaker's conscious or stated intent, it simply feels more like real life.
In reality, bad things happen to good people, and some mistakes can't be taken back.
•••
One of the reasons Sheryl and I fight is sleep. If one of us sleeps well, the other can't seem to get a wink. Sleep is the aspect of a loving relationship you can't really work on. It's a zero-sum game, and we are both greedy in bed in that respect.
When she sleeps, she sprawls diagonally, points her long legs all the way down to her big toes, and kicks like the professional dancer she aspires to be in her next life. I've often suspected, though, she doesn't do her Rockettes performance in my absence, and that she's passive aggressive even in REM state.
But I admit that I am more disruptive. I scream unexpectedly in the middle of the night, for example. It isn't always a nightmare. Sometimes I simply fall asleep on my arm, and my arm follows, and the alarm in my subconscious goes off, bleating its warning from the murky depths that a part of me is dying.
This all led to Sheryl's decision to finish the basement. It would give us more space, she explained, and we could move her son down there, freeing up a bedroom for when we both really needed our sleep.
My stepson T. is fifteen and already six-foot-two. His haircuts alternate from Ziggy Stardust, to hippy-dippy, to high-and-tight. He's currently trying to grow a mustache, and so far, he's already doing better than I'm able. He's a good human being. Better than me on that front as well. He's also quite possibly a genius—just ask his mother.
So she drew up plans—she once dreamed of becoming an architect—and oversaw the contractor. She did all of the finishing touches herself. Throughout the process, I was supposed to praise every new wall erected, every sign of progress, but to me it felt like we were going backwards.
The pending change in our sleeping arrangements felt like the demise of our romance.
•••
Suspense, of course, is essential to telling a good story, and one aspect of Breaking Bad that fascinated us both is that it jerked you around in time. An unexpected flashback or flash forward would create a tantalizing mystery that begged to be solved. Like the pink teddy bear with one eye that ended up in Walt's pool.
The puzzle pieces didn't always make sense right away, but you knew by end they would all fit together.
The bear, we learn, was a result of the fictional Wayfarer 515 air collision, in which a bereaved air traffic controller accidentally sends a commercial airliner into the path of a chartered plane, killing 167 people. One act of un-kindness—in this case, Walt letting Jesse's girlfriend die—kicks the next domino, which is her father, the air traffic controller, whose distraction leads to the mid-air collision.
With so many lives affected by the tragedy, your imagination is left to extrapolate how bad energy will just keep multiplying.
•••
The flight from Los Angeles to Virginia is about seven hours. If you fly non-stop. Plus, you have to take into consideration the three hours you lose. My flight was further complicated by a stop-over and a bump, which meant staying in the Philadelphia airport an entire sleepless night.
Walter White did many unforgivable things over the course of the show. He even poisoned a child. All I did was try to get some sleep.
For my first official day home, Sheryl planned a party for all of her friends to welcome me. But as the time crept closer for her to trot me out, I was still in bed, which was still "our bed" then. She rudely shook me awake.
"Would you stop?" I begged. "A man needs his sleep!"
"A man needs his sleep?" she repeated, outraged—as if my exhaustion was an affront not just to her and her own need for sleep, but to all women's need for sleep.
"A human being!" I said and covered my eyes with a pillow. "Now go away!"
She left in a huff, telling me I had five more minutes and then I'd better get up. When she returned, she brought her son in to double-team me. He was much littler then, but together they were a force of nature.
"Wake up! Wake up! Wake up!" they yelled as they jumped on me and bounced the bed.
I bolted upward and threw out my hands in self-defense. Once I remembered where I was again, I was not amused.
"You're lucky I didn't hit you!" I snarled and rolled over.
Despite the obviousness of the context, I knew that didn't come out quite right. Sheryl confirmed as much when she responded, "If you ever hit me or my son…"
Unfortunately, that fight stretched out for several days. The welcome-home party took on a turd-in-the-punch-bowl vibe when I hardly spoke to anyone, inviting retaliation from my wife afterward. The drama culminated with me on my cell phone in tears on the Downtown Mall, still trying to explain myself, but needing to be anywhere else but in the same house with her.
As teenagers rubber-necked, that's when I said it. That thing you can never take back.
•••
After the never-ending home construction project was over, I finally had that sleep study done, the idea for which had originated months earlier at Sheryl's request.
It was awkward. The tests are conducted in a hotel, which seems to me more tawdry than medical. The technicians put electrodes all over your body, they let you watch a little television until you're sleepy—I caught a repeat of Breaking Bad—then they observe you while you sleep. You really can't move around much. You're tethered.
I didn't feel like I slept much during the testing. I kept going under and then resurfacing. They call these "arousals." I was relieved to learn that they didn't mean the other kind, because they said I had a lot of them during the night.
In the morning, they fed me a sumptuous breakfast in the hotel lobby. I ate second helpings, with the assumption that I had no obligation to tip.
I felt good about that decision because the bill from the test was a killer. Another source of animosity between us. At first she said she would pay a portion of the damage, but then she reneged. Choosing to have the test done was ultimately my decision, she said.
At my follow-up appointment, the doctor said there wasn't anything dangerous about my sleep. I didn't need to strap on one of those S&M space masks—an assortment of which he had on Styrofoam heads all around his office—but I could still get one if I wanted. He would just have to make up an excuse for insurance purposes.
I returned home triumphantly from the doctor with test results that proved I fell "within a range of normal." To which she only sneered.
But I had done what she wanted, and I asked, "Can I come back to our bedroom and sleep?"
"Now that we're in separate rooms, I feel like the problem has been solved in my mind," she said. "I'm getting the best sleep of my life. But maybe you can visit once a week?"
I think a part of her wanted me to beg, as penance for some past sin. But I was too proud.
As our standoff unfolded, she actually faulted me for not being more loving, for not catering more to her needs. She grew increasingly confrontational, and she justified her actions with the non sequitur that she could behave that way because she was the girl in the relationship.
Silently, though, I agreed with Sheryl. I believe that all girls should be told they hang the moon. They should be told that they are pretty and smart and that they are loved, without condition. But that's not what happens in every girl's childhood.
And that's not how I responded. What came out of my mouth instead was, "I can be just as much of a girl as you can."
•••
So here we are. Breaking Bad is over, and the only show that even comes close to replacing it for us is The Walking Dead—a metaphor I'd prefer not to contemplate.
What happens now that we can't offload our marital tensions vicariously through Walt and Skyler anymore? What happens now that we know the whole story—that Walt Jr. won't become a meth addict, as we once feared, and that poor Jesse indeed makes it out alive, if not unscathed?
What happens now that we've reached an end?
We have been sleeping in separate bedrooms for months now, with fans to knock out any impromptu noises in the night. During this particular night, which is actually early morning, I'm so mired in the old lumpy futon mattress I sleep on that my arms get pinned to my sides and one of them falls asleep. By instinct, I cry out and wake myself. It's loud, but maybe she didn't hear?
A few seconds later, the hall light shines in through the door cracks. It's 3:30-ish a.m.
I fall back to sleep and get up at my normal time. When I peek into Sheryl's bedroom, she's already downstairs. Her bed is made. And I verify the situation with our wedding pictures is status quo; she'd taken them down, despite the therapy we both agreed was helping.
I have to hand it to her. This is her passive aggressive masterpiece.
You take for granted the images you see all of the time, until they're gone. I'm trying my best to picture the cluster of three 11 x 14 photos, but it's a challenge. All three portraits are of the two of us at the ocean in our wedding clothes—a destination wedding in Guanacaste, Costa Rica.
In the picture that comes most readily to mind, Sheryl stands on the black rocks in her red cotton Victoria's Secret dress, looking statuesque. I sit in diminutive silhouette, staring up at her like a child might.
The second-easiest to recall is the one of us prone in the volcanic sand, and you can see us both clearly in this one. I wear a white shirt and have my tan britches from Old Navy rolled up mid-calf as I nest in her arms. We both look stupidly happy as we stare off towards the ocean, like a scene from our remake of From Here to Eternity, the last blush of sunset still clinging to the bottoms of the clouds.
But the third picture is the hardest to remember. It doesn't come to me right away, but it will later. It's a close-up of us in silhouette. Our arms are entwined yet free-flowing, like some statue from a Hindu temple. A beast or a deity with a shared torso and two distinct heads. Even in shadow, both of us are clearly recognizable as our individual selves.
That's the one I've always liked best.
I had waited a while before calling her out on taking the photos down. She claimed it was because I referred to her clustering of art as "junky," which isn't quite right, because she also removed the stand-alones of us propped up around the house.
Who was wrong first? I don't know. Sheryl's always had her fears, and she's always made them a reality. I've always reacted in knee-jerk fashion, turned tail and ran, but being married isn't about that. It's about sticking.
Yes, technically, I was the first to cry uncle on the bricks of the Downtown Mall. To say in a fit of anger that I wanted a divorce. I'm ashamed to say I've said it more than once, but I've always taken it back. And she's taken me back.
Finally, she said it, too. And while she also took her words back, the photos are still down.
But we are not over yet. In part, because I don't want us to be. I'm still hopeful she feels the same.
As I get ready to take my morning shower, I overhear a conversation between mother and son. He apologizes for having been grumpy the night before—he lost his favorite calculator.
"It's all right," she tells him. "We're all working on becoming better persons."
Soon after, T. leaves for school. Sheryl sips coffee on the couch and writes in her journal. I eat a quick breakfast and throw together my lunch, all in purposeful silence. My episode of night terror still hangs over us like blimp.
But before I leave the house, like she does for me each weekday morning, she rises from the couch to give me a goodbye kiss. Sometimes it's not a real kiss. Sometimes she only receives, on her cheek or on her forehead. But it's something, and probably more than I deserve.
This morning, just like always, she meets me half way at the barrier that separates "shoes on" from "shoes off."
Suddenly, with her right hand, she balls up her fist and rears back like she's about to hit me.
But with her left hand, Sheryl pulls me forward and kisses me on the lips. Which tells me that an ending isn't always an ending, and that we might just be okay.
•••
ERIC WILLIAMSON is a journalist and communications professional who has recently begun exploring personal essay.