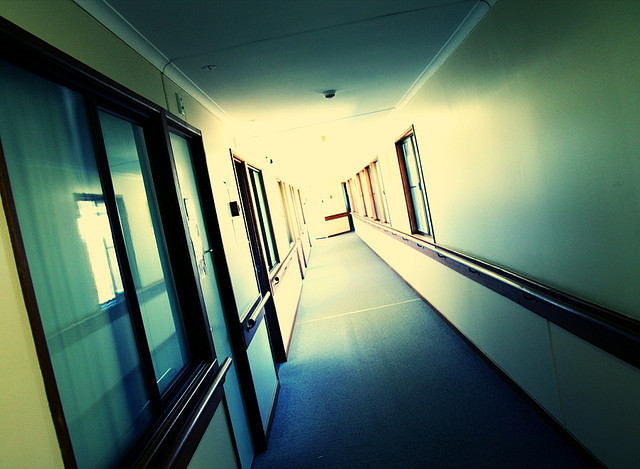 By Jon Magidsohn
It's a cement and gray-brick structure, unnaturally square, six stories of uniformly tinted windows, compartmentalized and looming large over the winding driveway. Wide, sliding glass doors open onto a pale foyer large enough to park several ambulances. On the right, busy administrators in matching navy-blue jackets sit behind a registration desk; on the left, a café with odors staler than the bodily smells upstairs in the wards. An unused staircase hugs the wall as visitors and faceless figures in teal-green pyjamas crowd the elevators. Blue and silver signs point toward mysteriously withdrawing wings named after equally mysterious benefactors. The ceiling is speckled with plate-sized pot-lights casting a ghostly glow that leaves no shadow along the grey corridors.
It could be any hospital anywhere in the world. A monument to Marie Curie. But this one is in Bangalore, India—where my family and I have lived for the last year and a half—squeezed into a parcel of land between a shopping mall, a community college, and a housing estate all served by a dusty four-lane highway that connects the airport to the center of town. Outside, the road is lined with crumbling pavement and idling auto-rickshaws; inside, it's eerily absent of indistinguishable announcements or "Code-Reds," and everybody seems unusually comfortable being there. Both inside and out, like on any Indian street, there are people everywhere.
Never has a hospital seemed so frighteningly familiar yet shaded with a disquieting foreignness. Not the most comforting scenario in which to bring my unwell son.
He's scheduled for an endoscopy, admittedly not the most intrusive of procedures but not without concern considering the involvement of general anaesthesia. The source of his debilitating stomach aches needs to be found, now several years—and three hospitals in as many countries—after the pains first surfaced.
A few weeks earlier, the scan and blood tests all came back normal. Six months prior, we'd eliminated gluten from his diet, before that dairy. Four years ago, we ruled out IBS and Crohn's. The endoscopy should show us, once and for all, what we are dealing with.
How many possible conclusions could be left, I wonder?
•••
Like many people, I have a natural inclination to find blame whenever the opportunity presents itself. If I can't (or won't) admit responsibility, then I can at least outsource it. The soup shouldn't have been so hot; poorly-poured cement caused me to stumble on the sidewalk; the teacher withheld vital information—that's why I failed the exam. Surely someone is to blame.
What about my empty bank account? Gimpy knee? Lack of a publishing contract? Most days I can spin it so that these gray areas tilt more definitively toward the black or the white. Not my fault.
Got cancer? It must be because of the polluted drinking water, unsavory lifestyle, or bad habits. But what if the disease should find random homes in healthy, rural-dwelling, non-smoking, teetotal vegetarians? Or children? Who do I blame then?
Some people insist everything happens for a reason. Others believe that we are all at the mercy of fate. All I know is that when you've been as close to cancer as I have, you stop looking for the smoking gun.
If my son, Myles, were to climb the two branches of his family tree, he'd discover signs of cancer before he reached the first bifurcation. From my side, he inherits the genes that betrayed my father and my aunt. On the other side, the woman that brought him into this world was taken by cancer before Myles was old enough to know who she was.
If my son gets cancer, I need look for blame no further than to the disease itself.
When Myles was still just a grainy, faceless pre-human on an ultrasound scan, he was exposed to a cocktail of drugs aimed at reducing the accelerating tumor in his mother's left breast. With the information available to the team of specialists at the time, they determined that the mild course of chemotherapy would keep the cancer at bay until the baby was born, after which the treatment would be amplified. By all accounts, the placenta did its job well, filtering out all the invasive chemicals designed to target fast-growing cells. Our unborn baby was all fast-growing cells.
Myles was born healthy and strong and has remained so for the past twelve years. So healthy and strong, in fact, that I've often wondered if perhaps the anti-cancer chemicals zapped him with invulnerability to a Marvel Comics degree. As a baby, he'd crawl over gravel without scratching his knees; carrying him through the house, I'd clumsily knock his head against a doorframe without so much as waking him up.
But his superhuman tolerance of injury hasn't pre-empted any of my fears for his long-term wellbeing. When, at thirteen months, he got his first cold, I thought it must be a symptom of something greater. Headaches, allergic reactions, and bruises must certainly be symptomatic of some malevolent intruder. When he complained of stomach aches, I envisioned the tumor burrowing into his abdominal organs. There could only have been one explanation.
Like most parents, I'd peek into Myles' crib at night to make sure I heard the comforting whispers of his breath during his sound sleep. Now that he's nearly a teenager, he still sleeps as soundly and I'm still responsible for waking him up in the morning. But after I unceremoniously swipe the covers off him and open his curtains, what if he doesn't wake up? What if that malicious interloper has taken him from me during the night?
Farfetched, maybe. But to those of us who have witnessed it, cancer is always there, sitting just over everyone's shoulder in various personae like those imaginary little angels and devils. But nobody is quite sure which one to listen to.
The word itself looms large in the lexicon of our unconscious as one that dare not be spoken. It is at once sacrosanct and taboo, as if saying the word might somehow curse the person who has it or pass it on to someone within earshot. When people do actually speak the word it is uttered quietly, almost politely so as not to aggravate the temperamental God of Terminal Illnesses. It is inherently self-editing, the harsh sound of the first 'c' muted by the disapproving sibilance of the second one. "Comeheregoaway," it says in a radio-static whisper.
When Myles' mother died, the cancer remained. It floated around me like steam from a boiling kettle. It nosed its way between the pages of my book and under my pillow. It hid between the floorboards or behind my cereal bowl. Sometimes it hung from the wall like a giant tapestry and sometimes it sat lazily in the teaspoon jar. It never taunted or pointed its ugly finger. It didn't have to.
Through it all I manned the tollbooth at the edge of the cancer highway. Everything had to get through me first: the flowers in a beautiful garden were muted, grayer as seen through my eyes; the conversation that made me laugh was not quite as funny after I hung up the phone; good news was soured, bad news inconsequential. The world was cancer-coloured.
Time has healed the grief, but cancer lingers like dirt under my fingernails. It makes me wonder who the real cancer victim is.
•••
"Dad, I'm nervous," Myles says after changing into the unflattering hospital gown.
"There's nothing to be nervous about, Superman." I try to take heed of my own advice. Until the final results of the endoscopy are in, nervousness is the least of my worries. Besides, I can't let my son know that there is any risk or discomfort involved in Dr. Dinesh sliding a camera down his throat. Myles will be asleep the entire time.
"But they'll have to give me a needle," he says, sitting patiently with his bare toes curled against the freezing floor tiles. "That's gonna hurt." I long for the days when the thing I feared most was a prickly jab in my hand.
I wait in the under-stocked, over-priced hospital café, nursing a cup of tea and clinging to my son's glasses while he's put to sleep and his insides are probed by the latest inhuman instruments offered by medical technology. I wonder if Dr. Dinesh is looking at the rapidly-growing tumor in my son's stomach, trying to determine the best course of action before breaking the news to the patient's father. I plan ahead, ensuring I'm aware of all nearby doorknobs and railings lest I require something to break my fall as I faint after hearing the doctor's report.
Within an hour I am at Myles' bedside in the recovery room, holding his hand and counting the blips on the heart monitor. I recall the day of his birth, two weeks earlier than we'd expected, when I sat by the incubator for three hours with the same pings and peeps providing the soundtrack to the Cinemascopic vision that was my new son. Six months later, another hospital where his mother lay dying attached to another monitor. The only benefit of Myles being so young at the time was that I didn't have to explain to him what flat-lining meant. The sensation never withers, especially when I'm forced to revisit the scenario.
The smoking gun.
•••
Let's assume that there is no such thing as randomness; that we are forced to bear things like disease and anguish because our predestined fortunes have demanded it of us. If this were so, I might welcome my fate while condemning it at the same time. I might still find blame in circumstance or poor choices while gladly laying guilt with God or the Devil. Someone must be at fault.
But life doesn't work that way. At least mine doesn't. No god I'd be inclined to pray to would allow the kind of physical or emotional suffering I've seen some people endure. Why would any benevolent source allow itself to be culpable for something that unwittingly assaults people from the inside and lingers immortally in the minds of those who have witnessed it? There is nobody and nothing to which I can point the finger.
Randomness is all around me. From the car that turns the corner as I'm trying to cross the street to running into an old friend at a movie theatre to the pulled muscle in my back. From there, anything can happen; it's the Sliding Doors syndrome. I choose to believe that we can only prepare for so much; that considering all of the careful choices we make, we are not in as much control of our lives as we might think. Sometimes life just happens to us.
I worry because I am a father; because I am human. I worry because I anticipate the hissing tongue of cancer to taunt me again without warning. I hope for the best and anticipate the worst. I keep my eye on the roulette wheel's persistent silver ball lest it fall arbitrarily on my number.
When someone I love exercises their hyperbolic prerogative to illustrate a point, I am often short-fused.
"It's so hot … I'm dying."
"You're not dying."
"No, but … I mean …"
"You're not dying."
I don't cut people much slack. It's a figure of speech—I get that. Besides, we're all going to die some day. But I've become a hypochondriac by proxy, convinced that all my loved ones will die around me while I remain here to live without them.
•••
Five interminable days after the endoscopy, the results, including tissue biopsies, return normal. No ulcers. No abnormalities. No cancer. The only imaginable explanation for the stomach aches, according to Dr. Dinesh, is a minor hiatal hernia, which many people tolerate without ever suffering from any pain, and slightly raised stomach acid. Eventually, he suggests, Myles will outgrow the excruciating interludes completely.
It's the good news we'd hoped for. We've dodged the bullet. Just a stomach ache. My irrational fears have been soothed once more, and I will myself to be patient until the day we say goodbye to these episodes altogether. Hopefully this is the last time we see the inside of an Indian hospital. Or any hospital.
I don't consider how bad the outcome could have been until the next morning when I pull the blankets off my son's sleeping body and wait for him to stir. Short-lived relief bolsters me for another day.
•••
JON MAGIDSOHN, originally from Toronto, Canada, has been featured in The Guardian, The Bangalore Mirror, Brevity, Hippocampus, Full Grown People, Chicago Literati, and currently publishes three blogs. He's also written about fatherhood for dadzclub.com, The Good Men Project and Today's Parent magazine. He has an MA in Creative Nonfiction from City University, London. Jon's memoir, Immortal Highway: Songs From the Healing Tour, is currently crowdfunding toward publishing in September, 2015.  Rewards include a copy of Full Grown People: Greatest Hits, Volume One. www.jonmagidsohn.com