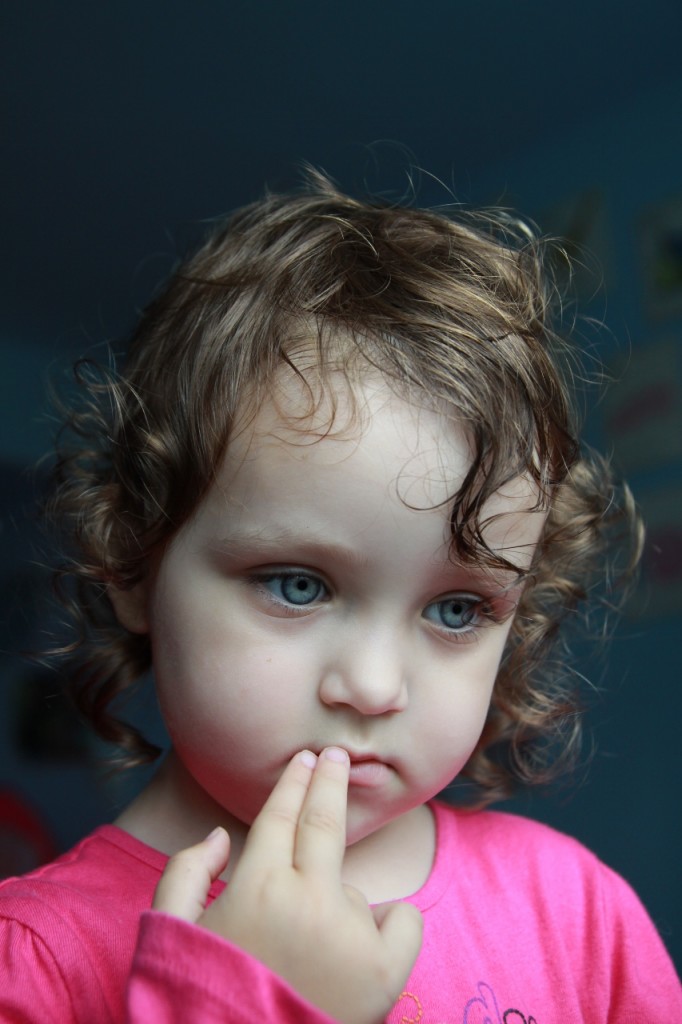 By Amy E. Robillard
He cuts off my bridge piece by piece and I can feel the spikes in the places where my front teeth used to be and I can't look him in the eye and we can't make small talk because I can't talk but even if I could talk, what could I possibly say? With spikes in the places teeth are supposed to be, a person is not a person anymore. I'm no longer intelligent or self-confident or smart or funny or a professor or a wife or a sister or a friend. I'm someone you couldn't bear to look at, someone whose eyes you couldn't bear to meet.
"What happened to the tooth in the first place?" he asks me early in the three-hour session.
"Bad dental care when I was a kid." I wish I could lie convincingly and say that there'd been an accident. It was my birthday and I'd gotten a brand-new Huffy bike and I was so excited as I was riding it and showing off and waving at my beloved family that I rode right into a parked car and knocked my front tooth out. We'll never forget that birthday! She was just so excited about her new bike! But no, my story is much more banal and far more heartbreaking. My mother never took me to the dentist and the sugar wore a hole in my front tooth. White fillings could only go so far to cover it up, so eventually a dentist told me that my best move would be to do a bridge.
And so here I am twelve or so years later, age forty-one, having my mouth prepared to get a new bridge inserted. The technology has come a long way, my dentist tells me. There won't be any more silver backing. All porcelain. Nice and white and shiny and new. "Do you drink a lot of coffee?"
"Some," I say. "Not sure if you'd call it a lot, but I drink it every day."
But before that, we've got to cut off the current bridge in order to make impressions, and I'll go home today with a plastic bridge. No corn on the cob for the next two weeks.
My jaw hurts from being held open for so long. I can feel the sweat beads rolling down my back. As the drill is going, water sprays on my face, on my forehead, and it's dripping down from my mouth onto my neck. Every once in a while he takes a towel and wipes my mouth for me. Oh, the indignity! My hands are clenched, my entire body is tense and he tells me to "turrrrrrrn" toward him. I wonder if he says that in his sleep. Can't he just tell me to turn toward him? Does he have to stretch out the word like he's speaking to a three-year-old?
In between drilling and cutting and pulling off pieces of the bridge, he actually does go and talk to children who I imagine can't be much more than three. He tells them what a good job they've done today, asks them about school starting in a few weeks, and gives them a basket from which they can choose a toy. You can choose a ball or a bracelet or a dinosaur. I try not to perform a mental critique of the gendered choices because I'm lying back with spikes instead of teeth. I'm not smart or critical in this position. I'm just a body. I imagine what might happen if the power goes out and I'm stuck with these spikes instead of teeth and there's nothing he can do for me. He'll tell me to go home, to eat soft foods, and he'll call me when the power comes back. I wish I had better control over my thoughts. They're not helping. Meanwhile, he's busy cementing positive associations with the dentist for these small children who will never have to lie back in a chair while a dentist cuts off the bridge they've worn for twelve years because their natural teeth rotted out of their heads. "Good job, Brynn," he says. Then I hear him walking back toward me. He knows I've heard him over there with the children. But what is there to say? Except "turrrrrrrn toward me." And I open my mouth again and my jaw still hurts and it wants to crack but I can't open it wide enough. The water from the sprayer and the rubber from his gloves make things slippery. I close my eyes as his hands come toward me, open them when light seeps through. Close them again when I see the drill in his hand.
"Do you have a pacemaker?" he asks me.
"No." One thing I can be proud of: my heart hasn't quit on me yet.
He asks because he'll be using electricity to solder off pieces of my gums. I want to say something about the smell, how I remember that this is going to bring the smell of death, but I can't speak because he has his fingers in my mouth and I have spikes instead of teeth.
During one of the breaks I really have to pee, so with my mouth closed and a piece of cotton sticking out of my mouth, I make my way to the bathroom. I try very hard not to look at myself in the mirror. Just the cotton. That's all I see. When I get back, he asks if I'm okay. Yeah, I mumble. Just had to use the bathroom. "I try to tell people not to look in the mirror during this process." Finally, something I did right!
"I didn't," I say. "All I thaw wasth thisth cotton."
I gag when he puts the goop in my mouth to make the first impression. He's put way too much goop on the tray and it's all over the inside of my mouth and I'm using my finger to swipe some of it out but it's bad. "You're a gagger," he says.
Why, yes I am. I nod.
"Mmmhmmm." And then I imagine that he's imagining that I must be no good at blow jobs since I gag so easily and then I'm ashamed to think that I've assigned this thought to him and the shame, it threatens to eat me alive and it's all I can do to close my eyes and try to imagine that I'm someplace else. It's not working because I have spikes where my teeth are supposed to be. I can feel them with my tongue and I form a mental image and just as quickly try to erase it. We see with our tongues almost as much as we do with our eyes.
He examines the impression. It's okay, but not perfect. He wants it perfect, so we do it again. This time he'll put a little less goop because I'm a gagger.
From the back of the office I hear, "Mommy will go first and you can watch. Brendan, you're so brave!" And I think about my mother with her false teeth. The time we were at the beach. She was in the water, bouncing up and down in the waves and for a minute there it looked like she was going to lose her dentures. But she caught them just in time. Mommy will go first and you can watch.
When it's time to choose the shade of white for the new bridge, he has me hold up a mirror (the plastic bridge is in place by now). He says he really likes the white of the plastic bridge, that it brightens up my smile and that if it were his mouth, he'd go with that shade. It's hard to exercise agency in such a situation. I have nothing to do here but trust him. He says we can whiten the bottom teeth to match, but if he were going to err, he'd err on the side of whiteness. I take a deep breath and agree. He asks again if I drink a lot of coffee. This time I just nod.
The visit lasts three hours. During that time at least four different children have had their teeth examined by my dentist in between his cutting and soldering and drilling and asking me if I'm okay. When I get up to stretch, I'm exhausted. "You were a real trooper today. The next visit won't be nearly as long."
I muster everything I've got so I can perform confidence with this man who has just seen me with spikes instead of teeth. And I think about how he is the only person on this planet allowed to see me that way. Steve wouldn't love me anymore if he saw me like that. I imagine it's an image that's hard to shake. I'm standing and looking the dentist in the eyes and he takes a towel and tries to get some of the goop that has stuck to my chin and neck. His eyes are kind. He eventually stops trying and tells me I can go use the mirror in the bathroom to get it because he doesn't want to hurt me. I tell him I'll take care of it in the car.
I imagine him telling his wife about me, about how he felt shame for me as he cut out my teeth. I imagine that a case like mine makes him feel good about himself, that he's doing good for people, that he helps them. I imagine myself as an object of both his pity and his pride and there are no holes deep enough to bury my head and I honestly can't think of anything more shameful than bad teeth. Because bad teeth means not that you did something bad but that nobody cared enough about you to love you in the most basic of ways.
•••
AMY E. ROBILLARD is an associate professor of writing and rhetoric at Illinois State University, where her favorite course to teach—the one on the personal essay—garners the most enthusiastic responses from students. She and her husband are the guardians of two very special mutts, one named Wrigley and one named Essay.