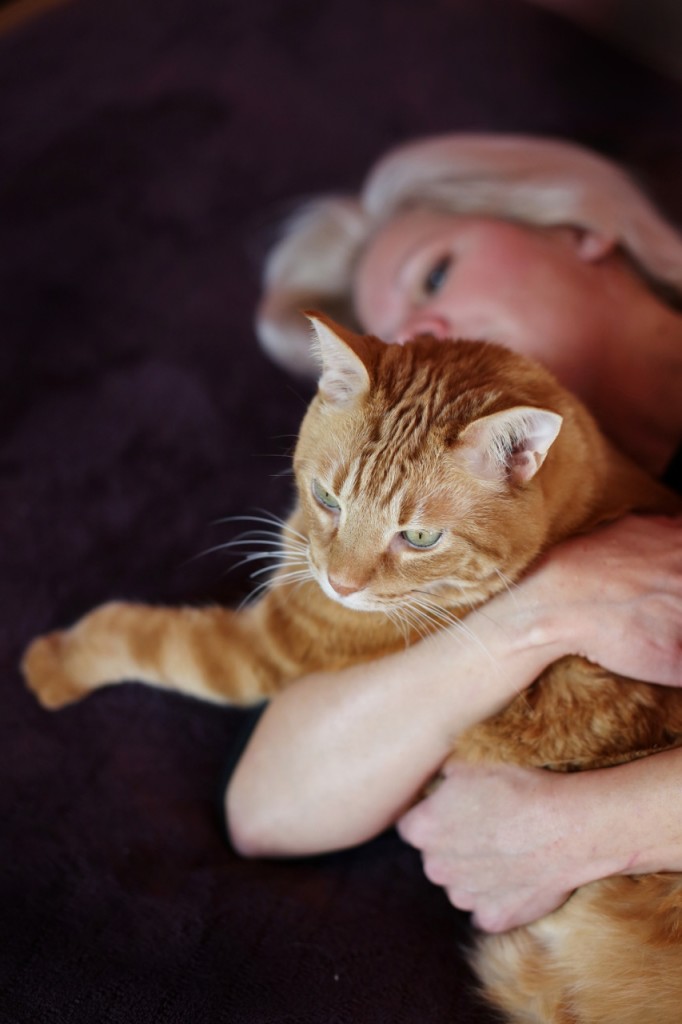 By Joelle Renstrom
"When are you going to have kids?" my younger sister asks at our family holiday dinner after her third glass of wine. Her drunk voice has a resonant timbre no one at the table can ignore. My aunt, uncle, cousin, niece, mom, and brother all look at me.
"I don't plan on having kids," I say. Maybe it would be easier if I got a tee-shirt announcing this, or if I tattooed it on my forehead. A face tattoo is what I've always likened to having kids, anyway—you better be sure you want it because it'll be front and center your whole life.
"That's so sad," she says. "I want more nieces."
That's when my oldest niece, who's currently a sophomore in college and identifies as a feminist, jumps in. "It's not about you," she says. "And it's not sad."
I let the two of them go at it, grateful that my niece has the energy to take up this conversation. I've had some version of it with friends, my boyfriend, and myself, more times than I can count.
But I understand where my sister is coming from. Our family is shrinking. My dad died a few years ago, and my aunt died shortly after Christmas; my other aunt and uncle are over eighty. My brother's kids are fifteen and eighteen. During the holidays, there's a distinct lack of youthful energy—no one's too excited to sleep on Christmas Eve, no one believes in Santa, no squeals echo through the house. I'd love to have some kids running around—I just don't know that I want them to be mine.
As my sister and niece squabble about cultural expectations, my cousin turns to me and says, "That's one of the upsides of getting older. People eventually stop asking." She's fifty and childless, in part for health reasons. I secretly envy that having a baby has always been a nonstarter for her.
I, on the other hand, make a habit of lying awake at night wondering whether I'll wake up one day in my fifties and regret not having kids. Wondering what not wanting to have a baby means about me.
As much as I want to be present for this family dinner, I descend into the place in my brain reserved for my baby ambivalence—the place that has perfected various ways to beat myself up for my indecision.
•••
On paper, the arguments against having kids are straightforward and compelling.
No more travelling—at least, not the way I like to do it, backpacking for weeks with half-formed plans doing things that would terrify my mother if she knew. I stay in hostels and show up at bus stations ready to decide where I might go next based on departure times, ticket costs, or the sound of a destination name. This freedom changes me by pushing me into a new paradigm—in my home life, I'm not nearly so flexible, and traveling reminds me of my own soundness and strength.
A kid could eventually travel with me, albeit with some logistical alterations. My wanderlust was born during a family Christmas in London when I was twelve. I walked around agape, never noticing the drizzle, not even caring about the walking cast on my right foot. My dad, who socked away money in his desk drawer for family vacations, got as much pleasure from watching me respond to the trip as he did from taking in the sights himself. The travel bug is one of the greatest gifts he ever gave me, and I can imagine how fulfilling it would be to pass it on. But that experience exists only in a parallel universe somewhere, light-years away from here.
It's the freedom I fear I can't live without. No more spur-of-the-moment drinks after work, no more eleven at night electronica shows on a Tuesday, no more spontaneous thirty-mile bike rides. No more locking myself away writing all day—at least, not for a long time and probably not without guilt. Even though the absence of these possibilities might be relatively temporary, and even though I might start making other choices even if I don't have kids, being stripped of the freedom would likely send me spiraling. I don't do well when I feel trapped, even if the situation is of my own making.
But sometimes I ask myself, even when I'm gathered around a table on a Friday night with friends, whether this is what my life will be like forever. What would be wrong with that? The question itself implies there's something in undesirable about that scenario. Sameness scares me—what if, despite my freedom, I get bored? Or what if I forget how to use that freedom, or get too old to take advantage of it? One aspect of having kids that both appeals to me and terrifies me is the structure that they impart on the foreseeable future, the parental phases that parallel the phases of their kids. Nothing about life stays the same—that's one of the few guarantees with kids, for better or for worse. There's almost always an answer to the question "what's next?" But if there's always a relatively proscribed next step, then we're back to that lack of freedom problem again.
The freedom conundrum is just the tip of the iceberg. There's the money (or lack thereof), my fear of being pregnant and giving birth, my chronically tenuous job situation, and my anxiety about what raising a child and will do to me and to my relationship with my boyfriend. In the bigger picture, my worries about the possibility of a future technological dystopia make me question how I could help a kid navigate the future and whether I even want to do that to a child. (I teach a seminar on artificial intelligence, so I find myself going down that path fairly frequently). Aside from technology, there's overpopulation and resource depletion. Even though my mom says I'm the type of person who "should" reproduce—a somewhat troubling concept in itself—the world doesn't need more people, even if they're mine.
While these reasons are all obvious and legitimate, the ones revolving around the future of the planet are the only ones that aren't inherently selfish. As serious as dwindling resources might be, or as terrifying as it is to think about raising a child in an Orwellian world, my recitation of those reasons ultimately becomes selfish too, since I'm using them to support such a personal decision. If I'm so concerned about those factors, shouldn't I just built a yurt and go off the grid? It sometimes feels like a cop out to recruit big-picture justifications for not reproducing.
Perhaps the Pope is right that not having kids is selfish. Every parent makes sacrifices, including mine.  Every childless adult does too, to some extent, yet I can't—or don't want to—imagine my life without all the pleasurable activities and adventures I'd have to give up if I had kids. But isn't the experience of having a child arguably the grandest adventure there is? I want to try everything, so how can I leave this life without having a child? The truth is that I'm more interested in continuing to what I want to do than I am in the adventure of parenthood, which makes me feel like a shallow hedonist. My boyfriend, who has a nine-year-old son, says the selfish thing would be to have a child if I don't really want one.
My boyfriend is ambivalent about our having kids too, but it's different for him. He already has a kid, which certainly takes the edge off, and he's male. I wish gender didn't matter so much, but it does. If I could be a father rather than a mother, I'd be more likely to have kids. Such a statement is rife with cultural expectations I'd like to ignore or buck, but the role of a father is much more appealing to me. My own relationship with my dad contributes to this view, as does physiology—I'd rather my partner get pregnant, give birth, breast feed, etc. Regardless of how illogical or fraught with gender norms and nostalgia my vision is, if I had to be a parent, I'd want to be a father to a little girl. That's not particularly helpful when it comes to making my decision.
Most of my current circle of friends used to belong to the "not going to have kids" club. It was liberating to express this preference in like company. In staking our claim to all the good times of untethered adults, we sealed an implicit pact not to succumb to cultural expectations and norms and to chart a course free of diapers, feedings, puberty, and all the rest. Most of my other friends were far more adamant than I in their unwavering desire to remain childless. It's kind of like the difference between being agnostic and being an atheist—the latter suggests a certainty I don't have. But I admire those who are more outspoken and certain than I am, especially if they're women. I feel relieved and legitimized—either nothing's wrong with me after all, or whatever's wrong with me is also wrong with them, which at least puts me in good company. People I respect, and people I don't regard as selfish are making the decision I'm making. Or at least, they were.
Most of these friends, no matter how resolute they once were, have either recently had kids or are about to. What changed? They shrug, as though sheepish that all those people over the years who said, "Trust me, you'll change your mind," were right after all. I envy their change of heart because it frees them of ambivalence. I envy their new sense of purpose, which suddenly feels far bigger than scouting airline ticket prices and deciding whether bungee jumping or paragliding will be the next big adventure.
My closest friends apologized when they told me they were pregnant, as though they had violated our friendship. They assured me it wasn't planned, as though that mattered, and tried too hard to explain how shocked they were and why this ultimately was a good thing. One of them said something about not living the rest of their lives "like overgrown teenagers." Is that what I'm doing, I wondered? I work, I pay my bills, I participate in the grown-up world, even though I also drink like a fish, stay up too late and can't refuse a dare. What's wrong with living like an overgrown teenager? And if there is something wrong with it, why is having a kid the remedy?
I envy people who unexpectedly get pregnant and are suddenly thrust out of indecision. At many points in my life, I've said, "I'll let the universe decide what happens next," accepting my lack of control and acknowledging that generally, life plays out as it should. But the universe may not decide this for me, and if I wait too long, I will have made a default decision anyway—perhaps ambivalence is a timid no. I can remain uncertain for the rest of my child-bearing years, but if the associated anguish compares to what I've felt for the past couple years, that could be the worst outcome. Since I have no plans to get my tubes tied, it seems the only remedy for my ambivalence is to take the plunge. But just as a coin flip can reveal one's true feelings, this line of reasoning gives me the cold sweats.
My sister's comment irritates me in the same way I'm annoyed by all the people who assure me I'll eventually have kids. They suggest this is something I should want, that not wanting to have kids would be unnatural. I'm thirty-seven. Tick tock, they say. The whole concept of a biological clock bothers me, more because of its cultural implications than anything else. Yes, there's a physiological timeline when it comes to pregnancy (though that window has gotten bigger and bigger), but the idea that a woman should be possessed by this urge and get pregnant—probably after finding a husband—bothers me, as though she's not a real woman if she doesn't have this desire. Maybe I could get away with it if I was a movie star. When I was twenty-five and living in New York City, I felt disconcerted about rounding the corner on thirty, but also overjoyed that I still had a decade before I had to decide about kids. That decade was supposed to bring the realization that I wanted them. I'm still waiting.
Here's the rub: I want to be someone who wants kids. I can't seem to get past that. If I could take a pill to induce the desire to reproduce, I would.
•••
After we got home from dinner, my mom and I went back to her house, the house where I grew up. Later, I sat on the back deck and watched the effortless way that stars light up the Midwestern sky. I could see the light in the kitchen—the same light I saw flick on at five in the morning on the first truly epic night of my life when the boy I'd been in love with all summer finally kissed me while we sat at the picnic table.
Back when I was growing up, I never really thought about whether I wanted kids. Like everything else about adulthood, it felt too far off to warrant consideration. Yet it's in the house where I spent my childhood that I am most challenged by the reality that I may never want or have kids. When I come back to visit, I stay in the room that was mine as a kid. My dad built the dresser and the shelves. The bulletin board on the wall has relics tacked to it—a picture of me meeting Hillary Clinton in high school, awards, hockey ticket stubs, a flag from the golf course my dad took me to for an unbeatable view of a meteor shower.
After I went to college, he used my room as an office, adding his stuff to mine. Our keepsakes belong together. I think about how satisfying it must have been to see me grow into a person who enjoyed so many of the same things he did, how much fun it would be to watch your child's brain develop. I remember the first time my niece followed multi-step directions. She wanted a puzzle, which my brother told her was on the second shelf of the closet in his office. She listened with her eyes closed, visualizing what she needed to do to get the puzzle, and then she did it. I saw the gears turn—perhaps the only more exciting moment for me was when she learned to rhyme.
In the bottom dresser drawer I recently found a little book I made in 1989, when I was eleven years old. It's called "My Life in 2014," and it illustrates what I imagined my life would look like in twenty-five years. I envisioned myself as a marine biologist who worked closely with dolphins and whales (a recent trip to Sea World had made quite an impression). The book doesn't mention a husband or kids. I have no memories from childhood of wanting children, and if I could go back to that state now, I would. I liked dolls for a short time (I grew up in the Cabbage Patch Kid era), but never pretended they were my babies. I had a thing for animals, and still do—my cat appeals to me far more than a kid does. I dote on her and worry about her, but she doesn't mind too much when I travel or go to the bar after work—after all, she poops in a plastic container.
Over Christmas, I found in the closet a shoebox full of sentimental bits from Dad's childhood—rocks he'd collected, buttons, a little picture of a deer he'd made from hammered tin. I had seen all of these keepsakes before, but this time was different. I imagined my dad as a boy, his little fingers picking up rocks and depositing them in his pocket. Him working with a mini hammer, making something as innocent as a deer. He was a little kid once, which isn't a revelation, but picturing him as a kid, as the creature I don't think I want, stops me short. I wouldn't be here if not for that little kid and who he became. The photos of my dad as a baby have new resonance; I'm glad his parents weren't ambivalent.
When my dad was dying, there was one particularly horrific night in the hospital during which the cancer in his lungs made it difficult for him to breathe. Every forty-five minutes or so he'd struggle so much that he'd induce a panic attack, which made it even harder to get his breath. He'd grasp at the sheets and look around frantically, gasping. My brother, sister and I held his hands as the attacks came on. We locked eyes with him and we breathed with him, long and slow until his breath returned and his heart rate slowed to normal. Sitting there with him, it occurred to me that this is the point of having kids. To be able to look at someone and think, I helped make you. I helped bring you into the world, and you're helping me leave.
When my dad died, I realized how much of my identity revolved around being his daughter. My brother has a different biological father, though he never had another dad; my sister is adopted. I'm the only one with my dad's blood, the only one with his genetic legacy. If the Renstrom blood line is to continue, I have to have kids. This isn't a good enough reason by itself to justify having children, but I return to this thought again and again. I'm a big part of what my dad—my hero—made in the world. What if I could make someone who would be a hero to someone else? What if I could make someone who found meaning in holding my hand when I die?
I have no answer to those questions. I don't know what it would feel like to have an answer, and I don't know what it would feel like to accept that I'll never know. All I do know is that the only person I want to talk to about this is my dad. I want him to tell me I don't need to have kids to be a legacy he's proud of leaving. I want him to look at me the way he did when I was twelve years old and hobbling across the London Bridge—like the world was my oyster, that I should see as much of it as possible. Yet at the same time, as I look through my dad's old photos and keepsakes, I think about how no one had any idea about me back then. No one knew that every piece of art, every rock collected, every baseball card filed away, was bringing him one tiny step closer to me. And I wonder who will look through my shoebox, my photos, and my keepsakes and think the same?
•••
JOELLE RENSTROM's essay collection, Closing the Book: Travels in Life, Loss, and Literature, explores the intersection of life and literature. She also maintains an award-winning blog, Could This Happen?, which examines the relationship between science and science fiction. Joelle teaches writing and research with a focus on space, artificial intelligence, and science fiction at Boston University. Links to her work and book can be found at www.joellerenstrom.com/