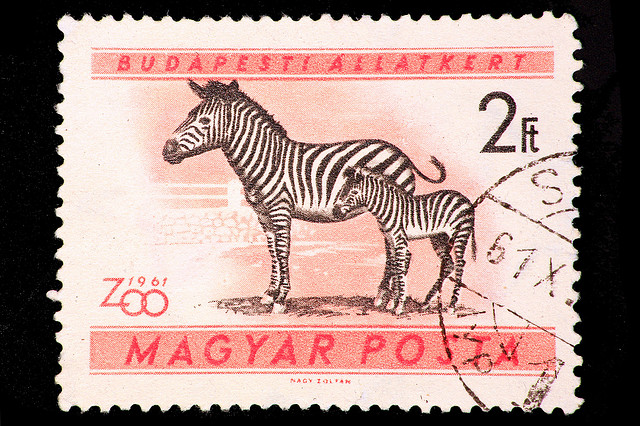 By Zsofi McMullin
My twentieth high school reunion was held at a restaurant right across the street from my former school in Budapest. I wasn't sure why I wanted to be there so badly. I didn't love high school—who does?—but what's worse is that I barely remember it. I have no memories of, well, of anything really from that time, except for one boy I had a huge crush on for four years.
But this story is not about that.
I was repeating the tale of what I've been up to for the past twenty years for about the fifth time that evening—this time to a former teacher—when he asked me, "So, did you just decide one day to move to America?" At first I wasn't sure why the question shocked me. But then I realized that it was because it assumed that there was a decision involved, a moment in time when I said "no" to staying in Hungary and "yes" to becoming an American.
But really there wasn't. My trip to America wasn't driven by war or famine, by financial difficulties, or political unrest. I didn't have to come to America. And I certainly didn't have to stay.
I was eighteen when I came here and, looking back, it's hard to imagine how I had the courage to do this. Actually, it's hard to imagine how my mother had the courage to let me go. She worked at the American Embassy in Budapest and when the question of college came up in my junior year of high school her colleagues encouraged me to apply to American schools. I am sure my parents thought about and discussed the pros and cons of sending me off to another continent. I am sure. But I don't remember my own thought process, my actual decision about going ahead with the plan. And even if there was a decision, I certainly never considered the possibility that it would have an impact on my life twenty years later. You just don't think of that when you are eighteen.
Mountains of paperwork, a full scholarship, and a trans-Atlantic flight later, my mom and I were driving through the woods of Pennsylvania to the school where I would spend the next four years. We spent the night in my new dorm room drinking iced tea from the vending machine and arranging furniture. My mom left me there the next day and after she drove off, I went to the bookstore to buy thumbtacks for my new posters.
My one-year scholarship turned into four years. Graduation turned into a job. My job led me to my husband and marriage. Pennsylvania turned into Maine and Connecticut. Jobs, a child, friends, a life.
And now, twenty years later, in that half-lit restaurant in Budapest, I realized that I have become an immigrant. I don't even like to call myself an immigrant. That word to me somehow means desperation, flight, the life of a fugitive. I became an immigrant just by living my life, doing whatever comes next.
•••
When we arrived in Budapest just a few days before the reunion, there was nobody there to greet us at the airport. My parents moved to the U.S. a few years ago, and so they weren't there to pick us up or drive us around during our visit. With no close friends or relatives, we were left with a grumpy taxi driver who gave us curious glances hearing me speak Hungarian to my son and English to my husband. We were tourists.
If you didn't know me, you would never guess that I am not an American. I don't have an accent. I write and dream in English. The pull I feel to my homeland is invisible to everyone else. It's a faint tugging feeling in my chest, something empty and burning. I go through life, day by day, even feel happy most of the time. It's only when I am quiet that I get that uneasy vibe, that feeling that something is not quite right. Something is out of place.
Whatever. Move on.
There is a life to live, things to do. No time to wallow.
I assume all immigrants feel this no matter why they are away from home.
The cruel thing about all of this is that going "back home" does not make you feel better. Suddenly you are a stranger not in one place—your new, chosen land—but two places.
The first thing I did after booking our plane tickets to Budapest was to buy a map of the city. It's stupid really, because I know—or used to know—the city and its streets by heart. As a teenager I went everywhere by myself—on trains and trolleys and buses.
But suddenly I felt unsure about whether I would find my way from the hotel to the metro station, to the store, to my old high school, to a friend's house. It was all unfamiliar territory and, like a tourist, I stood on street corners with this little crumpled map in my hands, drawing lines with my fingers from street to street.
Of course, it all came back after a day or two but with a sense of strangeness at every corner: I tried to pay with a bill that's been tucked in my wallet from our last trip, only to find out that it's been out of circulation for over a year. Bus stops have moved. Shops closed. Neighborhoods fell and rose. Buildings crumbled. There were new parks and fountains, coffee shops, hip bars.
People have moved on. It was hard to find things to talk about with my former classmates and not just because so much time has passed. I couldn't really imagine what their lives were like and I assume they felt the same. There were the inevitable questions about America: "So, does everyone really own a gun?" And there were the personal ones about how much money I make or what kind of car I drive—both very American pursuits to the outside world, I assume.
And despite all of that—the feeling of being a stranger in your homeland, the loss of friends—there is a comfort to being "at home." Old reflexes return, memories surface, the empty, burning feeling of homesickness is suddenly gone when I am on the streets of Budapest. I have no reason to feel at home, yet I do. And more than just feel at home—it all feels right. Settled. Comfortable.
•••
My late grandmother's apartment in Budapest had a long, narrow hallway leading from the front door to the living room. One the left side of the hallway was the kitchen, a wall with a mirror and coat hangers, and a smaller hallway leading to the bathroom. On the right side of the hallway were three floor-to-ceiling cabinets.
It was a tradition during my childhood that my parents and my grandma would harvest the fruit growing in the garden of our summer cabin, haul it in big wooden crates to our apartment in Budapest, and make jam. For a few days each summer, our small kitchen would smell of apricots or plums or peaches—whatever was in season. Jars boiled in huge pots on the stove, and the floor was sticky with the juice dripping from our fingers as we peeled, sliced, smushed.
Once sealed in jars, most of the jam would make its way to my grandma's apartment and to her pantry cabinets for storage. She would bring a jar or two with her every week when she came to visit, or she'd use the jam for baking.
When she died last year, her cabinet was still full of jars—carefully labeled with a mysterious system of letters and numbers. For example "08P" might mean plum jam cooked in 2008. On some jars, the writing faded and only after carefully removing the tight lid would we be able to tell what the jar held—the color of its contents darker with age, but the scent of the fruit still potent and unmistakable. Ah, apricots! Is this cherries, maybe? Let's taste it.
On a recent weekend we were sitting around the breakfast table with my parents, my brother, and my son. This particular breakfast table happened to be in Maine, a world and lifetime away from the summers of jarring jam in Budapest. But there they were: two jars of jam that my parents brought with them when they cleaned out my grandma's apartment. One jar of apricot and a jar of cherry and sour cherry mixture.
My son preferred the sugary, sickeningly sweet grocery store jam. But the rest of us used long spoons to carefully spread grandma's jam on buttered toast and savored every bite.
I couldn't help but think back to the person I was at eighteen—to the people we all were twenty years ago. When my grandma tightened the lid on these particular jars just a few years ago, she already knew that her son and grandchildren would be eating it somewhere far away.
But I didn't know how much it would taste like home.
•••
I think that when people say that America is a melting pot, they don't actually mean it. It's not a huge vat of gooeyness that's all blended together, uniform, smooth. It's more like a tossed salad—chunks and bits and pieces of this and that thrown in. It's easy to fit in—it's just as easy to stand out. I think that most of us immigrants alternate between those two options—embracing what makes us different, but just as happily disappearing into the crowd.
I have to admit that there is some comfort in the limbo I feel when I am trying to decide where I belong. I can be a bit exotic, a bit different, slightly off-kilter and blame it on my Hungarian-ness. I wonder if this is what I have become, if this is my "thing" now: being different, being from nowhere and everywhere, being two people in one body. Should I let it define me?
But maybe that is the lovely thing about America: no definitions needed. I can be defined by my memory of cobblestoned streets, jars of jam, first kisses along the banks of the Danube. I can also be defined by the life I built here out of nothing really, just the two suitcases I brought with me twenty years ago.
I had hoped that as the anniversary date of my arrival in the U.S. gets closer this summer I would feel more settled with my American-ness and less conflicted about the eighteen-year-old me making this huge decision without realizing what she was doing. But maybe it's time to embrace all of it—the homesickness, the uncertainty, the double life.
Maybe it's time to plant some trees and start making my own jam.
•••
ZSOFI MCMULLIN lives in Connecticut with her husband and son and blogs at http://zsofiwrites.com. She's a regular contributor to Full Grown People.