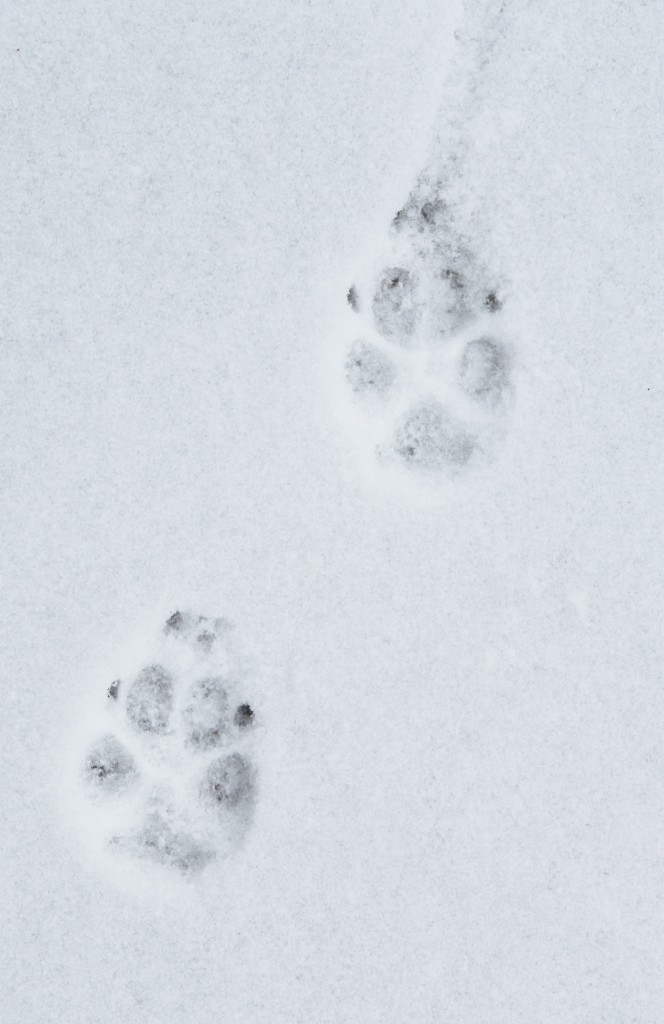 By Elizabeth Kavitsky
I moved when the birds flew away, when the squirrels had planted their meals in the dirt, and the trees shook off their skins. It was the beginning of my twenty-third winter. I packed unwashed clothes into a suitcase while my parents were at work. Suddenly I lived in Delaware, with my girlfriend Jen and her dog, Tubby.
Tubby did not belong to me at first. He was only my girlfriend's dog. He was just a shedding thing who interrupted our kisses. I watched her play with him, jumping up and down, both smiling, as the floor squeaked and his mouth gummed her arms and his orange fur fell into the air and her long curls flew around her shoulders. I loved her.
One morning, Jen tried to put drops in Tubby's ears. She coaxed him sweetly, petting him. His ears went back and his eyes closed in happiness. She grabbed the drops and stepped towards him, still speaking carefully. He saw the bottle and hid behind me. Tubby looked at me, and his eyes, a deep, sad, amber-brown, asked me to protect him. I stood still, not allowing Jen near his quivering body; his trust came so suddenly.
I started to walk him in the morning after she went to work, the ground freezing with winter. We walked across dark asphalt and around traffic, far from the apartment, to find a spot with grass and gnarled plants. Waddling from arthritis, he spent most of his time sniffing the ground, making no noises, except the occasional sneeze. I began to talk to him. Mostly about nothing. Then I spoke about my morning, my worries. I asked him if Jen would be safe and come home to us. I told him that I was scared I would not find a job, or even worse, that I would.
The weather darkened the mornings, and my fingers became red and numb in the chill. I searched out two pairs of gloves and wore both sets at the same time. He watched me as I layered my clothes before we ventured out. If we managed to leave at an early enough hour, I would sing to Tubby, knowing no one else would cross our paths. I couldn't tell if he noticed my song.
Inside the apartment, I sat on the couch with my computer, my legs folded beneath me. He watched me. I didn't have food, yet he came near me to be touched. He fell asleep with his head on my slipper. If I got up to wash dishes or to make lunch, his amber eyes watched me go, and his ears stood alert for my return.
One night, the sun was setting early and it was dark at seven. I stared at the ground, as I always did when we walked. The grass crunched under my boots. Suddenly I stopped. There was a form before me—a squirrel, dead in the brown grass. The night made its fur glint black and its eyes glow. Everything turned still. I shivered and pulled Tubby out of its path. He was uninterested. Streets and fences and the grass darkened, the world black except for the eyes of the corpse. I wanted someone to run to. I didn't want to tell Jen. I wanted to seem strong. I was alone in my fear.
Snow started to fall too often, covering Tubby's grass. His paws gathered ice when we walked. I wore layers that made me round and genderless. With every footfall, I wondered what would happen if my booted foot stepped on the squirrel, buried under six to eight inches of hardened snow. On the way back, I followed my old frozen footprints because they were safe. Tubby sniffed the fences and made new prints.
•••
One week, the snow stopped falling and everything began to drip. I saw the squirrel, dead and asleep, gnawed and frozen. I made a note of its place in my path—past the first tree but before the bend in the fence. I walked every day with Tubby, avoiding the squirrel, sucking in my breath as we came near it, breathing out hot air when we passed. Tubby walked back to the apartment slowly—he pretended he was old and sick. I knew better. I had seen him run, towards the hidden grass, beyond the buried squirrel, towards the fresh air. He did not notice death. He was never afraid.
Jen left our bed every day at seven a.m. to go to work. It was hard to let her go. I woke up wrapped in our pink sheets, her smell lingering next to me. It escaped as soon as I tried to breathe it in. I fell back into dreams, listening to the sound of hot rain pelting the white tub. She kissed me awake. I felt her breasts against my skin as she bent over, pale and soft and warm and dewed. Her hair flew around her shoulders, and I could smell the sweet shampoo. I pulled her close. One more kiss and she had to leave, to dress herself and drive through the cold to a tall building full of things to do. Some days I cried. I needed her and was left in an empty apartment. I was left to look for jobs online. Left to write. Left to take care of the dog. Some days I begged her to stay home. I knew we needed money, but some days, I did not care.
In my first grown-up winter, I did not think I would get used to solitude. The sounds of the apartment scared me, the banging of the heat adjusting, the ticking slats of the blinds nudging each other, the refrigerator making ice cubes. I tried to fill the place with television sounds, familiar voices booming from another place. I got lost staring at the white popcorn ceiling. I saw lopsided faces and dancing ghosts.
Nine months ago, my life was filled with tons of faces, buzzing, caring, laughing, and yelling. There was always noise. I could hear my college roommates baking bread and stacking dishes. There was always music playing in the apartments next door. I spent my parents' money on beer and mac and cheese. There were always assignments, parties, meetings—always things to be done and I was happy never to have time to be alone. Time in my own company was spent in the shower or behind my eyelids in a dream.
When classes finished, we waited for the day when we would put on cheap robes and end our college days in front of hundreds of satisfied eyes. I stared out of my bedroom window, watching summer burn the grass, and ran outside in a bathing suit to sit on towels with my friends.
Soon, I would be standing in the snow alone, helping my dog find the grass. When I found my way back to the apartment I shared with Jen, I took off my coat, my hat, my two layers of gloves, my socks, and my boots. I looked at my matted hair and red cheeks in the hall mirror. Tubby sloppily licked the ice off of his paws. I wanted to show Jen my snow-covered boots and my red cheeks. I wanted to hear her praise. She did not come back from work until the sun set.
•••
It kept snowing. The sky was always grey and the ground was always white. I thought the snow looked like freshly grated parmesan cheese. I wondered if I should give a more flattering name to this celestial gift. I eyed the frozen cars and slippery roads from under my blue hood. I felt my skin flush in the nineteen-degree air, through which thirteen-mile-an-hour winds jerked at me and the dog at 8:30 in the morning. I walked home on cheese-covered roads.
Most nights, I sat nuzzling in my girlfriend's lap, my head resting on her chest. Those types of evenings kept me standing. I longed for days where we sat around in oversized sweatpants and forgot about our empty bank accounts and frozen grass and the car with the broken headlight, and we simply lounged in one another's warmth, sleeping in our smiles. One Wednesday, she was home from work because of snow. The weekend winked at us. Jen's phone buzzed, jumping on the wooden end table. She picked it up, and her soft face tightened. Her uncle Brian was in the ICU. He had fallen and hit his head. He was unconscious and not breathing on his own.
Jen comes from a giant family with many uncles. I couldn't keep their names or stories straight. I thought about my own uncles. I hardly ever saw them. My love for them was through blood. Jen was different; she loved her family, but more importantly, she knew them. She carried great empathy for anyone, a cloak of understanding that she could wrap strangers in, strangers on television or in line at the grocery store or standing near the highway in the cold. She was upset, but in a redundant way, as if these feelings were so familiar they were stale. She was used to pain. "He…" she said, "he has never been the healthiest person."
I held her hand and kissed her and talked softly as she lied and said she was fine. She swallowed her fear and let it stick to her ribs. The day continued. I was happy to sink back into our relaxation. She liked to take her pants off at the end of the day and walk around in a baggy sweatshirt that barely covered her. She teased me as she walked. Her legs were long and pale and it was hard not to stare. I wanted to drink her and hold her at the same time.
As I walked our dog in the light that bounced off the sleeping snow, I worried about Jen. She silently let the hours pass after the phone call, without mentioning her own fears. I wanted to talk to her more after the walk. When I returned, my cheeks were red, and I smelled of frozen sweat.
As I took off my coat, my phone vibrated and blared my ringtone, a song by Young the Giant. Life's too short to even care at all… It was my godmother, who only called when there was bad news. Two years prior, the morning that my grandfather died, it was her booming, tearless voice that told me. She spoke purposefully. She spoke as if from a podium. Now she told me my father was taken from work in an ambulance. He was throwing up uncontrollably. He couldn't walk. He was sweating through his clothes. I felt very far away as I heard her explain: a CAT scan, an EKG, waiting on an MRI. They were admitting him. She would call me when they knew more.
She asked me if I was okay, if Jen was with me. I looked at the yellow walls of the kitchen that were marked and stained. Muddy snow melted from my boots onto the mosaic linoleum. My dad was sick. Tears flung themselves down my face. They felt unusually warm. Jen's strong hand was on my back.
She pulled me to the sofa in the living room and held me. I did not say anything. I tried not to cry. I hardened. A selfish thought was bobbing among my fears. If Daddy dies, I'll have to move back home. I hated myself. It was my dad, my dad. He was not supposed to get sick. He was not supposed to die. I looked at Jen, her galaxy eyes bright with sympathy. I told her I was sorry about her uncle.
I sat lying against her while Mame flashed on the television. I watched Mame over and over when I was a child. I knew Jen was only watching it with me because of my dad, but I took advantage. I watched Lucille Ball dance around and sing, and I breathed easier, and I waited. Mame was broke and trying to play "the moon-lady," missing her cue and freezing on stage in a frilly white costume, when my phone rang. Life's too short to even care at all…I'm losing my mind, losing my mind, losing control…
It was my mother this time. Her voice was soft and tired but filled with sympathy. The MRI was clean. My dad had stopped throwing up. They were still keeping him overnight, but they thought he was going to be fine. I breathed and crawled back to Jen. There was no reason for me to cry anymore. A smog of images started to dissipate…of my dead father, frozen like the squirrel, pale and cold beneath his grey mustache, my small arms trying to reach around my mother bent over in despair, searching for a black dress. I looked down at the dingy tan carpet…at the blue recliner with the broken handle…at my bare feet. "You can still be upset," Jen said, softly, stroking my neck.
•••
The following morning, I stepped out of the lonely bed and walked Tubby before my eyes were completely open. I stumbled along the half-snowed sidewalk, holding the leash with gloved hands and a scowl. I passed children waiting for the sight of their orange bus. Their mothers had bundled them tightly, and they kicked twisted stop signs and teased each other. I passed a woman warming up her car. I passed a man hunched over carrying a yellow plastic grocery bag.
I wondered what people thought when they looked at me. I wondered if they glanced or if they stared. Did they think I was a boy? My coat was zipped up beyond my mouth and my black hat covered my hair and forehead and the tops of my eyebrows. I wandered, formless. Only eyes peeked out of my clothes. I wondered if people were scared. Did they see the fat mess of a crumbling dog who could barely smell the weeds sticking into his nose? Or did they only see a Chow Chow, with its aggressive reputation and fierce disposition?
I moved branches out of my way instead of ducking underneath them. The dog walked me. I stood and stepped with his ignorant permission. I followed his footfalls…one/two…three…four. Slow, arthritic, half mad. I had to keep my voice positive, "Come on, BUD! Good BOY…" I had to stop him from running into the street where cars would run him down without looking back. I watched his back leg shake. And I drowned in guilt. No, we couldn't go that way. No. Even though you stood old and tired and did not have enough grass I could not let you go where you needed.
I tried to balance this dog on the edge of my finger like a glass figurine. My parents used to hold me up like this. They tried to keep me from looking at the ground where eventually we all crumble into fragments. I could see the ground now. Tubby teetered in my hands and I tried to be sturdy for him.
•••
Some mornings, life was perfect. I was in her arms and we were laughing at nonsense, and we forgot about our empty bank accounts and our brittle loved-ones.
My life was blissful and it also wasn't, and that was exactly like walking the dog. It was my choice to walk him, though I had no choice at all. I could feel the guilt and anger, or I could breathe in the sweet air of the trees.
When I moved in with Jen, my mother asked to see me at least once a month. She made Jen and me promise to visit on my godmother's birthday. This was the day before the Super Bowl, only a few days after my father was hospitalized with a fleeting storm of sickness, and my grandmother was just recovering from open-heart surgery. My godmother, Bobby, turned fifty-nine. I watched them all teeter in the air with my new, grown-up, eyes.
We turned into my parents' twisted driveway. We sat in the car, sweating in our coats, filling out birthday cards and tearing price tags off of a chocolate mousse cupcake. I looked at my parents' house. I felt older as I said those words. "Parents' house." Not my house. No longer my driveway, no longer my broken double door with painted gold handles, no longer my wooden spiral staircase. My parents had slowly stopped asking me to come "home," but instead to "visit." Whatever words she used, my mother still cried.
We walked inside and our boots squeaked on the marble floor. We gave presents and smiles and hugs. There was a new clock on the mantel of the living room. It was made of light stained wood. It was too simple—no numbers. Only a pattern of light and dark wooden dots told the time.
We sat on one of the giant corduroy couches, and our first official visit began. I sat next to Jen. Her coat covered her lap, and I leaned against her as we all talked. Bobby leaned back on the blue couch, her short white hair brushed high, her strong legs sheathed in jeans, her feet covered in thick woolen socks. Her eyes were quick behind her round glasses, and I saw as she tried to smile and laugh, even though she dreaded her birthday. We did not talk about it. My mother sat on the other end of the couch, her legs turned underneath her, wearing one of her unremarkable solid colored cotton shirts. My dad twitched in his chair; the springs had sunken in from his presence. He pulled at his grey mustache.
They talked, about the week, about the snow, stories that were mostly forgotten, movies mostly remembered. I listened as if I did not belong there and I did not know them. I drifted out and saw the wrinkles in their faces and their words. They seemed different.  Or maybe I was different. My mother paused halfway through her sentences while we waited in patient politeness. She cocked her head and asked me to repeat my words. Bobby talked deliberately, but became confused with names and stories. My father talked about his health. Bobby teased him, yelling at him from three feet away, "You are getting into the territory of old people! All you are talking about is your health!" My brother was still asleep in his bed, and it was almost two in the afternoon. My father stuttered in his defense.
I was twenty-three. I was living with my girlfriend. I had a credit card in my wallet with my name embossed in silver and could use phrases like "our apartment" and "our car" and "our bills" and "what should I make for dinner?" It happened all at once. I stood up straight, because all sixty-three inches of my bones were suddenly walking around alone. My parents were now made of porcelain and reading numberless clocks, and I belonged to a new family.
Somehow this was true. But it was also true that a few weeks before, I visited an urgent care center to be treated for bronchitis. I filled out the paperwork and signed my name and was just another coughing person. Unremarkable, just as I wished. A faceless voice called me behind tall double doors and I found myself in an expediting room. A man and a woman bounced around. The woman took my blood pressure and my heart pumped while the man asked how many drinks I had a week and if I smoked and what medications I was on.
The woman looked at me, braless under my sweatshirt, my hair short, sitting pale and patient, and asked me to verify my birth date. She apologized, saying she thought I was under eighteen. I was small again. I slumped down into my shoulders. Every day I took care of my family: my dog, my girlfriend. I walked through snow and tried to keep everything from crashing to the ground. But that nurse could not see that.
My mother crossed the living room to hug me. She began to cry. I asked her what was wrong.
"I just am having trouble understanding," she said behind the giant teardrops.
"Is it Grandma? Daddy?"
She shook her head and poked her small finger into my stomach. I realized she still missed me.  She missed me like a mother who sends her child off to summer camp for the first time. She wanted me home. And I knew she wouldn't stop crying when I left.
"Me?"
She nodded and cried harder. I held her close and patted her back. I was twenty-three, I was living away from home, but I was also an underweight baby, ignorant, sad, and waiting for the world. I tried to be like the wooden clock on the mantel. I tried to be without numbers.
•••
Two days later, I started early. I ate a breakfast of Special K Fruit and Yogurt cereal. I ate right out of the box, dropping some on my lap, my hand blindly searching for the sweet white bites of sugar. I made a mess, and no one could tell me not to.
I walked the dog before eight and we met no one on the road. Back home, the kitchen was still clean from the night before. I could not stop singing. The walls were thin and the apartment next to us was attached, but I felt alone. I sang "Danny Boy" and Cole Porter's "So in Love." I liked to sing songs where I could not quite hit the high notes. I sang in the bathroom to hear the echoes applauding me. I stood on the stairs. I walked slowly, feeling each carpeted step beneath my feet and breathing in my privacy. I peered over the banister, only to see Tubby staring up at me, brown eyes bright, wagging his tail as I sang "Danny Boy." He could not hear well. He could not walk up the stairs any longer. But he heard my singing and he looked up at me and I swear he smiled. But when ye come, and all the flowers are dying, if I am dead, as dead I well may be, ye'll come and find the place where I am lying, and kneel and say an "Ave" there for me… I sang as if it was a happy song. I sang as if I was both alone and in company. In each kind of singing, there were sweet notes of contentment.
As the weeks went by, whispers of warm air floated through Delaware. Vultures started to sunbathe in the mornings. The vultures were tall, black, bony women, wrapped in night-colored cloth, peering at me with apathy. I walked by them with Tubby, and they became familiar and comforting. One morning, Tubby and I passed two vultures that were sitting on the edge of a giant blue dumpster. I walked closer and closer, wondering if they would fly away, or if they felt safe in their flock. I soon found myself only three feet from being able to reach out and touch a black wing. I stared. They were beautiful. Their only movement was a slight turn of their heads. They looked near me, never at me. I stood in the world with my dog's head buried in grass and smiled at the undertakers. Their eyes were deep, their heads only shriveled grey skin, but sleek and strong. "Hello," I said. I kept walking, turning to look back at them. In that moment, I was nothing to them. I was too alive.
I grew up in my twenty-third winter. I stood alone and sang alone and remembered the true color of grass. Spring came as always. I watched the blades twitch in friendly warm winds. It was both a numberless spring and something new. Shadows melted away as the sun climbed.
•••
ELIZABETH KAVITSKY is a twenty-three-year-old student pursuing her master's degree in creative writing from Carlow University.