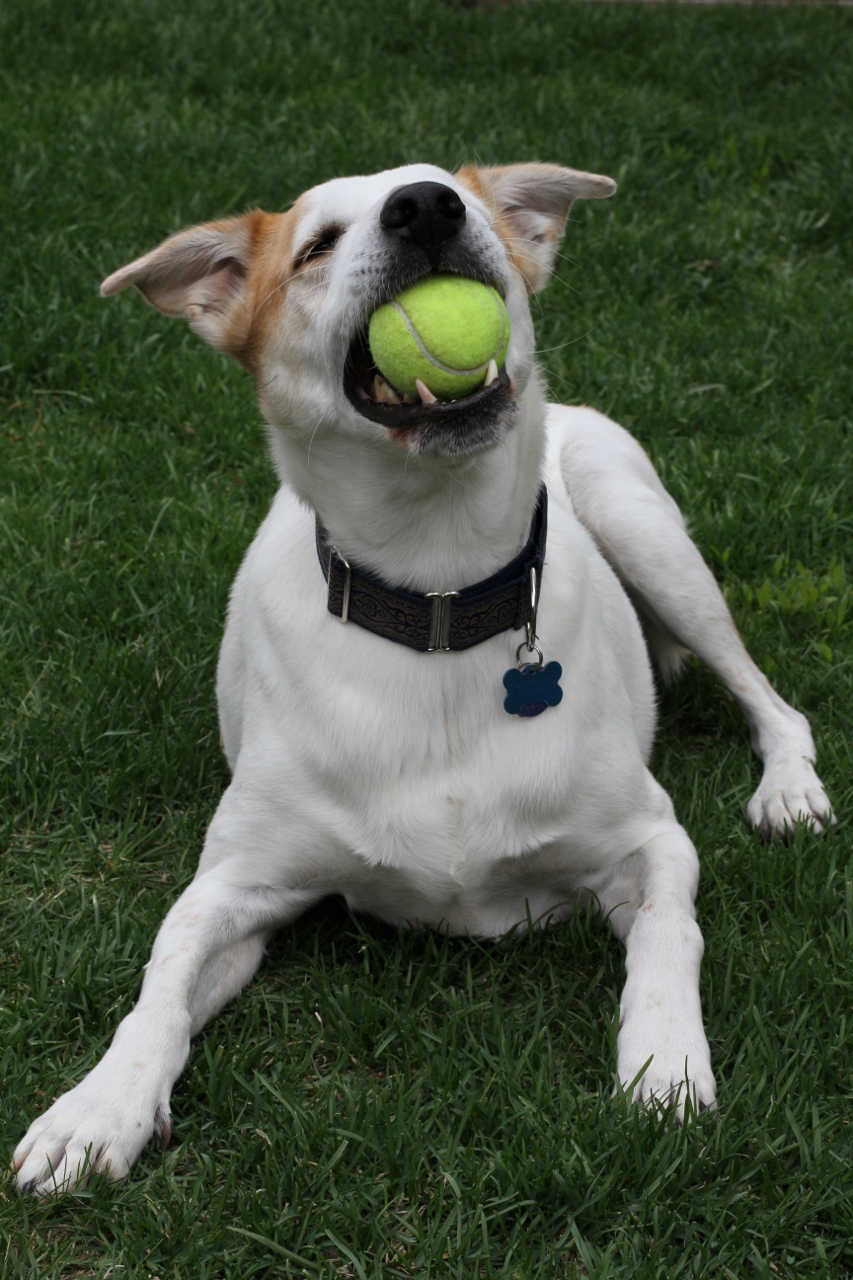 By Sue Granzella
The first bite was on my front lawn. When a six-year-old poked her shoe near his nose, Cody darted out and bit the rubberized toe. When the shoe moved and I yelled, he seemed confused. The little girl scooted toward her mother, unhurt. It was over in seconds and left me confused, too, unsure what had happened.
The second time, a friend retrieved Cody's toy and he nipped her heel. He broke no skin, but this time I knew what had happened.
On Mother's Day, Cody charged my toddler nephew; I scooped him up just in time. When friends came to dinner, Cody rushed up the back steps and bit Alison's heel. Eight weeks, two nipped ankles, and a torn pant leg later, it was clear. I had a problem.
•••
Back at the SPCA, where I'd gotten Cody weeks prior, the stern-looking manager and I sat on the grass in the shade. Cody leaned against my leg as I stroked his black and gold softness.
"He's only nipped friends, so he hasn't been reported," I told Joe.
"That's lucky. Is there a pattern?"
I sighed. "Four women, a guy, and a kid."
"Yeah, kids are unpredictable, and they're loud and fast. But it's not just kids with your dog."
Joe patted his thigh, and Cody approached slowly. But when Joe reached toward the dog, Cody flinched and retreated.
Joe sat back, his face grim. "An aggressive and dominant dog doesn't respect the owner. But fearful dogs don't trust the owner. Your dog is fearful."
Humiliated by Joe's implied blame, I searched his unsmiling face for hope.
"So what do I do?"
His furrowed eyebrows met in the middle, scolding me. "Don't let that dog off leash. You have to protect people, and you have to protect him."
It sounded like Cody's problem was my fault, and I had no idea how to fix him. I drove away from the SPCA more dejected than before I'd come.
•••
I'd loved dogs forever, and I'd decided on the name "Norman" six years before I got my dog. But when I read the card on the cage and called out, "Hi, Cody!" his plume of a tail wagged as he turned toward me with his big dog smile. I was smitten. I couldn't steal the name that had been his for only two days. He would be Cody. And he would be mine.
The fantasy dog I'd dreamed of would lie at my feet on a Saturday morning at a sidewalk café, his tail thumping in sleepy pleasure when strangers patted his head. My real-life Cody was beautiful, a collie mixed with Bernese mountain dog, large and black with splotches of gold and white. His eyes were honey-brown, their warmth accentuated by natural black eyeliner. With his tail waving like a flag in the wind, he sashayed when he walked. I loved my smart and playful dog unreservedly.
But he was not my imaginary café dog. Cody radiated gentleness and submission with me, my boyfriend David, my cat, and all dogs. But his nervousness around other people grew, and I became increasingly tense about keeping his mouth away from human skin. The fear cycled through my brain, the leash, his brain, and back to me until I had no idea which of us had spawned it. All I knew was that I had to make sure he kept his teeth to himself.
And then David's cousin visited, and we all went hiking in Oakland's Redwood Park. The cousin was uncomfortable around dogs, so I kept Cody away from him. In the car, in the coolness under the towering trees, and in front of my house, Cody was leashed at my side, safely out of reach.
Then as Ryan was leaving, he stepped in front of me. With neither warning nor sound, Cody darted forward and bit Ryan's calf.
"Ah!" yelled Ryan.
"NO!" I shouted, jerking Cody back. There were only six inches of slack on the leash, but Cody had found them. For the first time, he had broken skin. The bite mark welled with blood, and a bruise already showed.
I heard a roaring in my ears. Stumbling up the driveway, I put Cody in the yard. Then I returned and saw the car door still hanging open, as if time had frozen. With a difference of just one inch or one second, there would have been no bite. It had so nearly not happened that it felt as if it hadn't, and every time I remembered that I'd failed to keep everyone safe, my stomach dropped with a thud. Despite the exertion of a three-hour hike, I felt cold.
"Get a washcloth and some peroxide," ordered David, attending to Ryan, now sitting on my cement front steps. I did, then wandered from the open car door to the back gate where Cody peeked through the slats, panting with his big dog grin.
"Oh my God," I kept saying to Ryan. "I tried to keep him away. I'm so sorry." My hands shook and I felt dizzy, as if I were floating away.
Ryan and David barely spoke to me as they left, each with lips pressed tightly together.
•••
Though I was on vacation from my teaching job, for three mornings it was hard to get out of bed. Seeing Cody meant admitting that I had a dangerous dog. I couldn't envision how a future with him could look, yet I couldn't imagine getting rid of him. Oblivious, he was the same as ever—wagging, obeying commands I'd never even taught him, panting and eager and sweet. Seeing him made me feel sick.
I called my most dog-knowledgeable friend and asked if I should have Cody put down. Was that what a conscientious dog-owner would do? David offered to drive Cody to a Utah ranch for animals who'd failed in society. I hired three trainers over the next few months, each of whom gave me conflicting advice. All they agreed on was that Cody's motivation wasn't dominance or territorial aggression. They said he was simply afraid, repeatedly pushed to do more than he was ready for. My dog was a fear-biter.
•••
In desperation, I took Cody to U.C. Davis's vet school. At the labyrinth of hallways, I froze. There were ankles everywhere I looked. Acutely aware that dogs can smell fear, I tried to stifle my terror and start weaving through the people-choked passageways. But my feet wouldn't move. Finally, a vet tech brought me a muzzle. Snapping Cody's jaws shut was the only remedy for my paralysis.
We arrived at a windowless room with bare walls and metal furniture. The scent of Pine-Sol masked any residue of urine that had been puddled by years' worth of neurotic dogs. The behaviorist sat near Cody and me, across from two vet students. One of the students fetched a less restrictive muzzle for Cody, and for two hours, the three demonstrated methods of desensitization and positive reinforcement.
Then the vet handed me an instruction packet.
"He's afraid, not mean," he said. "You can live with this. He's very gentle when he's not scared. But remember—a fear bite hurts as much as a dominance-aggression bite. Your job is to make sure he never bites anyone again."
•••
Wearing his new plastic basket muzzle, Cody could bark, drink, eat, and pant. But he couldn't bite. And for the next three years, lightweight plastic came in between Cody and all people, everyone except for my boyfriend, David. Cody adored David. It was a huge relief that the muzzle prevented him from biting everyone else.
The muzzle that helped both me and my dog branded him as a fierce beast; people looked at him suspiciously, warily. Then their eyes traveled upward, regarding me with similar distrust. I just patted his head and we continued down the path, a solitary team, a dog and a single woman in her forties.
•••
I'd always felt solitary, even when I had a boyfriend. Instead of actively searching for the kind of partnership I craved, I stagnated in relationships and yearned for what was missing. When I was thirty-seven, three years before I found Cody, Jeff was my boyfriend, a kind man with warm golden eyes that matched his curly hair. He was tall, with muscled arms that encircled me when I was sad. Jeff made clear his desire to marry me, but when he proposed, all I could say was, "I don't know." So he gave me time and space, only bringing up the topic every few months. And when I'd sniff it coming, I'd snap.
One afternoon, despite my panicky efforts to push away all relationship conversations, I was trapped.
"I still don't know! If you can't wait, just break up with me!" I flung myself onto the bed in our dank basement apartment.
"I don't want to break up." He lay down beside me, his gaze steady. "I just want to know."
"But I can't make myself know! I can't!"
And the bi-monthly ritual played out. My stomach knotted, he asked for an answer, I sobbed, and he felt bad. Then we rose from the bed, my eyes swollen, his jaw set in quiet resignation. I was nauseated, but I'd bought myself another few months before my next snap.
•••
Eventually Jeff moved on, and I went out with David. He seemed the most unlikely partner I'd ever had. He had fifteen years on me and a waist-length ponytail. Slight of build, he wore frayed jeans with a tissue-thin white tee-shirt. Back when I was playing hopscotch in Catholic elementary school, David was dodging the Vietnam draft. In the summer of '68, he was in Czechoslovakia during the Soviet invasion, while I was wearing a homemade cat costume and playing my accordion in Napa's Fourth of July parade. A few years later, he met people in the Symbionese Liberation Army. That's when I was the left-fielder for my own army—the Sparrows, of Napa's Junior Girls Softball League.
But together we laughed until we ached, and his intellect thrilled me, the charge between us electric. I hoped that underneath the differences in age and life experience, we were soul mates.
Over time, David began to accuse me of not respecting his need to be a traveling free spirit, on the road for months at a stretch. I lashed back, reminding him that though he'd said he wanted a partner, all I saw was his retreat.
But there was a semblance of the love I longed for, and I was too afraid to let it go. For years I deflected my friends' concerns and hung on tight.
•••
When David still wasn't ready to move in with me after five years, I told him I wanted to break up. Promptly, David announced that he wanted to move into my Craftsman bungalow. I feared that he didn't mean it, so I waited three weeks before agreeing to his plan.
Two months later, there was still no sign of incoming boxes, suitcases, or furniture. When I asked about the delay, David said I'd misunderstood. He hadn't meant that he would live in my house with his belongings. He'd meant that he'd move in "emotionally."
Apparently there would be no need for a U-Haul.
A few days later, David was in my cozy living room, with its warm wood paneling and built-ins. I paced from the living room through the French doors into my bedroom. Cody was curled up between us, his black, gold and white fur matching that of my calico cat, who gazed at him with disdain from atop the couch.
From ten feet away, I faced David, my arms waving in reckless punctuation. "Are you kidding me? You really thought I'd assume that's what you meant by 'move in'?"
David's deep-set green eyes usually crinkled into laughter, melting me. But that night, they were flat, impenetrable.
"This house is so small," he said, his hands marking distance the length of a pencil. "It's too crowded for us, plus a cat and dog. Besides, I'm not wild about living with them."
"But I've had them for years! You're just now telling me that?"
I didn't know if I was more furious at David or at myself. The animals were just an excuse. How could I have been stupid enough to believe he would ever live with me?
Cody snored quietly. David left within five minutes. And when I called him later and told him we were done, David was gone for good.
•••
I ached for months. At age forty-four, I'd never had children, and could no longer pretend that I ever would. David was the first person I'd ever believed I could marry, and for much of our time together, I'd foolishly imagined that maybe we would. What was wrong with me that I kept choosing the wrong people? Either they didn't want me, or I didn't want them.
This break-up felt different, though—worse than those past. Bygone boyfriends paraded before me, and at the end of the parade was a huge banner proclaiming, "You will never be loved again." I was damaged goods. There was my string of failed relationships. Plus, I'd recently been diagnosed with a chronic disease. Though its effects on me weren't visible, a potentially debilitating condition wouldn't help attract a mate.
Cody the fear-biter was strike three. I could not envision my dog ever reaching the comfort level he'd had with David, and I couldn't picture myself living with the fear that he would bite a partner of mine. I felt doomed to an unwanted solitary existence. My imagination was as paralyzed as my feet had been at U.C. Davis.
•••
That spring, I couldn't bear to sleep in my bedroom, so I holed up on the fold-out futon in my spare room. When sadness overwhelmed me and I cried into my quilt, Cody whimpered, prodding and pawing me until I raised my head. On weekends, Cody and I trekked for hours along the Iron Horse Trail. Under the gnarled oaks with my dog padding along beside me, I thought about David while feeling my leg muscles contract and stretch, over and over. I repeated inside, "I am strong. I can get through this."
As the months passed, I started to think that maybe I could. And after more months, I found myself browsing on Match.com, though I didn't truly believe that behind one of those little pictures might be a man who could love me. Looking was a step, though. They were all just searching for love, too, and most looked normal enough. Maybe I wasn't all that different from everyone else.
Then one October evening, I was lying on my bedroom floor ruffling Cody's abundant fur, on the phone with an easy-going man named John. After many weeks, I'd chosen his profile out of the hundred-plus I'd read. He was funny and intelligent and unapologetic about wanting a long-term monogamous relationship. I was drawn to his dream.
In our conversations, I'd mentioned my rescued feral cat, and we laughed about her antics. But all he knew about Cody was that he ran to the phone when it rang.
We met on a cool November morning. I pulled my red coat tight and watched the long-legged man striding toward me. John wore a fuzzy gray pull-over, and extended a long stick-like object toward me.
As his slim build, engaging smile, and bright blue eyes came into focus, I felt a stab of disappointment. This could never work. He was too handsome. If he had looked this good in the online photo, I never would have clicked on him. I then saw that the stick-like object was a cellophane-wrapped, long-stemmed red rose, with a fun-size pack of plain M&M's tucked alongside.
I took a deep breath.
We entered the cafe, blanketed by the warm aroma of roasted coffee beans and the tinkling of spoons against coffee cups. He had iced tea, I had hot chocolate, and our conversation flowed like honey.
"So did you reach your grandmother yesterday?" I asked.
"Yeah, she said she'd been getting birthday calls all night. And, hey—she won money from the Publishers Clearinghouse!"
"You mean that's real?!"
We traded stories of his relatives in remote mountains and of my third-graders. He talked about his college days, and I confessed to my baseball obsession.
When I listened to him, I found that I could muffle the voice whispering inside, saying that someone so handsome couldn't be a match for me. The longer we spoke, the more I liked this dark-haired man. I knew it was too early to discuss past relationships, and I wasn't going to bring up my health until later. So I told him about strike three.
"My dog has bitten some people. He's really sweet, but he's afraid. He's a fear-biter." John already knew about my hostile cat. Had he figured out that the common thread between these two messed-up creatures was me?
He just shrugged. "I'm a UPS delivery guy. I can do dogs. I throw the ball, and they're fine."
I was convinced that John just didn't understand how disturbed Cody really was.
•••
Two weeks later, John and I approached my back picket gate, and as soon as Cody glimpsed the long-legged stranger, he unleashed a torrent of barking. I felt sick to my stomach.
But John didn't flinch. "Cody! Get your ball!"
Cody's ears perked up and he shot off, returning with a slobbery bald tennis ball. John reached his fingers between the slats, I yelped, and Cody dropped the slippery ball into John's hand. Back and forth they went, toss and retrieve, the barrier always between them. I started to let myself hope that Cody might one day understand that John was safe.
•••
A few days later, John wanted to touch Cody without a fence between them. He waited out front while I went inside and strapped the basket muzzle on Cody. Then I led him out the door.
When he saw John, he paused on the top stair, but he didn't bark. We headed down to the grass. Emboldened by the bark-free reception, John quickly approached.
Cody rushed forward with snapping jaws, the plastic muzzle ramming harmlessly into John's slim leg. I felt the strength drain from my limbs. If not for the muzzle, John's ankle would have been toast.
I sank onto the steps and dropped my forehead into my hands. "What's wrong with this damned dog?"
John appeared undisturbed. "He'll come around. He just needs more time."
•••
With each day, I was falling for John more and more. What had been weighed down with David now floated free. I laughed at home, with my third-graders, in my car. People at work were startled by how happy I looked. I was determined to never again feel the despair of my last relationship, and that gave me freedom. Instead of re-shaping myself into what I thought John might want, all I wanted was to be me. I would show him exactly who I was, because if that wasn't what he wanted, I'd rather know sooner than later.
And as I showed myself to him, I found that I really liked this man. Kind, steady, and honest, he could go in seconds from brilliantly analyzing politics to giggling helplessly over South Park. He was tolerant and hilarious. Not only did I like him, but I liked myself better with him. He made me a more patient and appreciative person. My fear that I was unlovable? I was beginning to relax my grip on it. To envision that one day I could let it go.
•••
Every time John came over, we stood at the gate while he tossed the ball. Then one day he threw it without me standing there. Then he stood inside the back door and stuck his hand out for the slimy ball.
Finally, John declared that it was time to remove all barriers. He sat on the couch, and I led my dog inside by the collar. From where Cody sat, he could see in a straight line through the kitchen, dining room, and living room, right to John. Cody was obediently in the "sit" position. My plan was to walk him sedately into the living room, gripping his leash so that I could yank him back at any sign of teeth.
But before I could leash him, Cody took off, bounding straight for John, racing the full length of the house at top speed. Helpless, I ran after him, the leash swinging from my hand. I was terrified.
When Cody reached John, he jumped up and laid his head on John's chest, panting and wriggling and jaws open wide in his big dog smile. He whimpered and whined with joy, his plume of a tail waving from side to side in soft brushes of ecstasy. John laughed, and ruffled Cody's fur. I dropped to the floor and cried. My dog, the fear-biter, had conquered his fear of John. It had just taken longer than it takes most dogs to fall in love.
•••
John and I married when I was forty-seven. It was the first marriage for us both. I still feel my heart quicken when I come home to him, and I still laugh with him every day. Since we met, I hear it echo in my head: I get to be happy.
Some used to tell me I'd only find the "right person" when I was ready. I always hated the condescension of that, and I still do. All I know is that with John, I never felt obstacles between us, and before, they were always there. Did I choose the wrong partners before because I was afraid to really try, fearing I couldn't be loved? Before John, I used to wonder. Now, the answer doesn't matter. If it ever was true, I guess I let that fear go.
After the night Cody raced through my house, he never demonstrated any fear of John. He knew he was safe, and he trusted John. I do, too. I feel at rest with him in a way I never before had.
•••
Cody's time with us ended five years ago. He was fourteen, and though he had stopped eating, he was still chasing John's tennis ball two days before he died.
When the house-call vet knelt down by Cody, Cody stunned us. He raised his head, and nipped the vet on the heel.
"Did Cody just bite him?" I was confused about what I'd seen after so many years of not seeing it. Did it really happen?
John nodded and shrugged. Then we led him outside, into the yard where for so long he had barked at birds and dug holes and chased squirrels and napped in the sun. With our hands ruffling Cody's fur as he lay on his side, we said good-bye.
Afterward, John and I held each other and sobbed. Then he asked me how I wanted to spend the day, and said he'd take me anywhere I wanted to go. And just like that, I knew.
So on that January morning, John and I drove to the mountain retreat where we had married. We stood at the edge of the huge heart-shaped lawn. We sat together on the cold cement steps. We walked hand in hand under the redwoods, shrouded in mist.
And all day, holding the shards of my broken heart, I was wrapped in the soft comfort of gratitude. Despite all of my rough edges, John has chosen to walk with me. That day, feeling so sharply the loss of our dog, I was also filled with a sense of how lucky I am to have found this person with the willingness to love me, the patience to help me get through my own fears, and the desire to find rest with me.
I don't think I let go of his hand all day.
•••
SUE GRANZELLA is a third-grade teacher in the San Francisco Bay Area. Her writing was recognized as Notable in the 2016 book of Best American Essays, and she is the new judge of the "Humor" category of the Soul-Making Keats Literary Competition. Her writing has received numerous awards in that same SMK Competition, and she won second place in a Memoirs Ink contest. Sue's writing appears in Full Grown People, Gravel, Ascent, Citron Review, Hippocampus, Lowestoft Chronicle, Crunchable, and Prick of the Spindle, among others. She loves baseball, stand-up comedy, hiking, road trips, and reading the writing of eight- and nine-year-olds. More of Sue's writing can be found at www.suegranzella.com .