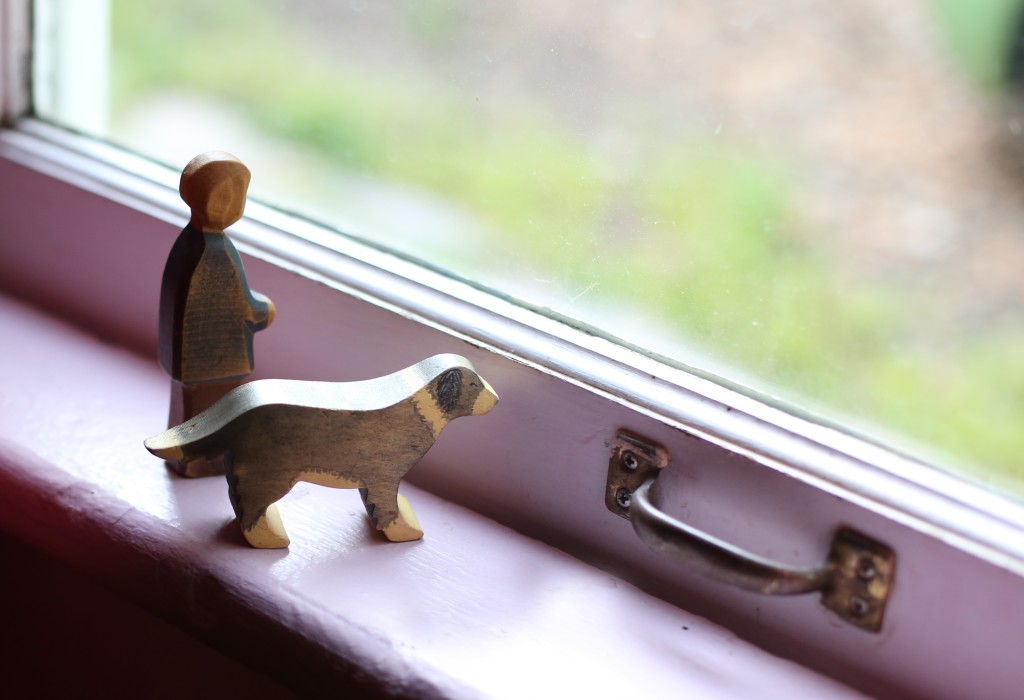 By Jennifer D. Munro  
"Let me put my wife on the line," my husband said into the receiver. Richard handed me the phone as if it were a loaded doggie-doo bag. "It's the Greyhound Lady." Richard was usually the talker on our family team, but he'd made his disinterest clear with a palms-out gesture at my replacement-pet search that said, "The greyhound is your deal."
Richard's "I'm not stepping in this turd" tone signaled a hitch. The woman on the phone introduced herself as the president of the rescue group. "I wanted to discuss your application," she said, sounding as flexible as a fire hydrant.
I thought the problem might be my emailed application for adopting a greyhound, which couldn't include the $50 application fee, a fee that rankled me. I'd never paid for a pet and had a soft spot for odd mutts; our current Lab mix, whose front end seemed to head in a different direction from his back end on walks, had been raised under a car by a homeless man and, as a puppy, was handed over to us without question.
The purebred racer, once placed, would cost an additional $300. This for a ribcaged dog that would be marched to the guillotine if not for my philanthropic heart and fenced suburban yard. Plunking down less money at the pet store for a puppy, no questions asked, beckoned with roly-poly enticement. But I didn't want to be a cog in the wheel of puppy-farming. I understood the fee was for expenses, and I also couldn't stomach the lengthy applications now the norm at humane societies: One had visited my neighborhood community center but wouldn't let me in the door to look at the homeless cats until I'd filled out a two-page application. I left.
"Hi!" I said, all unicorns and rainbows despite the warning signs. The tangled phone cord attached to the wall of the garage, where we'd been when she called, trapped me in place. I mentally scanned our family's schedule, determining when we could pick up the dog once we straightened out the missing application fee. We'd visited the greyhound rescue group's information booth at a local store; a member told us about Mandy, a greyhound she thought would be perfect for us. I'd visited Mandy's online profile obsessively, as I used to with the State's postings of children in need of permanent homes, worrying that she would no longer be available by the time our application was processed. Now mid-December, we'd been unsuccessfully seeking a second pet for half a year after our nineteen-year-old cat's euthanasia; a Christmas dog seemed meant to be, in a Norman Rockwell family kind of way.
The minimal application form was the clincher for my choosing a greyhound after leads on Petfinder.com all dead-ended—calls weren't returned, or the dog had already been placed, or we grew suspicious at the sudden, exorbitant "relocation fee" for a different dog than the one pictured. Likely I'd be axe-murdered for my department-store wedding ring when we showed up at one of these out-of-the-way doggie homes.
I'm not wild about greyhounds. They look like sullen, emaciated fashion models passing up their own wedding cake. With their tucked tails, surely this breed coined the term "hangdog." But disinterest was the point: I did not want to adopt a pet I would be tempted to love. I would care for it, but not adore it. Pets, like kids and herpes, are for life, but I had no more love left in me. The greyhound's gaunt appearance mirrored my exhausted ability to love again after seven miscarriages, infertility testing and treatments, a near marriage-ending series of decisions about whether and how to be parents, a hoop-jumping and lengthy foster-to-adopt license process, applying for four kids we hadn't met but being bypassed in favor of other prospective parents, and meeting "available" children at three awkward events where hopeful couples mingled with kids who needed families. I bonded with the babies in my belly, just as I fell hard for the kids behind the online profiles and the children who knew exactly why they were eating pizza with unfamiliar adults at Kids Fests, where we had chosen a kindergartener. We spent the spring visiting with him every weekend, adoring his waterfall giggle, only to have him returned to his biological mother without an opportunity to say goodbye.
And then, fourteen years after we decided to become parents, we met our six-year-old son, Ben. His frequent endearment for me upon moving in was, "I'm going kill you, fucking bitch." I am his twelfth mother. His most recent foster mother, whom he'd called Mommy for three years, had changed her mind about adopting him when his behaviors became too much for her; Ben arrived on our doorstep a teensy bit resentful and angry. He'd learned how to treat women by watching his birth mother's three boyfriends, one of whom had since been incarcerated for ballpeen hammering to death a mute, disabled man as birthday yuks for another girlfriend.
Ben could have the dog to love but I wouldn't be tempted to.
I like a dog with an urgent wag. Greyhounds don't bark, or wag, or even move unless you place a rabbit directly in their sights and threaten them with execution if they don't finish first. After escaping certain extermination, they collapse like Southern belles in tight corsets and can't be bothered to feign enthusiasm in a bleak world devoid of fake vermin.
Two sets of close friends owned and worshipped greyhounds and convinced me one would be perfect for Ben. Purebreds went against my grain but I warmed to the idea of saving a dog that slinks past the finish line in last place. The Humane Society guesses (not estimates; they actually have no idea because the practice is so guarded) that over 20,000 greyhounds are destroyed each year for want of adoptive homes once their racing days end.
The greyhound application form was short.
It had taken us several years to complete stacks of paperwork, hours of training, multiple interviews, and home inspections to qualify as foster-to-adopt parents. Ten thousand children languish in foster care every year in our state (and nearly half a million countrywide) for lack of permanent homes, and vying for an expensive domestic newborn or an equally costly overseas baby didn't fit our M.O.
We'd written checks for application fees and required reports. We'd purchased a new house, two doors up from our last one, to qualify for the mandatory square footage for a child's bedroom. We outfitted it with the requisite equipment: safety ladders, certified fire extinguishers, smoke detectors, outlet plugs, drawer stoppers, anti-doorknob twisters. Nothing out of the norm for First World biological parents, but in a house devoid of children, struggling to extricate steak knives or bleach reminded us of what we didn't have. We traded in our two-door cars for four-doors and outfitted them with booster seats. We bought our first bathrobes—no traumatized child should be further haunted by witnessing our naked streaks to the dryer. We posted escape routes, moved furniture away from upper-story windows, cleared out the liquor (drinking it seemed easiest), hid the matches, bought approved bath mats, turned the water-heater setting down to lukewarm so that showers lost their pleasure, made sure nothing in the yard could hold two inches of water—all before the social worker inspections.
I'd managed to fail—twice—the fingerprint clearance required by the FBI. Not only could my uterus not manage a pregnancy, but my fingers couldn't even offer up decent prints? I regretted that I'd never gone into bank robbery, since my identity was apparently undetectable. I drove a hundred twenty miles to a different fingerprinting office, where they used the same machine but first smeared my hands with Corn Huskers lotion, and I was cleared on the third try.
No thank you to another round of scrutiny, which no biological parent had to endure, over a dog.
The greyhound application, as brief as our energy level lasted after tucking in our son every night, largely involved guilting applicants into volunteering. The necessity of a fenced yard and not allowing your ex-racer to go off leash I'd known, although our greyhound neighbors often didn't leash theirs; the dog was done with running and wouldn't have chased a bleeding rabbit if it had stolen its kibble. Which led me to believe that a greyhound was just like any other dog: Once you got to know the individual dog, you understood its needs and what it took to keep it safe and happy.
"I have concerns," the Greyhound Lady told me.
On the advice of greyhound-loving friends, I had been honest on the brief application about wanting my now seven-year-old son to walk the dog by himself around our block's quiet, wide sidewalks. "That won't be a problem," they said, "as long as you don't get a male fresh off the track. Let them know what you want so you get the right dog, like a smaller female who's been retired for a while." The greyhound-booth worker had done just that by recommending Mandy when I'd described our needs.
Ben needed something to be really and truly his, to have ownership and responsibility, for him to know that a living creature depended on him, and neither he nor the dog were going anywhere. The greyhound would likewise protect him on walks; nobody need know that the big, morose dog was as likely to attack as a platypus. Our cat's death, less than a year after he'd moved in with us, had devastated Ben. "It was my firstest cat ever!" he'd wailed. "I'd only just gotted him!" Our almost-fourteen-year-old Lab mix was not long for this world, either, and I needed an understudy in the wings, ready to take his place.
Following the cat's death, Ben's behavior took a slide: He was expelled from after-school care and served a school suspension, prompting the State to consider sending him to an out-of-state boy's home in Idaho instead of proceeding with the permanency plan with us. A boy's home, maybe. But Idaho? The boy wasn't that far beyond redemption, was he? Were troublesome foster children now harvesting our nation's potatoes? We refused this plan, to the relief, surprise, and agreement of the State (boys' homes are expensive; we were cheap). "Any other family," the social worker's report read, "would have returned this boy to the State." But wouldn't it be better for Ben to get the message that he wasn't going to get shipped off again if he put in a poor performance? We hadn't told him that we'd euthanized the suffering cat, but that he had simply died, not wanting Ben to connect childish dots about what happened to family members after they became a bother.
"What if a pit bull rushes up and attacks your greyhound while your son is walking him?" the Greyhound Lady asked me. "How would he live with that memory?"
The kid had more than enough unpleasant memories to get over already for us to worry about possible future memories. But I hadn't played the foster-kid sympathy card with her, which I was generally all-too-ready to use if it benefited him, fearing it would backfire; foster kids, particularly older boys, come with bad reputations, such as animal cruelty. Common wisdom discouraged pets for kids with a history like my son's, but he never seemed truer to the sweet-natured boy he was born to be than when he was with our pets. Any hope for him seemed lodged in his ability to care for a creature who understood hard knocks. A greyhound would love him like only a dog wanting a walk could. Not exactly with the exuberance of other dogs, but I imagined it might skulk halfheartedly to the door at the jingle of a leash if its bladder were full.
"I've lived on this block for over twenty years," I assured her. "My cat creaked around outside for nineteen years and we've walked our dog for over thirteen years with never a problem. All the neighbors keep an eye out for Ben. We have an active Block Watch; the annual party's in our front yard." This, though nothing had happened on our block except for a garden Buddha statue disappearing and an elementary schooler's piggy bank being stolen (the neighborhood then pooled their coins and gifted him with a bucketful). This was not Skid Row. "Chances are more likely the greyhound will be slobbered to death by our mutt," I laughed. Greyhound Lady didn't. Then it clicked: her apprehension was the greyhound, not the child, being attacked.
"But it could happen."
Once they've served their spurt of usefulness in the racing industry, greyhounds might be killed by gunshot, starvation, bludgeoning, or by more humane methods for the lucky ones. She had reason to feel over-protective, but, because of farfetched scenarios, she would pass up on a neighborhood so safe it was practically Canada?
The numbers on my application spoke for themselves. Dog: almost fourteen, though big dogs often didn't live that long. Cat, which as a kitten had been one of my first birthday presents to my husband: nineteen years with us. Married and lived on same block: twenty-one years. I'd been in my job for ten years and my husband for twenty. We were set as omelets. "Are you turning us down?" I asked, perceiving she'd already made up her mind.
"I'm uncomfortable with a child walking the dog."
"He's the biggest child in his class. He's already almost as tall as I am. Are you telling me no?" I asked again.
As a typical Pacific Northwesterner, the woman could not spit out the word "no." We explore feelings and ensure that all parties are equally uncomfortable with a compromise that's never implemented. The Greyhound Lady couldn't come right out and tell me that she would not approve us to adopt a doomed dog.
I could have groveled and negotiated. But I'd compromised enough already. I refused to try to persuade someone to allow me to take in what few wanted.
The application, with its check-marked box that applicants wouldn't use the dog for racing or animal testing, was ridiculous; as if anyone with those plans would check: Yes, I will sell it to a research lab! I didn't state the obvious: that we had common sense and wouldn't set Ben out with a forty-five-pound dog by himself upon arrival. We'd work up to it, eventually winding back around to what she and I both knew as the truth: like most mothers, I would be the one who ended up walking that dog, a dog I would end up loving no matter how hard I resisted.
"You don't know what might happen," she said.
She was right.
I slammed the phone back in its cradle, free from what I thought I'd wanted.
"Wow," my husband said. He describes me as the nicest person he knows, but since becoming a foster-to-adopt mother, my tolerance for time wasting and bullshit bureaucracy had worn thin. Richard liked this no-nonsense new side of his polite, often indecisive wife, who had often asked, "What would you prefer?"
"She wants a guarantee that nothing will happen to the dog! That I can protect it no matter what! Yes, a rabid dog could appear out of the courteous evergreen ether, but it's just as likely Tom Cruise would helicopter in to the rescue."
"I told you not to be honest on the application," he said.
"She wants to 'process,'" I air quoted, "so she can feel good about rejecting us."
"You should have just told her you'd walk the dog."
"The State gave us a human being without us lying. All she had to do was meet us and she'd know."
"Everybody lies on those things. You didn't play the game."
"I am playing the game!" I shouted. "There are no guarantees!"
•••
We walked to church on Christmas Eve, the first time my husband had gone to church in the twenty-two years I'd known him. He had agreed with my suggestion of giving Ben a broader understanding of Christmas other than presents.
An unleashed little dog ran up to us and tailed us past a few houses, circling in front of us, behind us, between our legs. We stopped, though already late for church on our first try, concerned about her getting hit by a car in the twilight if she left the sidewalk. She flipped over, showing us her belly. She wriggled in the grass, her stumpy tail a white blur in the dusk, wagging fast as hummingbird wings. She grinned but didn't bark. She wouldn't hold still enough for Richard to read her tags. A college-aged woman emerged from a nearby house.
"Is this your dog?" my husband called out.
"Yeah."
"She sure is cute."
"You want her?" The five-year-old dog had belonged to her mother, who had recently died. "She's a purebred. She has papers."
A terrier. They have a name like terror for a reason. We'd puppy-sat one and named it Devil Dog. It had eaten our baseboards.
We returned Christmas morning with our geriatric hound to make sure they got along. The wire-haired Jack Russell pogo-sticked around him, butting his gray whiskers. "I'm not surprised," the girl said. "She likes to stick her head in my roommate's Rottweiler's mouth. It's a game they play."
"Do you want to come look at our house or anything?" Richard asked her.
"Naw, I trust you." She gave us the dog, her leash, bed, kennel, vet records, toys, and food without taking so much as our phone number. She couldn't locate the American Kennel Club papers and said to come back for them, but we never did.
On the walk home, I changed the dog's name from Moochie, which I found too negative, to Mochi, a sweet dessert. Perhaps the identity crisis resulting from giving a dog of British lineage a Japanese name might give her pause and bring some Zen to her zig-zag.
My mother choked up at the news, telling me that wire-haired terriers were her mother's favorite dogs. I unearthed a picture of my grandmother as a young woman with her first two wire-haired Jack Russells posed beside her on the hood of a new 1936 Packard. Her handwriting on the back reads, "Peter, Lady Lou, and me." My grandfather, mostly hidden behind a dog in the photo, isn't named.
Mochi's porcupine-quill fur sticks in everything: the furniture and rugs, our clothes, my heart.
I listen to my son, now legally adopted and bearing our last name, taking her for her walk, which he does every morning without reminders. "Come here, honey-bunny," he calls in a high-pitched voice, perfectly mimicking my endearments. "Come on, sweet pea. You silly rabbit, you Mochi mouse, awwww." He buries his face in Mochi's neck and bears her away in his arms like a baby. He made it through the sixth grade without a single visit to the principal's office and only two to the vice-principal's.
I don't tell him the truth. He thinks the dog is his. But she's mine, all mine.
•••
JENNIFER D. MUNRO is a freelance editor whose blog, StraightNoChaserMom.com, is the First Place Winner in the 2015 National Society of Newspaper Columnists blog competition (under 100,000 monthly readers category). She was also a Top Ten Finalist in the Erma Bombeck Global Humor competition. Her numerous publishing credits include Salon; Full Grown People; Brain, Child; Listen to Your Mother; Literary Mama; Best American Erotica; and The Bigger the Better the Tighter the Sweater: 21 Funny Women on Beauty and Body Image. Her humorous stories about sex and the sexes are collected in The Erotica Writer's Husband. Website: JenniferDMunro.com.