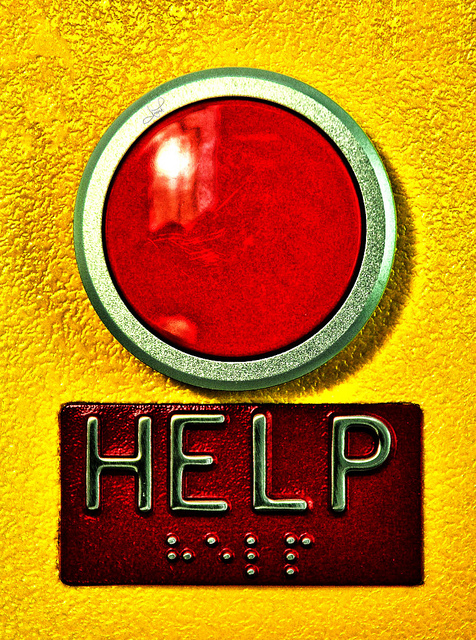 By Kate Haas
It was a joke to begin with, a half-serious attempt to persuade my parents to move from their coast to ours: "The Baby Corps seeks qualified volunteers to aid developing families," our pitch began. "Do you have what it takes to serve?"
"Think it'll work?" my husband asked, looking up from the scribbled draft of our "recruitment" letter.
I shrugged. "You never know." But I come from a two-generation Peace Corps clan, and I knew my audience. They'd be tempted. Especially considering what we were offering as an incentive.
I never expected to live near my folks as an adult. When I was growing up, my parents lived far from their own hometowns. For my siblings and me, visiting grandparents involved hours in the car and the crossing of state lines. The books I read as a kid reinforced this scenario. Fairytale heroes sought adventure far from the home castle and didn't tend to return once they'd found it. Ma and Pa Ingalls set out for the prairie, leaving the old folks behind in Wisconsin. That was the model I absorbed. The idea was to go to college, get a job (the eighties was a happier era for English majors), and settle in some distant city. I loved my mom and stepdad. But I did not imagine that one day I'd be scheming to lure them to my neighborhood.
Some thirty years later, that day arrived. Like many otherwise rational women, I took a good look at my two-year-old—verbal, finally sleeping through the night, potty-training underway—and concluded that what I really needed was another baby.
"Are you insane?" asked my husband.
I wasn't offended by his query. The prospect of another child terrified me, too. Simon was a charming kid now, but as a baby, he rarely slept longer than twenty minutes at a stretch, day or night. Persistent breastfeeding problems added anxiety to the miserable fog of sleep deprivation that enveloped us. Another child was appealing in theory, we eventually agreed. But we dreaded a return to all that fatigue and stress—this time while chasing around a lively little boy.
"And I wouldn't be able to help as much," worried my husband; in addition to working full-time, he was now enrolled in a graduate program that entailed night classes and weekend fieldwork. "It would be different if we had family around," he added. "Like, if your parents lived here."
I stared at him, arrested by this novel concept. As a Peace Corps volunteer in Morocco, I had observed the way extended families shared the burden of child-rearing. I realized, of course, that people right here at home benefited from these arrangements, too. But I had never imagined partaking in such a set-up, myself. Now, as though I were watching a soft-focus movie montage, I saw how it might play out: my mother taking my energetic son for the afternoon while I napped peacefully with the baby; my stepfather cooking meals for us after the birth; maybe even—hoo boy!—a regular date night for me and my husband. Mostly though, what I envisioned was less tangible: a sense of security I hadn't realized I'd been missing, the comfort of having family close by—even if I didn't need them exactly the way I used to.
I couldn't help wondering, however, if this scenario would be attractive to my parents. Retirees on a budget, they found plenty to keep them busy in Maine. But what really fired up these former Peace Corps volunteers was finding frugal, creative ways to travel. Over the past five years, while my husband and I were fixing up an old house and settling into domesticity, my parents had swapped homes with a family in Spain, worked their way across Ireland on organic farms, and volunteered at an archeological dig in Romania. Currently, they were spending a year in the Czech Republic, teaching English. My folks were accustomed to renting out their house and setting off to roam the world. Would they really want to shlep to Oregon to change diapers?
On the other hand, my mother had long been campaigning for me to have another baby. I had practically memorized her current stump speech, "The Pathetic Life of the Only Child." (It was a marginal improvement over a previous effort, "You're Not Getting Any Younger, You Know.") Perhaps, we thought, there was a way to leverage mom's lust for grandchildren into an arrangement that would make everyone happy.
That was when we came up with the Baby Corps. Its mission: to serve the needs of developing families (ours, anyway) by recruiting volunteers with years of parenting expertise. "Only an elite cadre of highly-qualified and experienced candidates will be accepted into the Baby Corps," we wrote, cunningly. "Will you rise to the challenge?"
Then we added the kicker: If my parents signed on for a two-year stint with the Corps, we'd be delighted to give them another grandchild. My husband tweaked the design of the Peace Corps logo, with its stars and dove, to create an official-looking letterhead for our recruitment letter, and we sent it off.
Would we have gone ahead and had another baby on our own? Probably. But we never had to make that decision. Three weeks later a letter arrived from the Czech Republic. My parents were charmed with the notion of the Baby Corps and flattered that we wanted their help. They would be delighted to rent out the house again and move across the country for a couple of years. "So, get busy, you two," my mother finished. I could practically see her smirking.
A few months later, I was pregnant. My parents returned from Europe and settled their affairs on the east coast. My husband and I found an apartment for them in a nearby Victorian and spent the summer furnishing it from Craigslist and yard sales. By now I had tempered my expectations of the next two years. My mother and I have never shied from speaking our minds to each other. She sniffs at my reading habits ("lightweight"); I frown at her wardrobe ("shmattes"). (My stepfather wisely keeps his distance.) There would be highly charged discussions, that was certain. Still, I knew that our differences would always be bridged by our shared love of PBS costume dramas, the novels of Ursula le Guin, and the wedding page of the New York Times Sunday Styles section. Besides, we had a history of supporting each other when it really mattered.
When our Baby Corps recruits arrived, it became clear that they regarded this move not only as a grandparental mission, but as another opportunity for adventure in a new location. Within a few weeks, my mother had signed up to audit Latin classes at the university. My stepfather was investigating the local art scene. They were raving about fabulous cheap restaurants we'd never heard of.
But when I went into labor, three weeks after their arrival, my parents were at our house in minutes to take charge of our now-three-year-old. The next day they brought him to the hospital to meet his baby brother. When we got home, a big pot of curried red pepper soup was on the stove, along with a tray of fresh biscuits. "I'll be back tomorrow to take Simon to the park so you two can sleep," promised my mother. "And don't forget," she instructed, pulling on her coat, "At five o'clock, put your feet up, nurse that baby, and have a big glass of red wine. Millions of Frenchwomen can't be wrong!"
When I told people that my parents were coming to town, I invariably got one of two reactions. "Is that a good thing?" asked some, poised to commiserate. Others were frankly envious. "They're moving here just to help out? You guys are so lucky."
We were lucky. Parenting a three-year-old and a newborn was every inch as difficult as we anticipated. But over the next two years, our Baby Corps volunteers stepped up for us in countless ways, taking on tasks that might look minor—like staying with Simon while I took the baby to the doctor—but which made our lives inestimably easier. Weekends, when I was running on four hours of sleep and my husband was analyzing bioswale diversity, I could walk the boys to my parents' sunny apartment, where a special stash of toys waited and I could count on conversation that wasn't about fire trucks. And eventually, once we were all getting more sleep, there was Date Night.
True, my mother and I had our moments. Many times, I was the beneficiary of her unique brand of childrearing advice, a whiplash-inducing combination of old school techniques ("Just rub brandy on those gums.") and woo-woo theories ("No learning to read before the first tooth falls out.") She deplored the "draconian" hospital policy dictating that we produce our carseat for inspection before taking the baby home ("I held you in the front seat and you were fine!") She was disappointed that, unlike her, I wouldn't consider Waldorf education for my kids—even if I could have afforded it.
On the other hand, Mom was unfazed when her grandson wanted to wear a dress at age four, pronouncing him "adorable" in the blue-checked frock she'd saved from my own childhood. ("It's just a phase; he'll get over it," she told me—correctly.) She demonstrated admirable stamina for reading aloud, delighting in introducing Simon to my old pals Frog and Toad, and that canny bread-and-jam lover, Frances. So when, at the conclusion of their official Baby Corps service, my parents elected to settle in our neighborhood permanently, my husband and I were thrilled.
My boys are in elementary and middle school now. It's been a long time since we needed to rely on my folks for the logistical and emotional support that saw us through those first, hard years with two kids. These days it's not their help that I value (although we never take Date Night for granted). It's the way my parents have become a part of our lives. What I savor now are the birthday dinners and Thanksgiving feasts, the latke parties and impromptu calls: "We baked a pie, come on over." I'm happy that for my boys, the seven-block walk to their grandparents' house is a familiar routine, and that visiting can be as simple as stopping in for a quick hello on the way home from the library.
I'll always be grateful for what our Baby Corps volunteers did for us. And while nobody's looking forward to it, I'm aware that one day it will be our turn to render whatever assistance my folks may come to need. It may not be for a while, but as I like to remind my mom, "You're not getting any younger, you know."
•••
KATE HAAS still regards her three years in Morocco with the Peace Corps as one of the highlights of her life. She is a creative nonfiction editor at Literary Mama and the publisher of Miranda, a long-running print zine about motherhood. Her writing has appeared in Salon, Brain, Child, Babble, and The Toronto Star. She lives in Portland, Oregon, with her family. Read more of her writing at www.katehaas.com.