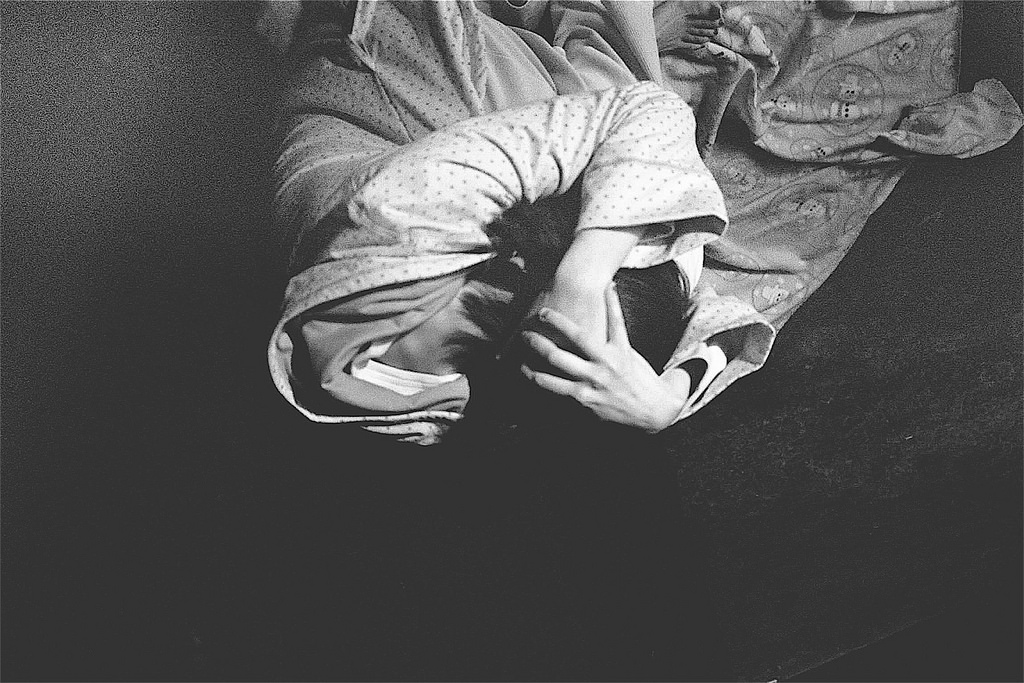 By J. Lin
It was a sick joke between me and my two closest friends.
"I know you're busy, so you don't have to call. Wouldn't want you to feel obligated."
"I know you have a ton of stuff going on, so don't feel obligated to come to my kid's recital."
"Don't feel obligated to attend my birthday party."
"I just broke up with my boyfriend, but don't feel you have to check on me."
I don't remember how the joke started. Somewhere in our college years, but it always made me vaguely uncomfortable. They were my best friends. Weren't we supposed to go out of our way, not out of obligation, but out of love? Every time Fran or Karen cracked that joke, I wondered if that was their way of asking for space. It was no secret that I could be intense. I loved them fiercely—and wasn't afraid to show it, which could be unnerving to most folks. My desire for sisterhood was borne out of having no close girlfriends in high school. It was from years of growing up with an older sister whom I yearned to emulate and befriend but learned to outshine when I realized how much she resented my existence.
So when teased about obligation, I held back. I was not the first one to arrive at the party. I did not call after a break-up. When Karen's mom was diagnosed with cancer, I waited. But I may have waited too long.
•••
When someone tells you to leave her alone, you comply. Especially when that person's mother is dying, something no one has said explicitly, but it is strongly implied. Despite your instincts or concerns, you stay away. It would seem cruel otherwise.
But if you joke about obligation, it could mean the opposite; it could be a cry for attention. Or it could mean what it implies: you are welcome to come, but not too early, and don't stay to clean up. With Karen, I could never be too sure which way she was leaning on any particular day.
Fran and I got her mother's initial cancer diagnosis—and subsequent update—from Karen over text. It became her preferred method of communication, which was understandable. She could cry while typing. She could sit by her mother's sleeping side and send updates. She could be as terse or verbose as she needed or wanted. Luckily she had upped her data plan before her mom's diagnosis. I was always very careful with the amount I texted her, the memory of the time she chided me about my multiple texts, explaining her data plan could not support me. I felt as if my mom had slapped my hand but only after offering me cookies from the cookie jar.
Of course I wanted to call Karen. I wanted to call every day, but I didn't. I held back. I checked in with Fran instead. "Have you heard from Karen?" She had not.
Instead I stalked Karen on Facebook and Instagram. She infrequently posted about her parents, given her natural private tendencies. Out of the three of us, Karen was the least dramatic, the most pragmatic, and the least likely to overshare—or even share. When she first started to date her now-husband, she casually informed us that she would share all her problems with him, not us, thank you very much. She made it clear that it was her and him, no longer her and us.
Her posts showed an otherwise happy family, daughters in swim meets, plays, concerts, horseback riding—and trips with other families, two in particular. That gutted me in a way that made me feel nineteen years old again. After years of living on opposite coasts, I finally found myself in the same state as two of my best friends. And one of them had dying mom and asked for space, yet seemed to be hanging out with everyone but me.
•••
The three of us have seen each other through every major milestone in our adult lives. We hung out in Karen's new condo the night before her wedding. We were bridesmaids for each other. They called me from their hospital beds after the birth of their first children, often waking me up in the dead of night. Karen was the second person I called (after my husband) when I unexpectedly went into labor. She drove straight to the hospital and stayed with me for hours until my husband could fly home. It was the most amazing thing anyone has ever done for me. I had always doubted her love for me throughout the years, but after that, to doubt would have been offensive. And when I returned home with my new bundle and a huge case of post-partum depression, she and Fran were waiting for me with food. They washed my dishes, folded my laundry, and helped me through my fog.
•••
When I moved back East, I had fantasies of hanging out every weekend with my friends, becoming an aunt to their children and watching their kids become best friends with mine. Only part of that came true.
We managed to establish little traditions such as annual apple picking and group dinners and the like. As the kids grew older, we became busier. My children became invested in their school activities and I became head of the PTA. Still, we were never as busy as Karen seemed to be. Maybe it was because her children were older. Maybe it was because she was keeping up with the Jones, the Smiths, and the Reynolds. Whatever the reason, every query to meeting up was met with hesitation, a glance at the calendar, and then a litany of what they already had planned with other families. Sometimes we would get a "no" only to see that the week after, they had gone somewhere with someone else.
It was hard not to be jealous, especially when it seemed to be the same families. I found myself justifying the actions, but at some point, Fran plainly stated, "They don't make time for us. It is just the way their life is." Unlike me, Fran is accepting, calm, and Zen. Or maybe she already figured out what Karen needed and was waiting for me to get on board.
Instead I went on the defensive. I stopped making Karen and her family a priority, giving their time slot to new families in our community. I stopped asking if Karen wanted to join whenever we saw Fran's family. It was easier to assume she was busy than to hear once again how she could not fit us into her schedule.
Her mom received a bone marrow transplant. She seemed to get better. Then she got worse. Then she did not leave the hospital at all.
•••
The end came a little over two years later. I had received scant details: little bits I could glean from the occasional conversation. Maybe she thought she had told me. Maybe she did. I felt intrusive even asking how her mom was doing. Sometimes we had whole conversations about everything but her mom.
A couple of weeks into the new year I received a text from Karen's husband, Sam. He said Karen had been by her mom's side continuously; her brothers were flying in. The end was near. I waited by the phone for days. They said it would probably happen on Monday. Nothing. Tuesday passed. On Wednesday I texted Sam, not wanting to bother Karen. When I finally heard from Sam, her mom was gone. The funeral would be early next week.
•••
My husband was out of town, and my sitter offered to stay late. I drove north to meet up with Fran and her husband Josh. I didn't have to ask; Fran automatically waited for me in the parking lot to walk in together.
Karen and her brothers were standing by a white casket in the front with their father. I hadn't seen them since her wedding almost fifteen years ago. I reintroduced myself, but they remembered me. Or if they didn't, they faked it really well.
Karen smiled through her tears. She had curled her long hair and wore a very flattering dress that I learned later was on loan from a neighbor, who had marched into her house, like the Today Show ambush makeover with stack of garment bags. I had assumed Karen had the ubiquitous little black dress to wear with the standard black cardigan. I was startled to learn that she did not—and uncomfortable that I was learning about it so late in the game. We used to swap shoes and clothes all of the time in college. Karen's friend Jane made some comment about how she wanted to bring dresses over, but her dresses would've been too large since she was so much taller than Karen, yet she should've known Karen needed a dress because she had been in Karen's closet so much over the years, blah blah. Jane looked at me as she said this. I wanted to punch her in the mouth.
Josh and I hung out with Karen's sisters-in-law and their children and Karen's daughters in the back room. We made jokes, helped one of the girls find a lost earring, both of us uncomfortable with not knowing what to say or do. Probably more me than him, since Josh lost his own father ten years prior.
There was no eulogy, per Karen's mom's wishes. Just well-wishers gathered to pay respects to the family. The family invited everyone across the street for a Korean style wake. They had reserved several tables: older generation on one side, younger on the other. I sat with Fran and Josh with Sam's friends and their wives, whom had become close to Karen; the group included Jane and their friend Mel. We had all known each other in some capacity since college. I love Korean food, so this was a treat, but today it felt wrong. I noticed both Sam and Karen picked at their food, glancing every so often at their daughters eating with their cousins at the next table. In comparison, Karen's dad ate and drank, the onset of loneliness not fully felt until everyone left town a few days later.
It was Jane who reminded me of how much space I had given Karen—and that maybe I had given too much. Jane had known Karen almost as long as I have. They met the summer between our freshman and sophomore year of college at a Korean American program in Seoul and stayed in touch even though Jane was in Indiana and we were in Pennsylvania. It was during a time when Karen and I were on one of our "outs."
As a result, there seemed to be an unspoken competition between Jane and me. I saw Jane an interloper, always trying to be closest to Karen, jealous of the bond Fran, Karen, and I shared—and making sure I knew it. In hindsight, we were both insecure, but at the time, she was annoying. I remember especially during Karen's wedding, there was a showdown of sorts among the bridesmaids. Out of the five of us, only Jane had attended a different college. Jane, who had been chosen as the maid of honor because anything else was Sophie's Choice, was in charge of the bridal shower. But two weeks prior, we still had yet to hear from her. As it turned out, Jane was on vacation and had arranged for a friend of hers to contact us, including soliciting money for a shower that we were sure had not been planned yet. Naturally the rest of us leapt into planning mode, and it resulted in many hurt feelings; Jane went on the defensive, and we wondered why she just didn't tell us about her plans and ask us to help. In the end, we all agreed to keep this from Karen, least the poor bride become more stressed. We college pals did not want Karen to feel badly that her besties were fighting, but Jane told her everything the minute Karen returned from her honeymoon. Jane explained she wanted to be transparent. I said she wanted to cover her ass.
I always suspected Jane wanted to fit in, desperately. She dated two of Karen's good friends and later went on to marry one of Sam's best friends. There was always an unspoken competition between the two of us: who knew Karen better. At Karen's mom's funeral, she was winning. And she let me know it. After all, she was not the one who gave Karen so much space that I was practically shouting over the chasm.
•••
Karen's recollections started small. Soon they increased in page count, emotion and frequency. They became missives with an agency of their own. I had reminded her of the memoir type narrative she had sent me two months after her first daughter was born. She had been in the throes of post-partum depression, something I hadn't realized when I was childless and living in California at the time. A couple of weeks after her mother was laid to rest, I sent Karen what she had written. She obviously remembered the events, but not writing it—or even sending it to me.
Each of her emails carried the weight of grief mixed with the pressure of moving forward and holding her remaining family together. She didn't want me to respond, just wanted to send it out there, she said. It was another variation of "don't feel obligated." I tried to say something each time my mailbox filled up, a penny for her thoughts, a wish for peace, but I knew she wouldn't want something long. So I kept it short. In some cases, I said nothing at all.
The most recent missive chronicled her mother's last days. I couldn't read it—at first. I started to, but by then I had moved back to Seattle, a place that had unhappy memories, and I was mourning the wonderful life I had smashed in order to chase some dream of extended family that probably would never come to fruition. I couldn't handle any more sadness. Seeing my sons' faces filled with disappointment and longing was already too much.
When I finally made myself read Karen's most recent email, I knew it would be the last of its kind. It was not only the last of her mother, but Karen's way of purging those feelings to make room for her father's growing complexities. Perhaps that is why I resisted reading it. Or maybe I was just being a bad friend. I told myself this was space. I was giving her space. Or maybe I was withholding to punish her for pushing me away. When I finally read it, it was raw, but very detailed. Calm, a little haphazard, but very Karen. It was straightforward, chronically. I read it and felt ashamed. Sorry that I still had a mother and Karen did not. Ashamed that I was not there for her. Angry that others were there instead. Bitter that they knew what was going on and I did not because I had been asked to give her space. Did others not give her space? Or maybe she only wanted space from me?
Grief is a funny thing, but one can say that about friendships as well, especially the long, old kind that never forgets, always forgives, and is ever-changing. I don't know the depths of Karen's grief; there is no way for me to know. I understand there is a mother-shaped hole in her being, a devastation that she will never recover from. She will instead find a way to live with it, alongside it, accept it as a part of her new life.
There are other things she is accepting too, some better than others. Some welcome, most often not. When I sat down with Karen at a diner somewhere between our homes on a rainy summer day, two weeks before I left for Seattle, I wanted to ask her about us. But only an asshole would be so petty to bother a grieving person. Yet, here I was about to embark on my own journey of grief, mourning the happy life I had created that I was about to leave behind.
Strangely enough Karen had a story about three neighborhood friends who had been close, but were now feuding. Choosing one over the other, friends who had been together for thirty years. They sounded very much like us. In the parking lot, I asked tearfully if she thought that applied to us.
"Are you worried that will happen?" she asked incredulously. I don't know why she was surprised. She knows me well enough that I would worry about this. She hugged me. "No! That's not going to happen."
You could say we've been friends for too long. You could throw every cliché in the book at us and say it applies. But it's true. We have been friends too long for this, but space is also the nature of old friends.
•••
What does one say when one reads her friend's broken heart on the page? I couldn't ask Karen out for coffee. I couldn't help her choose flowers to plant on her mother's grave. I couldn't bring her a casserole. I was already—physically—so far away.
I had asked Karen to be my oldest son's godmother, a position she gladly accepted. After we moved to Seattle, she flew out for a whirlwind weekend to participate in the ceremony. It was rainy, but that did little to dampen our spirits. The baptism ceremony was lovely, and the dinner after was lively. Karen and I stayed up late at night to talk and talk and talk. Drink tea and talk. It was then I had my friendship epiphany.
Apparently I wasn't the only person who felt Karen had abandoned them. Jane and their friend Mel had felt slighted over pretty silly reasons. Karen had missed a few of their outings and they felt rejected. They were being petty and jealous. Karen felt defensive and exhausted.
I practically shouted that they're the ones who see her all of the time, but I should have realized that social media lies. They were the ones posting about the amazing times they had. Karen's priorities—her daughters, her husband, her father—hadn't changed. All of us had misread her, horribly.
It turns out that space was what Karen needed. And wanted. She was thankful that I had given that to her, to allow her to navigate this new, unwelcome existence without her mother.
Karen left Seattle with an uncertain future and I watched her go, worried about her, but I felt the most secure in our friendship ever. So now I call her. I call Fran. We text, sometimes we group text. Sometimes Karen calls me. And we never ever mention obligation.
•••
J. LIN has been a twice resident fellow at Hedgebrook and a waiter at Bread Loaf Writer's Conference. Her work has appeared in the book Philly Fiction, SoapNet.com, ABC.com, Seattle Weekly, MetroKids Magazine, York Daily Dispatch, AsianAvenue.com, haveuheard.net, and forthcoming in 2017 Women of Color Anthology: All the Women in My Family Sing. She was also part of the Emmy-winning writers' team at "One Life to Live." She lives in Seattle with her husband and two sons.