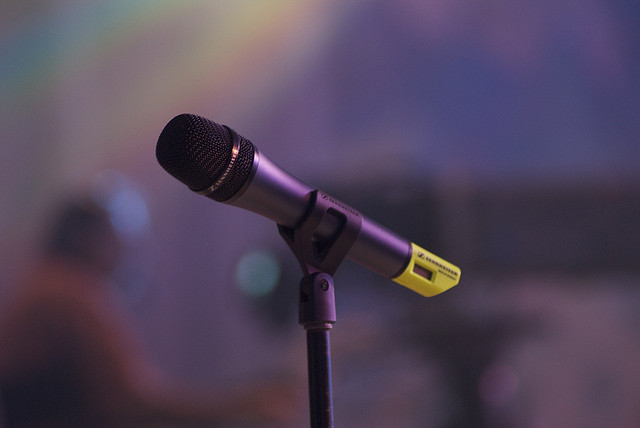 By Jennifer Niesslein
The main thing to remember is that it doesn't matter if you can sing. Karaoke isn't a talent show. The trick is having confidence.
That said, do yourself a favor and start with something easy. Everyone can sing Billy Joel, say, or Huey Lewis and the News. REM's not too tough. I once worked at a bar that held karaoke night on Tuesdays and Thursdays. I looked forward to it, if only to escape the monotony of the manager's Bonnie Raitt tape played on a loop. ("Something to Talk About" still triggers in me an olfactory memory of fajita grease and spilled beer.) There were some regulars who did rousing versions of "Friends in Low Places" and Patsy Cline's "Crazy." However, it was the summer of "Love Shack," a little old song that young, drunk women believed could transform them into Kate Pierson. It was painful. For now, you should probably leave The B-52s alone.
Singing louder makes it easier, weirdly. Also, you can't sing karaoke ironically. You can use a silly voice all you want, but you've chosen your song because something about it speaks to you. A stray lyric, the particular beat, a memory you associate with the song. When it's just you and the microphone, you can be anything—younger, older, freer, tragic, more bad-ass, more soulful, more successful, unspeakably sexy—for the length of the song. When I sing, I feel something akin to joy.
•••
Even if the n-word is in a song you choose, you still may not use the n-word. Substitute "ninja."
•••
I have a karaoke machine at home, and that's normally how I sing karaoke. We've amassed a pretty nice selection of karaoke CDs that has nearly overgrown the drawer where we store them. If our collection were a radio station, it might have the tagline, "The best of the '60s, '70s, '80s, '90s, 2000s, and today!" A little something for everyone.
Public karaoke can be hit or miss. The best public karaoke experience I had was seven years ago in Ocracoke, North Carolina. My friend Sundae is a local, and she took my husband and me out to a karaoke bar one night. The place was a huge, windowless building on a two-lane road leading out of town, away from the tourist traffic. We got there early; a small crowd gathered in the back, drinking. By the time the karaoke DJ got set up, I was one of the first to sing. I chose "The Deadbeat Club" by The B-52s, ignoring my own advice. I pulled it off okay, although I sensed that the crowd didn't know the song and didn't care about my rendition. An hour and a half later into the night, it was time for my second turn. At this point, the place was packed. Smoky, wiggle-your-way-to-the-bar, wait-in-line-to-pee packed. The DJ called my name, and I took the mic.
Ba-ba-ba-bada-dun-dun.
That's right. Vanilla Ice's "Ice, Ice, Baby." The crowd went insane. I was loaning the rock star experience, listening to scores of people singing along with me, watching the room bounce to my voice. For the first time, I understood the allure of public performance, the high that you get from knowing you created this mass of energy.
The next day, a woman stopped me as I was leaving a restaurant restroom. She congratulated me on my performance.
The worst public karaoke experience I had happened in San Francisco at a small Mexican restaurant located on one of those steep streets on which it's impossible to maintain any sort dignity while walking down. Brandon and I had already been out with some writers I knew, had already eaten dinner and had cocktails, but by the time we got near the hotel, we weren't ready to end the night. The place had one raucous group when we got there, and it seemed like good times. I chose a song; Brandon chose a song.
But by the time our turns came around, the fun group had left. I had chosen an Alanis Morissette song. I will just say this: There is nothing more humbling than scream-singing about oral sex at the movies, in a room populated by only your husband and the stooped older man running the establishment's karaoke equipment.
•••
Don't try to put your own stamp on it by changing the phrasing or some such.
•••
Lyrics can throw you, even if you think you know the song. One holiday, at a family gathering, my mom requested that my nephew sing Third Eye Blind's "Semi-Charmed Life." Brit did, and we watched Mom's face slowly register the meaning of the song's lyrics. We refer to it now as "Grandma's Favorite Methamphetamine Addiction Song."
At one of our neighborhood parties, a friend volunteered to kick off the night with the first song. We were two drinks in—FYI, three is kind of the optimum place to be—and I suggested he try "Tainted Love," a song on the not-challenging level. We were all having a good time, until he started in with the "touch me" part and happened to look around the room. Most of the adults were in the kitchen, noshing. In the room where the karaoke was, we were surrounded by children, all eager to get a turn at amplifying their own small voices.
It could have been worse. He could have been singing "My Sharona," with its surprisingly creepy lyrics. Ick! Ick! Ick! Ick! Run, Sharona!
•••
I sprung for the nice microphones from Radio Shack, so don't swing them from their cords, like you're some sort of David Lee Roth.
•••
I grew up Presbyterian. Although as an adult, I consider myself a superstitious agnostic, I sometimes miss the ritual of a community gathering in song.
Brandon and I used to host an annual karaoke party on New Year's Eve in our neighborhood before some of our friends moved and the new neighbors didn't seem as interested in singing. It was one of the highlights of my year. We'd lay out some snacks and drinks, and we'd catch up. Eventually someone would start the singing.
We'd been hosting this long enough that I knew what people would gravitate toward. Ed and Lucy would do a Rocky Horror Picture Show song. Steve would sing Def Leppard's "Photograph" with touching earnestness. Because Trisha is Canadian, she got first dibs on Alanis Morissette and the Barenaked Ladies. She also got "Me and Bobby McGee," slapping her own thigh to keep time. Brandon and Dan would duet on some '90s songs, and Sara would sing "Son of a Preacher Man" because she's the daughter of a preacher woman. I'd go heavy on the hip-hop, the kids Top 40 songs, and then at some point Melissa would bust out the Grease soundtrack, and we'd all gather round and shout it out together.
At midnight, those of us left at the party would gather on the back porch with our glasses of champagne or sparkling cider to watch the city's fireworks. Sometimes there would be a straggler, and in the first moments of the new year, we'd hear melody from inside the house.
I really need you tonight!
Forever's gonna start tonight.
Forever's gonna start tonight.
And then, year after year, it would.
•••
JENNIFER NIESSLEIN is the founder and editor of Full Grown People. Her website is jenniferniesslein.com.