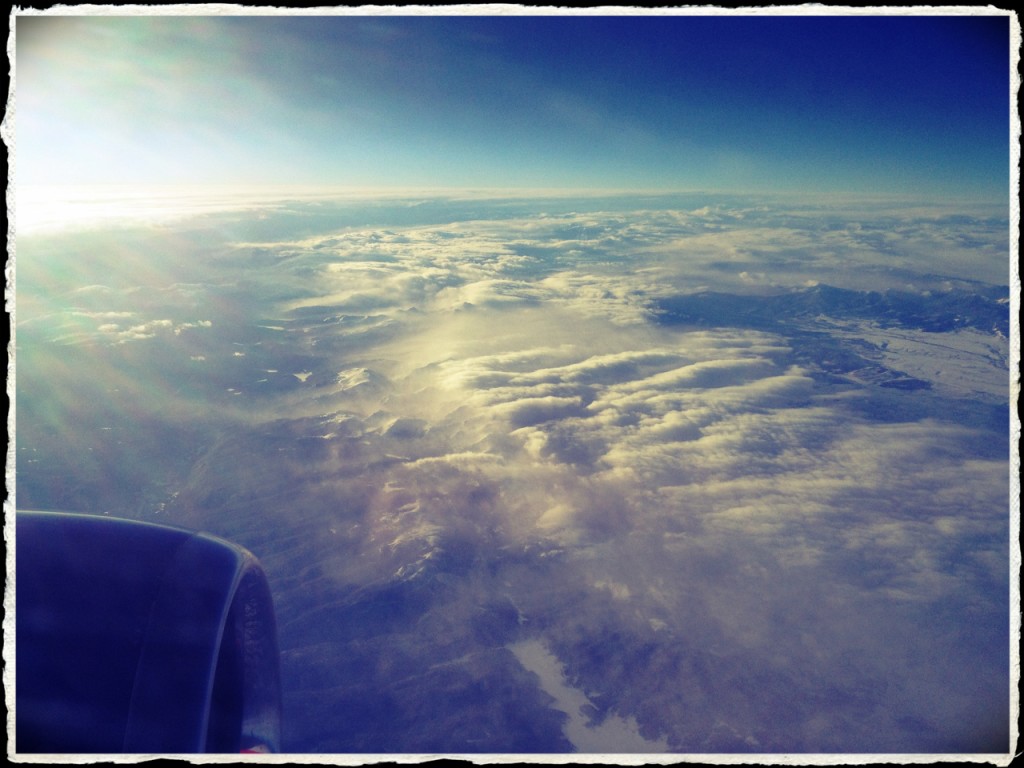 By Tamiko Nimura
I am the straight leg of a capital D: leaning towards the curved window and wall of an airplane, insistent, staring at the arc of the horizon. I'm in between deep space and blue sky and white clouds and brown earth. I have to tell myself to stop holding my breath. The sun keeps setting faster as I fly east, towards the hospital where you, my niece, are about to be born. It's getting darker and darker.
•••
Last week your uncle Josh called me, walking to his bus stop in Seattle after work. He was on his way back to Tacoma, where we live. His voice was uncharacteristically high and tight, and he was slightly out of breath. "My grandpa died," he said.
"Oh, hon," I said. Exhaled. "Are you okay?"
"Yeah," he said, but he hesitated.
I took a deep breath, too. From the first time I met him some twenty years ago, Grandpa Dave greeted me with an exclamation point, every time, every year: "Hey, Tamiko!" he'd say, and give me a big hug.
•••
What it has meant for me to live in this space where death and birth follow each other so closely? It has felt like both parts of a capital D: the straight rigid line, the soft curving out, both lines working together to create an open space. Something like a mouth. Something like the halves of an ancient chapel door. Something sacred.
•••
I'm flying from Washington State, where I live with my family: your uncle Josh, your cousins, who are my daughters. All of us can't wait to meet you for the first time. I've had your first picture, a fuzzy ultrasound, on my desk in our kitchen. I'm flying down the West Coast to the Bay Area, where your mother and father went to school. From there I'll take a different plane that travels south over Monterey, where your parents were married, then make a left and head farther south and east into Texas. I'll return to Seattle after that. The round trip looks like a D on the map. D for death? I think and quickly push the thought away.
•••
The day before my flight, I was on a freeway ramp, racing back from a meeting to pick up your cousins from school. I got a series of texts from your mother. She was going to the hospital to be induced, she said, because a number of risk factors indicated the increased possibility of stillbirth. My anxiety skyrocketed. I started to make myself breathe deeply, calling on every single mind-trick that I knew from yoga to calm myself down.
•••
Maternal deaths in childbirth are much less frequent these days, but somehow I can't help but project into the very worst-case scenario. Your mother and I already lived through some of the worst together, when our father died so many years ago. She was six years old, and I was ten. If I am facing the prospect of your death or your mother's, it is because your mother and I met death intimately as children. The worst and unthinkable has already happened to us, and so death never feels very far from me.
•••
During the first part of the trip, I can't think about very much else but you. I don't know just when you'll arrive, but I know you're really on your way now. On the plane ride I sip plastic cups of ginger ale, refuse the snack mixes. I've just turned to a chapter in the book I'm reading. Believe it or not, the chapter is called "It's A Girl!" But as it turns out, the child in the book is stillborn. I breathe out. I close the book, put it in the seat pocket in front of me. D is for daughter.
I don't want anything like stillbirth hovering close to your arrival. But the word's been mentioned by doctors often enough that the specter's there anyway. Until now I haven't known that kind of haunting, the specific terror that your uncle Josh felt during both of my pregnancies: the terror of something bad happening to mother or child or both. He hid it well. I was too focused inward to notice, towards growing and welcoming life.
•••
On the plane I'm thinking about a character from a TV show that your mama and I both adore: Downton Abbey. In one episode, a much-loved sister dies of complications from her daughter's birth. In my mind I am watching that episode, watching a loop of that endless minute, watching that character shudder through a violent seizure and die.
•••
Our grandfathers died before your mother and I were born. Adoptive grandfathers were special to us. So Grandpa Dave was one of the only grandpas I knew, even though he was really your uncle Josh's grandfather. At ninety-two, Grandpa had lived a beautifully long life. He retired some thirty-five years ago, spent most of his retirement at his own house and at his daughter's house in the very last few years. He lived to see many grandchildren and even several of his great-grandchildren.
Grandpa Dave and I connected very early after we met, most often through food. Cooking food with him and for him—he loved to watch me cook with Josh, together—was one of the greatest pleasures of our trips home. He cured his own olives, grew and harvested his own avocados. His daughters and grandchildren used to call him every Christmas morning to talk about how many raviolis they'd made together at their houses. Grandpa Dave loved trying sukiyaki and egg rolls from our family's New Year's gatherings and he loved my family's recipe for teriyaki sauce. Food was central to his life as it has been in mine, good simple food. He grew up with very little, but savored so much.
•••
Caught one plane, about to catch another, I am still tense. I don't watch the news on the TV screens. Only later do I find out about the attacks in Paris and Beirut. Instead, I walk miles in the airports so I can walk through some of that tight energy. I am taut like a bow before it's released the arrow, I am the arrow flying towards you. Are you here yet?
•••
At the end, Grandpa didn't have any prolonged suffering or hospital stays. He woke up one morning feeling badly. He had difficulty breathing. He just didn't come back from the emergency room that day. And in the grand scale of deaths, his was as good a death as might be wished.
For the holidays we will go to California to visit our families, as we do every year. But I can't believe I'm not going to be able to hug Grandpa in his flannel shirt, watch him take off his glasses, see him rub his forehead, hear the exclamation point in his voice.
•••
In storytelling rules, this is where I should probably talk about your mama—my little sister—and how much I love her. I can tell you about her first cries, all the way from the delivery room and in the elevator and into the nursery. I was four years old. I can tell you where I was sitting on the couch in our childhood house when I held her for the first time.
I should tell you more about what and who is at stake if she dies. But I can barely write those last three words. There are not enough words to tell you about my love for my little sister. This is where my words leave me.
•••
I am talking about Grandpa's death as a "good death," as if I can manage my grief away by talking about his loss as something good. And there's a part of me that thinks I'm a terrible aunt for mentioning his death in a letter to you. Death and a newborn baby? As if any mention of the two in the same pages, much less the same paragraph or sentence, will tarnish this new life for you. The hard truth is that they're not so far apart, after all.
•••
Once I had to say goodbye to a yoga teacher, a teacher that I really loved, without her knowing I was saying goodbye. I hadn't realized just how much I loved those classes until I knew I wouldn't see her anymore. I knew she was leaving before anyone else in the class. In fact, I don't even think she knew I knew. But yoga is one of the best places to hold space, and this teacher was so good at creating and holding space for her students to feel deeply. She talked about the strength it takes to let go. So I sat, allowing myself to feel a deep sadness for an hour and a half. Not trying to escape it, not trying to fix it or numb it.
That hour might have been the first time I welcomed grief. Now I can think back to that class, that teacher, that shadowed room with its pale yellow walls, and I am grateful. I wonder how many are able to hold space for the hard questions. How do we say goodbye to a life? How do we welcome a new life? To keep the heart open enough and long enough to do these things with love? I think part of the answer's in the breath.
•••
It's early evening and I've left the sunset far behind on the West Coast. I'm here at the Austin airport, texting, trying to find out where you and your mother are. I check Facebook, and somehow, there's a green dot, saying that your mama is online. "Oh," your mama writes. "You're here early. Baby's not here yet."
•••
These last couple of weeks have felt like living among the raw edges of death and birth. But maybe this is how we all live, so many of us unaware most of the time.
When you choose to feel your emotions, a wise woman has said, you can't just choose to feel the good ones. You have to feel the good ones and the bad ones. I am learning how to un-numb myself, then, even as I write this sentence to you. Feeling a deep grief at Grandpa Dave's death, I can feel that kind of deep joy over you. They are all tangled up together, my grief and joy. I wish you could have met him. He would have welcomed you, too.
•••
It's Saturday morning, the day after I've landed in Texas. Several hours in the waiting room, a couple of hundred feet from where you are. Other fathers are coming out from behind double doors, being greeted by family members with balloons and flowers. Your grandmother and I are still waiting, jumping every time those double doors open.
At last, a picture appears on my phone from your daddy. And there you are, little one. You are all soft curves, sleeping. To see your face: the faces of my babies. A few hours later, holding you, I see your mama's face: my baby sister's face when she was a baby. How incredible just to watch you breathe.
On your first day, I am finally bending after so many waiting hours of sitting straight. I am curving towards you. We are breathing together and I am whispering to you: this is life, this is life, this is life.
•••
TAMIKO NIMURA is a freelance writer living in Tacoma, Washington. She is a contributing writer for Discover Nikkei, the International Examiner, and the Seattle Star. Recent writing has appeared in HYPHEN, The Rumpus, and Full Grown People. Find more of her writing at tamikonimura.net.