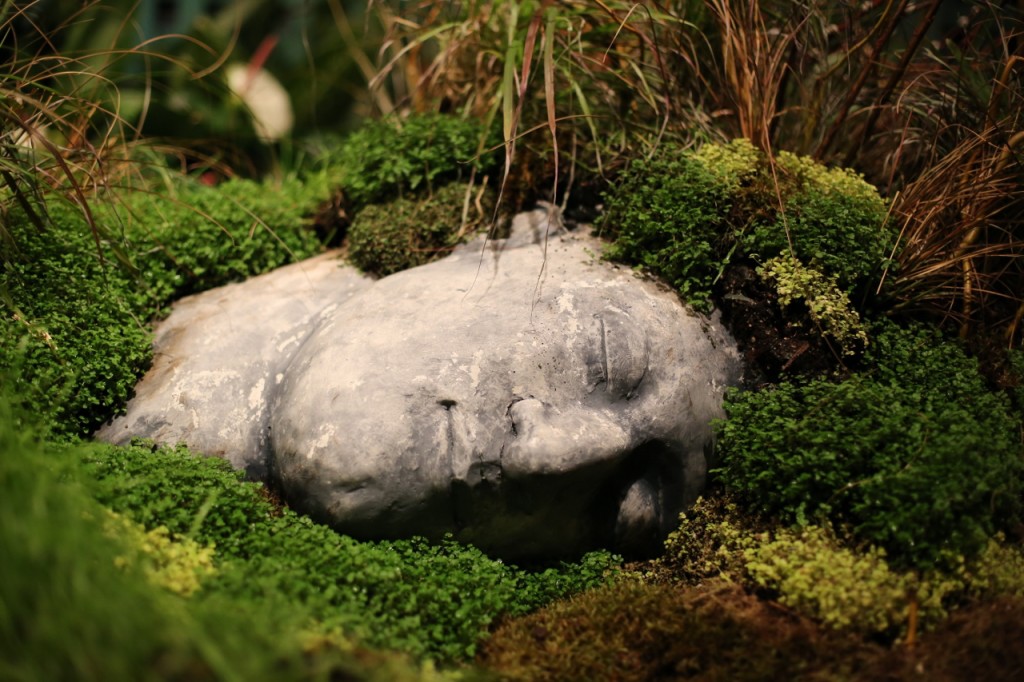 By Amy E. Robillard
"This, honey, is crabgrass. It's the stuff that's been driving me nuts all summer," I say to Steve as I point with my foot to a particularly large weed. "It's all over our front yard and I pull it up and it leaves a huge hole and I could do it for hours, but at some point I just stand up and walk away 'cause I know it's a hopeless fight."
We're walking to the hospital's parking lot. I've just had a CT scan of my brain. Steve has taken a couple hours off work on this Thursday morning to drive me to the hospital because I'm so shaky from the migraine that I'm not sure I can do it myself. I drove myself to my doctor's office this morning, but the drive to the hospital and the waiting in the waiting room and the potential need for food and drink all seemed too much at once, so I called Steve and asked him to meet me at home. I got home first and, while I waited, I Googled "brain aneurysm" and learned that what we normally think of as a brain aneurysm—the kind that kill people—is actually a burst brain aneurysm. So I could have a brain aneurysm right now without knowing it and it could be the cause of this excruciating migraine.
•••
There's something so satisfying about pulling up crabgrass because it all comes up at once. Find the center, gather the tendrils, and yank. At first I'd used the super duper fancy stand-up weeder I bought earlier this summer, with its eject button, but it turned out to be too slow. I wanted to be on my hands and knees pulling more than one weed up at once, digging into the earth, ridding it of the intruder that, for so many years, had passed for grass for me.
Until we moved into this house, the first house I've ever chosen, I paid little attention to the grass except to mow it. I always made sure that we kept the lawn mowed. There was a deep satisfaction that came from seeing the immediate transformation from unkempt to kempt. And surely at the old house we had crabgrass. But it had been Steve's house before I moved in and I didn't feel the same sense of ownership that I do here. The crabgrass here is maddening.
I sometimes worry that my neighbors, walking their dogs, judge us the way that I, walking our dogs, judge neighbors whose lawn has been taken over by weeds. Last year, our first summer in the new house, I quickly identified the house in the neighborhood with the tallest weeds. They were like a huge "fuck you" to the rest of us who pulled the ugliest and most obvious weeds. It doesn't help that we live next door to a woman whose yard and garden are damn near perfect. I imagine conversations with her in which I defend the state of our yard by pointing to the work I do as a professor and a writer. While you're out here perfecting your yard, I imagine saying, I'm inside prepping my classes or writing an important piece of scholarship. All she does in this scenario is look down at my feet, where the freshly mown crabgrass taunts. And on the afternoons when I find myself outside on my hands and knees pulling crabgrass, I imagine her shaking her head and telling me that I'll never win. I know I'll never win, but still, it's so satisfying. When the entire weed comes up like a mop of hair, there's nothing else like it. No other weed offers such a huge reward.
•••
I've always been the kind of person who immediately jumps to the worst possible conclusion. Recently when our dog Wrigley began limping, I assumed it was bone cancer. When the anti-inflammatories helped, I relaxed. When the limp came back a month later much worse, I spent the night imagining our lives with a three-legged dog. Dogs recover from these things much better than people do, I told myself. We see it all the time. It's the people who are taken aback by a dog with a missing leg. The dog herself is usually fine, running and playing like any other dog. Steve, on the other hand, always thinks the best, minimizing what I take to be life-threatening situations. For Steve, Wrigley's diagnosis of severe arthritis on both hips was a shock. He thought for sure she'd just pulled something.
When I was a kid, I didn't expect to live much past my late twenties. It's not that I thought something terrible might happen to me; rather, I knew something terrible would happen to me. It's a mindset born from years of abuse. The trauma theorist Kai Erikson wrote that traumatized people calculate life's chances differently.
So when the doctor told me she wanted a CT scan of my brain because of the frequency and severity of the migraines, I immediately jumped to the worst possible scenario. "I'm convinced I have a brain tumor," I said as she examined my ears.
"It's not a brain tumor I'm worried about," she said. "Usually with a brain tumor, a patient will come in very confused, unsure how they got here. What I'm more worried about—and I don't want to give you more to worry about—but I worry about an aneurysm."
Despite the migraine, I chuckled a bit. I couldn't help it. I didn't know enough about the brain to imagine the worst-case scenario. I was an amateur at this thinking-the-worst business, it seemed.
•••
One afternoon when I was outside with the weeder pulling up crabgrass, the UPS guy stopped by to deliver a package. "Are you pulling crabgrass?" he asked.
"Yep. It's hopeless, I know."
"Can I hire you?"
"I think I've got more than my share here, thanks."
He shook his head and smiled as he got back into his truck.
What am I doing? I thought. I should be inside writing important scholarship.
•••
I woke that morning with the headache. It seemed manageable for the first hour or so I was awake. But then my head really started pounding. I took a couple tramadol. Nothing. I tried to imagine going in to school, teaching my class, talking with any coherence about anything. I started crying, holding my head with both hands, massaging my temples with my fingers. It had never been this bad before. My first migraine lasted a month, my second one three days, and the last couple just a day because I'd finally gotten medicine that helped. But with this one it was too late to take an Imitrex and the tramadol wasn't helping and I understood what it was like to want to die. I couldn't escape myself. I couldn't think. I canceled class for the day and called my doctor.
In the radiology waiting room, Steve and I sit quietly until my name is called. The radiology technician asks me for all of my vital info, checks the name on my paper bracelet, and asks me whether I'm pregnant. "No," I say.
"How can I be sure of that?"
"My husband had a vasectomy."
"I'm still gonna need you to sign a form before we do the scan."
I shrug my shoulders. Fine with me. As he walks across the room to find the form, I say, "I'm too old to be pregnant anyway."
He tells me that they're now required to ask women up to age fifty-five about pregnancy.
"Ha! I can just imagine some of the answers you must get."
"Oh, I've gotten some good ones. At first it was hard for me to ask, but now I just laugh about it."
"You should write an essay about those responses."
On the ride home, I realize that being the passenger is making me nauseous, so I ask Steve to pull over and I take over at the wheel. Somehow I feel a little better after the scan. Maybe it's the promise of certainty. We'll finally know how I'm going to die. Steve, of course, is convinced it's just migraines. "If it's just migraines, it's gonna take years to figure out the right medication and I'm just not up for that," I tell him.
My doctor and the radiology tech both told me that they'll have an answer for me within an hour and a half. By the time we get home, I figure it's more like an hour. Steve goes back to work and I sit on the couch with the dogs, imagining how this will play itself out. As the minutes and then the hours pass, the scenarios become bleaker.
I have a brain aneurysm and I need immediate brain surgery to clip it. They'll have to shave my head. My department chair will have to find someone to take over my classes for the rest of the semester. I might die. If I die, I'll get to see my beloved dog Annabelle again.
I have a brain aneurysm but surgery is too risky, so I must walk around for the rest of my days knowing it could burst any time.
What they've found is so bad that they call Steve first, tell him to come home and get me, and we go to the doctor's office to learn that I have weeks to live.
They don't find an aneurysm or a tumor, but they do find plaque and I'm diagnosed with early-onset Alzheimer's.
•••
At night sometimes, I close my eyes and I see crabgrass, its white webbed center with its blades growing in all directions. I open my eyes and try to concentrate on something else, but it's no use. I close my eyes and the crabgrass taunts me. It knows I'll never get it all. It will always win.
It occurs to me now that crabgrass is like cancer in that they're both named for the crab. Cancer comes from the Greek karkinos because the tumor with its surrounding vessels resembled the shape of a crab. And the most common genus of crabgrass is digitaria, a name that likens the tendrils to fingers reaching out in all directions.
•••
It's not that I want to die or that I want a brain tumor or an aneurysm. It's not that I want attention, that most obvious of explanations. I think when I imagine these scenarios what I also imagine is the freedom that comes with knowing.
After my beloved dog Annabelle died, none of the day-to-day stuff mattered anymore. What mattered was that I no longer had my Annabelle and I no longer knew who I was. But I knew who I wasn't. I wasn't a person who cared about who in the department was dating whom or which professor had a crush on which graduate student. I wasn't a person who cared about the way that the people I had thought were my friends couldn't find it in themselves to support me. I wasn't a person who cared about who liked me or who loathed me or who didn't know I existed. I'd lost my girl. Nothing else mattered. I wanted that clarity again, the clarity of tremendous, soul-crushing grief.
•••
My doctor's office called after about two and a half hours. My CT was normal. I'm normal. When she told me this, she pulled it all up at once, all of my imaginings about the end, all of the repercussions of the scenarios that allowed me the freedom that comes only with certainty. Like I do with a particularly gnarly crabgrass weed, she yanked it all and left a gaping hole.
•••
AMY E. ROBILLARD is becoming increasingly torn between her identities as Associate Professor of English at Illinois State University, where she specializes in rhetoric and composition and the personal essay, and as essayist whose work resists academic categorization. Her nonfiction can also be found on The Rumpus.