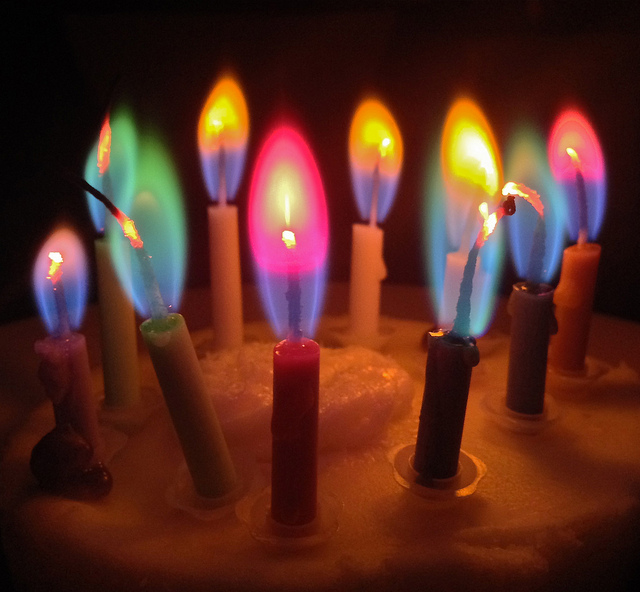 By Sarah Werthan Buttenwieser
The moment I poured the runnier-than-my-usual batter into the pan, I had a feeling. I had an hour or so on Saturday morning to make this cake—before I took my nearly six year-old-daughter to her gymnastics class. Later that day came the party. For the eleven children in attendance, I still needed pizza, gluten-free cupcakes for the girl allergic to gluten who'd bring her own pizza, and some ice cream maybe. It's safe to say that by this—our fourth turning-six-years-old party—we've become relaxed. To call dancing a theme would be stretching it. To say we'd prepared would be stretching it.
That the cake did not come out of the pan in one piece wasn't a surprise. Even the help of a carefully wielded spatula, the larger part of the cake headed to the wire rack with a halfhearted momentum, accompanied by the sad inertia from the rest still glommed to the pan.
A friend called right as I began to contemplate cake triage.
Her kids were fine. Her brother wasn't. "He'd gotten clean," she launched in. "And then he stole my stepmom's jewelry."
This guy had been in and out of trouble, more in than out, for years. His parents disagreed at this point about what to do. He stayed with them much of the time, because he was out of work. His mom—my friend's stepmom—was at a rope's end, and the jewelry theft—family treasures much more than dollar values—made her feel violated, stripped of all dignity. "She just wants him out. It must have felt so hostile," she said of her stepmother's response. "I can understand how she feels, although I don't relate to jewelry like that."
"Your dad?" I asked.
"He can't abide the possibility that my brother would hurt someone else or himself," she says. "He wants to have my brother on his watch, because he says he couldn't live with himself if something happened and they were estranged." The something my friend's father imagined: homicide or suicide.
"I guess you never want to give up on your child, and yet you know that unless he gets help and it works, this can't end well," I said.
If you try to spackle chocolate cake with yellow frosting, you get little crumbled bits of chocolate cake interspersed in your thick yellow paste no matter how hard you try not to, like tiny flecks of dirt. "This cake could be on Cakewrecks," I said. I had just enough frosting and enough salvageable cake to restore about three-quarters of the disastrous top layer, the one I'd meant to be the bottom layer.
"It's made with love," she reasoned. "It's cake, and you put it in a bowl with ice cream and no one notices."
I had already decided this particular cake required ice cream. In the morning, I'd told myself I had just enough time to make a cake. I'd done so little for this party and asked myself why should the smallest one lose out on a homemade cake? The bakeries that offered pretty decorations had shut down and no way would I buy a supermarket cake, for no reason other than I didn't want to. My cakes are generally good. They are generally pretty enough. Not so this time. Then again, it wasn't my son stealing my jewelry to buy heroin so there was that.
"Small children, small problems, big children, big problems," I quoted one of those in-the-ether parenting aphorisms.
"Ooh boy, I know. I can't imagine what I'd do," she said. Her oldest is four. She cannot imagine. That's the truth. My oldest is eighteen and I can't imagine but more so. Enough distress of the way-beyond-Band-Aids kind has occurred now to make me appreciate how small the small children problems really are. I let myself marvel at my cake in this light and was surprised by how unworried I felt by its imperfection. It's a cake. It's not a drug addicted, jewelry thieving son. Let my problems start and end at cake—memorably cakewrecked cake. If only the wish could make it so.
•••
A few weeks ago for some work-related research, I had to read through a stack of alumnae quarterlies' class notes sections. According to convention, class notes start with the earliest classes and advance in time. The most recent grads go last. This means the first pages focus solely upon who died. Reports then drift back through the life cycle: ailments, assisted living and family travel, retirement, adventurous travel, gatherings of friends and grandchildren, professional accomplishments and empty nests, full nests, babies, weddings, engagements, first jobs. You can see years like ribbons—swaths of experiences, one after another across the thick, matte pages. Stories repeated.
One of the milestones that many women described were their seventy-fifth birthday celebrations. Quite a few took trips: with children or spouses or friends, to far-off places or somewhere cushy for family gatherings. That was the week my mother turned seventy-five. When I called to wish her a happy birthday, she remembered how hard her sixtieth birthday had been. Her sister had cancer and was only a few weeks from death. She was just a month shy of sixty-five.
"We did this big Chinese dinner with our closest friends when I turned sixty," my mom recalled. "It was as if, in the face of everything that hurt we had to affirm the friendships. I didn't feel like celebrating at all, not at all. I was so sad. In retrospect, until then, other than my divorce, I really hadn't experienced loss."
Following her sister's death, my mother got a crash course in loss, including but not limited to her brother-in-law's death and her mother's. We did, too; ours included my father-in-law's death and two of my peers, both of whom had small children.
We'd been so stunned by all the losses—numbed, crushed, battered, humbled, calloused. By the time we weren't in the midst of some crisis, I felt different. There was no more denying the inevitability that life ends. Although I felt heartbroken more than once, I also felt more grateful, even for the hard parts. I understood that it was a privilege to get to be sad.
It turned out that my mother spent the weekend before her seventy-fifth birthday in search of a nursing home for her brother-in-law. He's younger than she is, but his MS has progressed that far. "Nursing homes are depressing places," she told me. Both of her parents managed to avoid them. I asked how about her birthday celebration. She and my stepfather had gone out to lunch. "We're both so defeated," she said. "I'm glad I didn't have to muster energy to do anything more than that. I couldn't have pretended to have fun today."
Unlike the women who wrote of their milestone travel adventures or spa vacations with their female family members, my mother has no such plans. "The girlfriends' lunch is in a couple of weeks," she reported when I suggested the celebration didn't have to happen that very day. She knows my sister in California will make cake with her three girls and that when she and I go with my kids to Florida next month, we'll eat ice cream from the homemade ice cream place we ride a trolley to reach. None of that—ice cream and cake with her grandchildren—would be notable enough that she'd think to submit to the alumnae quarterly for her college.
•••
So much doesn't go into the class notes. What of those moments? The burning baby tummies and bottoms of feet, their slack eyes and wan skin that made the red cheeks look clownish. The first time I experienced it, there were two sick, the baby and the preschooler. The labored breaths and the gloppy, encrusted noses, the coughs like wounded seals, and all that heat—and it was on me because their dad had it too. So did our housemate. By the time I'd reached the doctor's office, I'd wrung about a million tepid washcloths between them.
While I clutched seven-month-old-baby, the doctor patted my arm. We were standing in the exam room. "I'd like to get a chest x-ray," she said. "If the baby has pneumonia, we want to treat it, but it's hard to tell when they're so little." I couldn't say anything just then. I'm sure I looked crazed, crestfallen, and scared. "It's okay—it's a precaution to check," she reassured me and added, "You'll never forget this."
This: the illness that filled the house with all that labored breathing and filled me with exhaustion and panic in equal measure. This: the patience needed to care for all those patients. And beyond our household, more exhaustion and patience and panic while my mother's sister, my beloved aunt was dying and my father-in-law had just received a diagnosis of myeloma. There was no place calm. No one could really help us and there was no way to help anyone else beyond the sick people I could touch. Islands of illness—and only ours promised a happy ending.
It was snowing. Big flakes flew at the windshield and tossed slickness on the roads. The flakes fell by the handful. I leaned in toward the windshield to squint between the wiper swipes, and I gripped the steering wheel as if I held tight enough, it would take over and deliver me safely to my destination. I am never a happy driver in the snow, and that day I was even less happy with the sick baby in the backseat and the need to pass home for the hospital. Cars inched along, the roads narrowed by snow. The tracks where tires tread muddied by sand and salt remained slick despite the intervention.
At the hospital, the x-ray technicians fawned over my chubby, ill baby. I stripped him down to a diaper as requested, his hot, velveteen skin under my rough, desperate hands. The way you take a chest x-ray for a baby unable to stand is this: You place him in a cylindrical plastic contraption, which holds him upright, his arms aloft so that the machine can capture an image of what's beneath the skin. His chubby fingers waved like tassels to some comical, fleecy hat atop his head. "He'll cry," the technician promised. "That's good. We want him to cry because crying expands the lungs so we get a good image."
He cried as they placed him in the cone-shaped seat and pulled his hands up onto the top of his head. Then, all set in the odd little seat, he smiled at the technician.
"We've never had a baby smile here," she said, as she stepped away toward the switch. "Maybe, he'll get bothered, now that he's alone."
Nope. He just chilled in the seat with those tassel fingers and smiled. The technicians paused. "He's a happy baby," one concluded. "Let's try to take the image," she suggested and they did.
"I hope this works," the technician said, as I slipped my sick baby back into his clothes. I added the possibility that the x-ray would be inconclusive to my long list of worries. I took him home.
He did not have pneumonia. Eventually, the household recovered. After that storm, which went on for a couple of days, like a prairie blizzard, there was a thaw. I walked to town.
The sun shone and the snow melted with such palpability it was as if we all were thawed ourselves. The high thirties felt like summer. Snow dropped in clumps from trees and in sheets from roofs, and there were puddles the size of swimming pools on the sidewalks and streets. I reached town and ate a frozen yogurt cone outside. I turned my head to drink in the sun. I gulped the fresh, warm air, grateful to be removed from the house and the clinging arms, the hot skin, the raw winter and for a few minutes to feel myself alone. It was my first outing away from everyone since illness overtook.
Anxiety and sadness flashed there, too, blinding as sunshine. My aunt, my strong, tall, smart, capable aunt, she was practically gone and my mother was inconsolably sad. Unlike my parents' divorce when I was a child, there wouldn't be a next chapter to imagine that could exactly ameliorate her loss. Sure, we all understood life would go on and we'd experience happiness again. You don't get a second sister if you have one, though. Besides, right then, the loss loomed so close, like all those big snowflakes that had walled us in. I took more breaths. I clomped back in my soggy boots, my pants legs soaked. I cried on the way home. The sunshine and freedom gave me the chance to cry. I couldn't let in the idea that all this might happen again, with my father-in-law, but then it did—about eighteen months later.
•••
The thing that salvaged the cake wasn't the ice cream, although I got both chocolate and vanilla. (We had more takers for chocolate; the vanilla was much better.) I bought rainbow sprinkles. I stuck two Playmobil figures, a knight and a princess on the low platform left by the lack of a complete top layer. I stuck two red plastic toothpicks with big lips bright as Taylor Swift's red pucker. I placed all seven candles, six plus the one for a new year around the top layer's ledge. The cake blazed; the loving lips and the smiling figures led the way. She blew. Her friends clapped. The candlelight danced against the glint in her happy, nearly six-year-old eyes. The imperfection didn't change her joy. Imperfection really never does. The trick, I guess, if it's a trick, is to see where you slip from problems you can spackle together with butter and confectioners' sugar to the ones that require something else—and the ones that simply require your acceptance of them as part of a natural order. I saw the cake and heard the six year-olds' squeals and remembered to look at it all.
•••
SARAH WERTHAN BUTTENWIESER has had essays in the New York Times, Salon, the New Haven Review, and Brain, Child magazine amongst others. Her articles have recently appeared in American Craft, Ceramics Monthly, and Berkshires Magazine. She's a regular contributor to Full Grown People. She lives in Northampton, Massachusetts, and is on twitter: @standshadows.