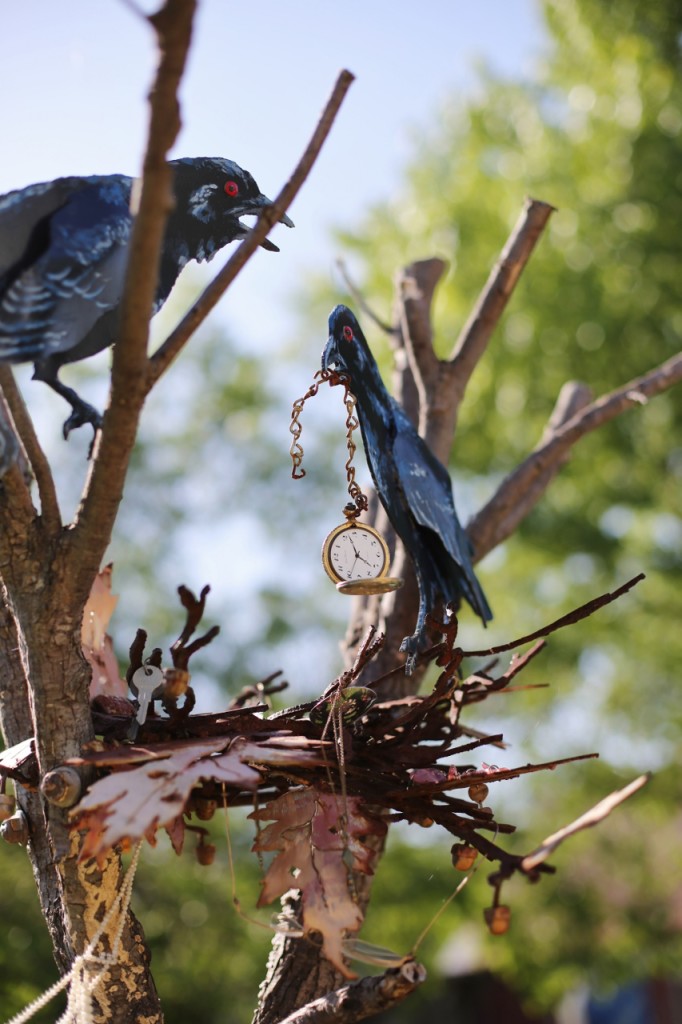 By Daisy Alpert Florin
When my mother found out she had cancer, she said she wanted to do two things when she got better: learn to play the piano and get a bird.
"A bird? Why?" I asked, remembering the nasty parakeets I'd had as a child who kicked feathers and birdseed shells into my underwear drawer.
"Well, I have a friend who has this really beautiful bird, and I'd like to have a bird like that."
I rolled my eyes, a childish act, that, at twenty-seven, I was probably too old to still be doing. It was so typical of my mother to want something simply because it was beautiful: bird as objet d'art. Her desire—requirement, really—for things to be aesthetically pleasing was not a trait we shared.
In the emotionally chaotic days after her cancer diagnosis, it still seemed reasonable to make plans for the future. My mother would stagger her chemotherapy treatments with her schedule at work. We located the city's best wig store. She ordered shelving for her new apartment. And she was going to break up with her boyfriend, Steven, because, although he was nice, she said, "Nice is not enough." She would stop postponing joy and make the time for things she always seemed to be putting off. So if a bird was part of the life she imagined for herself in her post-cancer future, who was I to argue?
•••
Can we ever think of our mothers as unfinished? When we are children, they are whole and entire. Everything that was meant to be for them has come to pass because it has brought them to us. But in time, we come to see our mothers as women with paths not taken, connections not made, choices left somewhere in the dust of the past. After my mother's death, I often imagined the turns her life might have taken had she lived: a new man, maybe not so nice but right; weekly piano lessons in her apartment surrounded by her lovely things; a beautiful bird inspiring her. It was all so close, and yet beyond her reach.
•••
I walked into the garage to grab a box of waffles from the freezer. The birds—barn swallows, we'd learned from Google images—were flying in and out, tending to the nest they built in our garage each spring. My children and I loved to watch their life cycle play out, while my husband, Ken, was less tolerant of the feathers and the mess. Every morning he ran out in his suit and tie with a bottle of Windex and a roll of paper towel tucked under his arm to clean the poop off his car. But he softened eventually, as he did with most things involving his family.
On this particular morning, the baby birds were chirping frantically, opening their tiny beaks so wide the nest looked like one big mouth. There were five babies this time, the most we'd ever had, and the parents seemed more agitated than usual, if such a feeling could be ascribed to barn swallows. Every time I walked through the garage, they swooped down at me, coming so close I was afraid of an Alfred Hitchcock-like encounter.
I stepped over a pile of desiccated dragonflies and saw that one of the baby birds was lying on the ground. I was surprised to see it there, like I'd somehow forgotten that these birds weren't here for my family's amusement alone; this was the circle of life, the universal struggle for survival writ small, the real deal. The bird looked dead, so I grabbed a shovel to scoop it up. But as soon as I touched it, it scooted away. Fuck, I thought. A sick or injured bird seemed far worse to me than a dead one. If it were dead, I could toss it into a bush. But a bird in crisis: That shit needed to be dealt with.
I went inside and Googled, "how to get bird back in nest." I read that birds don't always fly straight from the nest. Sometimes they need to hop around for a few days on the ground or on low branches while getting acclimated to flight. Since the parents were still around and the bird was fully feathered, I should just leave it alone. Leaving things alone and letting them sort themselves out—that I could do.
When I returned to the garage, the bird was still on the ground. I looked up at the nest and saw the four tiny faces of its siblings poking over the edge, the tips of their beaks joined together in a line of collective worry.
•••
My mother learned she had cancer on a Monday. A colonoscopy she'd had the week before had revealed a large mass in her colon, and she was scheduled for surgery that Friday, the day before Memorial Day weekend. Looking back, the speed with which her surgery was scheduled, plus the fact that it was happening in a New York hospital the day before a holiday weekend, should have clued me in to the urgency of the situation. But, like most things involving my mother's illness and death, I only made sense of things later, when everything was over.
My mother spent the week before her operation organizing and making plans as if she were getting ready to go on a trip instead of to the hospital for a bowel resection. I stopped by every night, bringing Chinese food, which only I ate, and searching endless iterations of "stage three colon cancer" on her computer while she sat on the couch with our cat, Firecracker. What I read scared me: The five-year survival rate for my mother's disease was low, less than fifty percent, depending on how many lymph nodes were involved, which we still didn't know. But if my mother was concerned, she kept it to herself, placing the bulk of her worry on the cat instead. He was lethargic, not eating that much. She brushed him over and over until the wire bristles were matted with thick tufts of silvery grey hair. Then she would throw the wad in the trash and start again.
I had burst into tears when my mother first told me, over the phone, that she had cancer. I could tell my reaction had frightened her—such an outward display of emotion was uncommon in my family—so I pulled myself together and tried to ask clear-headed questions about next steps. I decided to act as though everything was going to be fine and that this was just a temporary inconvenience, something to get through. My mother acted the same way, as did the rest of our small nuclear family: my father—from whom she was separated but still close—my younger brother, my mother's sister, Marianne. If privately we were frightened, we kept it to ourselves. We worried about the cat.
One night, as I walked to my mother's apartment, I saw a dead pigeon lying in the middle of the sidewalk. It was in a fetal position, although I wasn't sure that term could be applied to pigeons. What did they look like as fetuses anyway? All I knew was that in all my years living in New York, I had never seen a dead pigeon. I thought immediately of the bird my mother had just spoken about. I didn't believe in omens, but I was convinced this was one. I looked at the bird for a few moments and then continued down the block. I didn't tell my mother about what I had seen.
•••
An hour after I found the first baby bird, all five were on the ground, huddled together near the freezer. I called Ken.
"Can you get them back in the nest?" he asked. I could hear  street sounds in the background placing him in the city, far away from the life-and-death struggle taking place in our garage.
"Are you kidding?" The nest was a good ten feet off the ground. "I'll kill myself getting up there. Besides, they're fully feathered. They're supposed to be flying."
After my mother's death, I became extremely sensitive to birds. If I saw a dead one lying in the road, I would become certain that something terrible was going to happen. Ken would have to grab me and say, "It's just a bird, Daisy. It doesn't always mean anything." And after a while, I convinced myself he was right: It was just a bird. And yet, standing here with broken birds at my feet, that feeling of doom flooded over me again. Perhaps Ken sensed my old worries surfacing and was trying to calm me down.
But there was also a part of me that was annoyed by the entire scene. I wanted the birds to do what they were supposed to do, without my help. They were supposed to jump out of the nest and fly, not cower pathetically on my garage floor.
"Well, what do you think we should do?" he asked.
"I don't think we should do anything. If they can't even make it out of the nest, they have no chance in the wild. There's nothing I can do."
•••
When I was nine years old, I found out that my mother had been engaged to someone before she'd met my father. His name was Leif, and he was Swedish, like her. "If you had married Leif," I said to her, "I'd be Swedish!" This felt like magic. If only I could be Swedish like her, I'd know how to knit and crochet and speak Swedish, that secret language she spoke only with my aunt or with the au pairs who lived in the room off our kitchen. If my mother had married Leif, I would finally have access to the part of her that had always been a mystery to me: the her that existed before I did.
"If I had married Leif," she said, bringing her long, thin cigarette to her lips, "you wouldn't exist."
•••
After ten days in the hospital, my mother came home. The surgery was grueling, but she didn't have to wear a colostomy bag, which pleased her. She wasn't well enough to return to work or to begin chemotherapy. She didn't talk about getting the bird anymore, and Steven—poor guy—was still around.
We were taking things day by day, absorbing one bit of bad news at a time, nibbling on it like a dry biscuit, and then opening our mouths for the next bite. The mood in her apartment was somber. My fifty-six-year-old mother, who a few months earlier had celebrated New Year's Eve with friends in St. Barth's, needed help getting in and out of the bathtub.
"You have to get her over to Sloan-Kettering," her friends told me, certain that the right doctors would be able to help her. They didn't understand how sick she was, I said. She didn't have the time or strength to doctor-shop. The ways things were going, it didn't seem like anyone could make it better, maybe just different versions of bad. I was tired of listening to these pushy New Yorkers who thought they could control everything, that I could control everything. I didn't want control, not over this. I wanted someone to tell me what to do. So I focused on managing her pain medications and sticking to the doctors' instructions. Try this, then that, they said, and I did. I was always good at following the rules.
One night, while Marianne was visiting, Firecracker, the cat, collapsed.
"Do something!" my mother shouted, so Marianne shoved him into his cat carrier and raced across town in a taxi to the emergency vet. He was dead by the time she got there. Marianne, always so fragile, was traumatized, weeping as she told us how she had looked into the carrier and seen Firecracker lying on his side, his eyes bulging, tongue protruding from his mouth. I wanted to kill her.
"I think he died instead of me," my mother told me the next day, a shadow of hope passing across her face. Her high cheekbones were as hard as rails beneath her pale skin. I was surprised to hear her speak so magically, surprised also to hear her mention the possibility of her own death. But maybe she was right. Maybe Firecracker and the dead bird hadn't been bad omens but offerings. This made perfect sense.
•••
After school, I took Ellie and Sam to the garage to see the baby birds. They were still on the floor, tucked beneath the curve of my car's tires. I could tell, although the kids couldn't, that two of the birds had died. The once-charming experiment was no longer so charming.
"Why won't they fly?" Ellie asked, her eyes wide with concern.
"I don't know," I said. "But they have to. If they don't, they'll die."
When Ellie and Sam went back inside, I tossed the dead birds into a bush. I wasn't sure what to do with the other three. If I left the garage door open over night, the parents could tend to them, but I was worried about predators. I decided to close the door and hope for the best. Would they really starve in one night? I brought out an aluminum tray of water, although I wasn't sure if they needed it or if they could even reach over the lip of the tray. I watched them as they sat there, not even moving toward the water, and I decided I didn't like them anymore. I wished in equal measure that they would leave or die, anything so that I didn't have to deal with them anymore. I just wanted it to be over.
•••
By July, my mother was back in the hospital. After several tests to determine why she wasn't getting better, the doctors discovered that the diagnosis of colon cancer had been wrong. She had neuroendocrine tumor, a rare and aggressive form of cancer that had spread throughout the lining of her abdomen, including into her colon. We had lost precious time fighting the wrong cancer.
During this time, Ken and I left my mother in the hospital to go to a Yankees game. My mother was on the phone with J. Crew ordering a birthday present for Steven, and I lingered in the doorway listening to her chat pleasantly with the woman taking her order. I doubted she had any idea my mother was calling from a hospital room or that she would die so soon after the clothing arrived that Steven would be too shaken up to ever wear it. I worried for a moment about leaving, but my mother waved me off. "Go," she said, the phone tucked between her shoulder and her ear. "I'm fine."
Ken and I took the train up to the Bronx and, as we walked down from the subway platform, we saw a pigeon lying on the stairs with its wings spread open like a book. The crowds of people on their way to the stadium stepped carefully around it.
I stopped walking as soon as I saw the bird, tears streaming down my cheeks. "Oh, Jesus," I said to Ken. I doubled over, suddenly out of breath. "What the fuck is that?"
He calmed me down, and we stayed for part of the game. But when we walked back a couple of hours later, the bird was still there, still breathing, its tiny chest rising and falling with great difficulty. Someone had propped a piece of newspaper around it, a tiny version of a hospital curtain. I wanted to smash my foot down on its ribcage. It was the most horrible thing I'd ever seen.
We went straight back to the hospital and found my mother talking to one of her doctors, the only one who had known her before she got sick. The steady drip of pain medication had improved her mood, and she seemed closer to her usual, upbeat self. On his way out, the doctor pulled me into the hallway.
"Do you know how serious this is?" he asked, and I think I kind of nodded, although I really have no idea. And then he apologized to me, either for what had already happened or for what was still to come; I think he had tears in his eyes. But he didn't go any further. Perhaps he could tell that I couldn't grasp what he was saying, that his words had barely touched the protective net of my consciousness. Everything I came to understand about that conversation, I filled in later.
•••
The next morning, I walked into the garage brandishing a snow shovel. I tapped the ground next to the birds and shouted, "Let's go!" It was a beautiful, sunny spring day, and I had decided it was time for them to fly.
With me and my shovel behind them, the three birds hopped out of the garage, across the driveway and onto the grass. Just seeing them against the backdrop of green, with a little sun on their faces, made them look better. One of the birds kept moving away from me, picking up speed until it was off the ground and flying. Not very high, and not very strong, but flying. I watched it cut a jagged line across the lawn and out of my view.
I crouched down next to the other birds. They looked terrified, shocked, their spindly feet as delicate as toothpicks, their coats more fluff than feather, and I realized I wasn't scared of them anymore. They weren't a bad omen or a harbinger of death at all. If they represented anything— and I wasn't sure they did—it was the future my mother had planned for, the one in which she got an exotic bird and redid her kitchen and lived to see her grandchildren. It's just what we do, plan for a future we know is not guaranteed because we can't live any other way. And look how fucking fragile it is.
•••
Shelley was the astrologer for British Vogue and a friend of a friend of my mother's. When she came to New York, my mother sometimes went to her for a reading. A couple of months after she died, Shelley offered to read my chart, gratis. I asked her if she had been able to see my mother's death on her chart during her final reading. I was pretty sure I knew the answer, but I wanted to hear what Shelley would say.
"Not exactly," she said. "We might be able to see that there will be a transition, but we can't tell if that transition will be death or not because in astrological terms, everything is continuous."
•••
Despite everything, my mother's death, when it finally came, surprised us all. Just the day before, her oncologist had ordered a course of chemotherapy. A young resident had come by earlier that week to refill a prescription for the eye drops she used to control her glaucoma. Now they were telling us there was nothing else they could do.
It was evening, about eight o'clock. The hospital air-conditioning was on full blast, and I was freezing. My mother lay in bed, unconscious, surrounded by photographs I had taped to the wall behind her, proof to everyone who cared for her that she really had once been a person. One of the pictures had been taken on New Year's Eve. In it, my mother stood with one foot crossed in front of the other like an actress posing on the red carpet. Her painted toenails peeked out of her pink, sequined slide.
My mother was really gone by then, her breathing labored, the smells appalling and vile. We had already sat in another room with her doctors and hospital administrators who had reviewed her DNR orders. I was the only one who spoke. I signed whatever it was we were supposed to sign. My father seemed folded in on himself, my younger brother shocked into silence.
We went back into her room. Steven and Marianne were there; Ken, too. There weren't enough places for all of us to sit so I leaned awkwardly against the side of the bed, stroking my mother's hand. I wondered if I was supposed to stay there until she died. I became acutely aware of the woman she was sharing a room with and thought how terrible it must be to room with someone so close to dying. Then I was annoyed with myself for worrying about her when I should have been thinking about my mother. The thought of staying in that room until my mother died became unbearable. My teeth were chattering, and all I wanted to do was lie down. So I kissed my mother goodbye and walked out into the hot, humid July evening. I planned to come back in the morning, although by then she was dead.
•••
The birds didn't seem in any rush to go anywhere, so I sat there, letting the weak spring sun warm my back. I thought about how tenuous our hold on life is, how easily the thread is snapped, despite everything we think holds us here. We fall from the nest, unable to fly, powerless to fight the gravity that pulls us down; if we're lucky, our parents stick around to feed us dead insects. Perhaps there are no omens, nothing to let us know that bad luck—or worse—is around the bend. Nothing had prepared me for my mother's death; the only signs were the ones I had chosen to ignore.
Then I stood up and walked away, leaving the birds on the grass. I needed them to do what they were supposed to do, without me, just as I had needed my mother to complete her journey so that I could continue mine. She never got the bird she planned for, but I got five of them, birds that grew in the cradle of my garage. Some died early, others clung to the earth beneath their feet. But one flew.
•••
DAISY ALPERT FLORIN is a writer and editor. Her essays have appeared in Under the Gum Tree, Halfway Down the Stairs and Brain, Child, among other publications. She lives in Connecticut with her family. Read more at www.daisyflorin.com.