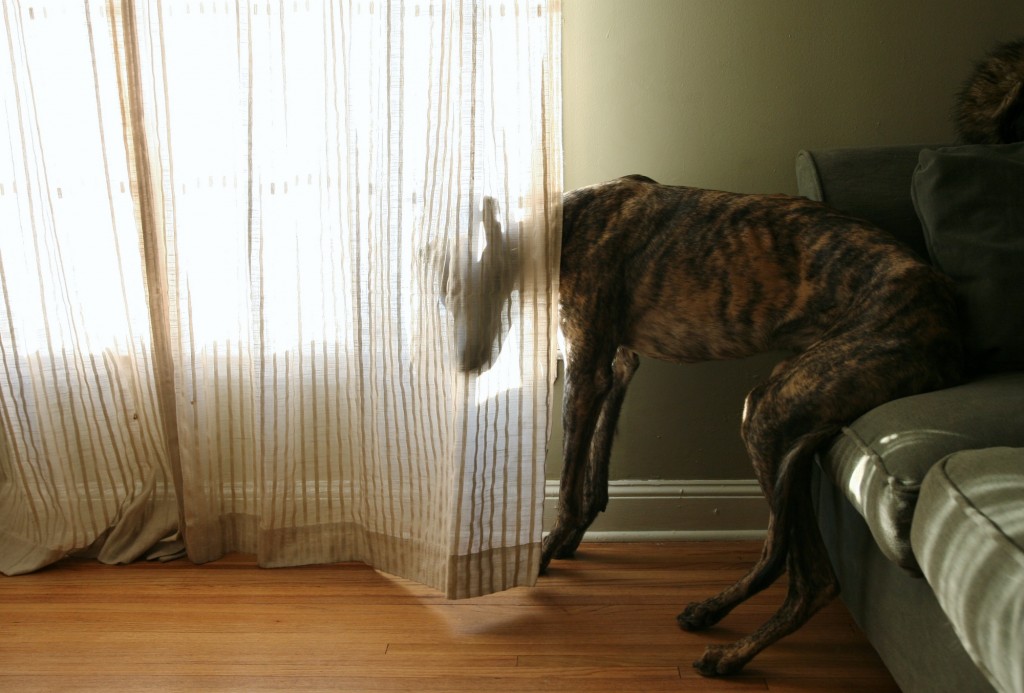 By Jody Mace
It's been a couple months since my dogs started wearing diapers.
So far just a few people know, mainly the people who have visited my house since the diaper regime began. I'm guilty of the worst kind of Facebook hypocrisy. When I post pictures of my dogs (and I do it a lot), I employ angles that hide their diapers. It's kind of like that studied angle that many women use for their selfies—the camera slightly elevated from the face so that the face is looking up. It's more flattering, but everyone knows what they're up to.
Before one friend came over, I texted her, "I should tell you, we're making both dogs wear diapers now. You will know soon enough."
I didn't want things to be awkward for her. There's not a polite way to ask about dogs wearing diapers and I feared that the silence would feel weighty.
My dogs aren't wearing diapers because they have a medical problem or because they're old. It's because they are acting like jerks.
My first dog, Shaggy, is an elegant little creature. He's a schnoodle, a schnauzer/poodle mix, and sometimes I think he's not really even a dog. He's got this meaningful way of looking into your eyes as he tries to speak English. He can say "hello" and "I love you." My husband, who is not as skilled at listening as I am, disputes this, but trust me.
Our second dog, Harlow, is not a specific breed exactly. He's a medium-sized, white hairy dog. Someone found him abandoned in a nature preserve and for reasons I don't understand, we took him in. He had clearly been neglected in every way for some time. His coat was a matted mess. He wouldn't take food from people. He didn't know how to walk up steps. He was distrustful of everyone.
We took him to the vet, got him his shots, and had him neutered. I took him to a behavioral trainer, one that looks beyond commands like "sit" and "stay," and, instead focuses on building his confidence and decision-making skills. I kept him by my side every waking hour, for months, at first on a leash, until he learned to follow me around, to come when I called. The change was like a miracle. He's relaxed now, and he bonded with us. He's got a sweet temperament. He's almost the perfect dog.
Except he pees everywhere. Everywhere. If we put a bag on the floor, he pees on it. He pees on the furniture, on the walls. Once my husband Stan was lying on a couch downstairs and Harlow parallel parked next to the railing in the upstairs hall and launched a perfectly aimed stream of urine onto Stan's head.
If I'm going to be totally honest—and at this point, what do I have to lose?—I'll mention that Harlow has also, on rare occasion, pooped in the house, too. It's a measure of how troublesome the urine is that I have no particular emotion when I find a pile of poop. It doesn't happen often and is fairly easily picked up. One time he left a pile that was perfectly formed into the word "HI." Since it was kind of a miracle, I took a picture of it before cleaning it up and posted it on Facebook. Then I learned that there are two kinds of people in the world: the kind who is disgusted by pictures of dog poop, no matter how literary, and the kind that suggests I create a line of greeting cards featuring messages spelled out in dog feces.
We had this idea, before we adopted Harlow, that it would be good for Shaggy to have a dog friend. That if he spent time with a dog and not just us humans, he would learn to be more dog-like. It turns out that he didn't learn much from Harlow. Except peeing. Our graceful, intelligent, little dog-person was now lifting his leg and peeing on the side of the couch. There really is such a thing as a pissing contest.
We worked more with the trainer. I don't want to relive it all here, but trust me when I say that we did all the things. All the things. Finally she dropped her voice and said, "You could try belly bands."
Belly bands are just what they sound like. Cloth bands that wrap around a male dog's middle, attaching with Velcro. When my kids were babies, I thought it was sort of weird the way some moms went nuts over cloth diapers and cloth diaper covers. I don't mean in a utilitarian way, but for the aesthetics. When I heard them gush about the cute patterns I thought it was a little pathetic. They're diapers! They're just going to be soaked in urine.
Now I get it. I started out utilitarian with the belly bands, buying just a plain white one for Harlow. But it made him look like an old man in tighty whities. Or like Walter White, cooking meth in the desert. So I bought a belly band with a cute peace sign pattern. And another one with stars. And one with tiger stripes. It made it all a little bit less sad.
I'm convinced that they have no idea why they're wearing diapers. They don't like them but they've come to accept them. When they come inside they wait in a little line for me to put the diapers back on them. If I could have just five minutes during which time they'd really understand English, I would tell them one thing: "Don't pee inside." That's it. I believe that if they really understood that I wanted them to never pee inside again, that they'd make their best effort to avoid doing so. They want to please me. And yet they do the very thing that pleases me the least.
Since we started the diaper regime, our life has gotten better. The dogs don't have to stay glued to my side. We're not cleaning the carpets all the time. Speaking of cleaning carpets, now I'd like to share with you the secret of getting dog urine out of carpets. This is a bonus, a takeaway from this essay, if you will. It's a process that's very inexpensive but time-consuming.
First you need to find the spots where the dogs have peed. If your carpet is tan like ours is, it may be hard to see the spots after they have dried. That's why you need a black light. Wait until nighttime, turn off all the lights, and walk around, shining a black light on the carpet. The urine spots will glow. Some other fluids will also make the carpet glow, but that's your own business and who am I to judge? Once you've found the spots, mark them by surrounding them with masking tape. Turn on your lights. Then spray a mixture that is 50/50 white vinegar and water. Soak those spots. Wait for them to dry. If you've saturated them sufficiently, this will take a day.
Next spray them with hydrogen peroxide that has just a little bit of dish liquid mixed in. Really lay this stuff to the stains.
When that's dry (and it will take overnight at least), sprinkle baking soda on and then vacuum it up. This gets out the odor and the black light test will verify that it did the trick.
So compared to that process, diapering a couple of dogs several times a days is not a big deal. Their diapers are almost always dry. The belly bands discourage them from peeing inside because there's no fun in it. So it could be worse.
But still, I can't help but consider the complexity we've added to our lives. Our kids, at sixteen and nineteen, are old enough to be pretty self-sufficient. I can forget to cook dinner and nobody is going to call child protective services. They can make their own damn macaroni and cheese. Things have gotten simpler for us from the days of busy, demanding toddlers who were hell-bent on electrocuting themselves and breaking all the eggs from the refrigerator. From those days, life has, year by year, gotten simpler. And yet, instead of taking advantage of the simplicity and lack of demands on our time, we did this thing that has made our lives infinitely more complicated.
We brought animals into our house. Sometimes when I think of it, the whole concept of pets seems bizarre. We do all these things to insulate ourselves from the unpredictability of nature and the outside world. We build houses, we seal the doors and windows. We avoid building a house on a flood plain. We install locks on the doors and a security system. We buy homeowners insurance in case there's an act of nature.
Then once we have this safe, controlled environment, we bring in animals. I believed all along that Shaggy was kind of a person. But people don't pee on the ottoman. They just don't. When the whole peeing thing started I'd sometimes look at these dogs and think "My god. They are animals." They seemed like just one step away from raccoons. Once I hired an expensive pest control expert to lure a raccoon family out of our attic. But we invite the dogs into our house. To live. We say, "Yes, you are a being who likes to chew on a beef bone that's been buried and left to rot in the ground for a week. But by all means please live in my house, which up until now, has been kept in a fairly sanitary condition. Here, sit up on the couch with me and I'll scratch behind your ears and possibly kiss the side of your face."
And they're unpredictable. When we adopted Harlow, we didn't consider the possibility that he would be an unrepentant urinator and that he would get Shaggy started too. But it would have been reasonable to assume that he'd do some things that would bring complexity into our lives. Dogs do all kinds of things. They run away. They bite. They bark at the nice couple pushing a stroller down the street as if their baby was the antichrist. They tear up cushions, leaving the cushion carcass surrounded by mountains of fluff.
I think about entropy a lot. I mean, I think about it on a superficial level, the way non-scientists do, because as soon as I start reading words like logarithm and microstate and quantum thermodynamics, I find that I need to quickly click on Youtube and watch a video of a chimpanzee riding a Segway. But the idea of entropy is that systems naturally move from order to disorder. If you put an ice cube into a cup of hot water, the water doesn't freeze; the ice cube melts. The molecules of the ice cube, which were frozen into a rigid order, are freed to move around as a liquid.
So is there also a sort of entropy at play in our personal relationships? When things become too simple, do we have a tendency to add elements that complicate them? In a sense, any time we take on the responsibility of caring for another being, we're opening ourselves up to complications that we can't predict. How do we know that the child we bring into the world won't have a disability that will require us to reshuffle our lives? Or that the man we marry won't have a stroke a year later? We don't.
The issue of nurturing is all mixed up in this idea of personal entropy for me. I took in these dogs and that means I made a promise to take care of them, even if they brought chaos into my life.
I think we have pets because at a very fundamental level we have a need to nurture. And with that nurturing comes all kinds of risks. In the scheme of things, the diapers aren't a big deal. But every time I put a diaper onto a dog, I'm struck by the ridiculousness of the situation. Dogs, healthy dogs, wearing diapers. But I'm also sometimes reminded of the bond we share with these animals, and the promise we make when we teach them to love us. When Harlow learned to trust us, to sit by us and awkwardly lean against our bodies, looking at us as if to say "Is this how it's done? This love thing?" we lost the choice of letting him go. He was ours.
•••
JODY MACE is a freelance writer living in North Carolina. Her essays have appeared in O Magazine, Brain, Child, The Washington Post, and many other publications, as well as several anthologies. Her website is jodymace.com. She publishes the website Charlotte on the Cheap in Charlotte, North Carolina. She is a regular contributor to Full Grown People.