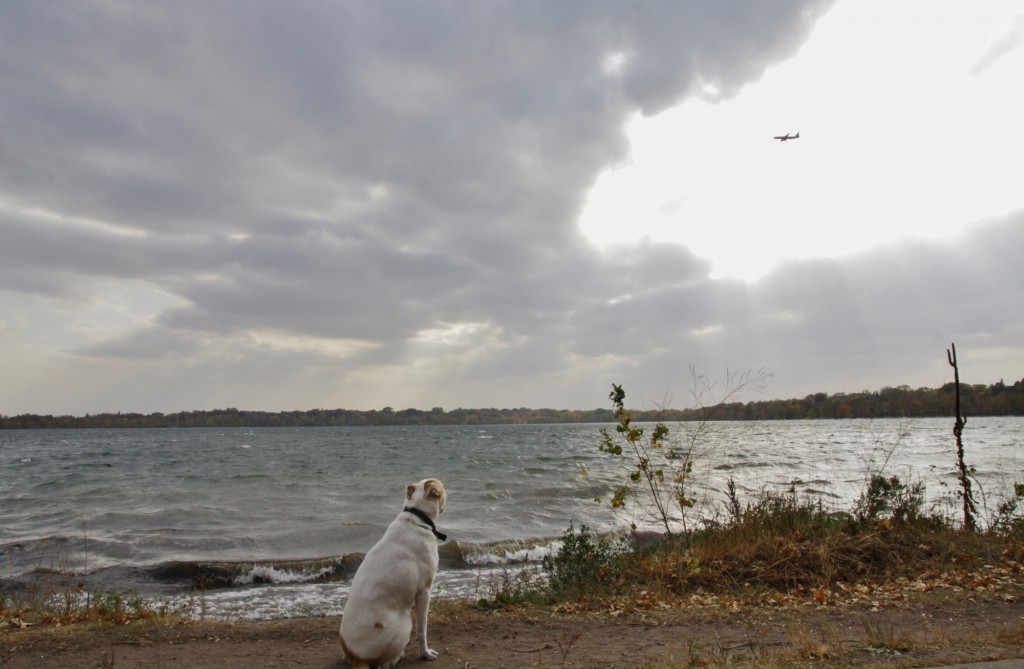 By Marcia Aldrich
The 16th of November was eerily warm, and neighbors were out in full force with their leaf blowers, trying to clear their yards before the weather turned. My husband was raking enormous piles of leaves onto the blue plastic tarp and then dragging them to the corner of the yard. We live on the banks of the Red Cedar River in a subdivision adjoining several natural areas, and the deer cross through our yard every day and bed down in the leaves for an hour or so before moving on. We hadn't seen any for days since hunting season had opened.
In the previous week, we stumbled upon deer bones at Sander Farms, a natural area near the busy Dobie Road, a death trap for deer. Most days we take our dogs, Quin and Omar, to Sander Farms where they run off leash. A person I've never seen mows a trail through the tall grasses. Omar found the first bone—what looked like a leg—on the side of the trail at the entrance. Each day we found another piece of the deer, another leg with the fur still on, a rib cage, the pieces scattered through the fields as if one animal after another had taken him up and then put him down.
On this day, only Omar was with Richard in the side yard. I hunted inside the house for Quin and found him lying at the foot of the bed on the carpet breathing hard. His chest was rising and falling. Earlier that morning, I had stopped to talk to him when he was lying on the stairs' landing. He didn't lift his head in greeting or wag his tail. He didn't give any indication that it mattered to him that I was sitting on the step caressing his beautiful face that had in the last year become shot through with white hair.
He was the dog who came from wherever he was to greet me at the door when I came home and made sounds that welled up inside him like a moaning, but they were not caused by pain or discomfort—they were caused by relief and happiness that I had come back to him.
Lately on our walks, Quin would stop and then after a few minutes be ready to continue. Last summer after leaving the fields, he'd lie down in the shade of a yard before continuing home. He had grown slower, bringing up the far rear, so far that it often felt as if Quin and I were on our own separate walk from Richard and Omar. Sometimes he stopped right at the edge of the driveway as we were entering the street before we had even started.
He struck me as far away, sunk into himself as if he was in pain and was conserving himself. I suspected that despite the pain medicine, he hurt. Still I thought his difficulties had to do with arthritis and joint deterioration. I didn't think anything else was going on. He always had a good appetite.
But he stopped wanting to sleep on the bed, preferring the floor in his own space. Then he developed a cough, the telltale cough, it turns out. A dry, hacking cough. He wasn't coughing all the time. Some days it didn't seem as if he coughed at all, and we forgot about it. Richard said Friday that he thought we should take him to the vet on Monday. It was time to do something but still not urgent. Saturday morning he didn't eat breakfast, didn't go out into the leaves, sat unresponsive on the steps, and I Googled coughs in dogs and found they could be a sign of illnesses like congestive heart failure and cancer.
I wonder now why I didn't Google the cough before. Hadn't I been paying enough attention or hadn't I wanted to see what was going on because I knew that seeing it, really seeing it, would be the first step down an unhappy road? And so I put those steps off. Now I looked at his breathing and I knew we couldn't wait until Monday. Our vet doesn't work on the weekends and I took Quin to the Emergency Clinic at the Michigan State University Veterinary Center.
I arrived at one-thirty and things went very fast even though I was sitting for hours in the waiting room. Someone came to the front desk right away and took Quin to the back of the clinic and I never saw Quin again. He jumped up on me in his anxiety. And I hugged him and lowered him to the floor, resting my head on his cheek as was my custom. And then he allowed himself to be led away. I've gone back over this part a hundred times; at that moment I believed he would be returned to me and that this was not our goodbye.
After the first hour, an assistant returned to update me about the primary vet's concerns on the basis of the preliminary examination. They put him on an I.V. to give him some liquids. His gums were pale, his breathing and heart rate advanced. They were going to do more investigation and be back. The assistant hung back a bit and said I might have to make a decision today. He was kneeling down, in a kind of crouch, and he looked up at me when he said that, as if it pained him to sound so ominous.
I called Richard and said, "This is not good." And then I waited. But I knew.
When I decided to take Quin to the clinic, when I helped him into the back seat, I didn't know I'd have to make the decision, that we had arrived at that awful place, a place I had been before.
I noticed boxes of Kleenex scattered everywhere. I was not alone in requiring them. While waiting I had watched a woman carry in a puppy near death and then walk out an hour later alone. She arrived sobbing so loudly that they could hardly understand her at the front desk. She left in silence.
The young vet appeared, and we went into one of the small examination rooms and he told me what he feared but couldn't yet confirm. He wanted to do a chest x-ray. Cancer. He thought the cancer started in the spleen perhaps and had moved to the lungs. The chest x-ray might show us something. And then he was gone. Primary lung cancer is very rare in dogs—they don't smoke. If you find cancer in a dog's lungs there is a ninety-nine percent chance the cancer originated elsewhere and is inoperable.
I called Richard again. This time he was riding his bike to the clinic and the noise from the wind and traffic was terrible—but he was on his way.
More waiting.
Then I saw Richard ride by on his bike and a few minutes later he walked in—his clothes filthy from raking leaves for hours, his hair plastered away from his face by the wind. Another hour passed and still it felt like time was flying. I wanted to hold it in my hands and quiet its pace. Employees kept apologizing for the delay—I wanted to say don't apologize, don't speed things along. I want a lifetime of delays.
Then the young vet appeared again, Dr. Carver. This time I caught his name. Without his having said a word, I could see in his face the news he was about to deliver. I've seen this look before—the look that says your dog is dying, we can't do anything, and you are going to have to put him down. The look that says this news will devastate you, how shall I tell you?
We stepped back into examination room # 5—this time I noted the number as I noted the vet's name—and he said "I'm sorry." The x-ray shows that Quin has cancer in his lungs, and there is nothing we can do about it. Did we want to see the x-ray?
No, we did not. I'm not sure why we didn't want to see it. I'm not exactly sure why in this moment and the moments that followed that I wanted to shield myself from seeing. I didn't care to have the images of his ruined lungs. I didn't want further tests to nail down whether there was a tumor on his spleen or liver or abdomen or all three. What did it matter? In a matter of minutes I knew I would decide as I must to let him go. We would never have a complete narrative of his decline.
If Quin were a person, he would have come home and had hospice care for the remaining time. But we don't do that with dogs. None of my animals have had a natural death at home. They have all had a precipitous decline and I've taken them to a vet where it has been determined that they are dying, that nothing can be done, and then I have had the dog or cat put to sleep.
My daughter and I carried Irene, our first dog, into the vet. We lay her down on a blanket in the exam room and held her as the drug was administered that would stop her heart. It happened in a second and was utterly quiet. And then we left, walked to the car, and drove home. We left Irene there to be picked up for cremation.
The death of Larry, our second dog, was not so smooth, if that's what you could call it. He had a tumor on his spleen that I knew could rupture at any time. Still I had some months with him, watching him every day for signs, saying goodbye every time I left the house as if it might be our last. His spleen did rupture. By the time I realized what was happening, he was very weak and I could barely get him into the car to drive him to the vet. Twenty minutes later, he was too weak to get out of the car. Several of us had to carry him into the exam room where he lay on the cold floor. With the greatest difficulty I had him put to sleep. His head was in my lap, he looked at me as he died.
And I will never be able to do that again.
Now when I see Larry I see him on the blue speckled floor, I see his eyes looking at me for assurance, to somehow make it all right as I had done for ten and a half years. But there was no making it right, no reassurance. The vet kept saying he's looking to you to let him go. Was he?
I didn't want that power. Eventually I let him go and he died. We walked out of the room and got back into our car and left my great boy behind. That's what you do. Some people bury their dogs in the yard as in days of old but Larry was a ninety-pound field golden retriever and our yard was exceedingly small, postage stamp size. And we knew we weren't going to stay in that house forever. I couldn't imagine leaving my buried dog behind. There was no burying him. There was only cremation and picking up his ashes and keeping them near me.
•••
I wasn't in attendance when my mother and father died. They died in Pennsylvania and I lived in Michigan. They were not young and they weren't in good health; nevertheless their deaths, when they came, were sudden. My mother woke up complaining of a headache. After lunch she said the pain was unbearable and my father called an ambulance. She was dead by nine-thirty that night—she had sustained a massive cerebral hemorrhage. My father returned to his apartment after a week's trip in Florida and had a massive heart attack. He died before he reached the hospital. Never stood by their hospital beds, never saw their bodies slip into death, their faces in death. Never saw their bodies wheeled away and stored in a refrigerator with a bunch of other dead bodies until the funeral home could pick them up. My parents' deaths were managed, and their bodies were managed without me. When a person or a dog dies, we relinquish them to someone—to coyotes, to medical experts, to funeral managers, and to the people who work the crematoriums.
I have seen two of my dogs die. I thought I should be with them, touching their faces, looking at them, saying goodbye. I should be there. And I was. With my parents, I felt pained by my absence. It wasn't something I decided. My sisters stood by my mother's hospital bed as she died; they touched her hands and spoke to her. They both arrived at the hospital after my father had died in the ambulance, too late to say goodbye. But they saw him in his death. I feel that I let my parents down and at the same time I feel grateful that I did not see their faces rearranged by death.
Dr. Carver asked, "Do you want to say goodbye to Quin? Do you want to be with him for his final moments?" I put my head in my hands and sobbed. Give me a minute, I asked. I have to think. But I knew I couldn't see Quin die. I didn't want that to be the last image of him I had. I wanted to remember him as he emerged from Lake Michigan after an afternoon of swimming or pulling an enormous fallen branch through the snow. I wanted to see him alive, unfinished. I am not a novice in this dying business.
Now I know that the last image will be the one I carry with me forever—it will write over all the others. Selfish is what I am. I chose not to be the angel of death. I did not give my Quin the sign that he could go. Richard said goodbye. I didn't even want to hear about it, didn't want to know how Quin looked, what the room was like, was the lighting bright, was it low, what color was the floor, was he on a table, who else was in the room, did he lift his head, did he know? I didn't want to know.
Did I fail him as I hadn't failed the others? After nine years of never failing Quin, did I fail him in the end? Was I unable to summon up that last bit of strength to serve him? It was so fast. I would be undone forever to see him die. My refusal wasn't about the insufficiency of love.
And then like all the other deaths, we waited for the assistant to retrieve his leash and collar and walked out the doors of the clinic and got into our car and drove the long ride home. It was dark now and it would begin to rain shortly.
•••
When we came home without Quin, Omar looked confused and anxious. He lay by the door, facing it, ready for Quin to walk through it. We didn't know what to do with ourselves. At some point, Richard asked if I wanted to take Omar to the fields. Yes and no was my answer. But we went because we still had a dog and he needed exercise and some sense of normalcy. We passed a couple we knew who walked their two dogs every night. When they saw that Quin wasn't with us, that it was just Omar, the woman started to ask where and stopped. Something about our faces, our forlorn figures told her that Quin had died. We got to the fields relieved we hadn't run into any other people who would inquire where Quin was and realized we had days and days of being asked the dread question ahead of us. We let Omar off leash but he didn't take off. We walked the trail and he stayed right by us. On the slight slope uphill he found the deer's skull not far off the path, the last part of the deer to emerge. I don't know if a more perfect thing exists. So delicate and small, as white as can be, lying in the grasses and mud as if it belonged there. And perhaps it did belong there. Where else should it have been?
The next day was a terrible day. Dark, foreboding, with winds up to sixty miles an hour, and intermittent torrential down pours. By evening, we lost power and huddled in the bedroom listening to tree limbs being ripped from trees and flying against the windows. And it went on like this for most of the night, and I thought yes, this is how it should be, the world should come unhinged, it should flail and bang because something great has left it. Of course, it was me who was unhinged. It was my grief that I saw in the storm.
And the next day came as it does and the storm was over, power was restored, and the temperature plummeted. It was winter now. The leaves had been stripped from the trees, what had remained by mid-November. Some roads were blocked because trees had fallen across their way. I heard saws buzzing nearby.
I pulled out a photo of Quin at Sleeping Bear Dunes in 2005 when he was young. He's just emerged from the lake, no doubt fetching sticks we were throwing. He's running towards the camera, sand and foam coats his face, his fur is wet and deep red, and he looks right at me. I take the photo. Our eyes are locked. This was the face I wanted to remember. Not because I am deluding myself in thinking someday I'll return home from work and find Quin waiting at the door for me, or that it will be Quin sitting on his perch on the landing overseeing our world, or Quin emerging from the dry brush of the fields and running towards me, but because I know he won't.
•••
One week to the day after Quin died, his ashes arrived in the mail. They arrived in a small metal container about three inches tall, blue larkspur sprays on the beige background.
Thanksgiving morning, Richard and I bundled up against the cold and, with Omar, walked through the falling snow to the fields. No one was on the streets and the fields were empty. At the place where we enter the fields, we unleashed Omar, as we had always unleashed both dogs. They'd bound into the fields and then abruptly stop to smell whatever they smelled before hurrying on into the open area. Here I pulled out my little baggie, dipped my bare hand in and gathered some of Quin in my fingers and scattered it. The first fingers of ash were smooth, like sand, and they blew in the wind and carried a little ways off the trail to coat the dry stalks. "To Quin," I said, "your final pasture."
But the pain of losing never is finished. A friend writes about how she dreamed she found her lost dog sitting on a shelf in a second-hand shop on sale for nine dollars. "I picked her up and she smelled exactly the same, and she started licking me. It was as if she'd been waiting for me for ten years. Then I woke up, but for a moment there, life seemed healed."
•••
MARCIA ALDRICH is the author of the free memoir Girl Rearing, published by W.W. Norton and part of the Barnes and Noble Discover New Writers Series. Companion to an Untold Story won the AWP Award in Creative Nonfiction. Her website is marciaaldrich.com.